The New York Jets have released backup quarterback Tim Tebow after just one season with the organization, according to Brian Costello of the New York Post:
Source: The jets have released Tim Tebow #NYJ

— Brian Costello (@BrianCoz) April 29, 2013
Jets head coach
Rex Ryan
talked to
Kimberley A. Martin of Newsday
about the release of Tebow:
Rex statement: "We have a great deal of respect for Tim Tebow. "Unfortunately, things did not work out the way we all had hoped." #nyj (pt1)

— Kimberley A. Martin (@KMart_LI) April 29, 2013
Rex (contd): "Tim is an extremely hard worker, evident by the shape he came back in this offseason. We wish him the best moving fwd." #nyj

— Kimberley A. Martin (@KMart_LI) April 29, 2013
There is no question that acquiring Tebow was the wrong move for New York in retrospect, but
ESPN sports business reporter Darren

Rovell
shares just how expensive the mistake was:
Total $ Jets spent on the Tim Tebow experiment? $4,102,000.

— darren rovell (@darrenrovell) April 29, 2013
After acquiring Tebow and a seventh-round pick from the Denver Broncos in March of 2012 for the Jets' fourth- and sixth-round picks, the thought was that New York would capitalize on the mobility of the QB and implement a Wildcat-type scheme.
While there is little doubt that Tebow's throwing mechanics are flawed, the lack of an attempt from the Jets to utilize the raw talent of the backup QB even when starter
Mark Sanchez
struggled mightily was an absolute joke.
Just as we wondered how unproductive Tebow was with New York, Anthony Scarallo took to Twitter to share the sad statistics:
Tim Tebow released after 8 pass attempts in NY

— Anthony Scarallo (@AnthonyScarallo) April 29, 2013
While this is a devastating moment for some fans,
The Ball Hogs radio show
captured this anticlimactic ending perfectly:
End of an Error RT @briancoz: Source: The jets have released Tim Tebow #NYJ

— The Ball Hogs (@BallHogsRadio) April 29, 2013
This move will undoubtedly bring the poor decision to trade for Tebow in the first place back to the surface, but as
ESPN's Adam

Schefter
points out, New York is making some major offseason moves:
Nice quiet one-week span for Jets: traded Darrelle Revis, drafted Dee Milliner and Geno Smith, released Tim Tebow.

— Adam Schefter (@AdamSchefter) April 29, 2013
Jets had granted Tim Tebow permission this off-season to seek a trade. More than one team asked if were willing to play TE, but he was not.

— Adam Schefter (@AdamSchefter) April 29, 2013
While some fans may be satisfied by the moves thus far,
Al Hughes Dukes
has a fever, and the only cure is more quarterbacks:
Jets have released Tim Tebow, leaving them with only 6 QBs on the Depth Chart...probably should go out and get one more

— Al Hughes Dukes (@Alsboringtweets) April 29, 2013
The release of Tebow has also sent the Twitter world into a frenzy trying to predict what's next for the polarizing backup QB.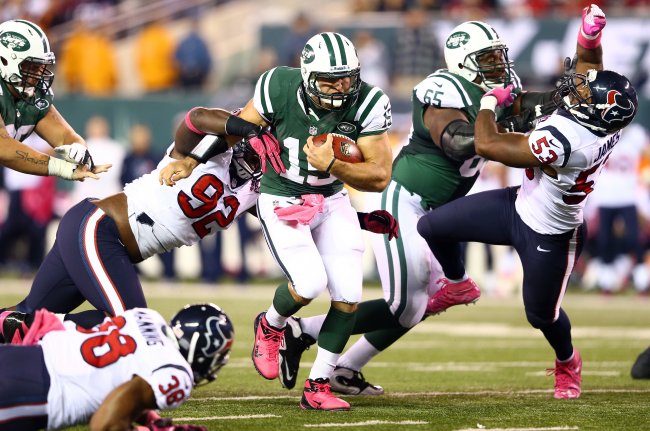 Al Bello/Getty Images
While there was talk about the Jacksonville Jaguars being interested in Tebow last year, GM David Caldwell shot down the possibility (via
NFL.com
). Despite the lack of interest in a trade,
Jason

Feirman
feels the Jags are still an option and mentions the San Francisco 49ers as another possible destination:
The #Jets finally release Tim Tebow. So where may he end up if he plays in NFL? I still the Jax or even #49ers. What say you?

— Jason Feirman (@SportsProphet1) April 29, 2013
Many fans believe Tebow is good enough to play in the
NFL
, but radio personality
Cliff Saunders
thinks the backup QB may find his next starting job in the Canadian Football League:
If I were Tim Tebow I'd be buying sweaters, wool hats, gloves and scarves. #CFL Oh, Canada. Our home and native land....

— Cliff Saunders (@cliffsaunders) April 29, 2013
Another team that has the personnel and coaching staff to take a risk on the enigmatic backup would be the New England Patriots.
As Dylan Gray points out, the groundwork for the signing could already be there with the coaching staff (not to mention Patriots offensive coordinator Josh McDaniels took Tebow in the first round while he was the head coach of the Broncos):
Tim Tebow is officially no longer a jet. Gut feeling patriots will take a look at him. Bill loves Tim

— Dylan Gray (@TheDylanGray) April 29, 2013
Tebow has kept a great attitude throughout this entire process, and he has been rewarded with the chance to hit free agency and see if any team is willing to take a risk on him by helping him turn into a viable player in the NFL.
Will Tim Tebow ever play in the NFL again?
After leading the Denver Broncos to the playoffs two seasons ago, Tebow proved that he has raw talents that can be utilized by a team willing to work around his shortcomings.
Add in the genuine leadership abilities that can't be taught, and there will be several teams across the league that will consider taking the risk and signing Tebow.