NBA Playoffs 2013: Predicting Winners for Monday's Round 1 Games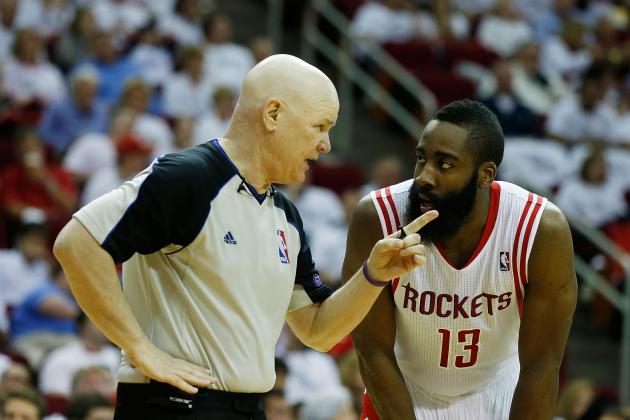 Scott Halleran/Getty Images

The Miami Heat and San Antonio Spurs may have swept their way into Round 2, but most NBA playoff teams are still battling to join them. There will be three marquee games Monday, all of which are capable of distracting you from the workweek.
The Chicago Bulls will face off with the Brooklyn Nets on the road in Game 5 after winning a triple-overtime thriller in Chicago.
The Oklahoma City Thunder will look to cap off a series sweep of their own on the road against the Houston Rockets, and Kevin Durant will need to be at his best.
The Indiana Pacers, meanwhile, will aim to avenge a brutal showing against the Atlanta Hawks in Game 4.
So, who will win Monday's matchups to march ever closer to an NBA championship?
Begin Slideshow

»
Jonathan Daniel/Getty Images

In the Game 5 matchup between the Chicago Bulls and Brooklyn Nets, the Derrick Rose-less Bulls can close out the first-round series if they take care of business on the road.
Despite D-Rose not playing a single postseason minute so far, Chicago hasn't skipped a beat. Nate Robinson and Kirk Hinrich have shouldered the load out of the guard spots, while Carlos Boozer has asserted himself by averaging 20.3 points and 11 rebounds per game.
The Nets, meanwhile, have struggled to find an identity. They're in a 3-1 hole as a result, and they're facing elimination the rest of the way.
A great deal of Brooklyn's struggles have been linked to the inconsistencies from Deron Williams and Joe Johnson in the backcourt, but key role players have also failed to pick up the slack.
According to Stefan Bondy of the New York Daily News, Nets forward Gerald Wallace said, "I don't have a clue what my role is on this team."
That shouldn't come as a shock, because Wallace is having arguably the worst season of his entire career. That quote should raise a red flag among Nets fans, though, because that's certainly not a sign of solid team chemistry.
Even with Rose sidelined, the Bulls are playing together and getting contributions from all over the roster. The same can't be said for Brooklyn.
Prediction: Chicago Bulls
Scott Halleran/Getty Images

The series between the Oklahoma City Thunder and Houston Rockets has been disappointing.
The Rockets have a young and talented roster headlined by former Thunder Sixth Man of the Year Award winner James Harden. However, with three straight playoff losses, Houston's record against OKC this season has dipped to 1-5.
A major reason for Houston's postseason struggles is the shooting woes of its starters. The ailing Jeremy Lin is shooting 25 percent from the field and 11 percent from three-point range. Harden is shooting 36.9 percent from the field and 19 percent from three-point land. Chandler Parsons is shooting 41.3 percent from the field and 33.3 percent from downtown.
With those grim shooting percentages, it shouldn't come as a surprise that the Rockets have failed to win a game against OKC during the playoffs. However, Harden and Parsons are too good to struggle this badly for long.
If you add in the fact that Thunder point guard Russell Westbrook will miss the remainder of the postseason due to a torn meniscus in his knee, the playing field has been leveled a bit between these two Western Conference foes.
The Thunder gutted out a three-point road win to extend the series lead to 3-0 on Saturday, but it took a Herculean 41-point effort from Kevin Durant to get the job done. His 41 points tied a playoff career high.
Considering that the Thunder needed 41 points from KD to snag a close three-point victory, Houston may finally be in a position to win a playoff game on Monday.
If the Rockets can find their shooting stroke (at least to a decent degree) while tightening up defensively on Durant, they'll succeed at avoiding a series sweep.
Prediction: Houston Rockets (Do I already regret picking against KD? Yes, yes I do.)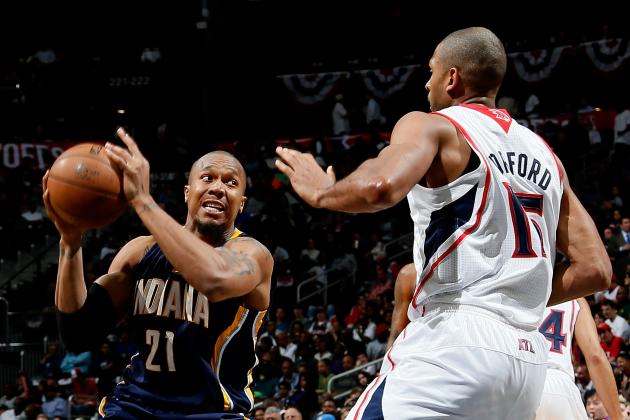 Kevin C. Cox/Getty Images

Despite shooting a higher percentage from the floor in Game 1 and Game 2, the Atlanta Hawks lost the first two contests with the Indiana Pacers by a combined 32 points. In fact, prior to Game 3's win, Atlanta failed to win a single quarter in this series.
It took a putrid offensive performance from Indy for the Hawks to get their first win. The Pacers finished with just 69 points on a paltry 27.2 percent shooting. Atlanta can't hope to lean on that happening again in Game 4.
Paul George has led the way for Indiana, as he's leading the team in points (22 per game) rebounds (9.3 per game) and assists (5.3 per game). With Roy Hibbert and David West providing interior defense behind George, the Pacers have become an incredibly tough team to beat.
Don't be surprised if the Pacers come out with a vengeance to make up for a pitiful Game 3 performance. If the Hawks aren't ready to match Indy's effort, they won't be able to tie this series at two games apiece.
Prediction: Indiana Pacers