WWE: 5 Reasons Why Dolph Ziggler's Championship Reign Is No Guarantee of Success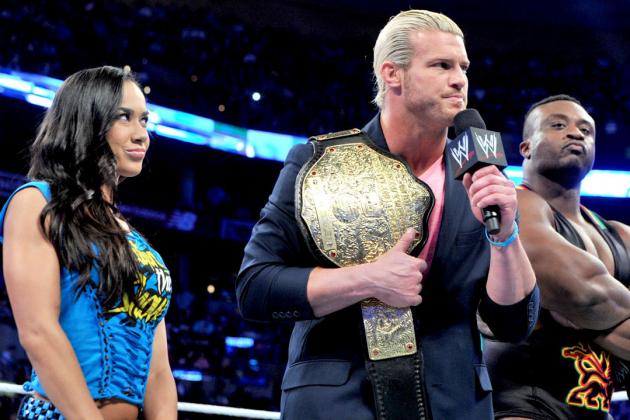 (photo courtesy of WWE.com)
World Heavyweight Champion Dolph Ziggler is in a precarious position in WWE. Although Ziggler is holding one of the top championships in WWE, nothing is guaranteed to him because of it.
Ziggler's former tag-team partner, Jack Swagger, even defeated him in a non-title match. What is worth noting about this is that it occurred just a week and a day after Ziggler captured the championship.
His first high-profile pay-per-view title defense will occur in May at Extreme Rules. Dolph Ziggler will be defending his championship against both Alberto Del Rio and Jack Swagger.
Unfortunately, it seems that even though Ziggler is the champion, he is just playing the role of a pawn holding the championship for someone else. In suffering a loss to Jack Swagger quite recently and losing to Alberto Del Rio only a couple months ago, Ziggler's reign as champion has not started strongly.
He might be the "show off," but he needs a strong win at Extreme Rules to truly live up to that moniker.
Begin Slideshow

»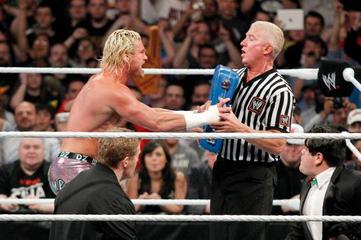 (photo courtesy of WWE.com)
The way in which Dolph Ziggler obtained the WWE World Heavyweight Championship made him a weak champion right from the beginning.
In cashing in the Money in the Bank contract and defeating an injured Alberto Del Rio, Ziggler won the prize but did not get the glory that came with it.
Del Rio, already injured by Jack Swagger at WrestleMania 29, was in no condition to defend the championship. Ziggler's win was extremely easy and proved little in showing that he is a main event WWE Superstar.
Having the World heavyweight championship means nothing if the champion does not win convincingly at least sometimes.
At No. 5, Ziggler winning the WWE World Heavyweight Championship from an injured opponent already set up his title reign as having no guarantee for success.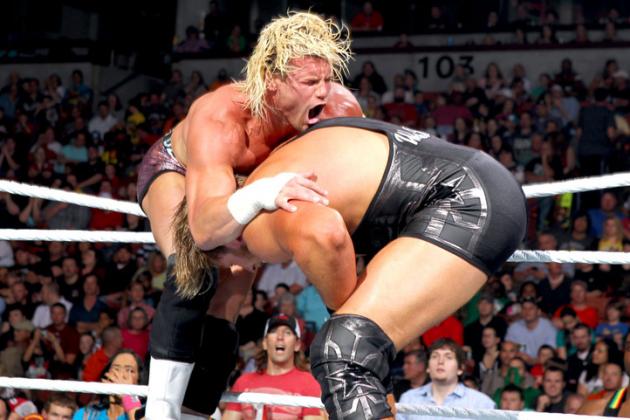 (photo courtesy of WWE.com)
In building up the triple-threat match at Extreme Rules, Ziggler lost a non-title match to Jack Swagger on the April 15, 2013 episode of Monday Night Raw.
Not only did Ziggler lose the match, but he lost cleanly.
A decisive win over Swagger could have given Ziggler momentum as champion. What this loss for Ziggler served to do is make his championship reign seem insignificant.
Of course, Swagger winning gave a reason to put him in the match at Extreme Rules, but in doing so, it made Ziggler look very weak.
Even with Big E Langston and AJ Lee at ringside, Ziggler still lost the match. It makes it quite difficult to be known as the "Show-Off" when there is nothing to show off.
At No. 4, losing to Jack Swagger in a non-title match cleanly made Ziggler look like he is undeserving of the championship. The championship means little if the champion cannot prove himself.
(photo courtesy of WWE.com)
Unfortunately for Dolph Ziggler, he is playing a minor role in his first major title defense.
As the feud between Alberto Del Rio and Jack Swagger continues, Ziggler is only part of it because he holds the championship.
From a logical standpoint, this could work in Ziggler's favor. Del Rio and Swagger could completely annihilate each other in the Extreme Rules match, leaving Ziggler to capture an easy win.
As the odd one out, Ziggler seems unimportant in this match. Having the World Heavyweight Championship means very little when his role in the feud is rather mute.
At No. 3, playing such a minor role in a championship defense match only serves to make Ziggler look like an unimportant champion.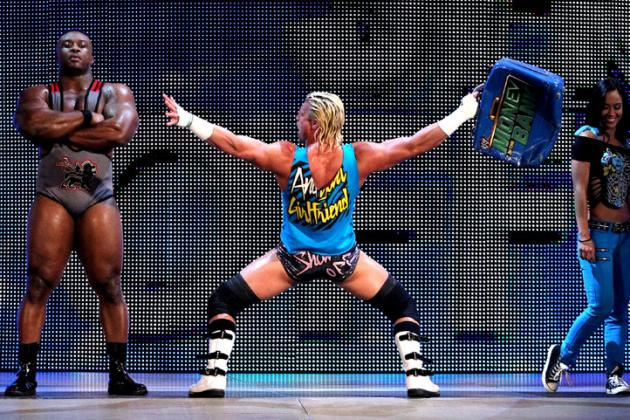 (photo courtesy of WWE.com)
Dolph Ziggler's entourage at ringside is more than enough to guarantee him some sort of importance in his championship reign, one might think.
Following the champion has to mean something, right?
Although both AJ Lee and Big E Langston accompany Ziggler to the ring, their presence is not enough to make his championship reign mean something.
Both of them could be utilized in ways that make Ziggler seem like a true champion. They should be talking up Ziggler at every opportunity to anyone within earshot.
As World Heavyweight Champion, Ziggler and his crew should all be viewed as champions. Ziggler could be made a stronger competitor if his championship reign was actually celebrated and shown off.
Keeping Ziggler off the most recent episode of Smackdown does not help his championship reign. At the very least, Ziggler, Langston and Lee could have been shown celebrating Ziggler's championship reign somewhere in London, England.
At No. 2, Ziggler and his group should be showcased more showing off the WWE World Heavyweight Championship. Not having Ziggler on the most recent Smackdown reveals that being a champion guarantees nothing.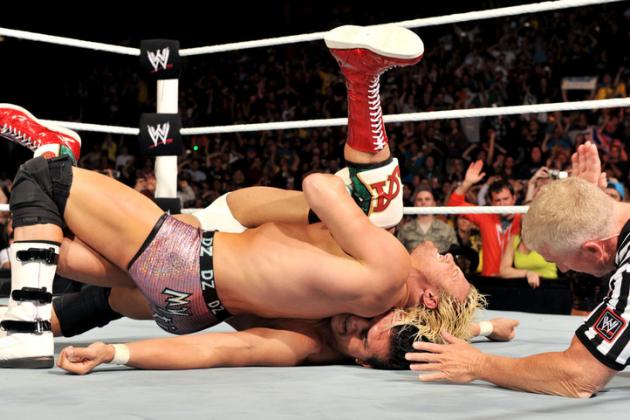 (photo courtesy of WWE.com)
Dolph Ziggler is a champion who cannot win a match cleanly.
Defeating Chris Jericho two times should be a fantastic achievement, but Ziggler was only able to do this with help from Fandango personally on one occasion, and his theme music playing on the other one.
The troubling aspect of this is that Fandango and Ziggler do not even have any type of relationship. Fandango's help is not for Ziggler but to further embarrass Jericho.
Once again, Ziggler is playing the role of a "third wheel" to a greater feud involving two other individuals. The champion should not play this role.
Hopefully, Ziggler will be able to score a decisive victory in the weeks leading up to Extreme Rules and also at the event itself.
At No. 1, Dolph Ziggler should be able to win some matches cleanly. There is no reason for him to be the champion if he cannot do so. Even in the playing the role of a villain, Ziggler should be shown as someone who is worth holding the championship.
By virtue of being WWE World Heavyweight Champion, Ziggler is not guaranteed anything in WWE.
Read more from Sean McCallon on the Double Axe Handle Blog.
Follow me on Twitter @TheBlueMask246