Denver Nuggets vs. Golden State Warriors: Game 4 Postgame Grades and Analysis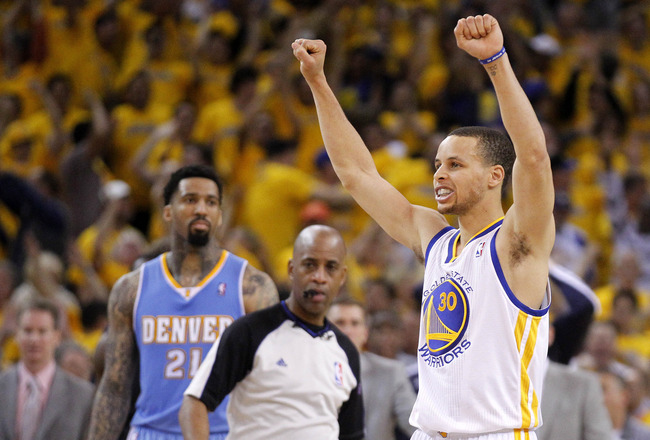 Sudnay night was the Steph Curry show, as the Golden State Warriors took Game 5 against the Denver Nuggets.
Cary Edmondson-USA TODAY Sports
If we learned one thing Sunday night, it's that the Golden State Warriors might be the most fun team to watch in the entire NBA.
Golden State played host to the Denver Nuggets, and Game 4 lived up to its fast-paced, exciting reputation, as the home team walked away with a 115-101 victory.
The first half was closely contested, but no matter how close the score was, the Warriors felt like they always had momentum. Not only was Golden State playing quickly, but it was playing efficiently. Denver was unable to match that efficiency, which resulted in sloppy play.
The Warriors ended the second quarter on an 11-0 run, and they did it with both offense and defense. They forced 14 turnovers in the first 24 minutes and converted 19 points off of those turnovers.
Golden State took a 12-point lead into halftime, but the worst sign for Denver was that Stephen Curry hadn't yet made his impact on the game.
To begin the second half, Denver tried to steal momentum. The road team went on a quick 7-0 run, forcing three turnovers in the process, but as much momentum as Denver created, every ounce of it was ripped away when Curry finally took over.
The guard made five three-pointers in the third quarter alone, shifting things back in Golden State's favor the rest of the way.
If there's anything to note about this contest, it's how much fun the Warriors were having. The entire way through, whether the game was close or not, Denver looked like a team simply trying to stick around.
It's all smiles in Golden State heading into Game 5, and there will be plenty of smiles to come if the team can win on Tuesday.
Point Guard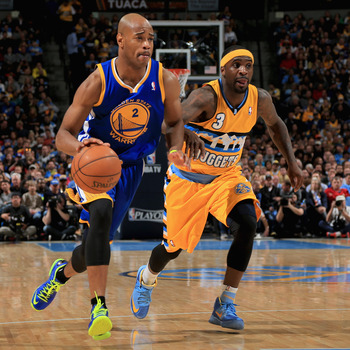 Doug Pensinger/Getty Images
Jarrett Jack, Warriors

Jarrett Jack may not have the flash of a Stephen Curry, but he is beloved by Golden State fans, and it's easy to see why.
Jack has become a player who does a little bit of everything. His shot was falling Sunday night, but that in no way prevented him from making the right passes at the right times.
The guard bit on a number of Andre Miller's fakes, but he remained active and physical on the defensive side of the floor.
Jack is a veteran presence on a young roster, and he's a big reason the team has found success up to this point. He finished with 21 points on 8-of-9 shooting, nine assists and five rebounds.
Grade: A
Ty Lawson, Nuggets

Coming off a huge 35-point, 10-assist performance Friday night, Ty Lawson had momentum on his side. That momentum didn't translate into instant success, but he would come around in a big way in the third quarter.
In the first half, the 25-year-old only managed to collect six points on 2-of-7 shooting. He missed both of his three-pointers, and he had three turnovers to match his three assists.
The second half saw a whole new player, as Lawson single-handedly went on a 7-0 run in the opening minutes. Golden State was forced to pay attention to him, which opened up looks for other scorers as well.
As hot as Lawson was in the third, he quieted back down in the fourth. He scored 26 points and had six assists in 38 minutes.
Grade: B
Shooting Guard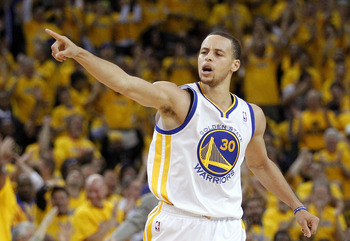 Cary Edmondson-USA TODAY Sports
Stephen Curry, Warriors

Whether you call Stephen Curry a point guard or a shooting guard, one thing is for sure.
There's not much this guy can't do on offense.
It took Curry awhile to get going in the scoring department, but staying quiet isn't always a bad thing. He was running the offense masterfully, as he was making the same smart passes he rarely gets credit for.
Eventually, Curry would get selfish, and nothing could have been better for the Warriors. He scored 22 points in approximately six third-quarter minutes, and he went on to record 31 points on 10-of-16 shooting.
What most won't talk about is Curry's defense. He was thriving off the crowd's energy, as he was ripping ball-handlers and disrupting passing lanes, and grabbed four steals by the time the final buzzer sounded.
Grade: A
Evan Fournier, Nuggets

Evan Fournier was a non-factor on the offensive side of the floor Sunday night. Despite scoring 11 in Game 1, he entered Sunday's contest averaging just three points per game over the previous two.
Fournier did a good job of staying physical with Curry early. He was holding, pushing and doing all the things Warriors fans wanted a whistle for, but as long as that whistle remained silent, he remained a nuisance.
In a game where Denver struggled on offense at times, Fournier's shooting touch would have been a welcomed sight for Nuggets fans.
Grade: D
Small Forward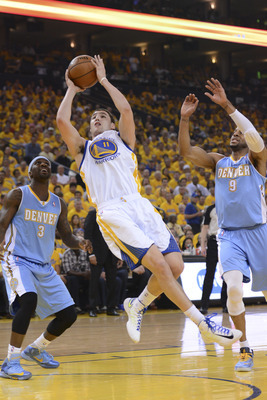 Kyle Terada-USA TODAY Sports
Klay Thompson, Warriors

With Andrew Bogut dominating early and Steph Curry taking over late, there wasn't much camera time to go around for rookie Klay Thompson.
That being said, he played his role nicely, and he deserves credit for what he was able to do.
Thompson is one of the best shooters on this Golden State Warriors team, and he kept the Denver Nuggets honest on the perimeter. He shot 50 percent from the field, 40 percent from deep and was a plus-21 in the plus/minus category en route to 13 points.
Grade: B
Andre Iguodala, Nuggets

Andre Iguodala recognized that he needed to step up with the Denver Nuggets down two games to one. Unfortunately for him, not many of his teammates did the same, and his early efforts were lost in the rest of the team's early struggles.
In the first half, Iguodala scored 11 points. The points were important, but the shooting efficiency was more noteworthy. He was the only player on the team with more than one field-goal attempt who had shot better than 50 percent.
The problem for the Nuggets is that Iguodala seemingly lost that aggression when Golden State went on its run. The forward scored 19 total points, but he was far too quiet when the team needed him most.
Grade: B-
Power Forward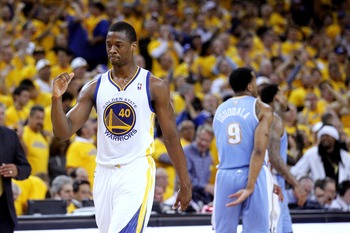 Cary Edmondson-USA TODAY Sports
Harrison Barnes, Warriors

Harrison Barnes is hardly a power forward. However, if there's any series in the playoffs that has forgotten about traditional positions, this is it.
Entering Sunday night's game, Barnes was coming off of two brilliant performances. Between Games 2 and 3, the rookie averaged 21.5 points, 6.5 rebounds and shot extremely well from all over the floor.
Barnes couldn't recreate that kind of spark Sunday night, as he only scored two points in 31 minutes.
While you'd like to credit Steph Curry's brilliance for taking away from Barnes' opportunities, you can't blame anyone else for poor shooting. Barnes completed just two of his nine attempts, and he struggled to make up for it in other areas.
Grade: D-
Wilson Chandler, Nuggets

Wilson Chandler was another player who never stood out. He only scored six points, and while he did shoot 50 percent, that's 50 percent on just six shots.
Because of the positionless mentality that this series has shown, Chandler found himself defending Andrew Bogut at times. We quickly learned that this was not a recipe for success, that is unless you're the Warriors.
Grade: D
Center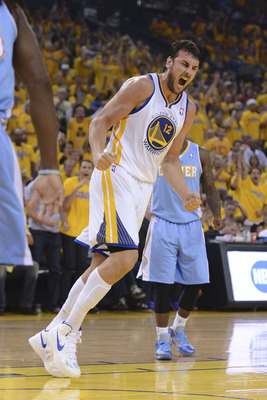 Kyle Terada-USA TODAY Sports
Andrew Bogut, Warriors

If energy is infectious, Andrew Bogut caught the disease extremely early in this game.
The 7-footer came out of the gate and was as aggressive as anyone on the floor. He collected eight points on 4-of-6 shooting before heading to the bench, and his efforts paid off in the form of one of the most surprising dunks of the 2013 postseason.
With the Denver Nuggets running a small lineup, Bogut was able to take advantage of mismatches, and the question became, who is he going to posterize next? Kenneth Faried and Wilson Chandler didn't stand a chance defensively, and Bogut showed no remorse.
The big man lost his momentum in the second half, but the damage had been done, as he recorded 12 points and two blocks in just 26 minutes.
Grade: B+
Kenneth Faried, Nuggets

In case you didn't realize, Faried is not a true center. At 6'8", 228 pounds, he is vastly undersized against the bigger Bogut.
That being said, he has as much fight in him as anybody in the league, and he did a good job standing his ground.
Right out of the gate, Faried collected five boards. He would go on to grab 12 on the night to complement his eight points on 50 percent shooting.
Faried hasn't been much of a factor in this series, but his energy is always strong. There are no moral victories in the playoffs, but Faried has been a workhorse, and he at least has that to help hold his head high.
Grade: B
Sixth Man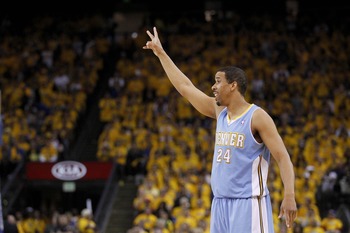 Cary Edmondson-USA TODAY Sports
Carl Landry, Warriors

Carl Landry played an extremely efficient brand of basketball on Sunday.
The forward came off the bench and played an integral role in the offense. In just 18 minutes, he scored 17 points, made five of his six free throws and completed six of his 11 shots from the field.
As one of the only power forwards on the roster, you'd like to see him grab more than one rebound, but you can live with a performance like this in such a blowout victory.
Grade: B+
Andre Miller, Nuggets

If you don't watch Andre Miller play very often, it's easy to forget how smart of a basketball player he really is.
Miller, at 37 years old, has never tasted the second round of the playoffs. It's obvious watching him play that he's hungry for an opportunity to advance, and you can see it every time he touches the ball.
Not only is Miller smart, but he's passionate. He makes the right fakes and the perfect drives, and he's been showing the kind of emotion as of late that puts his desire to win on full display.
Miller has never been the most athletic guy on the court, but he's extremely crafty. He knows how to get to the rim, and that's a big reason he earned 12 points in just 20 minutes.
Grade: B
Bench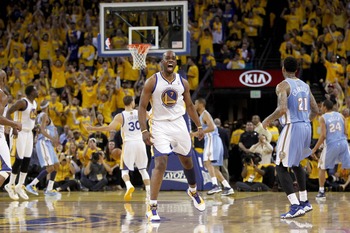 Cary Edmondson-USA TODAY Sports
Golden State Warriors
With everybody talking about Stephen Curry's performance, it's easy to forget that there were a couple of good nights had from the second unit.
Carl Landry was the No. 1 option of the reserves, as he went to town for 17 points, but Draymond Green played a huge role as well. The rookie small forward scored 13 points on 5-of-8 shooting, and he grabbed six rebounds, four steals and a block along the way.
Outside of these two, it's tough to find anyone else who made a big impact. But with the stars shining in the starting lineup, you'll take 30 points between your top two bench options any day of the week.
Grade: B
Denver Nuggets
The Denver Nuggets' depth has been their best asset all season. Sunday wasn't a prime example of that fact, but they did get a few solid showings.
The two main contributors were Andre Miller and Corey Brewer. The two of them combined for 26 points, but the more important note is their aggression upon entering the game. They tallied 10-of-15 from the foul line, showing that they were willing to play physical basketball.
Outside of those two is where things drop off. JaVale McGee was able to play just 14 minutes, recording four points, and Kosta Koufos, the only other big, struggled just as much.
Grade: B-
Keep Reading

Golden State Warriors: Like this team?