Bleacher Report's Post-Spring Practice Top 25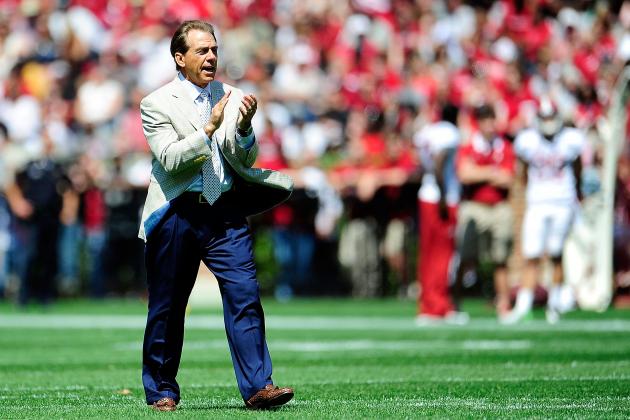 Stacy Revere/Getty Images

Now that spring football is in the rear-view mirror, we thought it was the perfect time to reassess where each team stands. Fall camp is the next stop for college football, and between now and August, there is going to be plenty of time to discuss who is going to start where, which team is going to win and which team has the best shot at winning it all in 2013. But we thought we'd get the ball rolling with an updated college football Top 25, post-spring practice edition.
What did we learn from spring practice? What areas of concern were uncovered? Are things better off than we had hoped? Many questions have been answered and many still remain. The only thing we know for certain is that these way-too-early college football Top 25 lists will look completely different come BCS selection time in December.
Begin Slideshow

»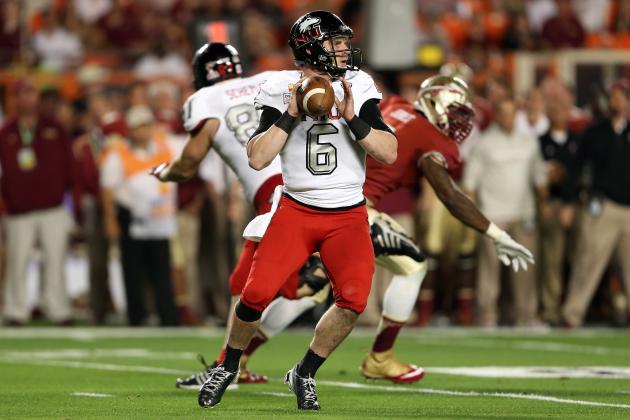 Streeter Lecka/Getty Images

Final 2012 AP Ranking: 22
Final 2012 B/R Ranking: 25
Projected 2013 Preseason Ranking: 25
It's hard to argue that Northern Illinois didn't achieve one of the greatest football seasons in MAC history in 2012. Not only did the Huskies earn the first-ever BCS invitation for a MAC program, they were the first team from a non-automatic qualifying conference to play in the BCS without an undefeated regular season.
We also all know what happened next.
The Huskies were dismantled by a clearly superior Florida State team in the 2013 Orange Bowl, leading many, if not most, to believe NIU didn't have any business playing in the BCS.
Still, there's a lot for NIU fans to look forward to in 2013. Most notably, standout quarterback Jordan Lynch is back for his senior season, and he'll be leading a solid and veteran offense that had a perfectly solid spring.
With nine total offensive starters returning for 2013, the Huskies will be the early favorites in the MAC and will likely find themselves in the Top 25 to start the season.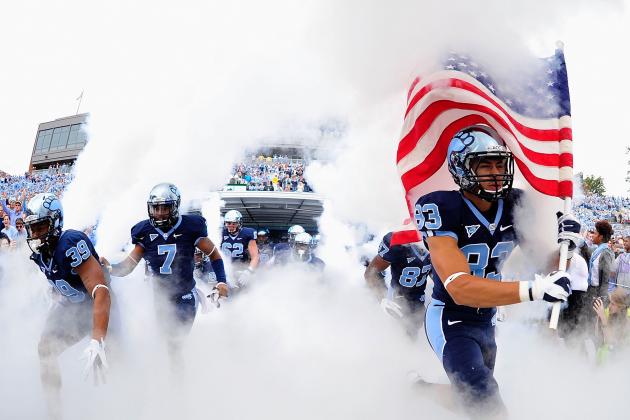 Grant Halverson/Getty Images

Final 2012 AP Ranking: Not Ranked
Final 2012 B/R Ranking: NR
Projected 2013 Preseason Ranking: 24
North Carolina made it through 2012 with a fairly impressive yet unheralded 8-4 season. That was good enough to earn a share of the ACC Coastal Division title, but thanks to NCAA sanctions, the Tar Heels were ineligible for any postseason play.
The 2013 season will be a different story, as the Tar Heels will be eligible to play in a bowl, not to mention the ACC Championship Game.
But before UNC can even dream of its football team returning to glory, there's a lot of ground work that needs to be completed. The Tar Heels will be pretty young this season, with just 13 players returning as starters. The ACC as a whole seems to be getting strong, so it will certainly be an uphill climb for UNC.
That being said, this wet-behind-the-ears squad has shown some early promise, and fans in Chapel Hill have reason for hope. Although scholarship limits thanks to the aforementioned NCAA sanctions will take their toll and likely prevent any BCS aspirations, another solid winning season is a possibility.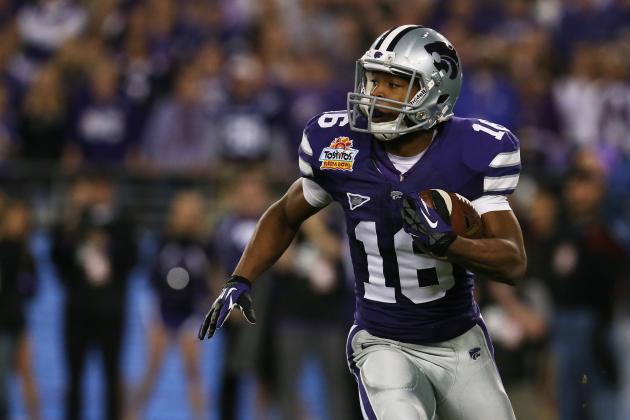 Stephen Dunn/Getty Images

Final 2012 AP Ranking: 12
Final 2012 B/R Ranking: 12
Projected 2013 Preseason Ranking: 23
Kansas State was unmasked and subsequently humiliated in front of a national television audience in the 2013 Fiesta Bowl. The Oregon Ducks were too much, too often with the ball, and even the mighty Collin Klein couldn't pick up the slack.
If there was a reason to harp on Kansas State last season, it was probably the defense. The Wildcats will be without eight of the starters on defense from last season, making us doubt that there will be any improvement this season.
To make matters worse, Klein won't be on offense in 2013 to keep K-State in a position to win games late.
Based on spring practices this season, we still think there will be plenty of opportunity for the Wildcats to pick up wins in 2013—particularly against opponents like UMass and Louisiana-Lafayette. But continuing to compete for a Big 12 title will likely be a little beyond their grasp.
But with Bill Snyder coaching, never say never. Ever.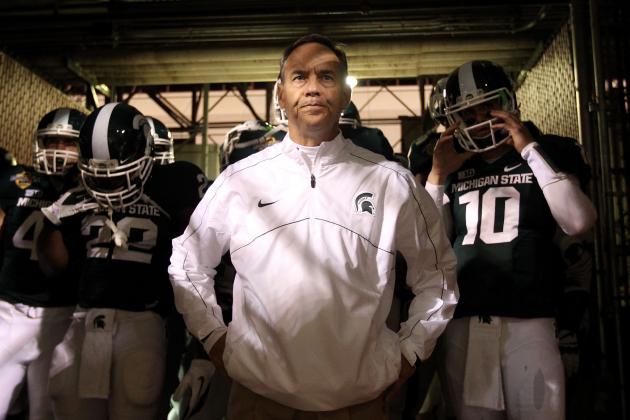 Christian Petersen/Getty Images

Final 2012 AP Ranking: NR
Final 2012 B/R Ranking: NR
Projected 2013 Preseason Ranking: 22
Laugh all you want at MSU's 7-6 finish to 2012; just keep in mind that with the exception of an early loss to BCS National Championship Game participant Notre Dame, the Spartans lost five games by four or fewer points. A combined 13 points—less than two touchdowns—separated MSU from 7-6 and 11-1.
Those facts tell us Sparty isn't all that far behind the rest of the Big Ten, and experience can go a long way in closing out tight games to turn losses into victories. MSU has lost some weapons up front, including the Big Ten's leading rusher in yards per game (Le'Veon Bell) and some defensive muscle from William Gholston. It will need to find some young replacements that can step up quickly.
But there were definite signs of hope this spring, and anyone who relaxes against a team when Mark Dantonio is calling plays does so at his own peril.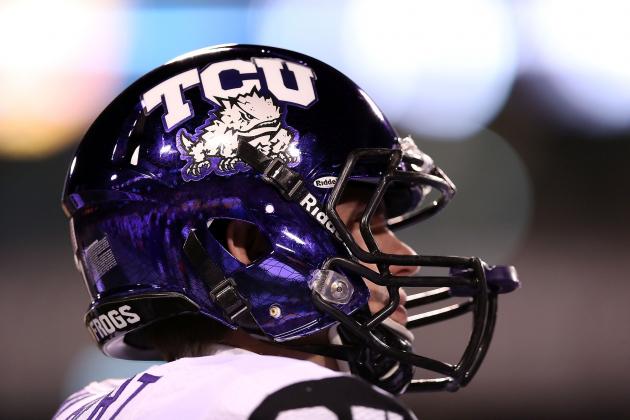 Christian Petersen/Getty Images

Final 2012 AP Ranking: Receiving Votes
Final 2012 B/R Ranking: RV
Projected 2013 Preseason Ranking: 21
The team Michigan State defeated in the Buffalo Wild Wings Bowl at the end of last season comes in one spot ahead of the Spartans in our post-spring practice Top 25 at No. 21. Texas Christian joined the ranks of the BCS AQ programs last season, and the first outing in the Big 12 for the Horned Frogs wasn't all that bad.
Seven wins is certainly a good foundation on which to build, especially in the rough-and-tumble Big 12. Defense isn't a high point for many programs in the conference, but TCU was a gem amongst the coal, posting the league's best defense and finishing 16th in total defense in the FBS in 2012.
Here's the really good news for TCU fans: There are 10 defensive starters returning for 2013, and they all looked "as expected" or better this spring. Don't sleep on the Frogs this season!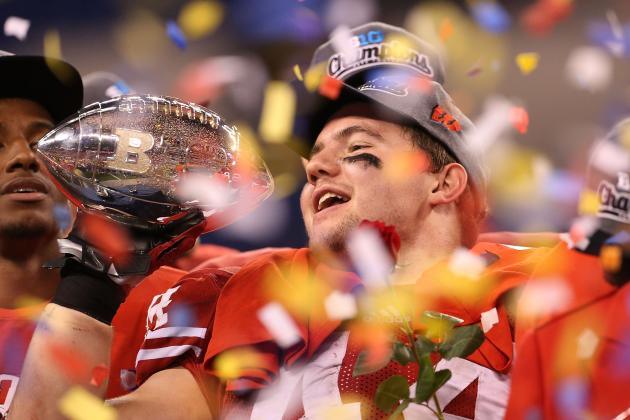 Leon Halip/Getty Images

Final 2012 AP Ranking: RV
Final 2012 B/R Ranking: RV
Projected 2013 Preseason Ranking: 20
It might seem odd to see a team that has won at least a share of the last three Big Ten titles as low as No. 20 on our list, but keep in mind Wisconsin lost six games last season.
The Badgers won the lottery in 2012 thanks to the fact that both Ohio State and Penn State were ineligible for the postseason. That gave a thoroughly mediocre Wisconsin team that was third place in the Leaders Division a chance to play in the Big Ten title game.
Perhaps going on the philosophy that even a blind squirrel can sometimes find a nut, the Badgers put up 70 points on a shell-shocked Nebraska team to earn an unlikely trip to the Rose Bowl.
But like the last three times, the Badgers couldn't handle things when it mattered most. Still, a respectable battle against Stanford has us thinking all is not lost in Madison, even if head coach Bret Bielema was.
Despite searching high and low for every possible back door into the conference title game and becoming the first six-loss team to ever play in the Rose Bowl game, we can't help but be impressed with the impetus we've seen from the new-look Badgers this spring. New faces on the sideline and a few of the skill positions won't keep this hard-hitting bunch off the national radar screen for long.
We're almost certainly not looking at a four-peat for Wisconsin in the Big Ten, but that doesn't mean this group of Badgers isn't capable of hanging on to a Top 25 spot in 2013.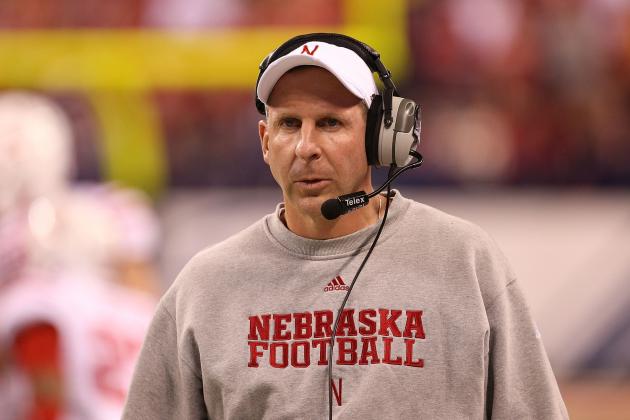 Leon Halip/Getty Images

Final 2012 AP Ranking: 25
Final 2012 B/R Ranking: 19
Projected 2013 Preseason Ranking: 19
There's certainly an argument to be made that Nebraska would have made a better Rose Bowl game honoree than Wisconsin last year. Nebraska beat Wisconsin in the regular season, but it was the Badgers who eventually earned the right to play in the Rose Bowl Game.
Perhaps Bo Pelini and Co. can use that as motivation for the 2013 season. Quarterback Taylor Martinez still hasn't lived up to expectations, but his continued maturity is evident through this spring. Martinez saw limited playing time in Nebraska's spring game, but he looks eager to get 2013 underway.
Despite returning just 12 total starters, the Cornhuskers should be able to vie for a possible repeat as Legends Division champions.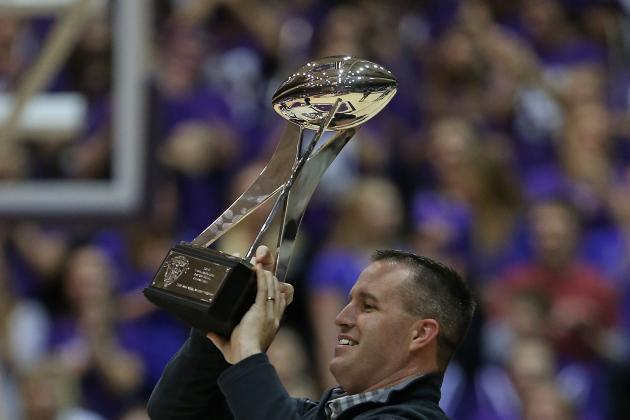 Jonathan Daniel/Getty Images

Final 2012 AP Ranking: 17
Final 2012 B/R Ranking: 18
Projected 2013 Preseason Ranking: 18
The Northwestern Wildcats, long a perennial doormat of the Big Ten (think Vanderbilt for you SEC fans), not only made it back to a bowl game for the fifth straight season, but actually won a postseason game for the first time since the 1948 season (the 1949 Rose Bowl game).
On top of that, the Wildcats carried the banner for the conference against the evil SEC, knocking off Mississippi State in the Gator Bowl.
Head coach Pat Fitzgerald really has the program humming right along, and with 15 starters back for 2013, there's a decent chance Northwestern could be mentioned as a dark horse in the Legends Division.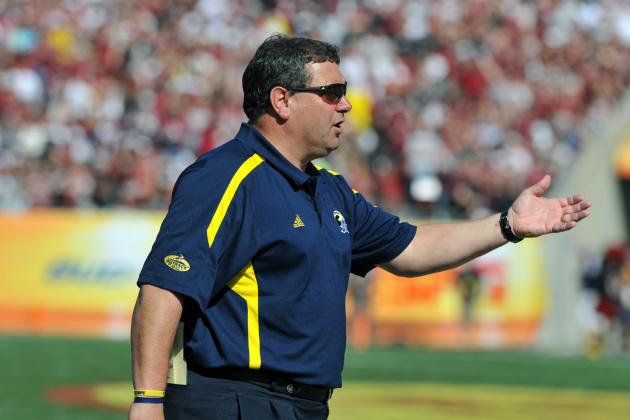 Al Messerschmidt/Getty Images

Final 2012 AP Ranking: 24
Final 2012 B/R Ranking: 22
Projected 2013 Preseason Ranking: 17
Michigan is always a hard team to nail down. Some years, no one expects much out of the Wolverines—like in 2011—and something magical happens. Other years, we all expect Michigan to do well, only to see a rather flat performance—like in 2012.
So what do we expect in 2013?
It seems as if Brady Hoke has his program on the cusp of something. His own recruits are gearing up for their chance to take the field, and with just 12 returning starters, that could happen pretty quickly.
There are plenty of holes to fill, particularly on the O-line and D-line, but with All-American tackle Taylor Lewan holding down the fort on offense, we think things will turn out just fine up front. What we're most impressed with this spring is the improved quarterback play.
Not only will Michigan have a true quarterback taking all of the snaps this season, but Devin Gardner is a really good quarterback. He had a solid spring and looked promising in his late-season starts in 2012. If the offense clicks with him under center, watch for the Wolverines to sprint to the top of the Legends Division standings.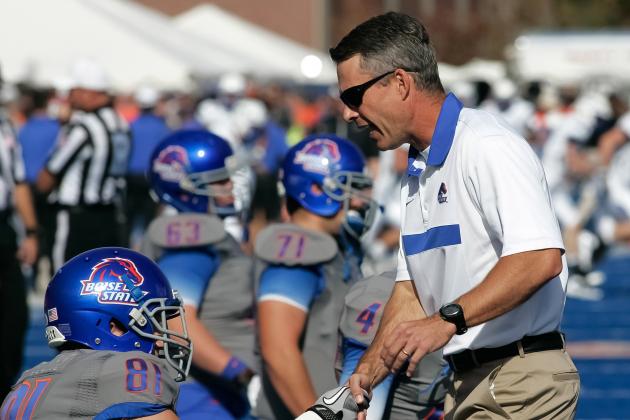 Otto Kitsinger III/Getty Images

Final 2012 AP Ranking: 18
Final 2012 B/R Ranking: 17
Projected 2013 Preseason Ranking: 16
Sure, the Boise State Broncos weren't making national headlines last season. But is 11-2 really all that bad?
The Broncos may be living off their reputation right now, as there were some pretty average-looking performances in 2012—and we mean average in terms of even Mountain West programs. But if we know Chris Petersen, we're fairly certain he's got a few special players hidden around campus somewhere.
The Broncos were missing a lot of experience last season. With the offense returning seven starters, including the entire receiving corps, we're betting on more points this year. Our major concern comes on defense.
Boise State doesn't return a single starter at linebacker or at corner. While spring ball has shown a lot of positives for these youngsters, scrimmages can't really be used as an accurate predictor of real-game performance.
So, we're taking a "wait and see" approach to the Broncos in 2013.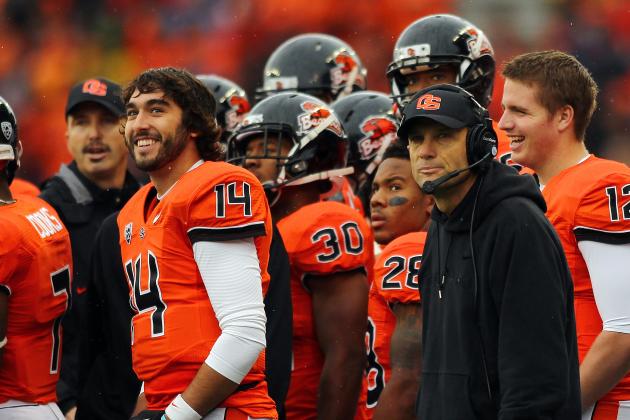 Jonathan Ferrey/Getty Images

Final 2012 AP Ranking: 20
Final 2012 B/R Ranking: 21
Projected 2013 Preseason Ranking: 15
Oregon State has recaptured its magic. Or so we think.
The Beavers were the darling of the Pac-12 last season, defying expectations and winning nine games before falling just short of knocking off Texas in the Alamo Bowl. The Beavers return 15 starters for 2013, and experience will begin to play a part of the future success of the program.
Expectations will certainly be higher this season, but from everything we've seen from this edition of Beavers football, Oregon State looks up to the task. If a solid running game can be developed by the end of spring camp, it might only take one unexpected victory for the Beavers to win the North Division.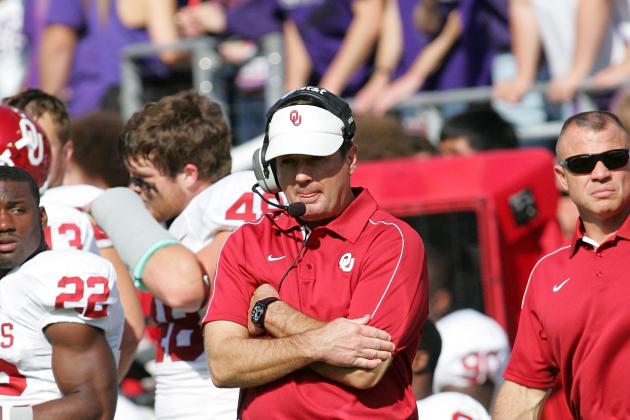 R. Yeatts/Getty Images

Final 2012 AP Ranking: 15
Final 2012 B/R Ranking: 15
Projected 2013 Preseason Ranking: 14
For the moment, we're going to continue to ignore the fact that Oklahoma seems completely incapable of winning the big games. Despite their marquee contest woes, we're still predicting the Sooners to make it into the Top 15 come the preseason polls, especially after satisfying spring practices.
We can count on Oklahoma to win enough games in 2013 to remain in the national conversation, but we still have lingering doubts about bringing home any big trophies this season. First off, its coaching staff still hasn't made a decision on a starting quarterback. In fact, we may not know who is going to be taking the first snap until he trots out onto the field for the Sooners' first 1st-and-10 of the new season.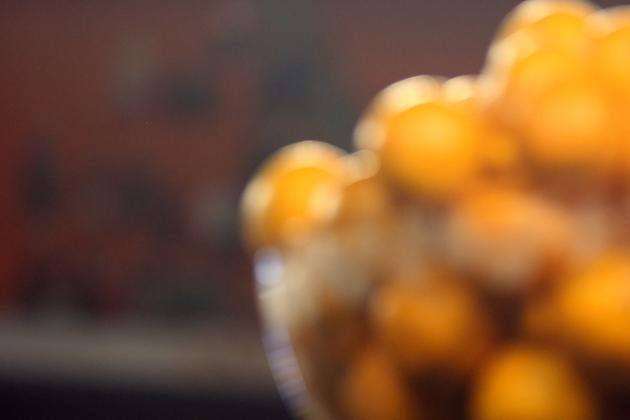 Streeter Lecka/Getty Images

Final 2012 AP Ranking: 10
Final 2012 B/R Ranking: 11
Projected 2013 Preseason Ranking: 13
Despite the best effort of all involved, Florida State still came up short on its preseason goal of playing for a national championship. Still, the Seminoles will enter 2013 as defending ACC and Orange Bowl champions.
The 2013 season, however, could be a very different story. The Seminoles will look very different this season compared to a year ago, and much of that turnover was evident in spring practice. There are a ton of new faces spread all over the field, and the defense is returning only a single starter among the front seven.
While this spring told us that we can expect FSU to reload with its usual level of talent, the utter lack of experience at some key positions could prove to hinder the Seminoles' hunt for another ACC title.
Kevin C. Cox/Getty Images

Final 2012 AP Ranking: 8
Final 2012 B/R Ranking: 8
Projected 2013 Preseason Ranking: 12
Jadeveon Clowney.
We're tempted to leave it at that. The one-man wrecking crew is going to be one of the top defensive contenders for the Heisman Trophy since, well, Manti Te'o last season. Still, every preseason storyline involving the Gamecocks will mention Clowney, and for good reason.
He's almost certain to leave for the NFL after the 2013 season, and when he does, he's almost guaranteed to be the No. 1 overall pick in the NFL draft.
What's that you say? South Carolina has just four other defensive starters returning? It doesn't matter. Clowney is so good, he's worth a whole defensive line of returning starters—and then some.
In all seriousness, Clowney is joined by a veteran secondary, which will give the Gamecocks good coverage both against the run and the pass. On offense, Connor Shaw is again taking the snaps, and we all know how accurate he can be. Add in a few experienced wideouts, and South Carolina can start to think about chasing down that elusive SEC East title once again.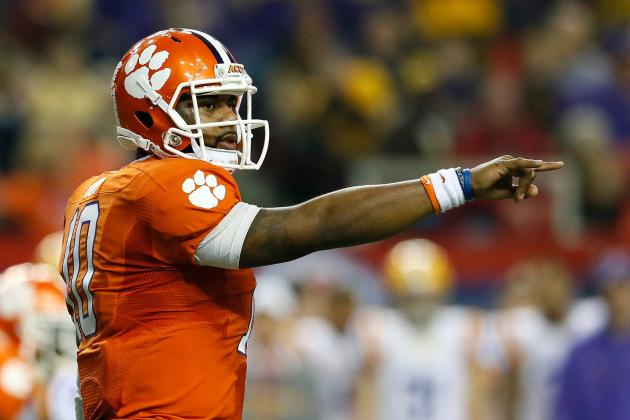 Kevin C. Cox/Getty Images

Final 2012 AP Ranking: 11
Final 2012 B/R Ranking: 9
Projected 2013 Preseason Ranking: 11
Clemson was the victim of unfortunate conference divisional alignment in 2012. Clearly one of the top two teams in the ACC last season, the Tigers were shut out of the conference title game thanks to an early season loss to Florida State.
There's one good way around that problem: Don't lose. And when it comes to competing with Florida State for the Atlantic Division crown, we're giving Clemson the nod for 2013. The Tigers are returning the bulk of their talent core, led by returning first team All-ACC quarterback Tajh Boyd.
Add in seven defensive starters to the six on offense, and Clemson is the likely Atlantic front-runner this season.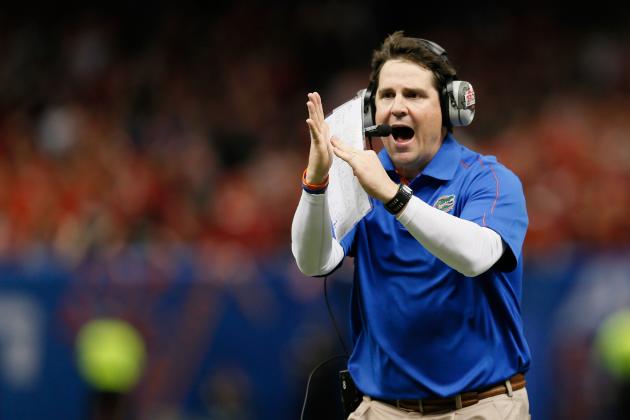 Kevin C. Cox/Getty Images

Final 2012 AP Ranking: 9
Final 2012 B/R Ranking: 10
Projected 2013 Preseason Ranking: 10
The success of Florida last season on defense was shocking, especially when compared to the utter lack of success on offense. The defense gave up just 286.7 yards per game last season, fifth in the FBS. The offense, on the other hand, gained just 334.0 yards per game—a laughable 103rd in the nation.
The problem for the Gators in 2013 is that Will Muschamp and Co. will need to replace all but three starters from that defense. On offense, Florida has six returning starters, but again from a squad that was among the nation's worst.
Florida looked pretty darn good this spring, as it always does. But the Gators will again have one of the toughest tests in the nation, going up against a resurgent SEC East while facing a mixed bag when it comes to cross-division and non-conference games.
Still, we're talking about Florida here, and name cred will go a long way in the 2013 preseason polls. That's probably the only reason we're putting the Gators in the Top 10 at this point.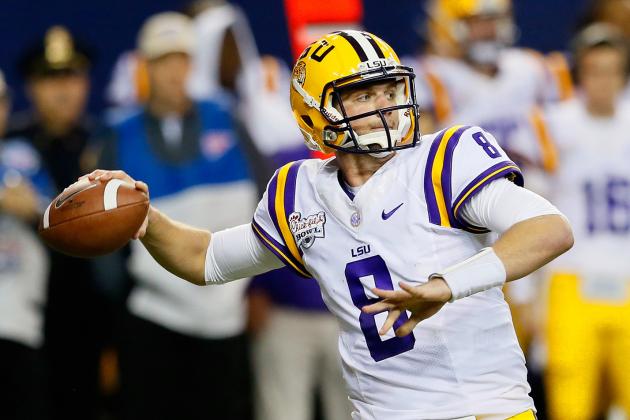 Kevin C. Cox/Getty Images

Final 2012 AP Ranking: 14
Final 2012 B/R Ranking: 13
Projected 2013 Preseason Ranking: 9
Another program that could be living off name recognition, at least when it comes to preseason polls, is LSU. The Tigers have long been rumored to be facing a bit of a rebuild in 2013, and spring drills have borne that out.
With at least seven gaping holes needing filling on defense, LSU is going to have to rely on offense that wasn't all that effective—or at least consistent—in 2012. Senior quarterback Zach Mettenberger has earned praise for his maturation this spring, and Tigers fans are hopeful that will translate into more points—but nothing's a guarantee against the SEC West.
With Florida and Georgia showing up on the schedule plus a season opener against up-and-comer TCU, it's almost impossible to predict where LSU will be come November.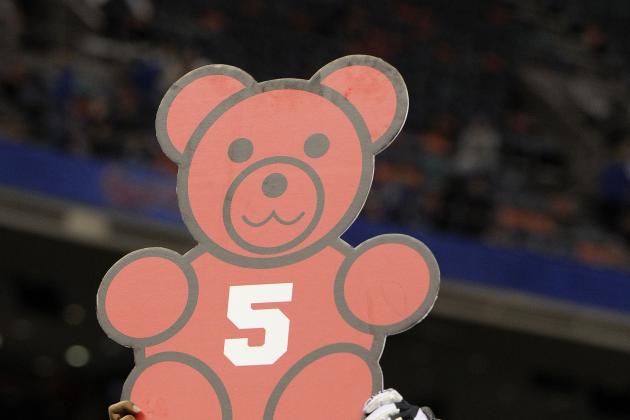 USA TODAY Sports

Final 2012 AP Ranking: 13
Final 2012 B/R Ranking: 14
Projected 2013 Preseason Ranking: 8
As simple as the focus of South Carolina's spring practice was, so too is the concentration at Louisville. Quarterback Teddy Bridgewater is not only the talk of town, he's become a national sensation after he led his Cardinals to a massive upset victory over Florida in the 2013 Sugar Bowl—all with a broken wrist.
Bridgewater is going to start the 2013 season as a Heisman contender, and after a solid spring, there's absolutely no reason the Cardinals won't be the odds-on favorite to win the Big East and earn another shot at a BCS bowl victory.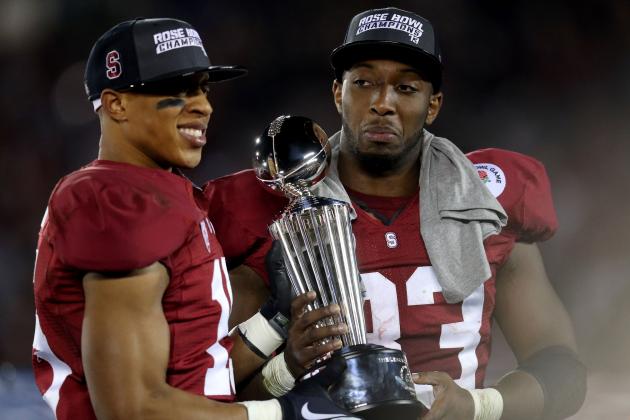 Stephen Dunn/Getty Images

Final 2012 AP Ranking: 7
Final 2012 B/R Ranking: 6
Projected 2013 Preseason Ranking: 7
There's little question that Stanford is a good football team. Some, if not many, would go so far to say that the defending Pac-12 and Rose Bowl Game champions are the best team in the west.
If that's true, Stanford fans are in for a treat in 2013. The Cardinal return seven offensive starters, including most of the offensive line anchored by All-American David Yankey.
On defense, the story gets even better. All-Americans Trent Murphy and Ed Reynolds headline a defensive unit that includes two other players who received All-Pac-12 honors in 2012. All in all, Stanford will have nine starters returning to a stingy defensive unit.
All that's left is a little spit and polish, and the Cardinal will be in a very good position to repeat as Pac-12 champs.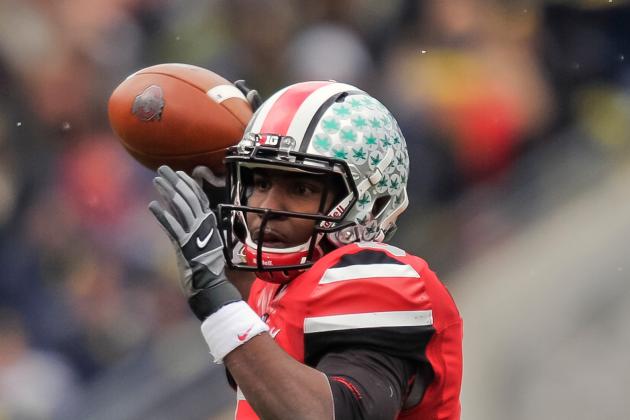 Jamie Sabau/Getty Images

Final 2012 AP Ranking: 3
Final 2012 B/R Ranking: 2
Projected 2013 Preseason Ranking: 6
Ohio State was the only undefeated program in the nation last season, but thanks to their well-documented transgressions, the Buckeyes were left out of the Big Ten title game, the BCS or any bowl game.
Ohio State fans are well-known for their bravado, and apparently, the program itself isn't above tooting its own horn: "Champions" rings were given to players and coaches despite the fact that Ohio State failed to win a championship of any kind last season.
It's also questionable whether Ohio State would have even found itself playing in the BCS title game, as both Notre Dame and Alabama were ranked ahead of the Buckeyes in the one poll that contained all three teams: the AP Poll.
Despite that 12-0 mark from 2012, Ohio State struggled mightily. The Buckeyes were 46th in total offense last season (which included the 105th-ranked passing offense). Those troubles led to very narrow wins over some "lesser" teams: a one-point win over 7-6 Michigan State, a three-point victory over a hapless 4-8 Indiana and an overtime squeaker against 6-7 Purdue. Not exactly the kinds of performances you'd expect to see from a championship-caliber team.
Perhaps Ohio State will be able to use its maturity from 2012 to improve against mediocre opposition this season. The Buckeyes return nine offensive starters from a year ago, including standout quarterback Braxton Miller. Miller will join three other All-Big Ten selections in what many hope to be Ohio State's return to form.
Miller was a fairly impressive—and surprising—16-of-25 for 217 yards and two touchdowns in Ohio State's spring game (played in Cincinnati due to renovations at Ohio Stadium). That's certainly a step up from last season, and it's more than enough to get Buckeye fans really excited.
But hold on just a sec. That above-average defense Ohio State fielded last season? Yeah, it only returns four starters from 2013. Maybe Miller's performance had a little something to do with a near wholesale change for the front seven.
We probably won't know the real answer to that question until a few weeks into September at the earliest, but coming off a 12-0 season with a massive chip on the shoulder pad will be more than enough to earn Ohio State a preseason Top 10 ranking.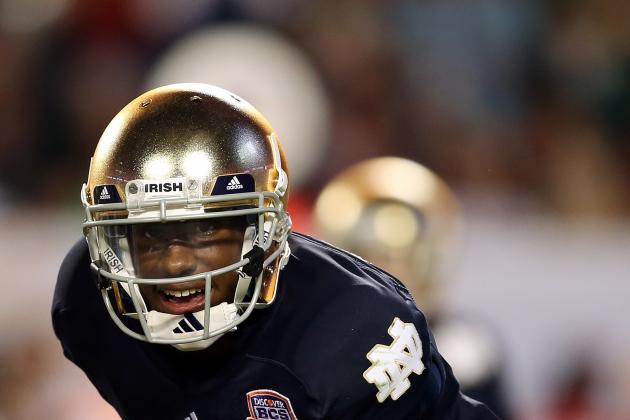 Streeter Lecka/Getty Images

Final 2012 AP Ranking: 4
Final 2012 B/R Ranking: 4
Projected 2013 Preseason Ranking: 5
Love Notre Dame, hate Notre Dame, just don't ignore Notre Dame anymore.
That was the message the Fighting Irish sent to the nation loud and clear last season, knocking off all 12 regular-season opponents en route to the BCS National Championship Game.
Brian Kelly is doing some amazing things in South Bend and looks to have the program back on the right track. Assuming he can keep things heading in the right direction, Notre Dame could be a force in college football again for years to come.
The spring game for the Irish wasn't what one would call a rousing success for returning starting quarterback Everett Golson. He was 6-of-13 for 98 yards in first-half action. He threw one interception and was sacked three times.
Clearly, his decision-making with the football is still a work in progress. The good news on offense is that his supporting cast is getting better and better. There's also that killer defense that dominated most opponents last season and dominated the spring game.
Notre Dame is assured of a Top 10 preseason ranking, and we're giving them the nod at No. 5. The Irish have another difficult schedule, and we question their ability to run the table again—but when it comes to Notre Dame, anything's possible.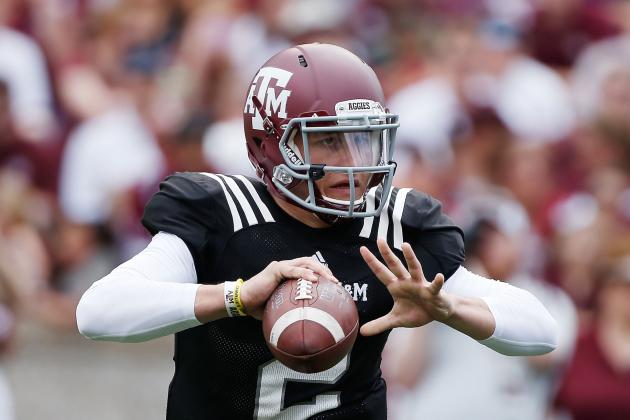 Scott Halleran/Getty Images

Final 2012 AP Ranking: T-5
Final 2012 B/R Ranking: 7
Projected 2013 Preseason Ranking: 4
Having a Heisman Trophy winner returning at quarterback is always a good thing. Johnny Manziel, fresh off his thrilling freshman season, will be the center of attention this season at A&M, and for good reason.
But that raises an interesting question: Can he pick things up next fall right where he left them at the end of 2012?
Manzeil was 24-of-30 for 303 yards and three touchdowns in the spring game, doing just what we all thought he'd do. But it is just the spring game. With every team in the nation keying on him this fall, can he keep up his crazy pace and compete for another Heisman?
The Aggies also need someone to step up to fill the ginormous shoes of Damontre Moore. Twelve-and-a-half sacks would be a lot for two or three guys to replace, much less one. Several players took over the position in the spring game, and the eventual starter is still unknown.
Finally, A&M will be in just its second SEC year, yet will be expected to compete for the title. Is that too much pressure too soon for this program? The Aggies made a great opening statement, knocking off Alabama at Alabama last season—something no one expected. Living up to championship expectations in the SEC will be a whole new bag of nuts.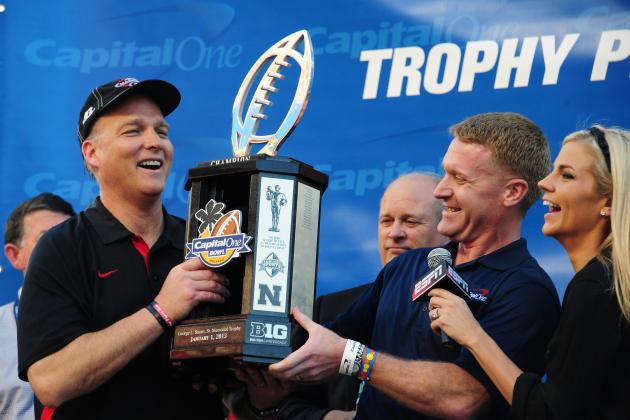 Scott Cunningham/Getty Images

Final 2012 AP Ranking: T-5
Final 2012 B/R Ranking: 5
Projected 2013 Preseason Ranking: 3
It seems laughable now, but a few years back, there were people calling for Mark Richt to be fired. There was even an entire website launched for that very purpose.
But after a 12-2 season, a narrow loss to Alabama in the SEC title game and a defeat of Nebraska in the Capital One Bowl, the cooler—and more intelligent—voices appear to be prevailing.
Georgia is going to start 2013 in the top five, and we all know what that means for an SEC team: win the conference title and you'll earn a trip to the BCS National Championship Game—even if you stumble a couple of times along the way.
The Bulldogs might be done stumbling, though.
They return 10 offensive starters, and even though Aaron Murray didn't wow anyone this spring, he still looked solid enough to be capable of winning 11 or more regular-season games.
The big question mark is the defense. Four starters return, and the secondary is almost completely new.
The SEC isn't a place for the faint of heart or the uninitiated. The Bulldogs will need to get their young defensive backfield in shape quickly to avoid those early pitfalls this time around.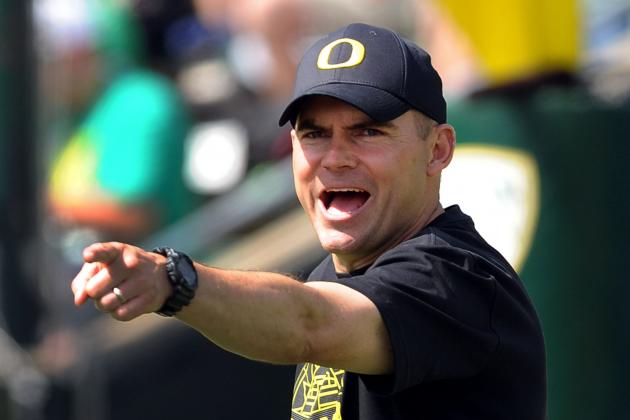 Steve Dykes/Getty Images

Final 2012 AP Ranking: 2
Final 2012 B/R Ranking: 3
Projected 2013 Preseason Ranking: 2
Chip Kelly may be off to the NFL, but one of the offensive minds behind Oregon's offensive juggernaut, Mark Helfrich, takes over as head coach in Eugene. And that offense is returning nearly everyone for 2013.
There's really been nothing this spring that has led us to believe we'll see any kind of fall off in Oregon's offensive output. The Ducks were second in scoring offense last season in the FBS, putting up 49.6 points per game (behind Louisiana Tech's 51.5). They also had the No. 3 rushing offense last season, averaging 315.2 yards per game on the ground, complete with an FBS-leading 48 rushing touchdowns (tied with Georgia Tech).
That all adds up to the No. 5 total offense and one of the most entertaining teams to watch anywhere in the nation. It also comes out to a No. 2 post-spring practice ranking.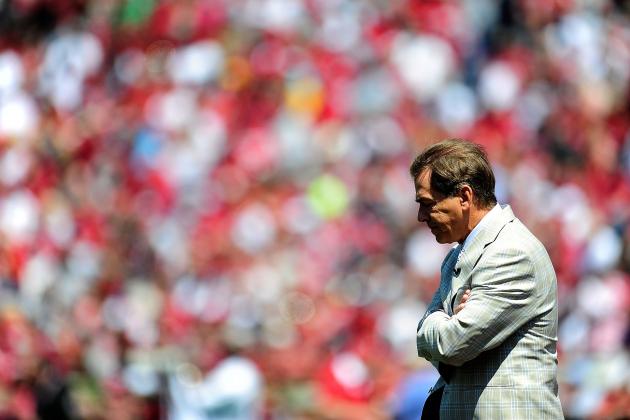 Stacy Revere/Getty Images

Final 2012 AP Ranking: 1
Final 2012 B/R Ranking: 1
Projected 2013 Preseason Ranking: 1
And who else but the Crimson Tide would we put in the No. 1 spot?
Let's face it, if, and only if, the Crimson Tide somehow fell all over each other and accidentally set the stadium on fire in the process during the spring game would we have even considered putting Alabama anywhere lower than the No. 1 spot.
The Tide return 13 total starters from last year's national championship team, but even if they returned three, they'd still be the odds-on favorite to win it all again in 2013.
Even a somewhat sloppy approach to the spring game isn't dissuading us from putting Alabama in the top slot. The Tide may be too "comfortable" being the king of the college football mountain, but we're willing to bet that's only going to light a fire under Nick Saban. Anyone want to be one of his players when he comes down on them for that? The chances Saban transfers that fire to the rear ends of his players come the fall is as close as you can get to a sure thing.
Until we see something different from Saban's program, we're going to go ahead and just assume that everything is in order and it's business as usual in Tuscaloosa—and there's been no signs this spring anything has changed.
Follow @davidrluther on Twitter!