7 Reasons Dolph Ziggler Has More Work to Do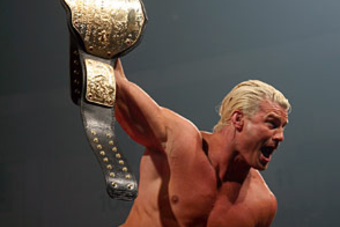 Photo courtesy of WWE.com
After years upon years of working his tail off, Dolph Ziggler has finally reached the pinnacle of his profession.
"The Showoff" is now the World Heavyweight champion for the first time in his career (sorry, but even he doesn't count that first one), and he's riding high as one of the new faces of the WWE's main event picture.
Many fans think that Ziggler's epic title win and subsequent reign have solidified him as a top guy and that he'll be booked like the star that he is going forward. But as we have learned from history, Ziggler shouldn't get too comfortable.
Although Ziggler is one of the WWE's top talents, nothing is guaranteed for him—even now that he's the World Heavyweight champion.
Ziggler still has a lot of work to do now that he's holding one of the top two titles in all of pro wrestling, and it's up to him to ensure that he puts in that work in order to keep his career on track.
Here are seven reasons why—despite just becoming World Heavyweight champion—Ziggler still has more work to do.
Begin Slideshow

»
The Money in the Bank briefcase is simultaneously somewhat of a blessing and somewhat of a curse.
On one hand, it virtually guarantees that the man who wins it is going to become World champion. On the other hand, the vast majority of the post-cash-in title reigns have all been pretty bad.
Alberto Del Rio and Jack Swagger both had terrible post-MITB title reigns, and if we're just being honest here, almost every single MITB winner has had a rather lackluster title run after their cash-in.
Will Ziggler follow suit?
That, of course, depends upon whether or not the creative team has enough confidence to book its MITB winner-turned-World champion like it should. Quite frankly, it simply hasn't done that in the past.
Ziggler may have all the tools to succeed as a World champion, but if the Money in the Bank "curse" continues, that ultimately won't matter.
He's gotta keep up the hard work to give himself the best chance of avoiding that curse and succeeding when so many past MITB winners have failed miserably.
Ziggler has made it to the top of the WWE, and he should certainly be ecstatic about his great achievement.
But Ziggler isn't alone at the top. He's brought Big E Langston and AJ Lee with him, and many feel like he won't every truly break out until he drops those two and flies solo.
Because Ziggler has not one but two managers by his side, and because he's a heel, the creative team will always have an "out" in any situation where it needs one. In other words, creative can always book him to win cheaply or lose after some sort of screw-up in situations in which it doesn't want to book him particularly strongly.
That's been perhaps one of the biggest detriments to Ziggler's career: He's almost always had someone by his side, so it hasn't allowed him to do some of the things that solo stars are able to consistently do on their own.
While Ziggler has still proven to be a great talent, he will always have something to prove and more work to do as long as he still has some sort of sidekick or manager.
Just because he's now the World Heavyweight champion, it doesn't mean that's going to change.
Getting to the top of the WWE is difficult. Extremely difficult.
But staying at the top is even harder.
Although there's no doubt that Ziggler worked his tail off to become the World Heavyweight champion, that was just the beginning. Now, he's got to work even harder to make sure that he stays there.
As we have seen in the past, so many guys have reached the pinnacle of the WWE, only to, for whatever reason, quickly fall off the map once they do actually get there. Ziggler, despite his tremendous talent, could easily follow suit.
There have been countless guys who have briefly tasted what it feels like to be a main eventer before dropping off and never reclaiming their spot in the World title scene.
Most assume that Ziggler is going to stay at the top because of how great he is, but just look at how long it took him to get there.
If it took a super-talented guy like Ziggler that many years to become World champion, then how can we be sure that he'll stay at the top?
Ziggler is the World Heavyweight champion right now, but he's just one of many stars who could feasibly be World champion in the near future.
From a storyline perspective, Ziggler has both Alberto Del Rio and Jack Swagger gunning for his World title. But that's just half of what Ziggler has to worry about.
Not even taking into account current angles and feuds, Ziggler has a boatload of other guys who are in the main event picture or are right on the cusp on it, and they could easily take Ziggler's title, and thus his spot, at any given moment.
Everyone from Randy Orton to Sheamus to Mark Henry could end up making his presence felt in the World title picture soon, and any of those guys could spell doom for Ziggler.
After all, the last two World champions (Alberto Del Rio and Big Show) didn't hold their titles for all that long. Ziggler may not, either.
It's a weird WWE these days.
Titles are often flip-flopped from one superstar to another, stars lose their pushes over petty backstage politics, not-so-talented stars win more titles than far more talented ones, etc.
What's that mean for "The Showoff?" Well, it means that one World title win/reign guarantees Ziggler absolutely nothing.
This is a WWE where Antonio Cesaro can lose 90 percent of his matches and get saddled with an absurd yodeling gimmick. This is a WWE that saw Wade Barrett lose the Intercontinental Championship at WrestleMania, only to win it back the next night.
In other words, it's a WWE where anything (yes, anything) can happen.
That includes Ziggler losing the World Heavyweight title at Extreme Rules, continuing to lose consistently or dropping back down to the midcard within the next few months.
Just because Ziggler is the World Heavyweight champion, he isn't guaranteed a damn thing. No one in the WWE is.
"With great power comes great responsibility."
You may remember that quote from the first Spider-Man movie, and it's a quote that we can apply to Ziggler here: Now that he's the World Heavyweight champion, more is expected of him.
He has to deliver better matches (if that's possible), better promos (he can) and better storylines (which he has virtually no control over). He also has to step up in other ways outside of the ring, like during media appearances or at non-wrestling WWE events.
This isn't to say that Ziggler hasn't already done a great job in those departments so far, because he has. It's just to say that he has to do even better now that he's the World Heavyweight champion.
It's the same with any other job. Ziggler has been "promoted," and with that promotion comes all sorts of added responsibilities.
There is no doubt that Ziggler can live up to the added expectations and avoid folding under the pressure, though. After all, he knows he has to.
Fans of Ziggler would be a lot less worried about how he'll be booked as World Heavyweight champion if he wasn't booked so poorly before he won the title.
As we all know, Ziggler had a rocky road to the winning the belt. For several months leading up the career-defining victory, he lost the vast majority of his matches and was booked like an absolute joke at times.
Because of the WWE's tendency to book him to lose so much, many fans are fearful that Ziggler's losing ways will continue despite the fact that he's now the World champion.
Can't say I blame 'em, either.
Since Ziggler is so good at making others look good, his career has been defined by a lot of losing and putting others over. Can we be so sure that that won't continue? Not really.
It's hard to buy into a superstar doing a 180 and going from constantly losing to constantly winning, which is why fear over Ziggler's booking as World champion is more than warranted.
In fact, we should be worried about Ziggler until the WWE proves that we shouldn't be.
Drake Oz is a WWE Featured Columnist for Bleacher Report. Follow him on Twitter!