Bold Predictions for Every MLB Team in May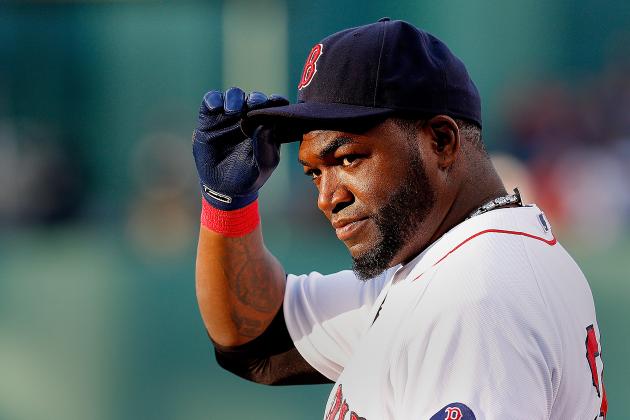 Jim Rogash/Getty Images
How much longer will David Ortiz's hitting streak continue?
April has been a very exciting month in Major League Baseball and May is bound to bring even more surprises.
Will players like Clay Buchholz, Bryce Harper or Justin Upton cool down or continue their extremely hot starts? Buchholz has brought the Boston Red Sox back from the dead while Harper and Upton have led their playoff favorite clubs to the top of the National League East.
Which players will step up and which will falter in May? Will the current first-place clubs finish May atop their respective divisions?
Here are some bold predictions for baseball's second month of the season.
*All statistics in this article were obtained via FanGraphs unless otherwise noted. All contract information was obtained via Cot's Contracts. All injury information was obtained via Baseball Prospectus.
Begin Slideshow

»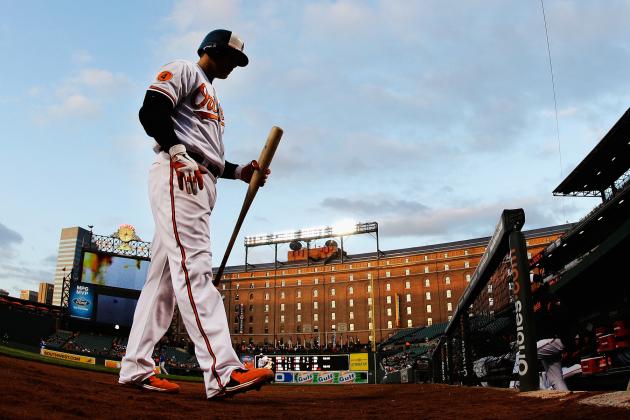 Rob Carr/Getty Images

Bold Prediction: Chris Davis only hits three home runs
Chris Davis has been one of baseball's most dangerous hitters to start the season. Through 24 games, Davis is hitting .346/440/.728 with nine home runs and 28 RBI. He hit 33 long balls in 139 games last season and is well on his way to match that mark.
But while Davis continues to destroy pitchers, watch for him to get fewer good pitches to hit. It makes zero sense for pitchers to continue to throw him strikes. Look for his walk rate to increase and potentially his strikeout rate as well, depending on whether he chases.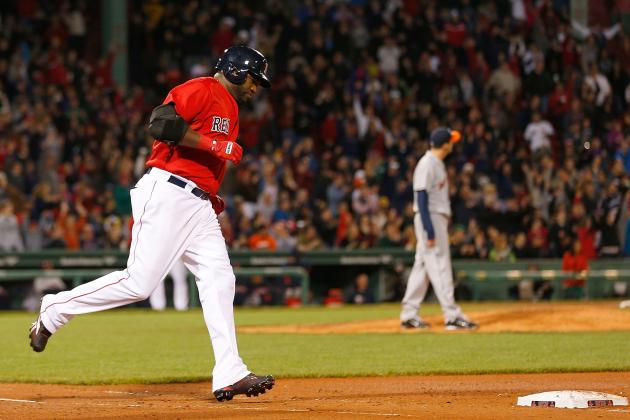 Jim Rogash/Getty Images

Bold Prediction: David Ortiz's hit streak reaches 35
After missing a solid chunk of last season and starting 2013 on the disabled list, David Ortiz is back, and back with a chip on his shoulder. Through seven games this season, Ortiz is hitting .519/.533/.889. But that's not even that impressive compared to what else he's done.
Ortiz has hit safely in the last 20 games he's played in dating back to last season. That would mean that Ortiz could finish May well on his way to breaking Joe DiMaggio's all-time record of 56 in a row. Ortiz will likely sit a few games throughout the month, but be on the lookout for how close he can get to 56.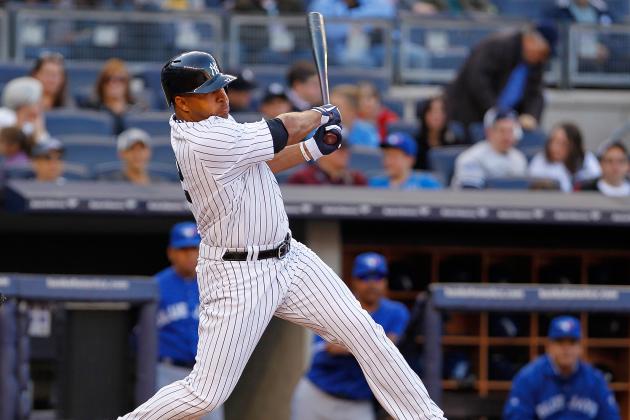 Mike Stobe/Getty Images

Bold Prediction: Vernon Wells stays red hot
When the New York Yankees acquired Vernon Wells from the Los Angeles Angels, they likely weren't expecting to acquire the All-Star-caliber version.
But instead of slacking through his first month as a Bronx Bomber, Wells has been remarkable. Through 21 games, Wells is hitting .309/.374/.580 with six home runs and 12 RBI. He's been one of New York's top hitters and the team hopes that he'll continue to stay hot through May, when some injured stars could return.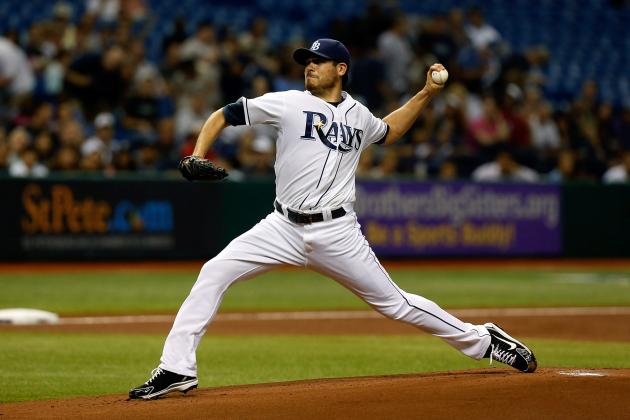 J. Meric/Getty Images

Bold Prediction: Matt Moore remains perfect
Through the first month of baseball, Tampa Bay Rays starting pitcher Matt Moore has been nearly unstoppable. Moore has been victorious in his first five starts of the year, posting a 1.13 ERA through 32 innings of work, averaging 10.69 strikeouts and 4.22 walks per nine innings.
In May, Moore will likely get either five or six starts and should have the opportunity to win the game each time he takes the mound. He'll probably get the nod against the over-achieving Colorado Rockies, the surging Boston Red Sox and the struggling Miami Marlins, among others. It wouldn't be crazy to see him at 8-0 by the end of the month.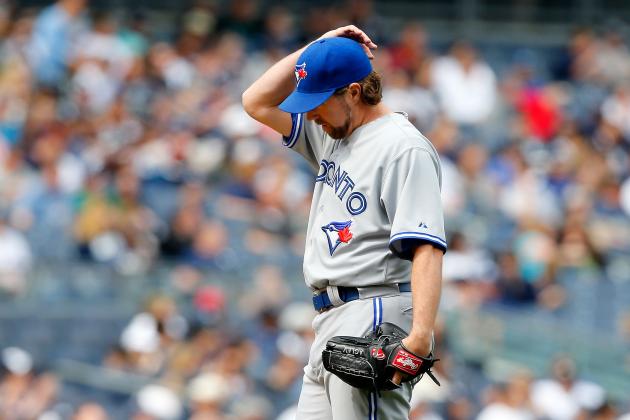 Jim McIsaac/Getty Images

Bold Prediction: Blue Jays stay in last place
The Toronto Blue Jays had what was thought to be a very good offseason, making unbelievable trades to acquire top-tier talent. But through the first month of the season, the Blue Jays have been anything but impressive. Toronto is in last in the American League East at 9-17 with one April game left.
May will be anything but a walk in the park for the struggling Blue Jays. On their schedule are the Boston Red Sox, Seattle Mariners, Tampa Bay Rays, San Francisco Giants, New York Yankees, Baltimore Orioles, Atlanta Braves and the San Diego Padres. That's a lot of teams that have played well this year. Toronto is in trouble.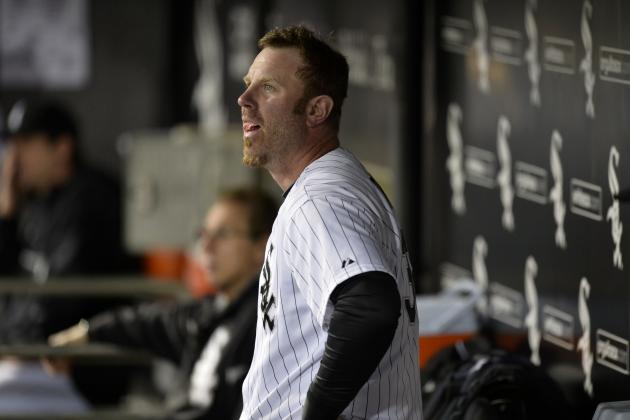 Brian Kersey/Getty Images

Bold Prediction: Adam Dunn hits below .100
Adam Dunn is no longer one of the most feared hitters in baseball. He's quickly become one of the game's worst. Through 22 games this season, Dunn is hitting .134/.211/.341 with five home runs, 10 RBI and a 33.3 percent strikeout rate.
Dunn has struck out at least 30 percent of the time in each of the last three seasons, which has really hurt his batting average. Last season, Dunn hit .230 in May, which was his second-best month for batting average.
Don't expect him to reach that mark in May this year. Although he has power, he can barely make contact anymore.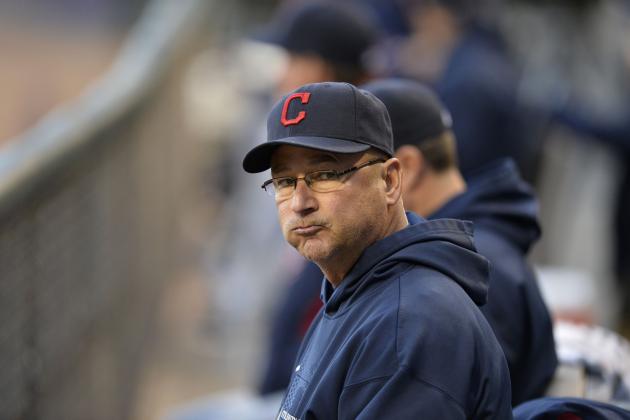 Brian Kersey/Getty Images

Bold Prediction: Home woes come to an end
The Cleveland Indians haven't played particularly well this season despite a couple of big offseason moves. But what's been somewhat surprising is that while Cleveland has played fewer games at home, they've played significantly worse there. In eight games at Progressive Field, the Indians are 2-6, compared to 7-7 on the road.
Last season, Cleveland was six games better at home than on the road and eventually this season, the Indians will turn it around. Cleveland is scheduled to play 19 home games in May, and it should be able to win at least half of them. While 50 percent isn't great, it's progress.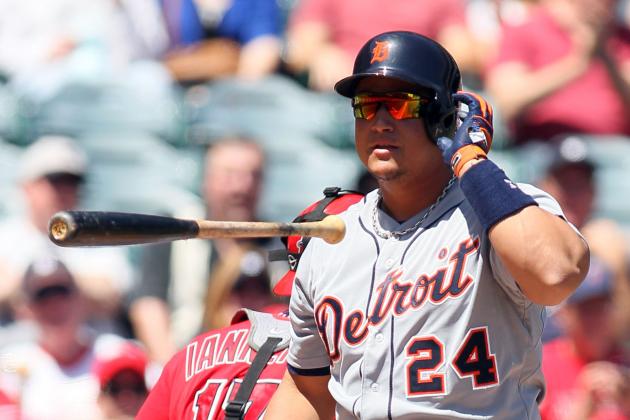 Victor Decolongon/Getty Images

Bold Prediction: Miguel Cabrera power drought ends
It's no secret that Miguel Cabrera can do some incredible things with a baseball bat, taking home the Triple Crown last season and the AL MVP. Last season, May was the month where Cabrera seemed to struggle the most in terms of power. Then, he only hit two home runs in 29 games.
This year, it seems that April has been that month. He's only hit three home runs to this point and is going to need to get going if he plans on reaching the 44-mark he hit last season. He'll have plenty of opportunities to crush inferior pitching as the Detroit Tigers are schedule to face the Cleveland Indians and Houston Astros a combined 12 times in May.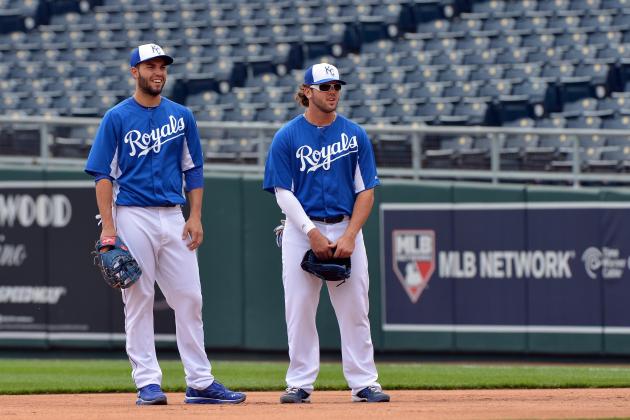 USA TODAY Sports

Bold Prediction: Mike Moustakas gets benched
The Kansas City Royals are trying to compete in the American League Central, but Mike Moustakas is holding them back. Moustakas has been Kansas City's worst position player this year in terms of WAR, as his negative WAR suggests that a replacement player would do better.
Through 18 games, Moustakas is hitting .156/.222/.197, while playing mediocre defense. Kansas City can't wait much longer for him to start hitting and must make a move. Whether the Royals decide to play Miguel Tejada, Elliott Johnson or someone else, it can no longer be Moustakas at third come June.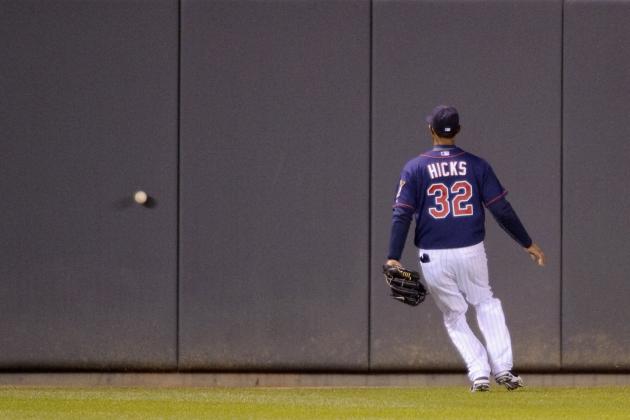 Hannah Foslien/Getty Images

Bold Prediction: Aaron Hicks starts to hit
Coming into the regular season, it appeared the Minnesota Twins rookie outfielder Aaron Hicks was going to be a prime candidate for the AL Rookie of the Year award. Since, however, he's looked like a player that was called up much too early and should still be playing in Triple-A.
Through 19 games, Hicks is hitting .108/.234/.123 while striking out 29.9 percent of the time. Those aren't the kind of numbers that the Twins hoped to see through the season's first month. But with more experience should come better success. Hicks will have around 20 games under his belt and should be able to start hitting with a little more consistency soon.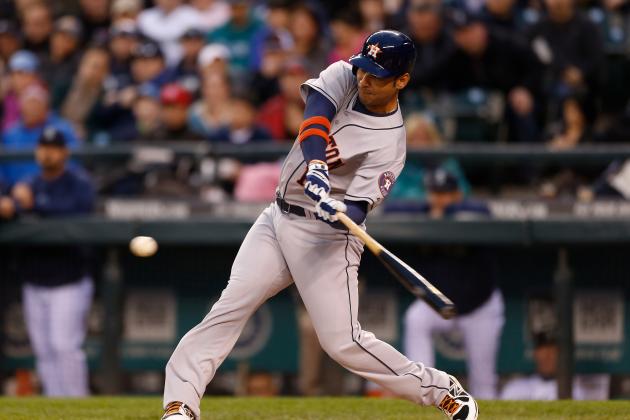 Otto Greule Jr/Getty Images

Bold Prediction: Astros strike out 275 times
The AL record for most strikeouts in a season is 1,387, set by the 2012 Oakland Athletics, according to Baseball Almanac. The MLB record is 1,529, set by the 2010 Arizona Diamondbacks. There's no doubt in my mind that both of those records will be broken this season by the Houston Astros.
Through their first 25 games of the season, the Astros struck out 248 times, which is the most in baseball. The Astros are currently on pace for more than 1,600 strikeouts, which would break both records. Houston will face several teams with great pitching in May, making it even more likely that it surpasses this month's strikeout total.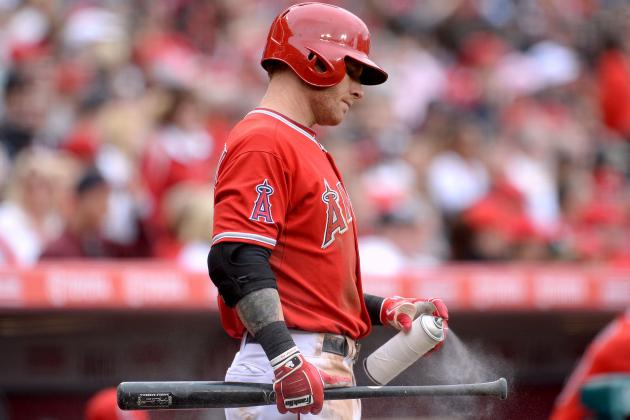 Jayne Kamin-Oncea-USA TODAY Sports

Bold Prediction: Josh Hamilton's struggles are halted
The Los Angeles Angels won the prize that was Josh Hamilton over the offseason, signing him to a monster deal and keeping him away from the rival Texas Rangers. But through his first 23 games in a Los Angeles jersey, that's looked like a poor investment on the part of the Angels.
Hamilton is hitting just .228/.277/.337 with a pair of home runs and eight RBI this season. In terms of WAR, Hamilton has been the Angels' worst position player. April has never been friendly to Hamilton over the course of his career, though, and he's been much better in May. Expect to see Hamilton have a more Hamilton-like month in May.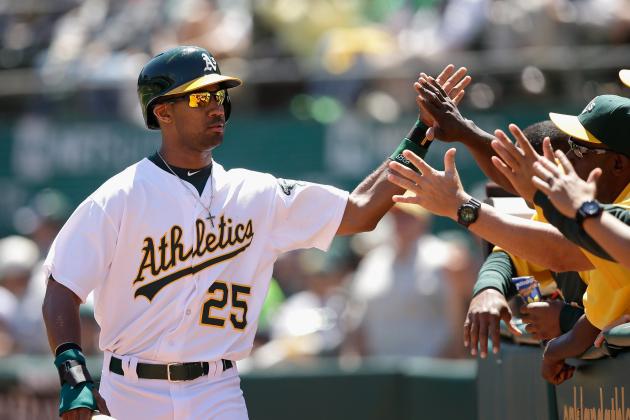 Ezra Shaw/Getty Images

Bold Prediction: A's walk more than 125 times
The Oakland Athletics have a very keen eye for balls and strikes. Through their first 26 games of the season, they've walked 117 times, which is the most in baseball. It's mainly because six Oakland batters have walked at least 10 times thus far and Josh Reddick and Seth Smith are right behind the pack with nine apiece.
Oakland won't be facing terrible pitching come May, but it won't be facing anything that special either. The A's will take on the Houston Astros and Cleveland Indians a total of seven times over the course of the month, both of whom are in the top five in terms of walks per nine innings.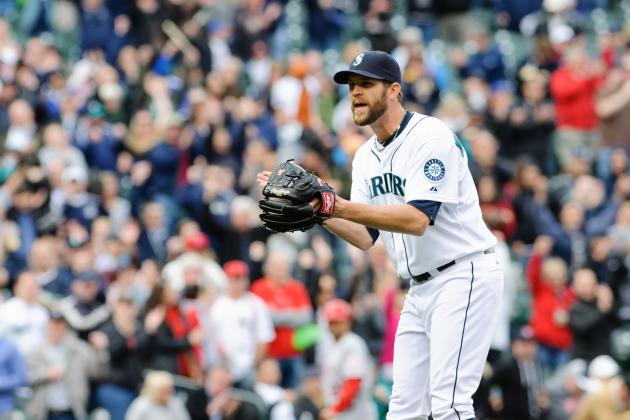 Steven Bisig-USA TODAY Sports

Bold Prediction: Tom Wilhelmsen leads MLB in saves
A closer on a mediocre team is a very important position. Just ask Tom Wilhelmsen, closer for the Seattle Mariners. He's perfect on the year in eight save opportunities, which is tied for the fourth-most in baseball, just two behind Jason Grilli (Pittsburgh Pirates) and Jim Johnson (Baltimore Orioles).
The league lead should be at 17 or 18 saves by the time May is concluded, and Wilhelmsen should be around that mark. At this pace, he could easily save 35-plus games this year.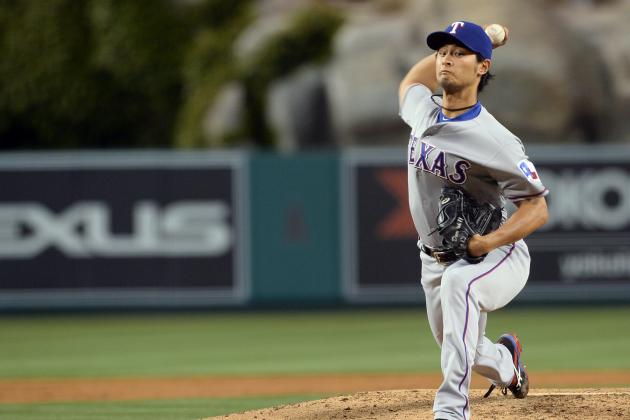 Jayne Kamin-Oncea-USA TODAY Spor

Bold Prediction: Yu Darvish continues Cy Young pace
Through five starts, Yu Darvish has been one of the most valuable pitchers in baseball. He's second among pitchers in WAR, just behind Adam Wainwright (St. Louis Cardinals). Thus far, he's 4-1 with a 1.65 ERA in 32.2 innings of work while striking out 13.5 batters per nine innings. That's very good.
But can Darvish keep it up? I'm going with yes, and by the time May is over, he'll absolutely be a Cy Young award front-runner. The Texas Rangers have some tough opponents coming up, but Darvish has shined against the best in the past. There's also a chance he gets to face the Houston Astros again, who he nearly no-hit last time.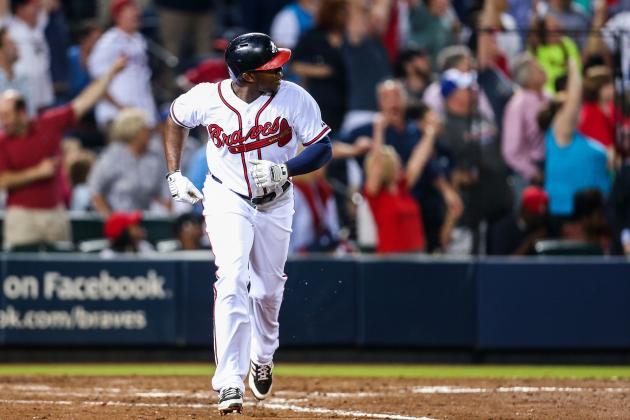 Daniel Shirey/Getty Images

Bold Prediction: Justin Upton hits four homers in a game
Justin Upton has hit like he's on a completely different planet this season. Getting traded by the Arizona Diamondbacks over the offseason, he's sure making the most of the opportunity to play for the Atlanta Braves. Through 24 games, he's hitting .307.398/.773 with a league-leading 12 home runs and 18 RBI.
Upton only has one multi-home run game to his credit this season, but he is sure to have many more by the time the season concludes. Don't be surprised if he has at least one more by the time May is over. Upton has the ability to hit a home run each time he steps up to the plate and is capable of hitting four home runs in a game.
Can he do it, though? While he's still red hot, it's certainly a possibility.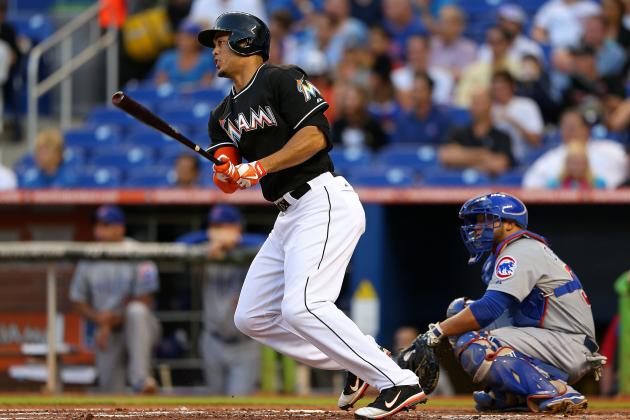 Mike Ehrmann/Getty Images

Bold Prediction: Giancarlo Stanton crushes eight homers
Giancarlo Stanton hasn't gotten off to the best of starts this season. Through 19 games, he's hitting .243/.361/.776 with just three home runs and nine RBI. It's worth mentioning that those three home runs have come in the last two games that Stanton has played in. Yes, he didn't hit his first until April 27, his 18th game of the year.
But now that Stanton has started to find his power stroke from the plate, opposing pitchers better watch out. Six times throughout his big league career Stanton has hit at least eight home runs in a month. This season, plenty of players have already hit that mark and it's still April. Look for Stanton to start mashing balls over the fence in what will lead into a monster month.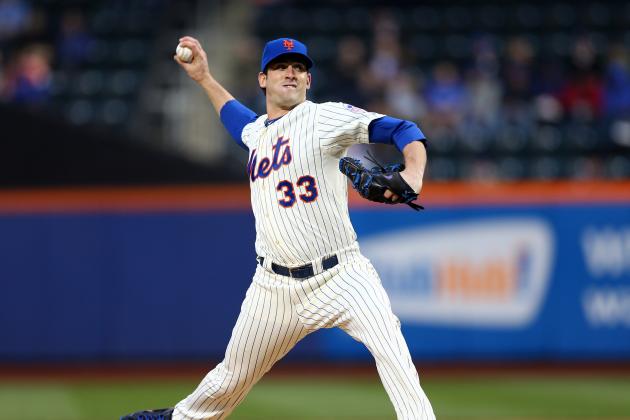 Elsa/Getty Images

Bold Prediction: Matt Harvey isn't human…still
Matt Harvey has gotten off to a fantastic start to the young season. Through five starts, Harvey is 4-0 with a 1.54 ERA in 35 innings, striking out 39 batters while walking just 10. He's among the league leaders in a variety of categories.
So how long can Harvey keep up these great performances? Well, at least through May. The Mets have somewhat of a tough schedule in May, but I'm confident in saying that Harvey's success will continue. He'll likely have to take on teams such as the Atlanta Braves, New York Yankees and St. Louis Cardinals. Is that a problem? I don't think so.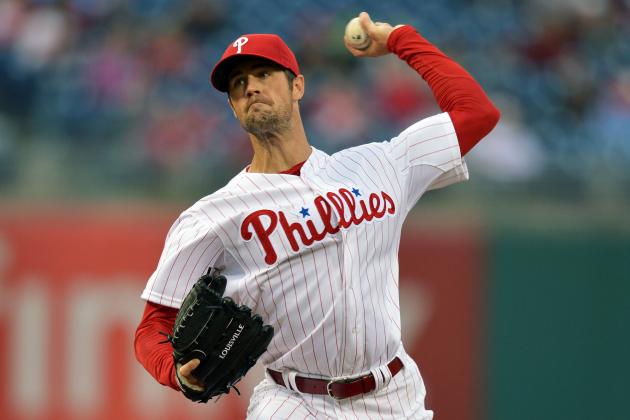 Drew Hallowell/Getty Images

Bold Prediction: Cole Hamels wins just one game
Cole Hamels has had his fair share of struggles to start the 2013 season. In six starts, the left-hander is just 1-3 with a 4.78 ERA in 37.2 innings of work. He's only allowed more than three runs twice, but his team has failed to score runs and that's the main reason he hasn't won more games. Walks, too, have been an issue.
Even though Hamels has been pitching somewhat better as of late, allowing only six earned runs over his last three starts, he could be in store for more trouble in May. The Philadelphia Phillies only have a couple of inferior opponents on their May schedule.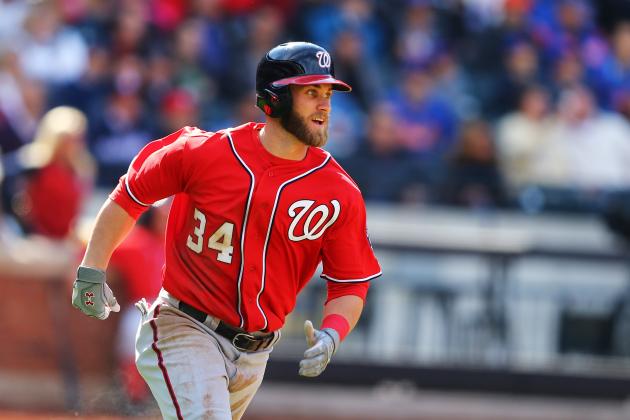 Al Bello/Getty Images

Bold Prediction: Bryce Harper launches 20th homer
Bryce Harper is already proving that his rookie campaign from a year ago wasn't a fluke and that he's going to be the real deal over the course of what looks to be a long career. Through 24 games, Harper is hitting .360/.444/.756 with nine home runs, 18 RBI and league-leading 1.200 OPS. He's been absolutely killing the ball.
So what should we expect from the Washington Nationals outfielder? Well, how about at least 11 more home runs? Coming it this season, Harper's high mark in home runs for month was seven, and it came during September. Now, he's already hit nine. If he can connect on a couple more poor pitches, there's no reason he can't hit 11 and reach the 20-mark before May is over.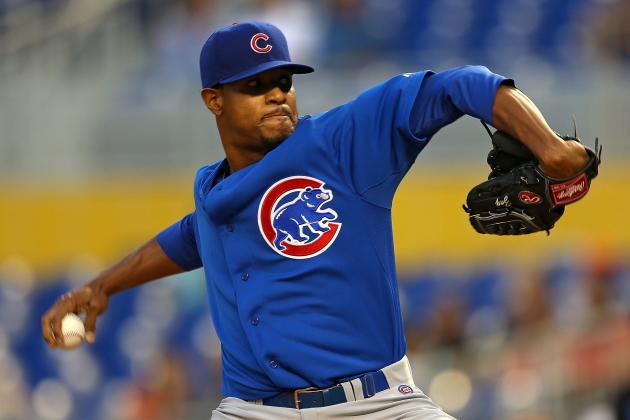 Mike Ehrmann/Getty Images

Bold Prediction: Edwin Jackson remains winless
Edwin Jackson has been one of the offseason signings that hasn't looked so impressive to start the season. Through five starts, Jackson is winless at 0-3 with a 4.76 ERA in 28.1 innings. While he's been striking out more batters than usual, 8.89 per nine innings, he's also been walking much more, 4.76 per nine innings.
With command clearly an issue at times for Jackson, walking at least four in three of his five starts, it seems unclear as to whether he'll bounce back soon. The Cubs aren't scoring many runs, currently with the third-fewest in baseball, meaning that Jackson will have to completely shut down the opposition to get a win. He may struggle to do that.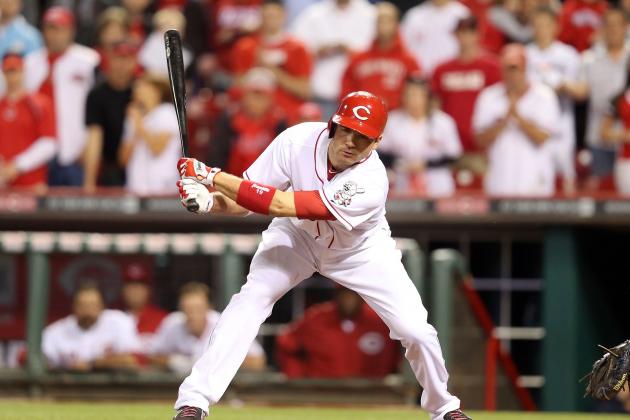 Andy Lyons/Getty Images

Bold Prediction: Road games continue to be a problem
The Cincinnati Reds aren't going to make the postseason if they continue to play like they have in April all year long. So far, it's apparent that the Reds can only win at home. They've gone 12-4 at home while winning just a pair of 10 road games. That's unacceptable and a stop must be put to it. But that might easier said than done.
Cincinnati will be on the road for 17 games in May, with a variety of different opponents. The Reds should be able to win some games against the Miami Marlins and the Chicago Cubs, but they could have trouble against the Philadelphia Phillies, New York Mets and maybe even the Cleveland Indians. Road games will likely still be an issue come June.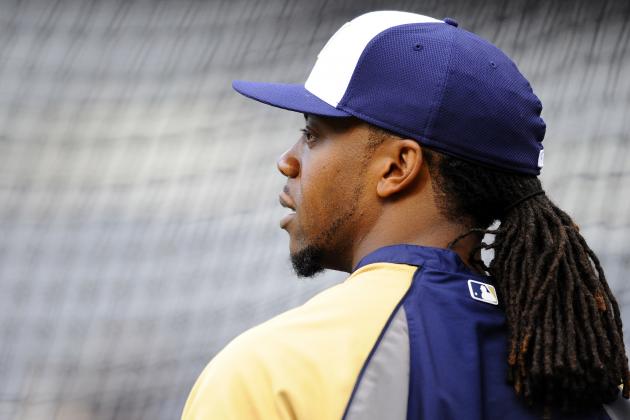 Christopher Hanewinckel-USA TODA

Bold Prediction: Rickie Weeks continues to struggle
Rickie Weeks has not been one of the better Milwaukee Brewers this season, and he's currently hurting his team more than he is helping it. Through 23 games, Weeks is hitting .172/.273/.264 with one home run and four RBI. He has, however, scored 13 times, but that doesn't make up for not producing overall.
What's concerning is that Weeks plays a big role for the Brewers, but the future doesn't look so bright. Among all of the summer months, Weeks tends to hit the worst in May. He has the lowest OPS of any month in May at .744 over the course of his career. Does that mean he absolutely won't turn things around? No, but it doesn't seem likely.
Denny Medley-USA TODAY Sports

Bold Prediction: Gerrit Cole gets the call
Pittsburgh Pirates starting pitchers haven't been that impressive in April, and the rotation could get shaken up come May. Starters are only 9-8 with a 4.00 ERA across 126 innings (25 starts). Pittsburgh's rotation has the sixth-worst WAR in the league.
When Pittsburgh continues to struggle in early May, don't be surprised when it calls up top prospect Gerrit Cole. Cole only has six Triple-A starts under his belt, five coming this season, but the time is now for the young hurler to make his major league debut. If the Pirates are going to make the playoffs, it'll likely be because Cole had something to do about it.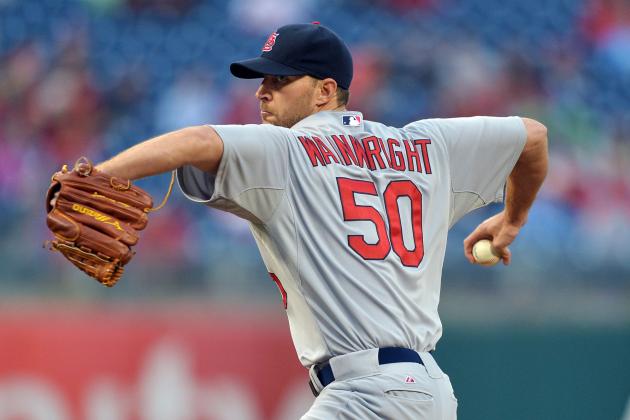 Drew Hallowell/Getty Images

Bold Prediction: Adam Wainwright tosses no-hitter
Adam Wainwright has thrown a bunch of great games over the course of his seven-year career, but he has never gone nine innings without allowing a hit. Already this season, he went nine innings against the Milwaukee Brewers, but gave up four base hits.
Come May, however, look for Wainwright to join the list of pitchers to throw a no-hitter. His best shot at it may be against the Padres.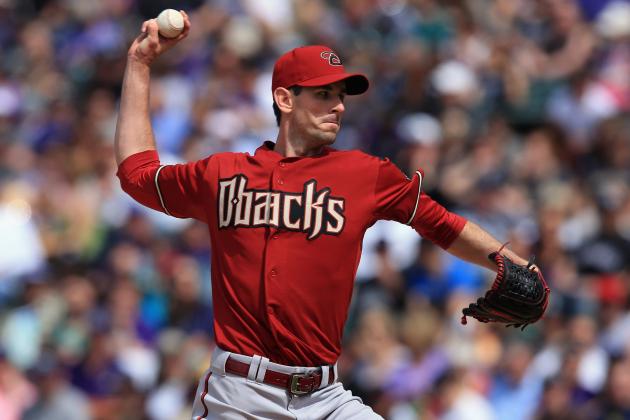 Doug Pensinger/Getty Images

Bold Prediction: Brandon McCarthy still doesn't win
Brandon McCarthy was one of the biggest names on the free-agent market this winter and the Arizona Diamondbacks thought that he'd be a good fit for them. Unfortunately, McCarthy has been a disaster to start the year with his new club. In five starts, he's 0-3 with a 7.48 ERA in 27.2 innings.
The problem is that McCarthy is giving up a ton of hits. His 1.771 WHIP is currently the highest of his career, despite the small sample size. Arizona desperately needs McCarthy to get his act together, but I don't think that'll happen until at least June. May has never been one of his best months.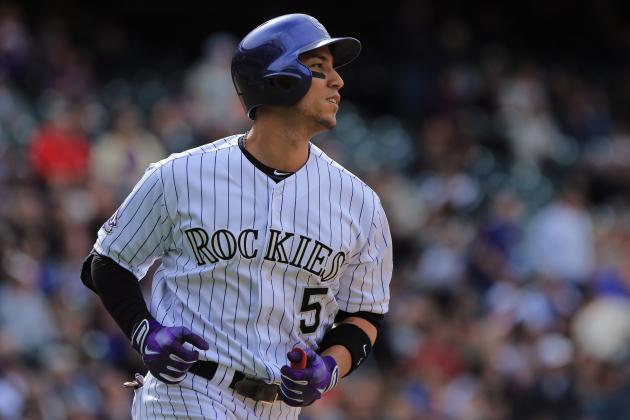 Doug Pensinger/Getty Images

Bold Prediction: Rockies return to reality
At 15-10, the Colorado Rockies are currently tied for the National League West lead with the Arizona Diamondbacks and are also tied for the most wins of any NL team. They've played better than anyone would've expected. But how long will their success continue? I'm predicting not much longer.
The pitching staff isn't that great and the offense is only dangerous at times. Overall, the Rockies are a very beatable team. They are very similar to last season's squad that won only 64 games. May is the month when the real Rockies will take the field.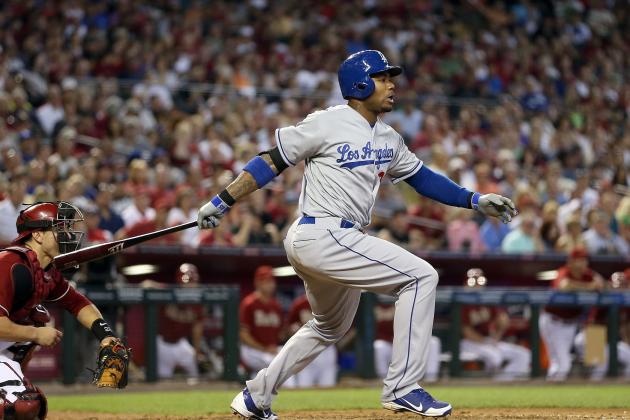 Christian Petersen/Getty Images

Bold Prediction: Carl Crawford stays the course
How well Carl Crawford has played this season has been one of 2013's biggest surprises. For someone that didn't play nearly all of last season, Crawford has been superb, hitting .307/.390/.523 with four home runs through 24 games. He's been the Los Angeles Dodgers' best position player in terms of WAR.
But will Crawford's bat stay hot through May? I'm going to go with yes, even though his career splits aren't very favorable toward baseball's second month. Crawford is playing with a huge chip on his shoulder and thus far has shown the Dodgers and the baseball world that he's still capable of playing at a high level.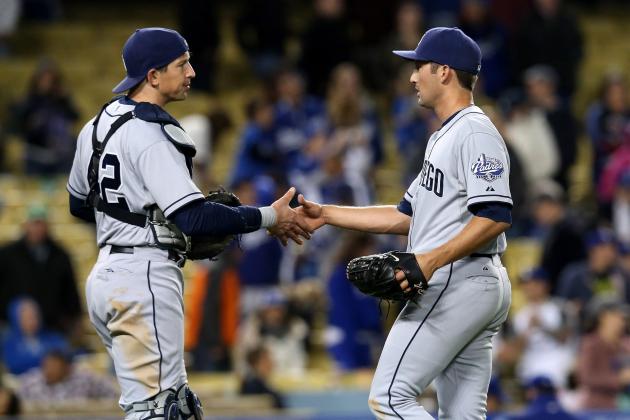 Stephen Dunn/Getty Images

Bold Prediction: Huston Street blows four saves
Although Huston Street has yet to blow a save this season in five opportunities, he's been playing with fire. He has a 4.50 ERA in 10 innings of work. He's allowed five earned runs on 12 hits while walking four and serving up a trio of home runs.
To say that Street is bound to fail in the near future would be a major understatement considering how he's pitched already this season. The San Diego Padres need to him to be at his best, but May will be a month where he frequently lets his team down. Street is more than capable of blowing half of the opportunities he gets next month.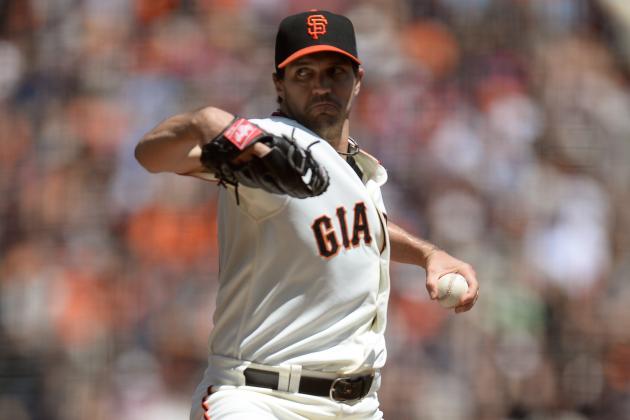 Thearon W. Henderson/Getty Images

Bold Prediction: Barry Zito goes winless
Has Barry Zito finally turned things around? After several disappointing seasons, Zito pitched well last season and is off to another good start this year. Through five starts and 27.1 innings, Zito is 3-1 with a 3.29 ERA. He's nearly striking out seven batters per nine innings, flaunting that ridiculous curveball, while walking under three.
Over the course of Zito's career, he's pitched rather well in the later months of the season, such as August and September, than earlier months. But he has been good in May in the past. He will definitely be tested, though, as the San Francisco Giants have a lot of tough games on their May schedule, including series against the Washington Nationals, Atlanta Braves and Los Angeles Dodgers.