Oregon Football: Game-by-Game Predictions for 2013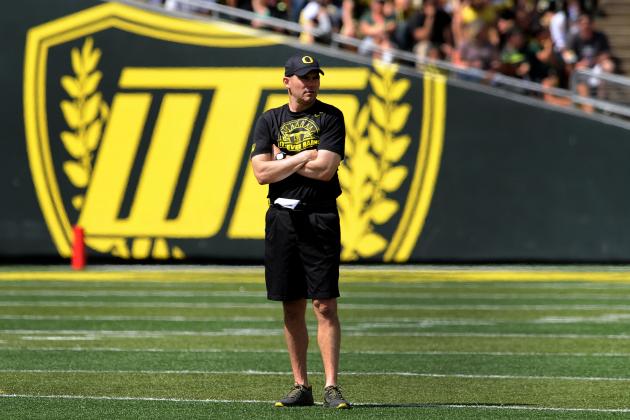 Steve Dykes/Getty Images
New head coach Mark Helfrich
With spring in the rearview mirror, it's time to take a look forward at the 2013 Oregon football season and take a stab at what this team might be able to accomplish.
The schedule sets up nicely with the Ducks avoiding both USC and Arizona State from the south division. A trip to Palo Alto to face the defending conference champs won't be easy, and both UCLA and Washington should provide stiffer tests than in previous years.
Still, at the moment, Oregon has to be considered the favorite in every game it plays with the possible exception of Stanford.
So let's take our own look at how the regular season might play out and make some predictions for all 12 games.
Begin Slideshow

»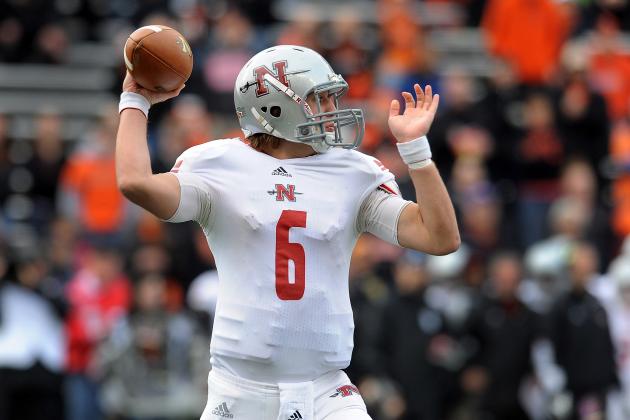 Steve Dykes/Getty Images
Can Nicholls State provide any kind of challenge to the Ducks? Probably not.
If last year's opener against Arkansas State proved to be a cupcake, this year's game against Nicholls State may be similar to a long day on the beach with free margaritas and endless sunshine.
It's a gimme game, no matter how you look at it.
Nicholls State is an FCS team that won just a single game last season in addition to losing 77-3 at Oregon State.
Regardless of what kind of analysis you look at, the Ducks are going to win big. More important will be answers to such questions like, how does Thomas Tyner look in his first game? Did the defensive line dominate? Is Marcus Mariota off to a nice start in his bid for Heisman?
Oregon 70, Nicholls State 6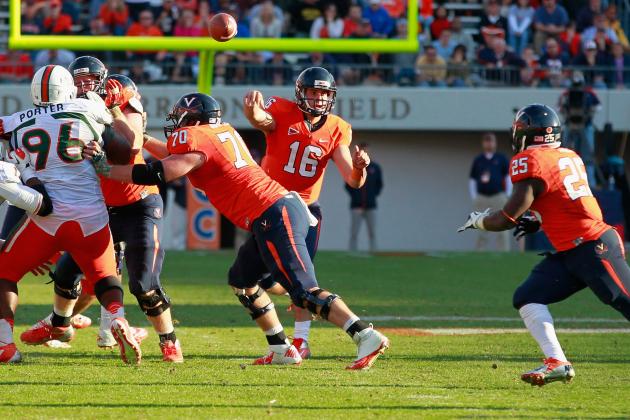 Geoff Burke/Getty Images
Virginia QB Michael Rocco
The second game on the Ducks' schedule features a much tougher opponent than the one they face in Week 1, yet this is still a game Oregon should win handily.
The strength of the Virginia offense is its passing attack, which ranked 37th in the nation last year. That plays right into Oregon's strength on defense, its secondary.
The only problems could come from jet lag and a slow start due to the very unfamiliar road environment. But this is a Cavaliers team that won just four games last season, and the talent gap is significant.
If Oregon can step on the gas right away, this will be a blowout. But as long as Ducks settle into a groove at some point in the first half, the final score won't be close.
Oregon 53, Virginia 13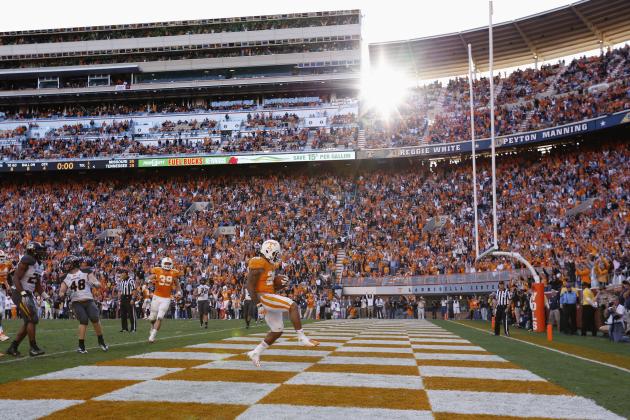 Joe Robbins/Getty Images
Tennessee RB Rajion Neal
The Tennessee Volunteers will visit the Ducks in Week 3 of the 2013 college football season as the second part of a home-and-home series which began in 2010.
While seeing an SEC team play in Autzen Stadium might normally be cause for excitement, this particular version of the Volunteers isn't expected to put up much of a fight.
They lost their quarterback and top two receivers to the NFL, and while new coach Butch Jones has brought renewed enthusiasm to the program, it may take awhile for them to really compete with top-tier teams like the Ducks.
The only real challenge may come in the trenches, where despite the Volunteers lacking the kind of talent most SEC teams are used to having, they'll still boast big, strong players in the middle that should provide a nice test for the Ducks.
As long as the Autzen crowd shows up and the Ducks utilize their speed, this one won't be very close either.
Oregon 42, Tennessee 17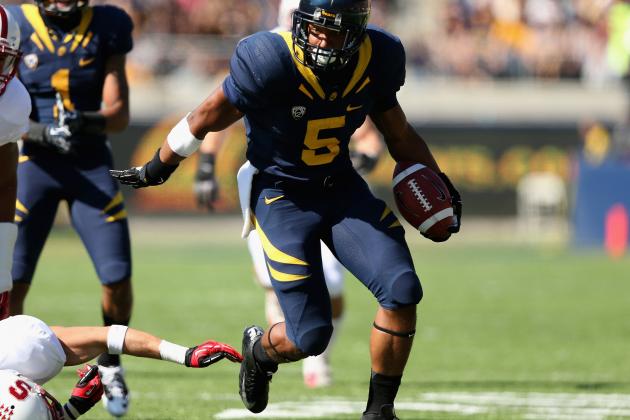 Ezra Shaw/Getty Images
Brendan Bigelow is expected to have a breakout season in 2013.
A bye week following the Tennessee game will give the Ducks plenty of time to prepare for the new-look Cal Bears led by head coach Sonny Dykes.
Dykes brings with him to Berkeley a reputation of offensive fireworks and exciting football, both things that Cal has lacked in recent years.
I think the Bears have a chance to be sneaky good in 2013, but it could take a little while for everybody to get comfortable with the new system. As always, the defense will have plenty of talent, but the real question becomes whether it can put it together and shut down top-notch offenses.
Brendan Bigelow will be a player to watch in this one, and he has a chance to be one of the best backs in the league after showing brilliant flashes of greatness in 2012.
In my opinion, this game has sluggish start written all over it, but I think the Ducks will eventually get it together and win comfortably.
Oregon 45, Cal 24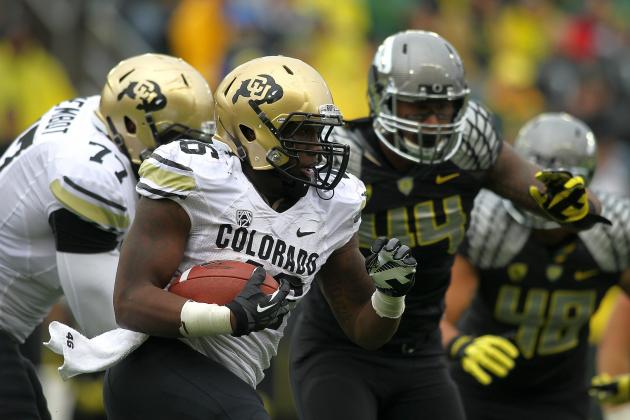 Jonathan Ferrey/Getty Images
Colorado RB Christian Powell
The Oregon Ducks will travel to Boulder, Colo. on October 5 for what should be their fifth straight win to start the season.
It can be risky business to simply pencil in a victory with total confidence, but it's hard to imagine the Ducks struggling in this one.
Colorado has a new head coach in Mike MacIntyre, and freshman running back Christian Powell had a strong start to his career with nearly 700 yards last season.
But the situation at quarterback remains a mess, and the defense just doesn't have the kind of talent it takes to stop multi-dimensional offenses like Oregon's.
Oregon 63, Colorado 14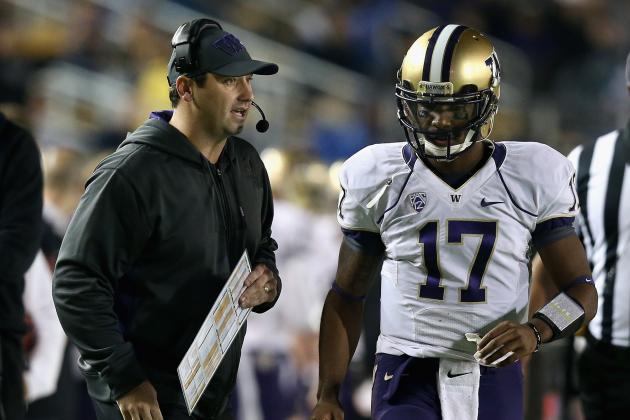 Ezra Shaw/Getty Images
Washington QB Keith Price
I know anything other than me predicting a blowout victory will probably irk Duck fans, but let's take a realistic look at this game.
First, Washington will have more talent than it's had at any point over the past decade. Second, Keith Price, despite his struggles in 2012, has the skills to be a great quarterback. Third, Bishop Sankey, Kasen Williams and Austin Seferian-Jenkins provide an elite troika of players that can hurt any defense. Finally, the defense, led by Shaq Thompson, should continue to improve.
All that said, the Ducks should still win this game. They have the speed on defense to contain Price's passing targets and the skill on offense to score often early on.
What makes this tricky is the rivalry factor and the fact that brand-new Husky Stadium will likely boast a raucous crowd wanting nothing more than for its team to finally beat the Ducks. But to me, the talent differential is still too wide for that to happen. It could, but you wouldn't put money on it.
Oregon 42, Washington 31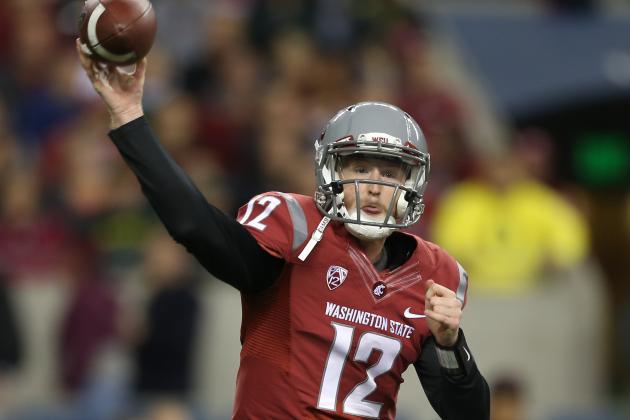 Otto Greule Jr/Getty Images
Washington State QB Connor Halliday
Ironically, it was Washington State who provided the Ducks with one of the stiffest road tests of the season, at least for a half.
But next year the Cougars will travel to Autzen, where Connor Halliday could become overwhelmed by the crowd noise.
It seems as though every season there's one or two games where the Ducks put everything together and get flawless football. I think this could be that game, and if so, the scoreboard will get ugly before you finish your first hot dog.
Oregon 60, Washington State 13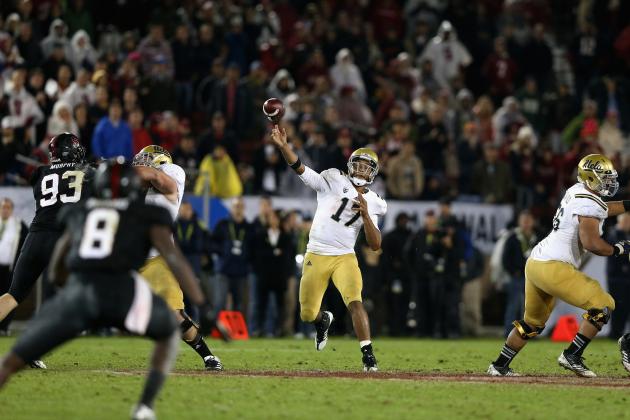 Ezra Shaw/Getty Images
UCLA QB Brett Hundley
Other than the road trip to Stanford, I think this will be the toughest game of the season for the Ducks.
Brett Hundley is an elite talent with a huge arm and speed to burn, and the defense has serious NFL talent in Anthony Barr and Eric Kendricks.
The weakness on UCLA will be its young secondary and lack of experience surrounding Hundley. But the Bruins have that "it" factor right now, and I see Hundley making a huge leap in his second season.
Still, will the Ducks really lose at Autzen for the second straight year? Methinks probably not. But don't be shocked to see this one in doubt heading into the final quarter. The Ducks should pull it out, but the Bruins will cause a scare.
Oregon 45, UCLA 35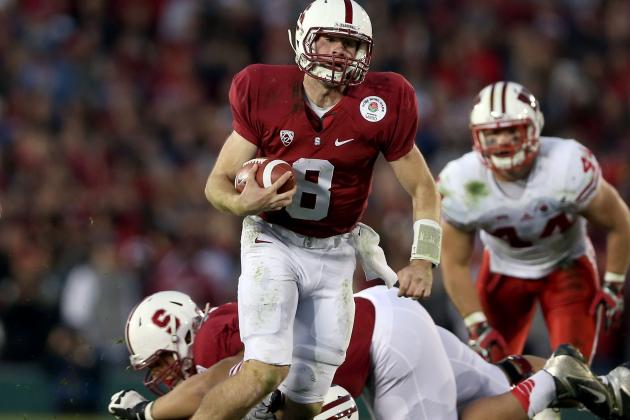 Jeff Gross/Getty Images
Stanford QB Kevin Hogan
The biggest game of the year occurs on a Thursday night when the Ducks take on the Stanford Cardinal away from home.
It could very well be a matchup of two Top 10, even Top Five teams. The crowd probably won't play a factor as the Ducks haven't lost a conference road game in several years. So what will the difference be in the game?
Well for one, you can bet that Marcus Mariota has watched last year's tape and will have some answers for Stanford's aggressive defense. But scoring will be no easy task.
For Stanford, it'll need an improved passing attack to open up the offense and keep up with Oregon.
Can Stanford hold Oregon to 14? Probably not. But will the Ducks have another impressive effort on defense and hold the Cardinal to under 20? That remains to be seen.
At the moment, Oregon appears to be the more well-rounded team, and I give the Ducks the edge. But this game could truly go either way, and we'll have a much better idea of what to expect once we see these teams in action.
Oregon 31, Stanford 23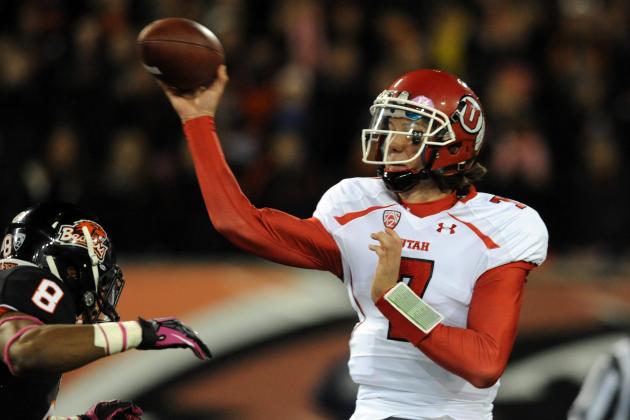 Steve Dykes/Getty Images
Utah QB Travis Wilson
The Utah Utes experienced a rude awakening last season in the Pac-12, and next year might not provide much solace.
They lost their best player on offense (RB John White), their best player on defense (Star Lotulelei) and are relying on athletic quarterback Travis Wilson to get things going.
I don't see it happening, at least not at Autzen. The Ducks haven't faced Utah since they became part of the Pac-12, and I don't think the Utes will look forward to their next date with Oregon following this one.
I mentioned the Washington State game as one that could become a blowout fairly quickly, and I see this game following a similar pattern. Mariota will have an outstanding performance, and Tyner will break out with his first 120-yard game of the season.
Oregon 55, Utah 10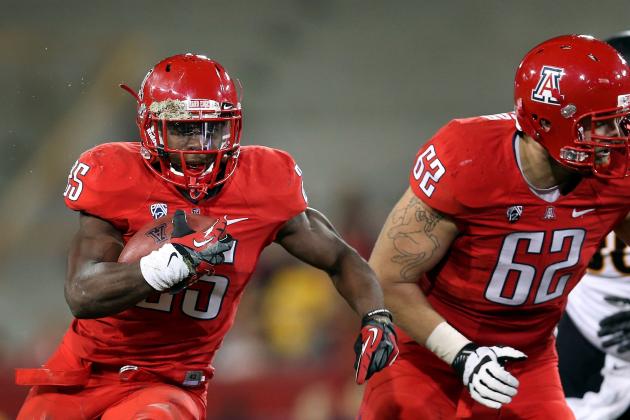 Christian Petersen/Getty Images
Ka'Deem Carey will headline the Arizona offense.
Everything points to major improvement for Arizona in 2013, except for one thing: the quarterback.
Matt Scott has graduated, and the Wildcats will be left with either B.J. Denker, USC-transfer Jesse Scroggins or incoming freshman Anu Solomon to take over the reigns of this high-powered, Rich Rod offense.
The unfortunate thing for Oregon is that with this game taking place so late in the season, there's a decent chance the Wildcats will have found their groove. After all, Ka'Deem Carey is an elite talent, and despite losing Austin Hill to an ACL injury, the passing attack still has great potential.
What Arizona fans are really excited about is a defense that won't get pushed around next season. But is it tough enough to stop the Ducks?
Tucson has always been a tough place to play, but I think Mariota's improved leadership will help the Ducks pull out a closer-than-you'd-like game.
Oregon 41, Arizona 33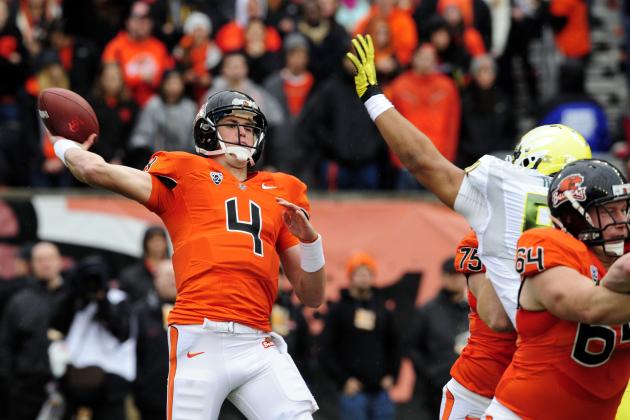 Steve Dykes/Getty Images
Will Sean Mannion be the Beavers QB next season?
The Civil War provides an end to the regular season in 2013, and it could have considerable hype.
The Beavers have a very good shot to start the season 7-0, and if they can upset a couple of teams before they travel to Autzen, they could arrive as a Top 15 team.
Their defense is tough and knows Oregon in and out. The offense should be improved with second-year player Storm Woods at running back and Brandin Cooks at wide receiver.
If this game were played at Reser, I might have serious reservations about taking Oregon. But Autzen will make an impact, and I think the Ducks will play like they have everything on the line. And if my previous predictions ring true, they will.
A win against the Beavers will give Oregon its second undefeated regular season in four years.
Oregon 35, Oregon State 24
As a side note, for those who think predicting an undefeated season is ridiculous: aside from the Stanford game, which admittedly is a toss-up, which game do you honestly see the Ducks losing?