Fans' Ultimate College Football Schedule for 2013
Streeter Lecka/Getty Images

College football is coming.
The summer will be long, and filled with sunny days bereft of any pigskin entertainment, but soon fall will arrive, and with it the inevitable return of cleats on the gridiron, heralding the beginning of another season fraught with controversy and filled with excitement.
And that's just in September.
Each weekend, from the end of August to the beginning of December, there will be college football, and that feeling that something is missing will be gone, replaced by thoughts of rankings, upsets and the Heisman.
So where are you going to be?
Read on for a week by week guide to the best games to attend each week.
Begin Slideshow

»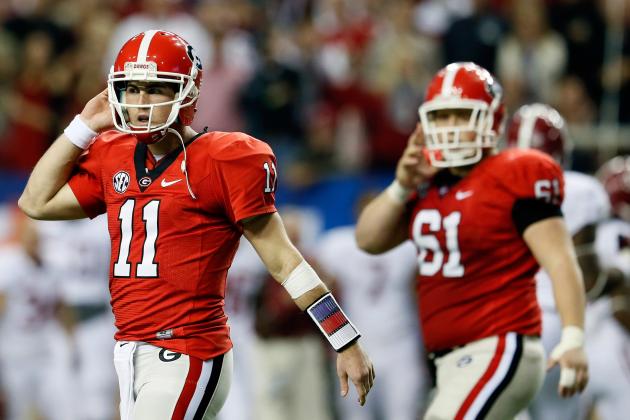 Kevin C. Cox/Getty Images

If Virginia Tech's offense were not looking nearly as woeful as it did last season, the Hokies' meeting with Alabama might have this slot.
No, there is a better matchup in Week 1.
The Bulldogs vs. the Tigers in a game that will help establish one of these squads as an early contender for a BCS title.
Clemson, despite an excellent win over LSU in its final game of the 2012 season, still has much to prove.
The Tigers need this win over Georgia to prove they are true contenders for the final BCS crown.
A win over Georgia, a legit contender to win the SEC, would give Clemson plenty of confidence heading into conference play.
Meanwhile, Georgia has been the loser at each of the last two SEC title games, and somehow, despite a 22-6 record over the last two seasons, has missed the BCS.
With Aaron Murray returning at quarterback and a bruising tailback combination returning, the Dawgs hope to finally break through as the top dogs in the SEC.
A win over Clemson would keep them on the right track.
Next Up:
Alabama vs. Va. Tech
TCU vs. LSU
Northwestern vs. Cal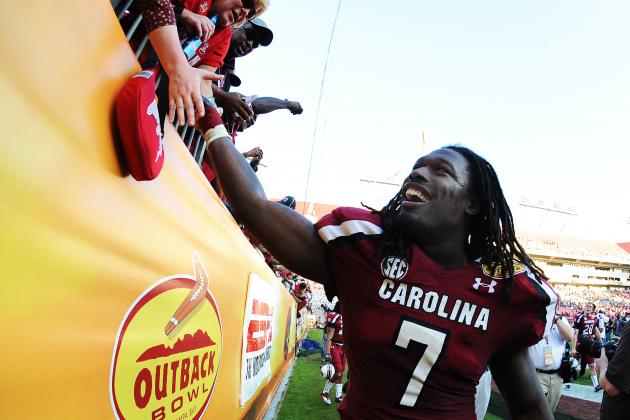 Al Messerschmidt/Getty Images

Say what you will about the SEC, the conference gets right down to it when it comes to conference play.
In Week 2, South Carolina and Georgia meet in a game that will have a huge impact on the result of the national BCS landscape.
Whichever team wins has a leg up on the race to the SEC title game, and with a Georgia victory, the Bulldogs will have two wins over ranked teams in their first two games.
If being present for an epic conference rivalry game that has national implications isn't enough for you, consider the chance to see two of the SEC's best players at the position in action.
Georgia quarterback Aaron Murray and South Carolina defensive end Jadeveon Clowney will both be in the race for the Heisman during the 2013 season, and you can believe Clowney will be after Murray all game long.
Next Up:
Florida at Miami(FL)

Notre Dame at Michigan
Texas at BYU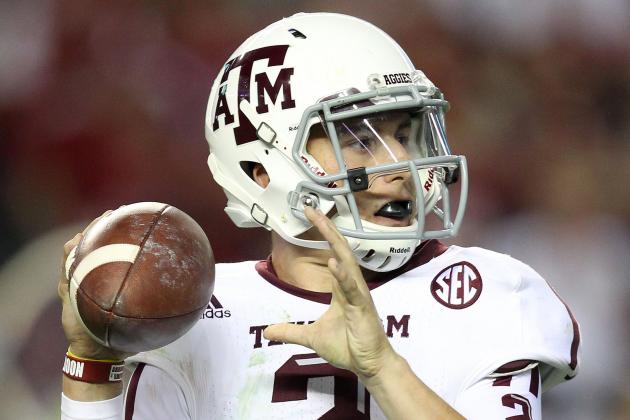 Mike Zarrilli/Getty Images

And again, a huge SEC matchup.
Johnny Manziel, the current Heisman Trophy winner, will take the field with his teammates against reigning national champion Alabama.
Last season, Manziel and A&M pulled off the monster upset in Tuscaloosa, giving the Tide their only blemish on the season.
Rumor has it Nick Saban only sacrificed three goats after the loss.
Manziel and the A&M offense are going to be potent this season, and will be tough to contain, no matter who the defense.
That said, ranking them in the top five nationally is a stretch, given that Kevin Sumlin's defense is full of holes.
But about this game: expect a knock-down drag-out, with scores in the 30's and plenty of offense.
Alabama's defense will still be adjusting, and not quite as stout as it will be later in the season, while A&M's defense is going to have a hard time stopping anybody, much more so an offense featuring A.J. McCarron, Amari Cooper and T.J. Yeldon.
For entertainment value, this might be the best game of the season, and easily the best of this week.
Next Up:
Wisconsin at Arizona State
UCLA at Nebraska
Tennessee at Oregon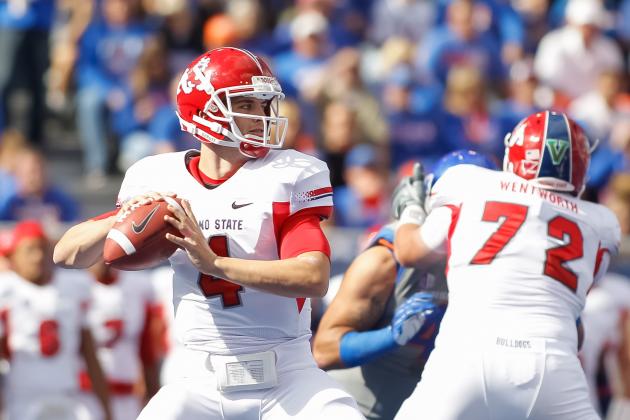 Otto Kitsinger III/Getty Images

There's not a whole lot of great matchups this particular weekend, though the "Holy War" and the meeting between ASU and Stanford are intriguing.
The nod this week goes to the Broncos and their trip to Fresno.
The Bulldogs are returning some talent, including quarterback Derek Carr, who has solid NFL potential and the skill to lead his team to the big upset.
The winner of this game will have a leg up on the race to win the MWC, and also provide the winner the inside edge for a potential trip to a BCS game.
The Broncos will again have a double-digit win season with at least one disappointing loss.
This contest could be that loss.
On the bright side, if actually traveling to all the games on this list, this game is one of the few opportunities to hit up a non-BCS program.
Next Up:
Arizona State at Stanford
Utah at BYU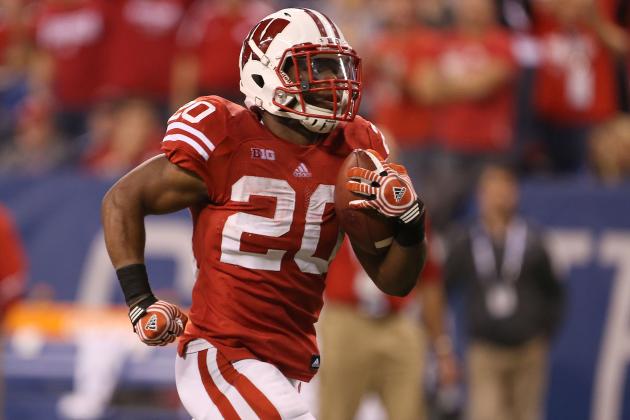 Leon Halip/Getty Images

Last season's paper champion of the Big Ten by default, Wisconsin will have to beat Ohio State on the road in order to have any shot at a fourth consecutive Big Ten title.
The Badgers and Buckeyes have played to the wire each of the past two seasons, with Braxton Miller providing heroics to lead OSU to victory in each of the last two meetings.
The Badgers are without NCAA rushing touchdown leader Montee Ball going into this season, but have James White and Melvin Gordon on deck to fill that void.
Besides an excellent game that can be expected on the field, if this series holds true to recent history, the atmosphere in Columbus will be electric for a night game against the Buckeye's inter-divisional rival.
These two teams will be undefeated, and both ranked inside the top 15 when they meet for this game, with both teams looking to make a statement.
Urban Meyer will be able to lead his team to the post season for the first time this season, while Wisconsin's head coach, Gary Andersen, will deploy a style completely different from the Wisconsin football to which we have grown accustomed.
These two are going to put up some points, and any chance to see Braxton Miller in action is easily worth the price of admission.
Next Up:
LSU at Georgia
Ole Miss at Alabama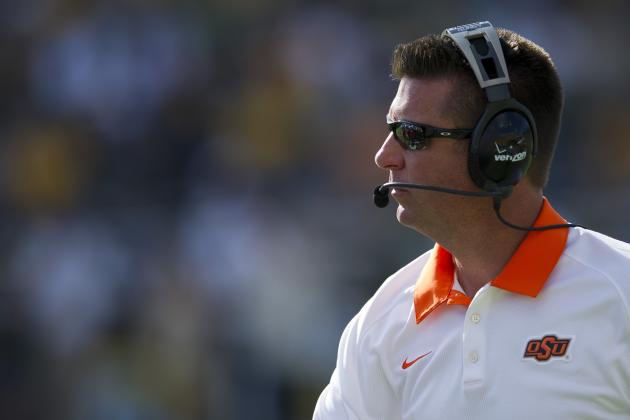 Cooper Neill/Getty Images

On the surface, this matchup does not appear to have all the glitz and glamor of some of the others on this list.
But a trip to Stillwater for a game that features a meeting of the minds between Bill Snyder and Mike Gundy is too good to pass up.
Gundy and the Cowboys have as good a shot at taking the Big 12 title as anyone, with plenty of returning talent and a Big 12 race that feels as wide open as it has ever been.
OSU returns seven starters on offense, including three quarterbacks capable of winning the starting job and a group of talented, but young, wide receivers.
K-State minus Collin Klein feels like a little bit lesser team than it was a year ago, but incoming quarterback Daniel Sams is going to open some eyes with his play, and with Bill Snyder at the helm, this team will always be competitive.
The Big 12 race is going to make for some compelling drama this fall, and this game will be part of the opening salvo of games that will begin the madness.
Next Up:
TCU at Oklahoma
Arizona State at Notre Dame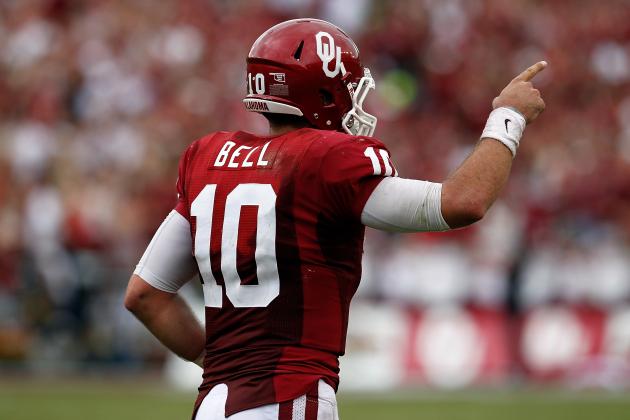 Tom Pennington/Getty Images

The Oklahoma Sooners need a leader to step up.
Will Blake Bell be that guy at quarterback? Can he do more with the ball than just play "Belldozer" in the red zone?
What about Texas? Is Mack Brown's team finally ready to compete for the conference title again?
The Longhorns are returning 10 starters on offense and nine on defense.
That kind of experience returning usually leads to good things, no matter where you look.
This game has all the potential to be a sort of changing of the guard, as either Bell helps establish the Sooners as legit contenders for the conference title yet again, or Texas finally reverses the trend and win this game after three straight losses.
Bob Stoops and his boys have dominated this series, winning nine of the 13 meetings since 2000.
Also of note, anything you might possibly want to consume can be found at the Texas State Fair prior to and after this game, and it is an unforgettable experience.
So if the game winds up being a blowout, at least there are always the fried foods.
Next Up:
Oregon at Washington
Rutgers at Louisville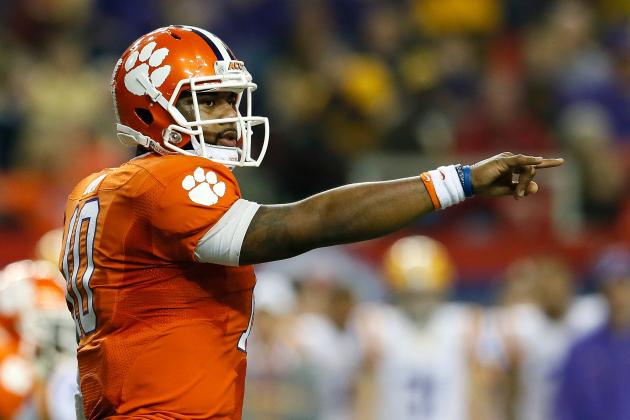 Kevin C. Cox/Getty Images

UCLA and Stanford meet for a rematch of the Pac-12 title game this same weekend, but FSU and Clemson have bigger fish to fry than a conference title.
While a trip to the ACC title game will be very much in play when the 'Noles and Tigers meet, Clemson especially has designs on the BCS title game.
FSU has some inexperience taking over, including quarterback Jameis Winston, but the team is still loaded with talent.
Clemson returns quarterback Tajh Boyd, and wide receiver Sammy Watkins, who was forgotten during the emergence of fellow receiver DeAndre Hopkins last season.
This team will be able to put up points on every team they face this season and will be exciting to watch.
The winner of this game will win the ACC, and if the cards fall right for Clemson, the team could go on to even bigger things.
If that's not the case, and only an ACC title will be on the line, the college town of Clemson is one of the most underrated places in the college football universe, and well worth the trip to enjoy.
Next Up:
UCLA at Stanford
USC at Notre Dame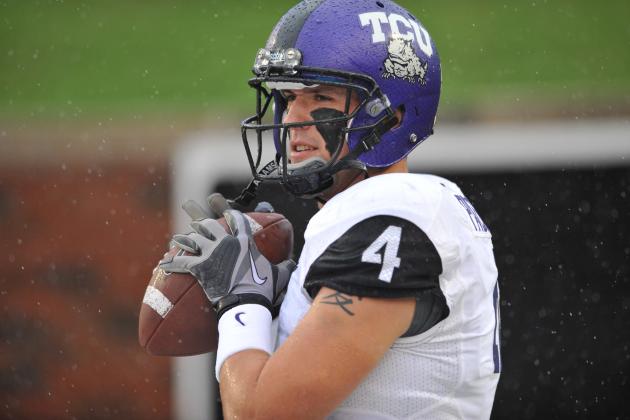 Cooper Neill/Getty Images

This game will give us a barometer of how resilient the Frogs will be in 2013.
The team faces the Oklahoma schools in two of the three weeks prior to this matchup, with a break against Kansas sandwiched in between.
Quarterback Casey Pachall is back with the Horned Frogs, and the team is going to be stout on defense with nine starters returning.
In their second year in the Big 12, TCU still has to prove that it can compete in the conference, after a disappointing 2012 campaign.
The Longhorns will be out to prove they are not only the best team in the state, but also in the conference, and need this win to solidify their bid for the Big 12 conference title.
Expect an excellent matchup between two hard-hitting, physical defenses.
Next Up:
UCLA at Oregon
Penn State at Ohio State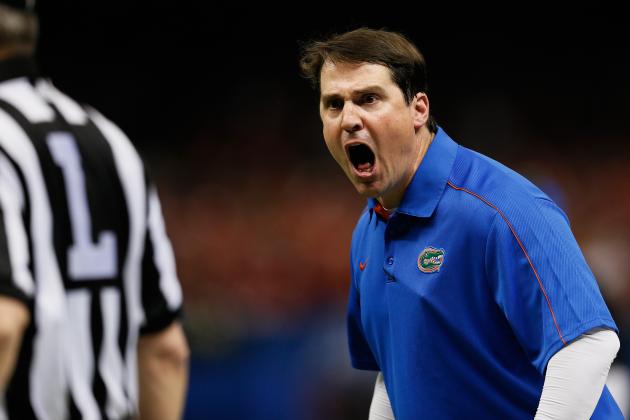 Kevin C. Cox/Getty Images

This will always be the "Cocktail Party" so let's not try and pretend otherwise.
And it will always feature one of the best rivalries in college football: Georgia vs. Florida.
The Bulldogs are getting tons of time on this list, as they have a legit shot at winning the SEC title and making a run at a national championship.
Florida will struggle this season, but this late in the campaign will have some of the bugs in the system figured out and be able to give Georgia a game.
But all that aside, the party atmosphere is the best in college football, there is nothing like it, and if you want to enjoy the best possible road trip, featuring excellent football coupled with the opportunity to party with the best, here it is.
Next Up:
Miami(FL) at Florida State
Michigan at Michigan State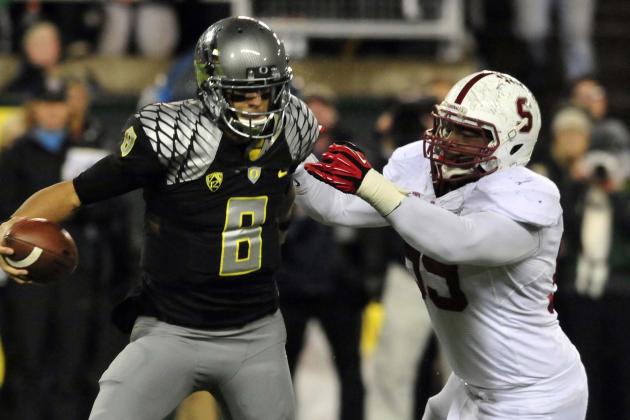 Steve Dykes/Getty Images

This matchup is absolutely one of the most intriguing of the week, and possibly the year.
With Kevin Hogan returning under center, and a stout defense that returns seven starters, Stanford has a shot at continuing their dominance of the Pac-12 into another season.
Meanwhile, our opinion about who might be the best sophomore quarterback in the nation could change with another transcendent season from Oregon's Marcus Mariota.
The Ducks have speed as always and plenty of depth to continue out-running Pac-12 competition in 2013.
This game is going to feature two teams ranked in the top 10, with fewer than three losses between them going into the weekend.
Don't miss it.
Next Up:
Alabama vs. LSU
Nebraska at Michigan
Virginia Tech at Miami(FL)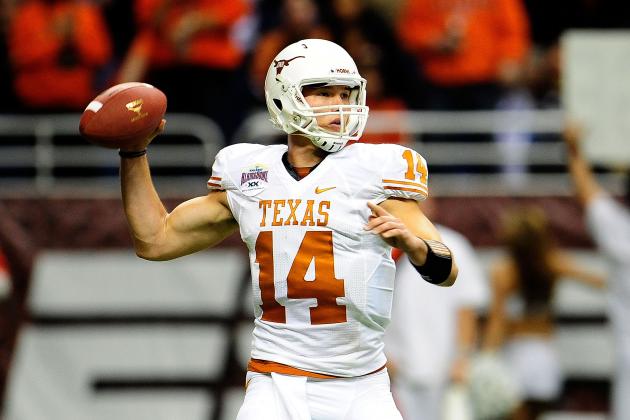 Stacy Revere/Getty Images

When one really gets down to it, these two teams, Oklahoma State and Texas, appear to have the most legitimate shot at winning the Big 12.
Oklahoma and TCU are also in the mix, but these two are returning loads of talent, great coaches and both wear orange.
Completely irrelevant, yes, but if orange is one of your colors of choice, this will be a must-see.
David Ash and the Longhorns will be seeking, believe it or not, only the fourth conference title for Texas since the Big 12 was formed in 1996.
Mack Brown needs his team to compete at an elite level this season to cool his hot seat, while Mike Gundy's team will look to continue its momentum and seek a BCS berth for only the second time.
This game will have a huge impact on the Big 12 conference race, and really, SEC fans, who wants to be at an SEC game every week other than you guys?
Next Up:
Washington at UCLA
Michigan State at Nebraska
Florida at South Carolina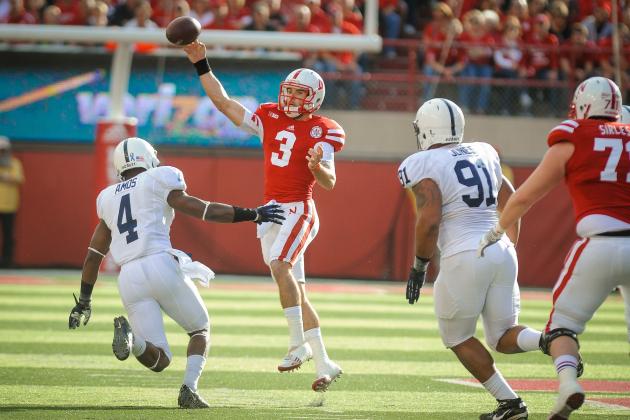 Eric Francis/Getty Images

Texas A&M at LSU provides an opportunity to see Johnny Manziel in action on this same weekend, but in reality, both LSU and A&M are going to be worse this season than last, but that matchup will still be a good one.
However, Nebraska is being completely overlooked this season, for whatever reason, but with a few adjustments, has the potential to complete an undefeated season and make a run at the Rose Bowl.
For the ideal college football road trip, at least one stop in Happy Valley is essential, if only to marvel at the size of the stadium seemingly in the middle of nowhere, and here "We are...Penn State" booming across said stadium during the game.
The experience is one that should be taken advantage of at every available opportunity.
This game has the potential to turn ugly, especially given Nebraska's hidden potential and Penn State's lack of weapons on both sides of the ball.
But Bill O'Brien did an excellent job of keeping the Nittany Lions competitive last season, and we can expect more of the same in 2013.
This game will be a good one, and the venue makes it the easy choice for this weekend.
Next Up:
Texas A&M at LSU
Arizona State at UCLA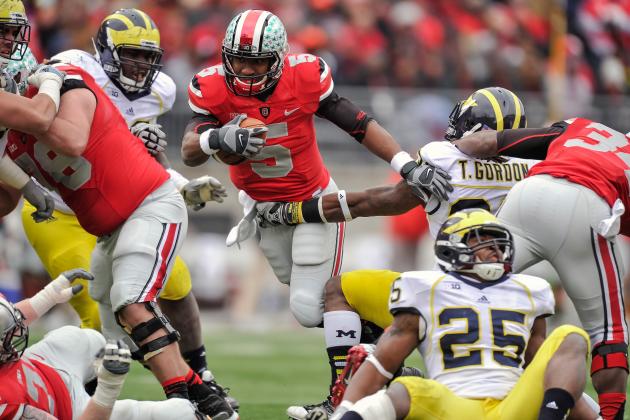 Jamie Sabau/Getty Images

If all goes according to plan, Ohio State will be undefeated for the second season in a row heading into this game.
And that's not just a pipe dream of OSU fans. The Buckeyes, with Urban Meyer at head coach and Braxton Miller leading the offense, are more talented and better coached than every team they will face in 2013.
Meanwhile, Brady Hoke, Meyer's counterpart at Michigan, has his work cut out for him in Ann Arbor.
The Wolverines have to improve defensively, and find some offense, if the team hopes to compete for a BCS berth in 2013.
Ohio State will be seeking at least a Rose Bowl berth, and more likely, a second consecutive perfect regular season, with a trip to the BCS title game on the line.
A trip to see these two play in the best rivalry in football tops any of the other rivalry games this particular weekend, although Stanford vs. Notre Dame could have national title implications as well.
Next Up:
Notre Dame at Stanford
Florida State at Florida
Clemson at South Carolina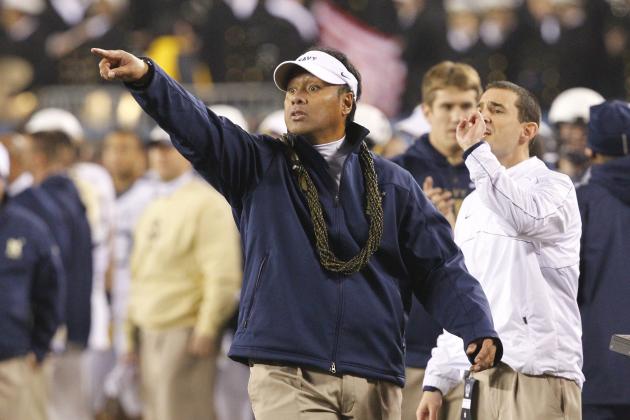 Hunter Martin/Getty Images

While there are not many good games on the regular season schedule this late in the season, Army vs. Navy provides an excellent opportunity to step outside of the realm of BCS football and attend an incredible game.
The experience of attending one of these games and seeing all the service men and women who enjoy supporting their team is one not soon forgotten.
While it might be tempting to go see Oklahoma State and Oklahoma settle their in-state rivalry and possibly even a Big 12 title, Army vs. Navy gets the nod for the unique experience, coupled with a tradition that runs as deep as any in the college football universe.
Next Up:
Bedlam, Oklahoma vs. Oklahoma State