UFC 159 Memorable Quotes and Images from Jones vs. Sonnen Fight Card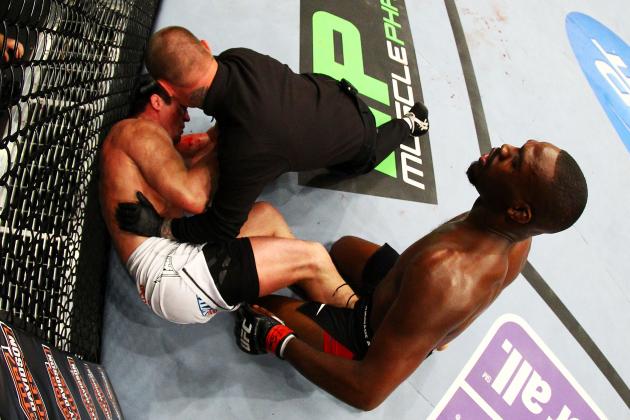 UFC 159 took place on Saturday from the Prudential Center in Newark, N.J. The main event saw Jon Jones retain his UFC light heavyweight crown with a dominant victory over Chael Sonnen, while in the co-main event, Michael Bisping earned a unanimous decision over Alan Belcher.
Also on the main card, Roy Nelson ended Cheick Kongo's night early with a huge right hand, while Pat Healy made a triumphant return to the Octagon with a submission win over Jim Miller.
Following the event, many of the fighters offered their opinions on their performances.
**All quotes provided by the UFC unless otherwise noted.
Begin Slideshow

»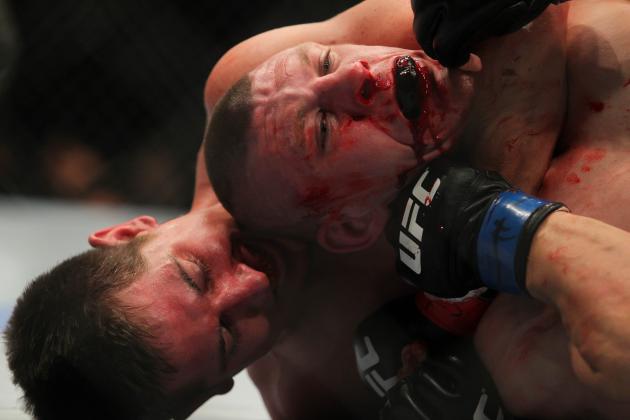 Brad Penner-USA TODAY Sports

Many MMA fans seem to be quick to dismiss the early portion of UFC fight cards.
I'll agree that the fighters competing on the preliminary cards may not be household names, but to skip any fight on any UFC card these days means you run the chance of missing a "Fight of the Night" candidate. Such was the case on Saturday when Steven Siler and Kurt Holobaugh opened UFC 159 with an exciting three-round contest, which Siler won via unanimous decision.
After the fighter Siler said, "I found out I'm going to be a daddy today so this is without a doubt the best day of my life. I knew as long as I continued to push him and maintained aggression I would win the fight. I want whatever the UFC has next for me."
Holobaugh offered the following in defeat, "I knew Steven was going to be a very good match up and a tough opponent coming into tonight. I expected him to want to stand and bang with me so I was a little surprised with the takedown attempts. I had him very deep in that guillotine in the second round. I heard him gurgling and I'm really surprised I wasn't able to finish him from there.
He caught me pretty deep with that choke in the first so I guess we were even there. It was a great back and forth fight and he has won three of his last four so I know he deserves to be here. I'm just trying to figure out where I fit in."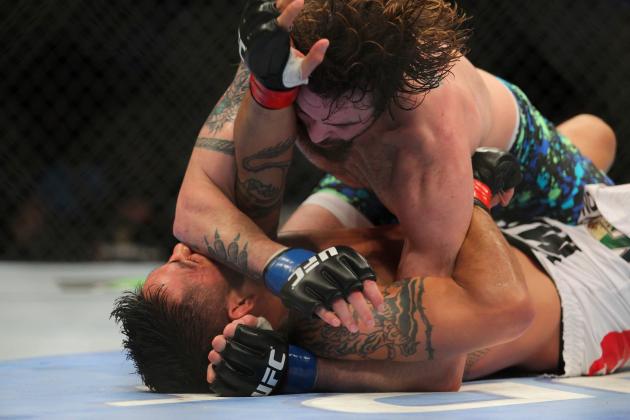 Brad Penner-USA TODAY Sports

Leonard Garcia was on a four-fight losing streak heading into his UFC 159 preliminary card bout against Cody McKenzie. Garcia, a fighter who can usually be counted on to deliver an exciting bout was thoroughly controlled by McKenzie throughout the bout.
The fight went to McKenzie via unanimous decision. After the win, McKenzie said, "Leonard is a really tough, scrappy guy and he's very hard to choke. This is the second decision of my career out of thirty some fights so it's a testament to his durability.
We chatted yesterday at weigh ins and I apologized for pulling out of the fight the last time it was scheduled due to my back injury. Leonard was very cool about it and I really appreciated that. He's been around a long time and I respect him a lot. I'm happy I got the win."
Following the loss, Garcia said, "Obviously I'm very disappointed. The fight didn't got the way I planned. I don't know what else to say."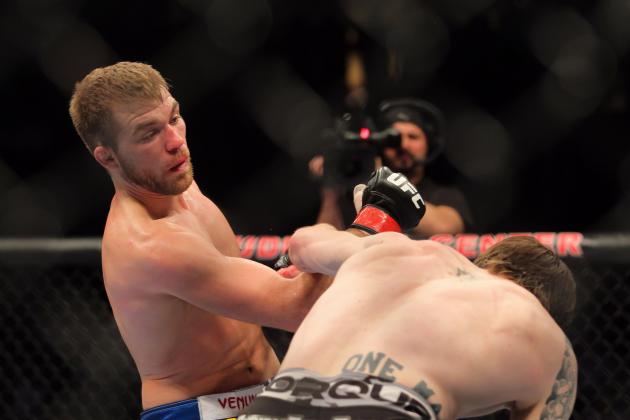 Brad Penner-USA TODAY Sports

Bryan Caraway earned a third-round submission victory over Johnny Bedford at UFC 159, doing so after taking the fight on less-than-a-week's notice when Bedford's original opponent Erik Garcia withdrew due to injury.
Caraway who moved to 3-1 in the UFC with the win, offered some pretty strong words, even referencing the stoppage loss of his girlfriend Miesha Tate to Cat Zingano on April 13, "I think that accepting a fight on five days notice has to be a UFC record. I was a little weary about it because Johnny Bedford was my teammate on The Ultimate Fighter but I thought I got the better of him in practice so I was eager to get in there.
I think it was an advantage training with him on the show because he knew I got the better of him and I may have been in his head tonight as a result of that. I was focused on finishing the fight tonight because I'm so sick of bad decisions and stoppages. I think I got a bad call against Mizugaki and Miesha got a horrible call in that stoppage two weeks ago.
I wanted to erase those memories and put a smile on both our faces with a win tonight. I think I did that."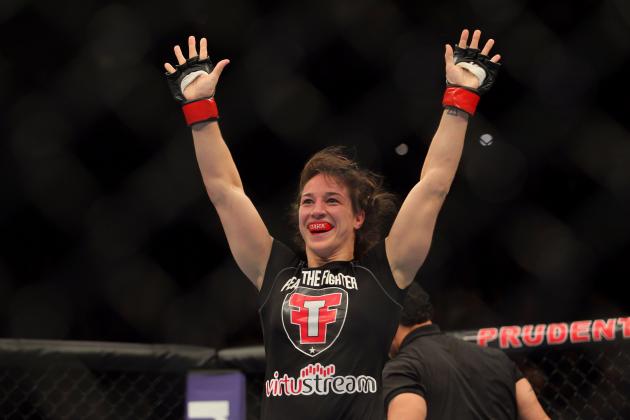 Brad Penner-USA TODAY Sports

The UFC has presented three women's bantamweight bouts, and all three have ended in stoppages. Following in the footsteps of Ronda Rousey and Cat Zingano was Sara McMann. McMann needing 4:06 to end her fight against Shelia Gaff.
McMann used a mounted crucifix and ground-and-pound to finish Gaff.
After the fight, McMann said, "It was an enjoyable experience. The more fights I have, the better I'm going to get. Her strongest threat was on the feet so I took her down. I'm a wrestler. I can take people down whenever I want to. I put myself in the captain's seat where I could do the most damage and I plan to keep doing that."
Gaff offered the following in defeat, "I don't really know what happened in there. It was a quick fight and I need to take time to settle down and process where I made mistakes. Congratulations to Sarah. She was the better girl tonight."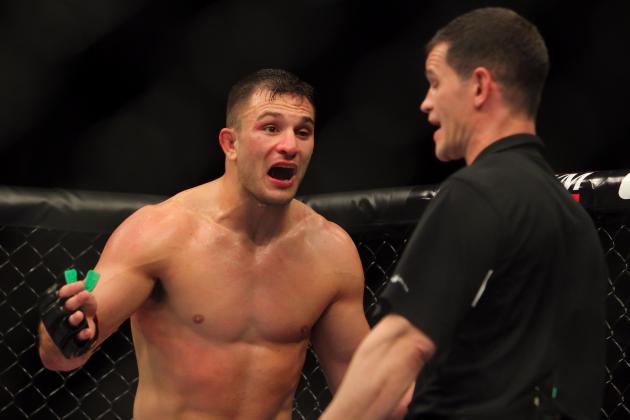 Brad Penner-USA TODAY Sports

UFC 159 was full of oddness. The first indication that fans were in for a strange night was when Ovince Saint Preux accidentally poked Gian Villante in the eye in the third round of their preliminary-card contest.
After the eye poke, Villante was asked by the referee Kevin Mulhall if he could see, and he replied that he could not. Immediately after the reply, Mulhall waved the fight off. The fight then went to the scorecards with St. Preaux earning the unanimous decision.
St Preux had the following to say after the win, "I definitely felt comfortable in there and I knew I was winning. I didn't feel like I poked him. I got poked too. Stuff happens but I don't think they should've stopped the fight. I would've won the third round because I felt great and I was coming on stronger but still it's unfortunate it had to end like that."
An upset Villante said, "I couldn't see. He did poke me in the eye so I don't know. He said the fight was over and I didn't expect that because I was just reacting to his question. I got poked and my eye was closed up so I thought he would stop it but he didn't he just kind of looked at me. I don't understand how you score thirty seconds of a round and that's how I lost? We were just getting going and I got poked in the eye. I don't know what to say."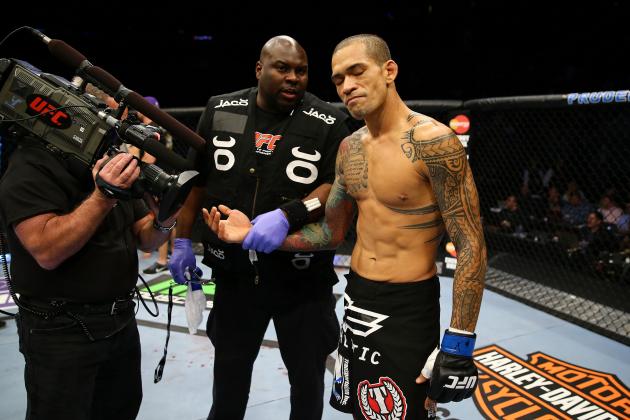 Al Bello Zuffa LLC Via Getty Images
From eye pokes to injured thumbs.
Rustam Khabilov ended his December bout against Vinc Pichel via an impressive suplex that left Pichel out cold. On Saturday, his suplex on Yancy Medeiros was not as impressive, but it did end the fight.
Medeiros landed awkwardly during the throw, badly injuring his thumb and bringing an end to the bout.
Khabilov echoed the statements he made after the win over Pichel, "There isn't much to say. Like I've said my business is to throw him down and it's his business how he lands. Honestly I walked out to the octagon to put on a good show. You saw what happened out there. I'm upset with the way it ended."
As for Medeiros, he said, "I want to thank everyone for the love and support. I'm so sorry that I couldn't continue fighting. I wanted to keep going so bad. I'm praying for a quick recovery so I can go back in there and be stronger."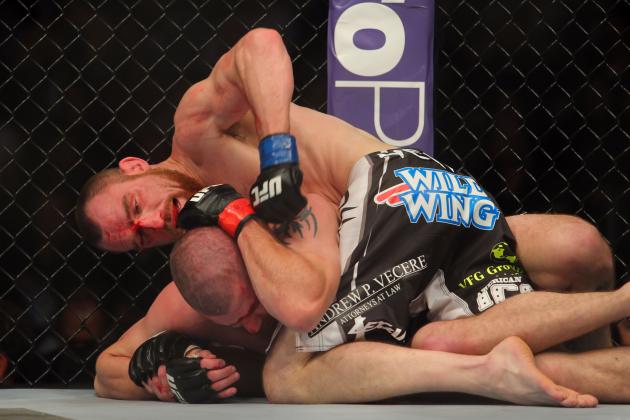 Brad Penner-USA TODAY Sports

Jim Miller walked into the Octagon in Newark as the No. 4-ranked lightweight in the UFC. His opponent, Pat Healy, was absent from those rankings. That may change when the new rankings are released this week.
It was a grinding affair, as expected, and it earned the fighters some extra cash, as the bout took home "Fight of the Night" honors. For Healy, the winner, the victory was doubly sweet as his third-round rear-naked choke submission earned him "Submission of the Night."
After the fight, the elated Healy said, "I feel so good. You can't break me down out there. I know I look a little beat up and my eye is swollen but I feel incredible. I've been working so hard for this return to the UFC.
"It's been seven years since I've been here and I've gone through so much since I've been gone. The only thing that kept me going is my love for fighting. I know how to use my weight and strength and that was the difference tonight. I was able to wear him down in the clinch and tire him out. That's what led to the submission. Jim was ranked number five in the world coming into this fight so I'd love to fight 4, 3, 2, or 1."
As for Miller, his comments were short, "I'm disappointed to say the least. Pat is tough and he caught me. Nothing more to say."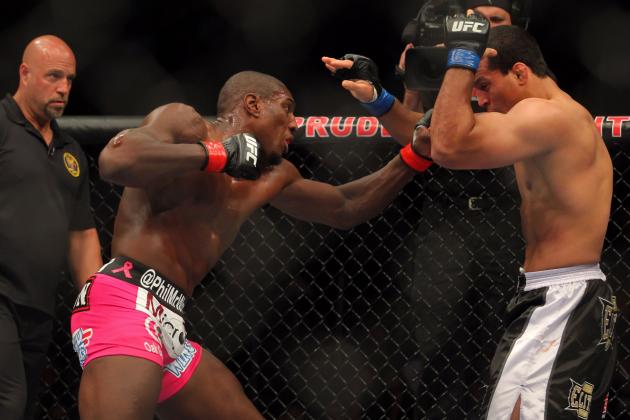 Brad Penner-USA TODAY Sports

The lead-up to the Phil Davis versus Vinny Magalhaes fight was full of trash talk. A great deal of that talk was based around who possessed the better base for mixed martial arts. Davis felt his NCAA championship-level wrestling was the superior base, while Magalhaes was counting in his world championship level Brazilian jiu-jitsu.
In the end, it was Davis' improved striking that made the difference in the fight, a fight that Davis won via unanimous decision.
After the win, Davis said, "I really wanted to go out there and make a statement to the fans that I'm in the top ten and I'm not going anywhere. Tonight was about precision and risk management. I'm not going to shoot for takedowns that I can miss. I'd rather be precise with my techniques.
I was playing it smart in there because Vinny is dangerous on the ground. My striking is coming along but it's not quite there yet. To me I'm brand new in this sport and I'm still young. I'm just going to keep practicing hard every day because that's what I love to do."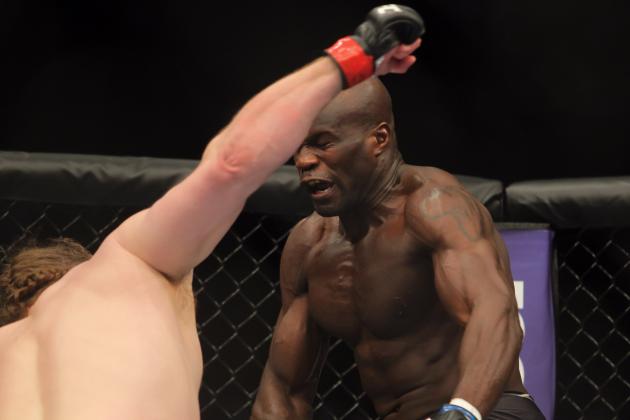 Brad Penner-USA TODAY Sports

When Roy Nelson makes contact with his punches, he makes them count.
During his bout with Cheick Kongo, Nelson landed a total of three punches, one of which landed directly behind the ear of Kongo and left him down and out on the mat.
The win was the sixth knockout win for Nelson in the UFC.
After the fight, the wildly popular heavyweight said, "I knew when I hit him that he was out, but he also recovers very fast as we saw in the Pat Barry fight. I went in and hit him again then looked to the ref to let him know I was prepared to keep going if necessary.
I changed up my camp a little bit this time surrounded myself with guys who really have my best interests in mind. I think that made a big difference tonight. I'm ready for the title if that's what's next for me. I know I can give Cain fits and if it's Bigfoot than I'm ready for that too."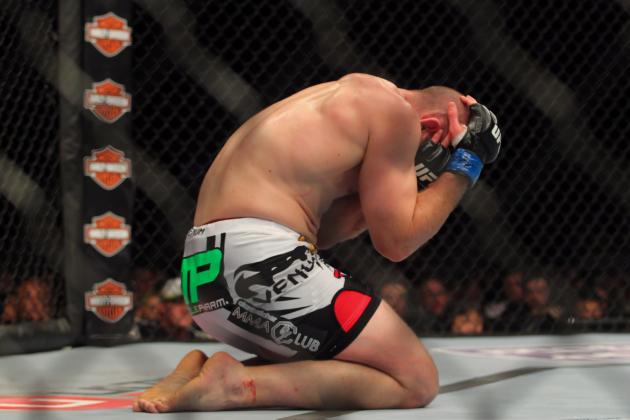 Brad Penner-USA TODAY Sports

Michael Bisping looked like he was on his way to a unanimous-decision victory over Alan Belcher when an accidental eye poke changed things a little bit.
Bisping's striking had been active and on point during his bout with Belcher until the third round when his thumb accidentally found Belcher's eye. Blecher dropped to the mat in pain, and shortly after, the doctor entered the cage and waved the fight off.
The stoppage changed the type of decision for Bisping, from unanimous to technical.
After the fight Bisping said, "Without sounding arrogant that was exactly what I was planning to do tonight. He's a big middleweight but I knew I had the speed on him going into the fight. I was cautious in the beginning of the fight because that's what you have to do but as the fight went on I got more comfortable and my timing started to click.
He said I was going to move back but he ended up moving back the majority of the time which made it harder to land my shots. It was a shame that I caught him with the thumb at the end and I apologized for that. He's a hell of a performer. There was a lot of trash talk in the lead up to the fight but I think we all have to do that to psyche ourselves up. I want to get back in the octagon as soon as possible."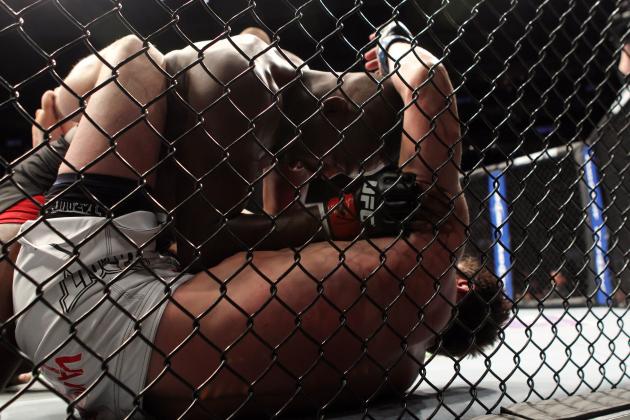 Brad Penner-USA TODAY Sports

Jon Jones changed up his normal game plan for his UFC 159 bout against Chael Sonnen. Instead of using his reach advantage, Jones decided to beat Sonnen at his own game, using in-close clinch fighting, takedowns and ground-and-pound to bring an end to the fight before the conclusion of the first round.
The victory did not come without a cost, as Jones broke his left big toe during the bout, an injury that will keep him on the shelf for an undetermined amount of time.
After the fight, Jones spoke to Joe Rogan during his in-cage interview and said, "I really wanted to try to 'Chael Sonnen' Chael Sonnen. I think I did a good job of that."
As for Sonnen, he told Rogan, "He's an excellent fighter. I have no problem with the decision or the stoppage. He's very powerful. When he went for the kill, he never stopped. I thought I was alright, but I think he's the better fighter."