The puck drops on the 2013 NHL playoffs Tuesday, as 16 teams began the two-month-long journey to earn the right to shave their playoff beards and hoist the Stanley Cup as champions.
Last year's champion, the Los Angeles Kings will begin their path to repeat as a No. 5 seed out West, taking on the No. 4-seeded St. Louis Blues in the opening round.
Will L.A. become the first team since the Detroit Red Wings in 1998 to repeat as Stanley Cup champions, or will we crown a new NHL king this summer?
In the spirit of pondering the future, let's take a closer look at a pair of must-see, first-round playoff series in 2013.
Ducks Look to Avenge Regular-Season Losses to Red Wings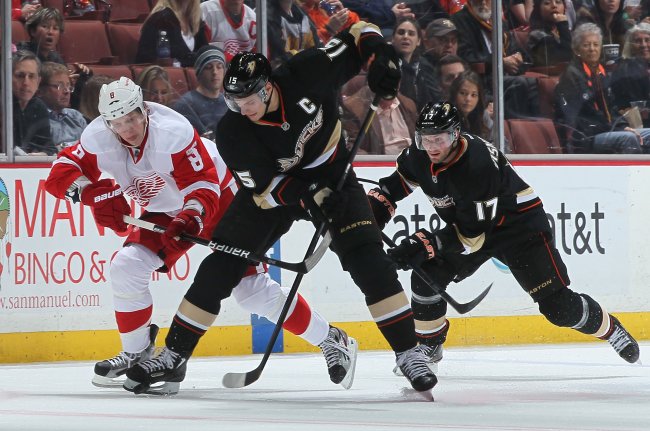 Victor Decolongon/Getty Images
The No. 2 vs. No. 7 matchup out West will pit two championship-caliber squads in Anaheim and Detroit against one another.
The Red Wings are on fire coming into the postseason having closed out the regular season on a four-game winning streak. Meanwhile, the Ducks, who possess home-ice advantage in this series, also sport the Western Conference's second-highest scoring differential at plus-22.
Which team will win this series?
Don't expect Detroit to struggle on the road in this series either, as it has taken the last two meetings between the two teams, both inside the Honda Center in Anaheim.
Detroit has outscored Anaheim 7-2 over its last two matchups, but it's Anaheim that boasts the better attack on paper, ranking eighth in goals per game this season (2.8), setting the stage for a can't-miss first-round series that could easily go the distance.
Can the Red Wings' fifth-ranked scoring defense hold up against the Ducks' potent attack? Will Anaheim bring its A-game on the road in this series like it did down the stretch of the regular season?
There are plenty of questions facing both teams, adding to the plethora of reasons to watch.
Be sure to keep a close eye on Pavel Datsyuk for Detroit and Ryan Getzlaf for Anaheim. Each can score or create with the best centers in the league, and both rank inside the top 10 in points this season.
Vancouver and San Jose Clash on West Coast
Thearon W. Henderson/Getty Images
If you can watch only one first-round playoff series this May, let it be this one.
The Vancouver Canucks and the San Jose Sharks will battle for a spot in the second round in the No. 3 vs. No. 6 series out West. Much like Ducks-Red Wings, hockey fans can expect a tight, hard-fought series between these two contenders.
Vancouver will have home ice, but San Jose actually swept its first-round playoff foe during the regular season, edging the Canucks twice at home and winning in a shootout north of the border on Mar. 5.
Which team will win this series?
You can be sure that the Sedin brothers (85 combined points this season) and the rest of the Canucks will have that painful home loss in mind when they take to the ice in this series.
Statistically, these clubs are both strong in the defensive end, which should make for a relatively low-scoring series. The Sharks rank sixth in goals allowed (2.3 per game) and penalty-kill percentage (85.0), while the Canucks are also a top-10 team in terms of goals allowed (2.4 per game) and penalty-kill percentage (84.0).
While the Sedins will receive plenty of attention based on how they perform in the offensive end this spring, fans should be on the lookout for Joe Thornton and Logan Couture for San Jose. Both have played in every one of the Sharks' 48 regular-season games this season. Plus, Thornton has 33 assists this year while Couture has poured in 21 goals.
This series has seven games written all over it and given that the Sharks now know they can win in Vancouver, San Jose shouldn't be counted out in a potential Game 7 inside Rogers Arena.
*Click here to view every 2012 NHL playoff matchup from NHL.com.
Follow Bleacher Report Featured Columnist Patrick Clarke on Twitter.