UFC 159 Results: Top 10 Heavyweights in the UFC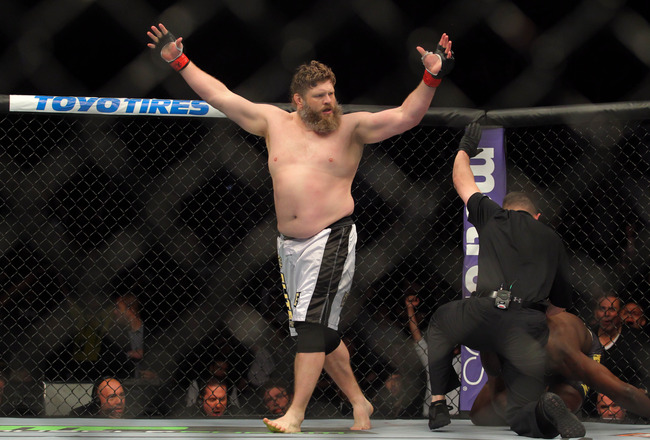 Brad Penner-USA TODAY Sports
UFC 159 was not a card full of heavyweight matchups, but the one fight, between Roy Nelson and Cheick Kongo, delivered with a highlight-reel finish by "Big Country."
Nelson put the heavyweight division on notice with his knockout of Kongo and reaffirmed his position as a legitimate contender.
Since there are only 27 heavyweights currently under the UFC banner, all of these fighters are in the mix at 265.
The title picture will get a little clearer at UFC 160 on May 25 when Cain Velasquez defends his belt against Antonio "Bigfoot" Silva and Junior dos Santos slugs it out with Mark Hunt for the No. 1 contender spot.
10. Frank Mir (16-7)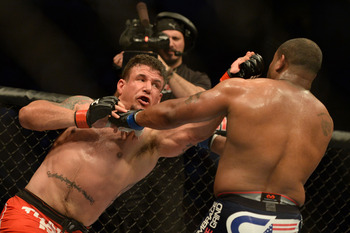 Kyle Terada-USA TODAY Sports
Frank Mir may be a two-time UFC heavyweight champ, but it seems as if his best days are behind him.
At UFC on FOX 8, Mir took on Strikeforce Heavyweight Grand Prix winner Daniel Cormier in a fight that he hoped would be a stepping stone back to a chance at UFC gold.
Mir pulled out all the stops and went to train for the fight with MMA guru Greg Jackson in Albuquerque. Supposedly, it was the best camp of Mir's life. It was thought that he'd be coming into the bout as a revitalized fighter; however, that was not the case.
Cormier dominated Mir for the full three rounds. Mir looked downright lethargic. His punches were slow, and he was unable to mount any real form of offense. And to the chagrin of his coaches, Mir kept clinching with Cormier which played right into the Olympic wrestler's strategy.
At 33, Mir will have to really think about what his next move will be, but if he decides to retire, it is without question that he will invariably go down as the best submission artist in UFC heavyweight history.
Next fight: TBA
9. Roy Nelson (19-7)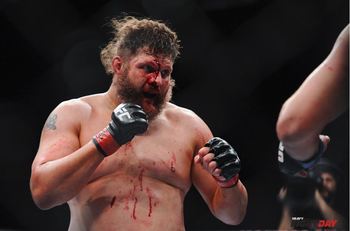 via themmacorner.com
Roy Nelson proved that when he connects with his overhand right, then it's goodnight for whoever was willing to step inside the Octagon with him.
Nelson knocked Cheick Kongo out with this shot in the first round of their matchup at UFC 159.
The victory takes "Big Country's" win streak to three which is the longest of his UFC career. All three of the wins came via first-round knockout, but the finishes were against middle-of-the-road competition.
When Nelson is paired with elite competition, he just can never seem to pull out the victory. He has dropped fights to Junior dos Santos, Fabricio Werdum and Frank Mir. This win, though, will give him another shot at elite competition with names like Daniel Cormier and Mark Hunt already being suggested for his next fight.
If Nelson is able to get past either of those two opponents, then he may find himself only needing one more win to vault into title contention.
Next fight: TBA
8. Mark Hunt (9-7)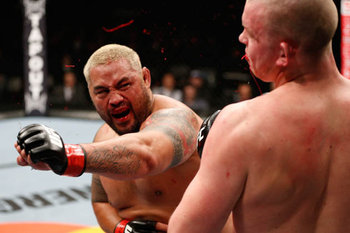 via fighthubtv.com
Mark Hunt has seen a resurgence in his MMA career since joining the UFC's heavyweight roster after Pride folded.
Originally, the UFC wanted to buy out Hunt's contract, but "The Super Samoan" decided to roll the dice and test his mettle against the best competition in the world.
This was a big gamble, considering that at the time Hunt had not won an MMA bout in nearly four years and his record was 5-6.
Hunt lost his first UFC fight to Sean McCorkle via armbar in the first round at UFC 119. But after that Hunt, he was able to string together four impressive victories with three of the wins coming by way of knockout.
Hunt's most recent victory came against Stefan Struve in a fight where he broke the "Skyscraper's" jaw.
Now Hunt finds himself on the precipice of a title shot. All he has to do is finish Junior dos Santos...a task easier said then done.
Next fight: Junior dos Santos at UFC 160
7. Travis Browne (14-1-1)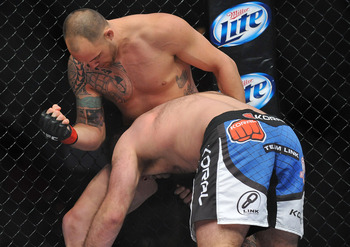 Gary A. Vasquez-USA TODAY Sports
Travis Browne is one of the hottest young heavyweight prospects in the UFC.
His ascension into the upper echelon of the division hit a serious speed bump in the form of Antonio "Bigfoot" Silva at UFC on FX: Browne vs. Bigfoot.
Browne tore his left hamstring during the first round, and Bigfoot was able to use this to his advantage. He muscled Browne against the cage and landed a hard right hand that put out the lights.
It was a big letdown for Browne who had to heal before he would get a shot at redemption. After more than six months away, Browne got his chance against UFC veteran Gabriel Gonzaga.
Browne made the most of the opportunity and knocked out Gonzaga in the first round with a series of vicious, short elbows to the head.
Gonzaga filed a complaint with the Nevada Athletic Commission suggesting that the elbows were illegal, but that didn't keep the UFC from granting Browne the $50,000 bonus for Knockout of the Night.
Browne doesn't have an opponent lined up yet, but it is likely that the UFC will look to test him in his next bout by putting him against a true top-10 fighter
Next fight: TBA
6. Alistair Overeem (36-12, 1 NC)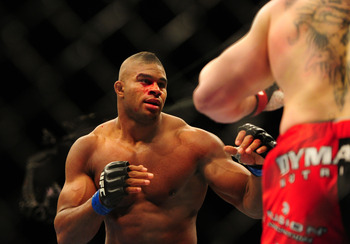 Mark J. Rebilas-USA TODAY Sports
No Strikeforce fighter entered the UFC with more hype than Alistair Overeem, but his tenure in the promotion has been mixed at best.
"The Reem" kneed former heavyweight titleholder Brock Lesnar into early retirement; however, he tested positive for elevated testosterone levels after the fight and was given a year-long suspension.
After the suspension, he was paired against Antonio "Bigfoot" Silva at UFC 156. This match for many, including Overeem, was viewed as a tune-up fight for a title shot, but Overeem's lack of respect for Bigfoot's striking came back to bite him in the form of a devastating third-round KO.
Overeem looked to bounce back against Junior dos Santos at UFC 160, but a slight tear in his quad removed him from the fight, and he saw his spot go to Mark Hunt.
2013 has been a tough year for Overeem, so far, though when he does return to action, it would seem likely that he'd still only be a win or two away from that elusive shot at the UFC belt.
Next fight: TBA
5. Antonio "Bigfoot" Silva (18-4)
Gary A. Vasquez-USA TODAY Sports
Antonio "Bigfoot" Silva came into the UFC as one of the few fighters to show that Fedor Emeliakenko was actually human.
Bigfoot was destroyed in his promotional debut by Cain Velasquez.
He rebounded nicely with a big knockout win over rising heavyweight prospect Travis Browne. In his next bout, Bigfoot took on Alistair Overeem. These two fighters downright despised one another, and the tension was palpable at the weigh-ins.
Overeem clearly won the first two rounds and looked to be on his way to a decision, but Bigfoot had other plans coming out in the third looking for blood. Less than a minute into the round, Bigfoot teed off on Overeem using his head like a punching bag.
The win might be the most significant of Bigfoot's career as it not only gets him a rematch with Velasquez but also a chance at the UFC heavyweight title.
However, Bigfoot will have to make some serious changes in order to avoid a repeat of his first meeting with Velasquez.
Next fight: Cain Velasquez at UFC 160
4. Fabricio Werdum (16-5-1)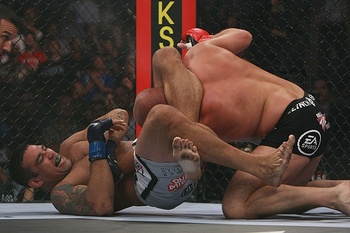 via mmamania.com
Fabricio Werdum is the most unsung fighter in the heavyweight division. He has amazing Brazilian jiu-jitsu and can hold his own in the striking game.
He has significant wins over Fedor Emelianenko, Alistair Overeem and Antonio "Bigfoot" Silva.
Werdum is coming off a TKO victory over Mike Russow at UFC 147. He's been out of commission for a year, but will get back into the action against Antonio Rodrigo Nogueira.
The two are coaching opposite each other on the second season of The Ultimate Fighter: Brazil and will lock horns at UFC on Fuel TV 10 in June.
If Werdum can pull off the win, then it will move him one step closer to a title shot, but realistically, he will still have to get another win over a top-10 opponent before Dana White gives him the nod.
Next fight: Antonio Rodrigo Nogueira at UFC on Fuel TV 10
3. Daniel Cormier (12-0)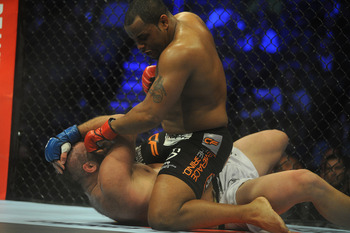 USA TODAY Sports
Daniel Cormier was a relative unknown when he became the injury replacement for Alistair Overeem in the Strikeforce Heavyweight Grand Prix.
Cormier was matched against Antonio "Bigfoot" Silva in a fight that few gave him a chance of winning, but he shocked the MMA world with a decisive first-round KO. Cormier then moved on to the finals where he dominated former UFC heavyweight champ Josh Barnett en route to a unanimous-decision victory.
He then capped off his time in Strikeforce with a second-round TKO of Dion Staring.
Cormier's arrival in the UFC was anxiously anticipated. He took on Frank Mir in his promotional debut at UFC on FOX 8. His performance was labeled lackluster, but Cormier's total dismantling of a veteran like Mir proved that he is a force to be reckoned with in the division.
Right now, it is unclear what Cormier will do next. He is a relatively small heavyweight, and there has been speculation that he'll drop to light heavyweight to do battle with Jon Jones.
There still are plenty of fights for him at heavyweight if he decides to stay, but the fact that he refuses to fight teammate and current champ Cain Velasquez makes the situation all the more confounding.
Next fight: TBA
2. Junior dos Santos (15-2)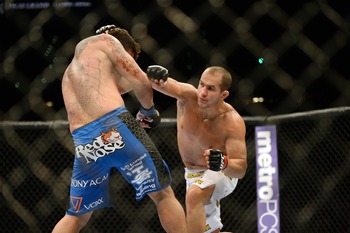 Ron Chenoy-USA TODAY Sports
Junior dos Santos captured the heavyweight strap at the first UFC on FOX card with a first-round knockout of Cain Velasquez.
With the victory, it appeared that the division may have finally found its first truly dominating champion. Dos Santos defended his belt against Frank Mir (a late replacement for Alistair Overeem) at UFC 146.
Next, he took on Velasquez in a rematch of their title tilt from a year before. "Cigano" seemed like a lock going into the fight, but it was Velasquez who came out and proved that he was the better fighter that night. Velasquez controlled dos Santos in all aspects of the fight even outstriking the skilled boxer.
The defeat was deflating for dos Santos. He was supposed to take on Alistair Overeem in his next fight, but "The Demolition Man" got injured and was replaced with Mark Hunt.
If dos Santos can knock out Hunt, then he very well may get another shot at the belt in a potential rubber match with Velasquez.
Next fight: Mark Hunt at UFC 160
1. Cain Velasquez (11-1)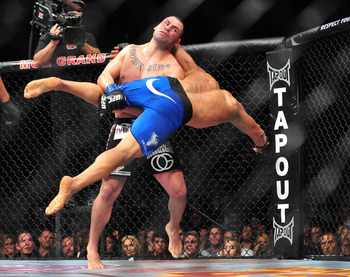 Gary A. Vasquez-USA TODAY Sports
Cain Velasquez reasserted himself as the best heavyweight in the world when he destroyed Junior dos Santos in their second meeting at UFC 155.
He showed that the first fight was just a fluke, and that since the loss, he had really improved his game—especially in the striking department. His jab was crisp, and he utilized it to great effect, turning dos Santos' face into a black-and-blue mess.
Velasquez will next take on Antonio "Bigfoot" Silva at UFC 160 in one of the most unnecessary rematches in UFC history.
In their first meeting, Velasquez tore Bigfoot to bloody pieces. He dumped him to the canvas and then proceeded to land punches and elbows, forcing the ref to jump in to end the onslaught.
While Bigfoot has shown improvement since their first outing, there is little doubt that the rematch will probably end in a similarly quick and violent fashion.
Next fight: Antonio "Bigfoot" Silva at UFC 160
Keep Reading