Houston Dynamo vs. Colorado Rapids: MLS Live Score, Analysis, Reaction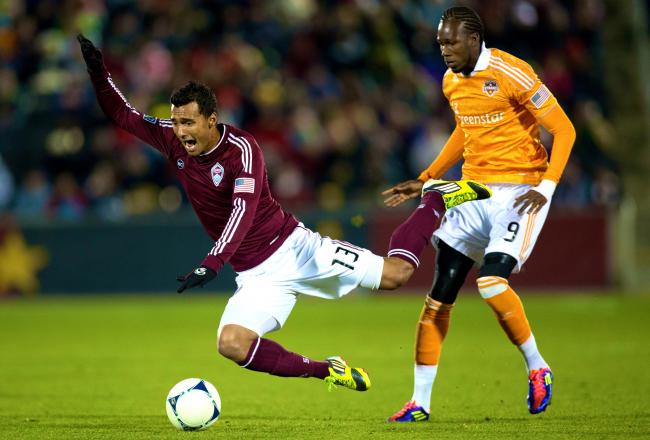 MLS Week 9 coverage—Houston, Texas
Houston Dynamo 1-1 Colorado Rapids
—Drew Moor, 45' +2 (0-1)
—Giles Barnes, 66' (1-1)
Lineups
Houston: Hall; Sarkodie, Boswell, Brunner, Ashe; Driver (Creavalle), Clark (Camargo), Garcia, Davis (C); Bruin, Barnes (Ching).
Colorado: Irwin; Mullan, Moor, O'Neill, Klute; Smith (Mastroeni), Powers, Thomas (Sturgis), Mwanga; Hill (Rivero), Harris.
Follow Eduardo on Twitter for more insight on a variety of sports topics. Follow @Mendez_FC
I leave you with the play of the day.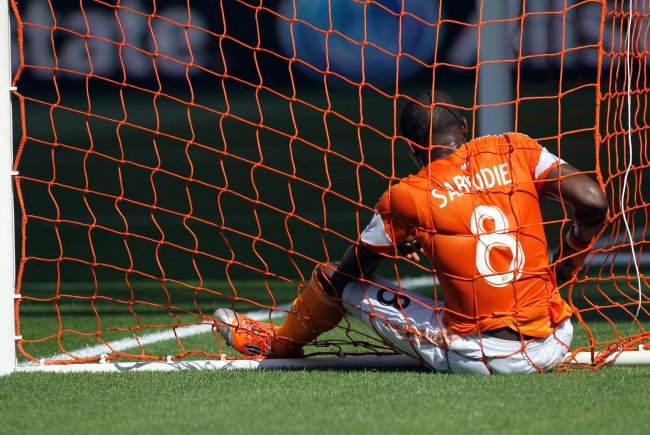 Brett Davis-USA TODAY Sports
Interesting numbers coming out of this one. Neither team truly dominant. Houston with a slight edge in possession (52 percent to 48). Both teams had their chances and five shots on target.
It won't be Davis' most memorable night. He was sent off and failed to capitalize on a pair of point-blank opportunities. It won't be Bruin's most memorable night, either. His sub-par performance extended beyond his missed diving header in stoppage time.
The Dynamo will feel like they should have walked away with the full three points, but give the Rapids credit. The team walked into BBVA decimated with injuries and puffed their chest out—clearly not intimidated by the ambiance that is "BBVA Compass Stadium." The sparse crowd might've had something to do with that.
Houston is notorious for bullying opponents at home. Every time it seemed like the Dynamo were poised to push forward and exert their will, the Rapids came back with a tough challenge to recoup possession.
Overall, an exciting match and a deserved draw.
This is Eduardo Mendez signing off. I hope you enjoyed the match as much as I did. Be sure to check back tomorrow. I will be providing you with my "best and worst'" from Week 9.
Spoiler Alert: No, Barnes' goal will not be on the list. There was another goal and celebration that caught my eye this weekend.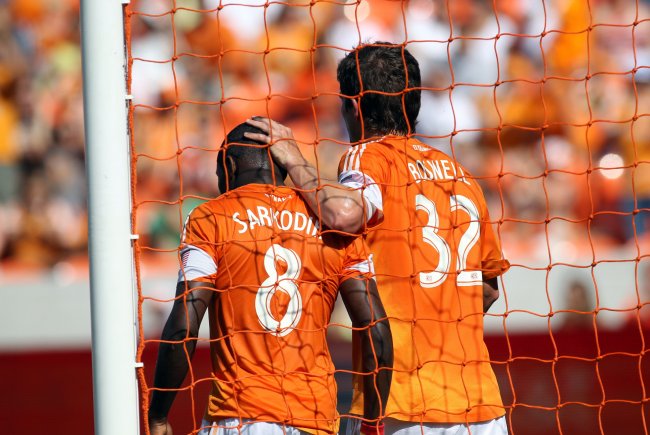 Brett Davis-USA TODAY Sports
FULL TIME
Houston Dynamo 1-1 Colorado Rapids
The boo birds circulate around BBVA. Decent volume considering how sparse the crowd was. Justified result in the end. Neither team really deserved to lose.
You definitely walked away from this one respecting Colorado a bit more.
Stay tuned for my closing thoughts.
90+5'—RED CARD
Davis. Why?
Unnecessary challenge. Borderline red. Definitely a yellow, so it doesn't really matter. Davis was already booked. Would've been sent off anyway.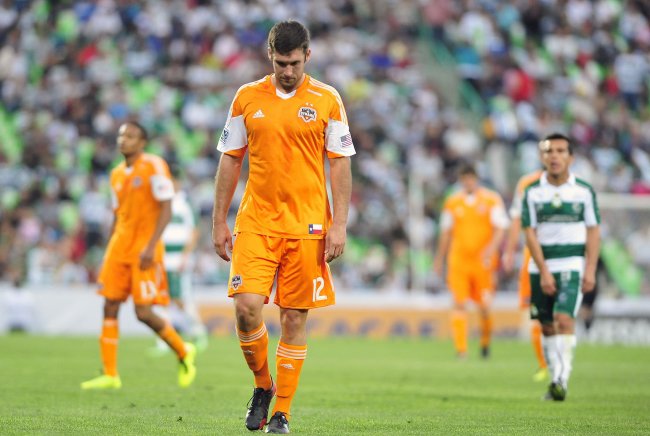 EFE-USA TODAY Sports
90+4'—CHANCE!
Bruin's diving header smashes the crossbar. It's been that kind of day for the Dancing Bear.
90+3'—We will play five extra minutes. Colorado desperately trying to hold on to this result.
90+2'—As old as Ching is, I'm surprised he still has the "speed" to land offside.
90+1'—YELLOW CARD
This time Davis joins the fun and is booked. Just moments away from an impressive draw for the Rapids.
MLS finally did their job. Here's Moor's header from the first half.
89'—Will Bruin, where have you gone? Not the same player I remember. Just two goals so far this season. Hardly the dominant presence inside the box he was in 2012.
87'—YELLOW CARD
Boswell finally booked. Should've been booked for stepping on Mwanga earlier in the half.
86'—HOUSTON SUB
In: Camargo
Out: Clark
Just to back track: Mastroeni came on for Smith. Both teams out of subs.
84'—SAVE!
Hall showing off his skills on that diving save.
81'—Davis showing those motor skills. Tracks down Smith inside the box and clears a potential chance.
79'—Garcia is down. Rivero goes for the header and plows through Garcia's shoulder.
Looks serious for Garcia.
Overall, a solid performance from Barnes today. Took his chances.
77'—HOUSTON SUB
In: Ching
Out: Barnes
Still can't get over Barnes' howitzer. My son looks at me after the goal and says, "Dadu. Que. Go. La. So!"
75'—Not Bruin's best performance of the season thus far. That header came off with no direction. Hasn't looked like the same dominant striker I remember from 2012.
73'—SAVE!
Beautiful buildup by Garcia on that one. Creavalle can't handle that through ball well enough, so Garcia takes matters into his own hands.
Ball lands softly in Irwin's hands, however.
72'—YELLOW CARD
Action still flowing in this one. Sturgis is booked this time.
71'—HOUSTON SUB
In: Creavalle
Out: Driver
Can Creavalle duplicate last week's heroics?
69'—YELLOW CARD
Yellow card on Clark.
68'—COLORADO SUB
In: Rivero
Out: Hill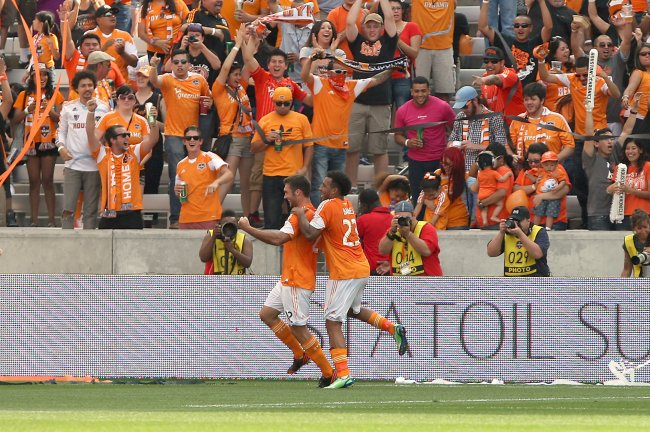 Troy Taormina-USA TODAY Sports
66'—GOOOOOOOOOOOAAAAAAAAALLLLLLLLLL!
Barnes with an ABSOLUTE cracker! And we are tied at the BBVA.
Houston Dynamo 1-1 Colorado Rapids
This article is
What is the duplicate article?
Why is this article offensive?
Where is this article plagiarized from?
Why is this article poorly edited?