The first round of the 2013 NBA playoffs could be over for a number of teams on Sunday, as three potential elimination games will be played throughout the day. Of course, with the postseason beginning just over a week ago, it's obvious we're talking about sweeps.
The Miami Heat have a chance to knock out the Milwaukee Bucks and the New York Knicks are on the verge of eliminating the rival Boston Celtics, while the San Antonio Spurs can finish off the Los Angeles Lakers.
Those are the top storylines heading into Sunday's NBA action, so keep reading to dive deep into each series and then check out which players must step up—especially in the competitive Golden State Warriors vs. Denver Nuggets series.
Three Possible Sweeps
Will Knicks Finish off Celtics?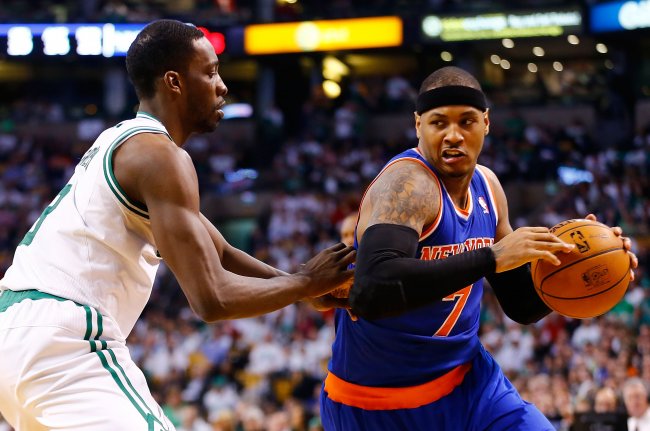 Jared Wickerham/Getty Images
The Knickerbockers felt the sting of a sweep back in 2011, when the C's sent them packing just four games into their triumphant return to the postseason. They improved upon that by stealing a game against the Miami Heat last year and now have a chance to advance to the second round.
This would be the first conference semifinals appearance for New York since the 2000 season, when the team lost in six games in the Eastern Conference finals.
There's a good chance the Knicks advance on Sunday afternoon, as they have been able to hold the Celts to an average of 75.0 points per game in this series and have rallied behind Carmelo Anthony.
New York will have to try and win one without Sixth Man of the Year and second-banana scorer J.R. Smith, but should be able to get the job done on the back of its defense.
Miami Primed to Advance
Brandon Jennings may have said the Bucks would win in six, but LeBron James and Dwyane Wade's actions say the Heat are winning in four.
Milwaukee has no answer for those two in the series, and the Miami bench has even started to get involved.
In Game 3's win, Ray Allen came off the pine for 30 solid minutes and scored 23 points on 8-of-14 shooting (5-of-8 from three-point land), while also grabbing three boards and dishing two assists.
Along with the "Birdman," Chris Andersen, who had 11 points on 5-of-5 shooting and six rebounds in that contest, it seems Miami has found two players who will be integral to their shortened rotation this spring.
Don't be surprised when the Heat silence the crowd at the Bradley Center and start preparing for their next opponent.
Can Spurs End Lakers Misery?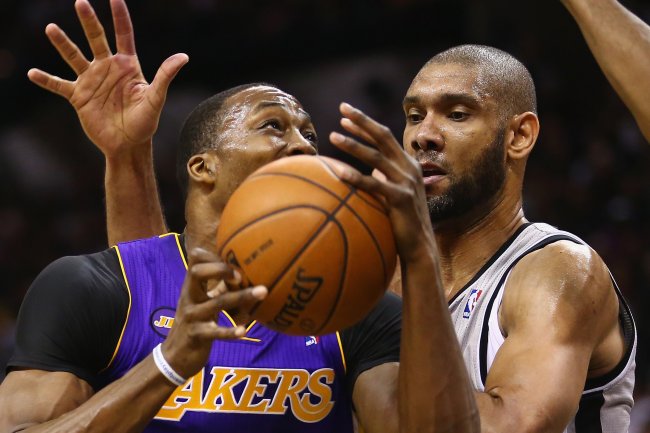 Ronald Martinez/Getty Images
The Spurs have flat out proven they are the better team over the first three games of this first-round battle.
Game 3 certainly told the story, as the Lakers suffered an embarrassing loss in front of their fans at the Staples Center. This squad just doesn't have the skill or perimeter production to hang with San Antonio, especially without Kobe Bryant in the lineup.
It's going to be a long offseason in L.A., as the front office has to figure out if Dwight Howard can be the man to lead this team back to greatness while also rebuilding the roster.
Tim Duncan, Tony Parker and the rest of the Spurs should take care of business on Sunday and allow the Lakers and their supporters to start thinking about those offseason adjustments a bit early.
Players who Must Step Up
Dwight Howard
As mentioned, the Lakers must figure out if D12 is truly the guy to take them back to the glory.
Through three first-round playoff contests, his numbers appear to be good enough—20.3 points on 60 percent shooting, 11.7 rebounds, 2.7 locks, 1.0 assist per game—but the team just hasn't been able to win.
Whether that is a testament to the greatness of the Spurs or the awful performances of his teammates is up to you to decide, but it's worth noting that the Lakers suffered their worst home playoff loss in franchise history in Game 3.
Even when he was surrounded by teammates that "nobody wanted," Superman was able to put them on his back and win games. He hasn't shown that ability in L.A., so Game 4 may be his last as a Laker.
It hasn't worked out for either party and, as an unrestricted free agent this summer, Howard could head for greener pastures.
Andrew Bogut
With David Lee out for the remainder of the playoffs, it's up to the injury-plagued Bogut to step up and play reliable minutes in the Warriors frontcourt.
Through the first three games of the series, he's done exactly that—posting 7.0 points, 10.3 rebounds, 2.0 assists, 2.0 blocks and 1.0 steals per contest—but has to show flashes on the offensive end.
The Warriors aren't going to beat the Nuggets solely with their guard play, meaning Bogut is going to have to fight for position down low and display what made him nearly a 16-point per game scorer during his 2010 campaign in Milwaukee.
Besides that, Bogut's defense and rim-protection have been top-notch, so Golden State can feel comfortable that the paint is safe when the big man is on the floor.
Ty Lawson
Lawson has clearly listened to the talk about Denver being one superstar away from contending and decided to take matters into his own hands.
Which squad will win this series?
During the playoffs, he's stepped up in a big way and is now averaging 22.0 points, 8.7 assists, 3.0 rebounds and 2.0 steals per game, while taking all the big shots for the Nuggets.
He narrowly lost a duel with Stephen Curry in Game 3, dropping 35 points and 10 assists in a 110-108 defeat.
If he's truly going to rise up and become "the man" for this organization, he has to will the Nuggets to a win in a pivotal Game 4 on Sunday evening.