UFC 159 Results: Questions Answered and Lessons Learned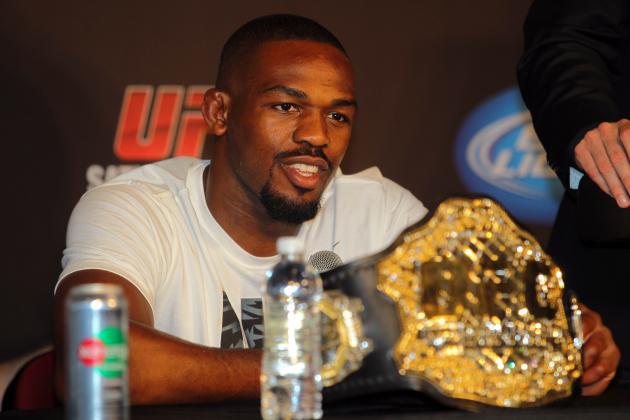 Brad Penner-USA TODAY Sports
Jon Jones was as fearsome as ever in one of the UFC's wackiest cards to date.
UFC 159 ended with another fight card in the books and another set of lessons from the festivities.
There was a lot of wackiness and a lot of intrigue before, during and after the card. What we saw was a spectacle when you look at how many things came together to create this insanity.
So what can fans, fighters and media alike extrapolate from the night's festivities? What questions from before the event have been answered? What lessons have been learned?
Find out right here!
Begin Slideshow

»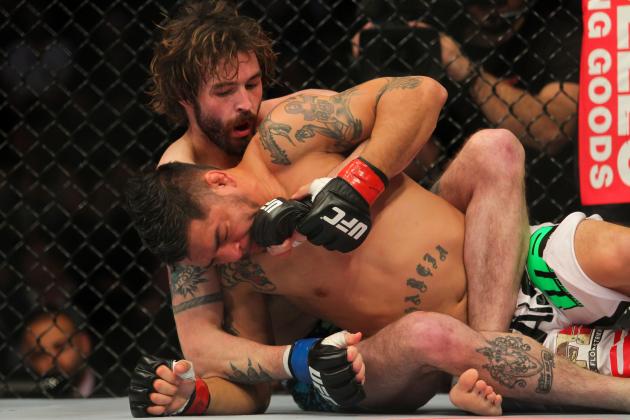 Brad Penner-USA TODAY Sports
Leonard Garcia was dominated by a good-but-not-great grappler.
Leonard Garcia may have endeared himself to UFC president Dana White, but this has been obvious for a long while now: The "Bad Boy" is not up to snuff with UFC competition.
He wasn't even up to snuff with WEC competition, but he was still a staple of cards because of his fan-pleasing style of big, telegraphed, looping punches. The thing is, when we see solid fighters like Jon Fitch, talented guys like Jacob Volkmann and savvy veterans like Vladimir Matyushenko be handed pink slips, there is just no logical reason for Garcia to remain on the roster.
He is now riding a five-fight losing streak and is still a meager 3-8-1 in his last 12 fights, with those wins and the draw coming via controversial split decisions. You would think that his release has to happen now, right? Who knows, really?
The UFC loses integrity day by day, it seems. Hardcore MMA fans need only point at Garcia's presence in the promotion as proof.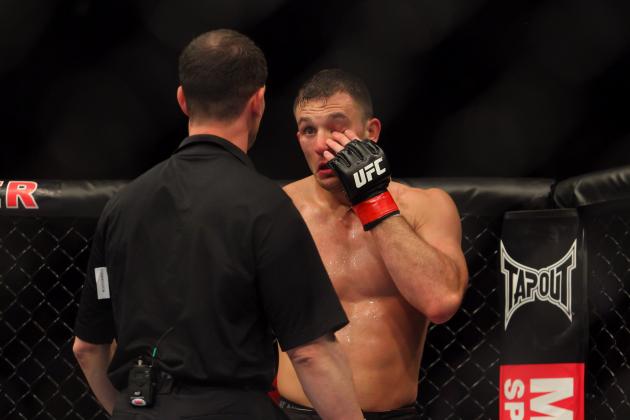 Brad Penner-USA TODAY Sports
Two eye poke-induced technical decisions had Joe Rogan reeling.
Does anybody know what Joe Rogan was thinking when he declared that MMA fighters need to start wearing some sort of magical glove that doesn't hurt the eye when fighters get poked with it? I sure don't.
With two technical decisions due to eye pokes, Joe Rogan was beside himself with THC-fueled rage. Not unexpectedly, he was quick to call for some kind of glove that covers the fingers but isn't a mitten.
Somehow, that would not make it hurt when somebody pokes you in the eye.
There is no way to solve the problem of eye pokes short of making fighters wear boxing gloves. If something is small enough to fit in the eye, and two people are pawing at each other's face, it's going to end up going in there.
Belcher's injury is nothing short of tragic, but calling for nonexistent remedies doesn't do anybody any good.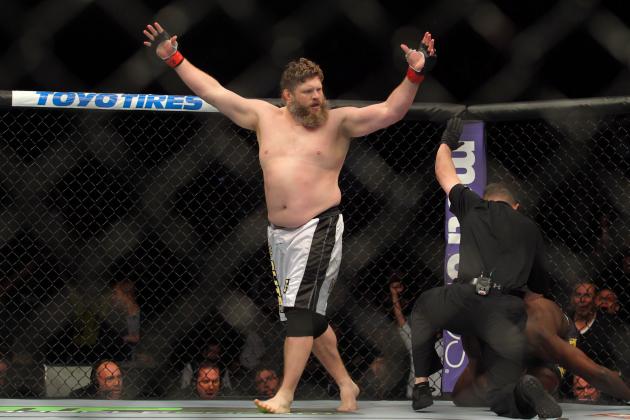 Brad Penner-USA TODAY Sports
Roy Nelson left Cheick Kongo in a heap, as most expected him to.
There is a reason that fighters open as favorites. It's because they're probably going to win.
Granted, crazy things happen in MMA, but that doesn't mean they are going to happen in every fight. My unofficial-among-friends picks saw Jim Miller, Phil Davis, Cheick Kongo, Alan Belcher and Chael Sonnen all coming out victorious. With the exception of Sonnen, I felt confident about the picks.
Pat Healy upset Miller, so ignore that one. I got Phil Davis right, but he was a heavy favorite for everyone who isn't a Brazilian jiu-jitsu homer. Kongo, Belcher and Sonnen, though, didn't go my way.
I could break down my rationale for each pick (chronic underestimation of Bisping, Roy Nelson's inability to handle fighters with anything resembling decent striking and just being contrary with Sonnen). That would be boring, though. (Wasn't it?)
Suffice it to say, some guys (like me) don't need to look so deeply into fights. Sometimes, people just get punched in the face really hard, and that's that.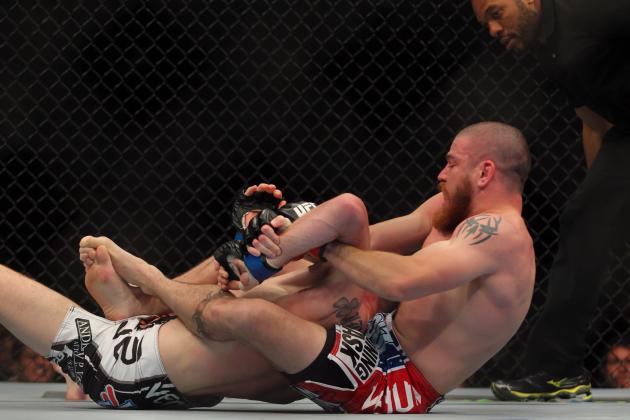 Brad Penner-USA TODAY Sports
Jim Miller has had lots of success against lesser opponents but can't make it work against the elite.
Remember when Jim Miller was supposed to demolish Ben Henderson? How long ago does that feel?
How about when Cheick Kongo seemed like he was going to end up fighting Brock Lesnar for the heavyweight belt in 2009?
Anyway, it's kind of crazy when you think that some fighters consistently win against precisely who they're supposed to defeat. Miller and Kongo are two of those fighters.
Kongo, over the last four years, has lost to Cain Velasquez, Frank Mir, Mark Hunt and Roy Nelson, and he fought Travis Browne to a draw. Those are his only losses during that stretch.
Similarly, Miller has beaten a who's who of not-that-great lightweights, but he has lost convincingly to Henderson, Nate Diaz, Gray Maynard and now Pat Healy. Three of those four are Top-Five lightweights, and Healy may make it four of four soon.
In all likelihood, Miller and Kongo have found their spot in their division for the indefinite future. They may not like it, but they have a clear-cut place as gatekeepers.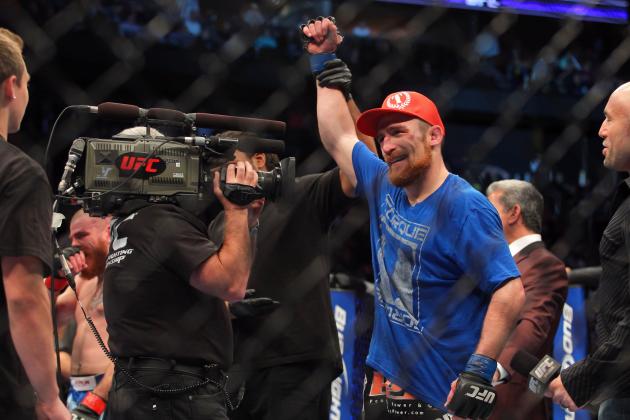 Brad Penner-USA TODAY Sports
Pat Healy may end up fighting for a belt at long last after being ducked by Gilbert Melendez.
Lots of Strikeforce fighters have exploded onto the scene over the last few months; however, Tyron Woodley vs. Jay Hieron wasn't a fight between elite talents.
Pat Healy vs. Jim Miller was one of the only fights we've seen so far showcasing top Strikeforce talent against top UFC talent. Obviously, the results favored Strikeforce.
Now, very few people would have denied that Strikeforce had some great fighters. That said, the initial entries were not especially positive, as we saw Jake Shields struggle, Jason "Mayhem" Miller wilt under the bright lights, Cung Le fade against Wanderlei Silva and Nick Diaz fail to adjust to a talented striker.
Now that the two promotions are truly one, we are seeing Strikeforce fighters show themselves to be at least on equal footing with their UFC counterparts. Healy could now end up back in his last spot in Strikeforce...as the top contender at lightweight.
We'll just have to wait and see!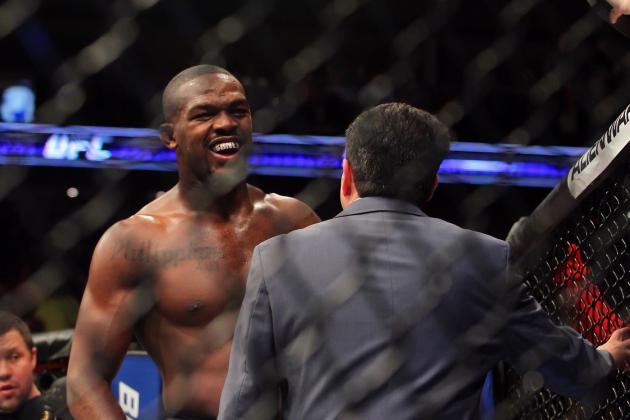 Brad Penner-USA TODAY Sports
Jon Jones continues to dominate all comers and will likely continue to do so as long as he remains the light heavyweight champ.
When you look too deeply at a fight, you can see even the greatest champion lose to anybody. After all, I wrote this article on how Chael Sonnen totally had a chance against Jon Jones.
Alas, things went as expected. Jones used his length, wrestling and deadly elbows to knock out Sonnen in the first round. Even for the biggest Sonnen fan, the result couldn't have been too surprising.
Jones attacked Sonnen with his own greatest weapon by grounding him and pounding him fiercely. Sonnen is quite the wrestler, and Jones probably could have beaten him even more easily on his feet. Jones can do whatever he wants to and still win, and it's about time everyone acknowledged the fact that he's practically unbeatable.
Sure, there are a few semi-legitimate fighters in the tube for Jones for the first time since he became champ. Still, whether it's against Lyoto Machida, Daniel Cormier or Alexander Gustafsson, you just have to stifle your doubts, stop thinking about it and acknowledge that Jones is probably going to win in emphatic fashion.