UFC 159 Results: What's Next for the Losers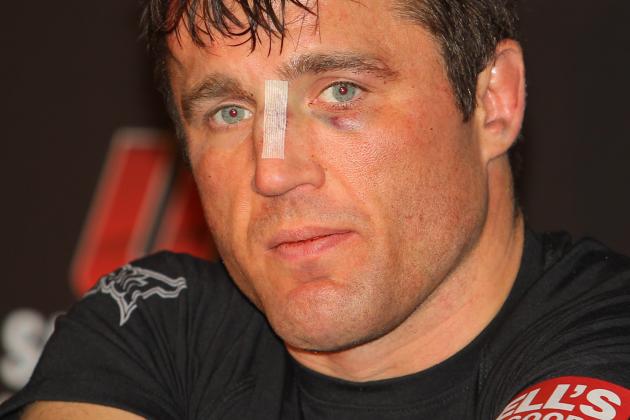 Brad Penner-USA TODAY Sports
Chael Sonnen came out worse for wear after his fight with Jon Jones.
UFC 159 featured 22 fighters and 11 losers.
With another big night of fights, we have another group of fighters heading to bed bruised, sore and with substantially less job security. Fans, like the fighters themselves, have to be wondering what comes next.
We saw fighters in all possible stages of their combat sports career on Saturday night, and what each one has ahead of him is totally different. So what's in store for Chael Sonnen, Alan Belcher and the rest of the UFC 159 losers?
Find out right here!
Begin Slideshow

»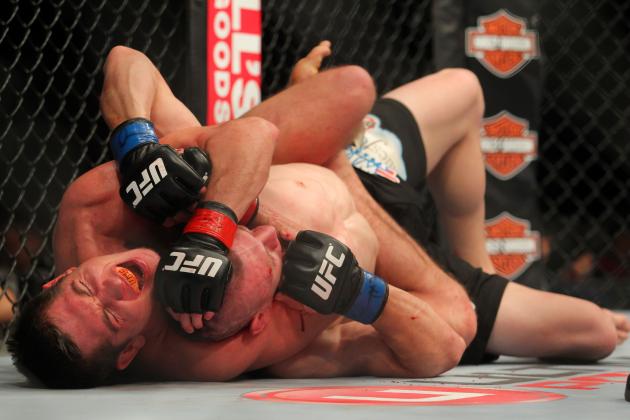 Brad Penner-USA TODAY Sports
Kurt Holobaugh should survive the UFC's extermination axe...for now.
Coming into this fight, the young featherweight was less "Kurt Holobaugh" and more "Kurt who-lobaugh." Many more fight fans know his name now, though.
The former Strikeforce lightweight is a complete question mark to almost everyone. If you do know who he is, it's probably as the guy who lost to Pat Healy that one time at that one Strikeforce event.
At UFC 159, he was matched against the fast-rising Steven Siler and is now sitting on an 0-2 record in Zuffa.
The fight was exciting enough, but wasn't a barn burner by any means. It's possible Holobaugh gets shown the door (the UFC isn't being especially merciful to the occasional Strikeforce loser), or he might matched against another UFC newcomer.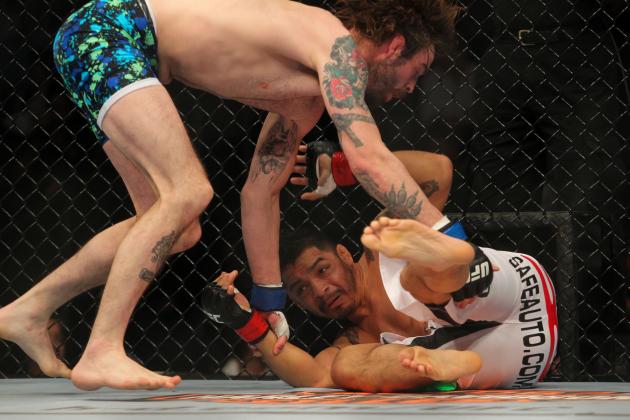 Brad Penner-USA TODAY Sports
Leonard Garcia had another rough night, losing to Cody McKenzie.
So Leonard Garcia has to get cut now, right?
Right?
I mean, the dude is on a five-fight losing streak. On top of that, his most recent win was a controversial one over Nam Phan. Before that, he lost to Mark Hominick, had a questionable split-decision win over Chan Sung Jung and got a lucky draw against George Roop.
The last time Garcia didn't get a split-decision non-loss was in November 2008 against Jens Pulver.
Still, Dana White loves Garcia. Even so, he was dominated in the grappling department by the good-but-not-great Cody McKenzie. It's not a question of whether Garcia is good enough to compete in the UFC—he clearly isn't.
It's a question of whether Dana White will finally be even-handed in his distribution of pink slips. Garcia has been on borrowed time for a long while.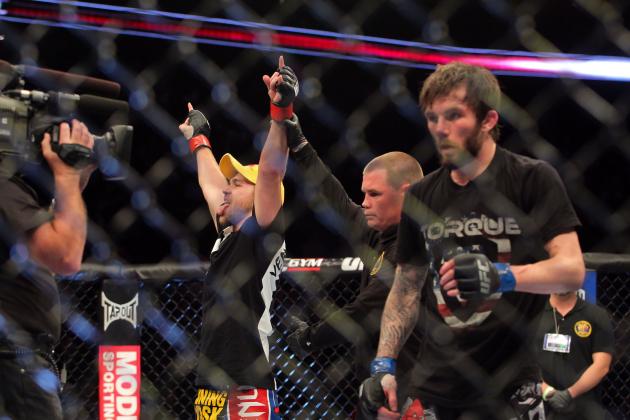 Brad Penner-USA TODAY Sports
Johnny Bedford will likely have a hard time swallowing this loss.
This one has to hurt Johnny Bedford. In the super-thin bantamweight division, anything resembling a solid winning streak can result in a title fight with Renan Barao. If he had beaten Bryan Caraway, who is best known for saying he could beat up a woman, it could have led to something big.
Alas, he did not and now finds himself in an awkward position in the division. Again, the weight class is simply too short on talent right now.
The result is an uncomfortable matchmaking situation for Bedford. He could find himself undermatched against a UFC newcomer or, if he ends up having a lengthy layoff, a TUF 18 import. He could also find himself overmatched (hypothetically, of course) against a guy like Michael McDonald or Scott Jorgensen.
We'll just have to wait and see what the UFC opts to do with him.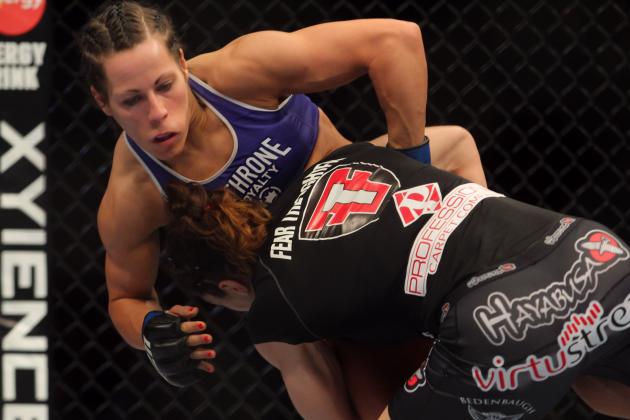 Brad Penner-USA TODAY Sports
Sheila Gaff fell victim to Sara McMann's elite wrestling.
Sheila Gaff enters the company of Liz Carmouche and Miesha Tate as "the first women to lose UFC fights."
Gaff seemed shocked (for some reason) that Olympic silver medalist Sara McMann was able to demolish her on the ground. She was the only one surprised by this.
Still, the UFC is short enough on women's talent right now that Gaff will probably get another fight. It's basically impossible to guess who her next opponent will be, but it's almost certainly going to be another woman who finds herself sitting at 0-1.
The next UFC women's bout comes at UFC 161 between Alexis Davis and Rosi Sexton. After that, UFC on Fox 8 will feature Carmouche vs. Tate as well as Julie Kedzie vs. Germaine DeRandamie.
Gaff could face the loser of any of those three fights or any freshman the UFC happens to sign between then and now.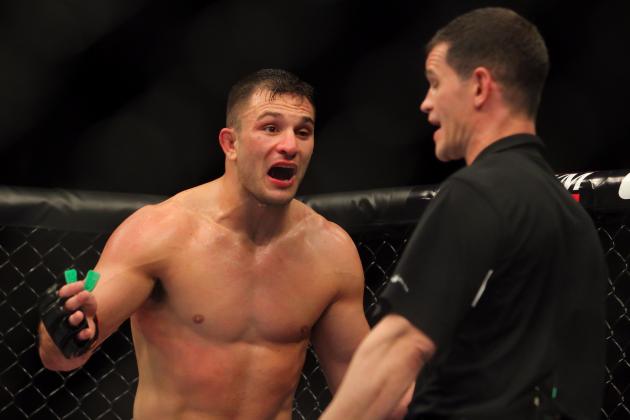 Brad Penner-USA TODAY Sports
Gian Villante had a strange loss following an eye poke from Ovince St. Preux.
The victim of the first lame stoppage of the night was Gian Villante, who suffered from an ugly poke to the eye from Ovince St. Preux that saw the ref wave things to a close based on an off-hand comment. While that controversy may have fans doubting the legitimacy of this loss, the bottom line is that two judges scored the first two rounds in favor of "OSP" and Villante wasn't exactly looking spry in the third.
Either way, Villante is going to get another UFC fight, and there are many options for the Strikeforce import. None of them, though, are particularly interesting fights.
Plenty of light heavyweights who are coming off ugly losses would make logical opponents for Villante. Cyrille Diabate, Ryan Jimmo, Thiago Silva, Brandon Vera or any given UFC newcomer makes sense.
Look for Villante to possibly come back sooner than later.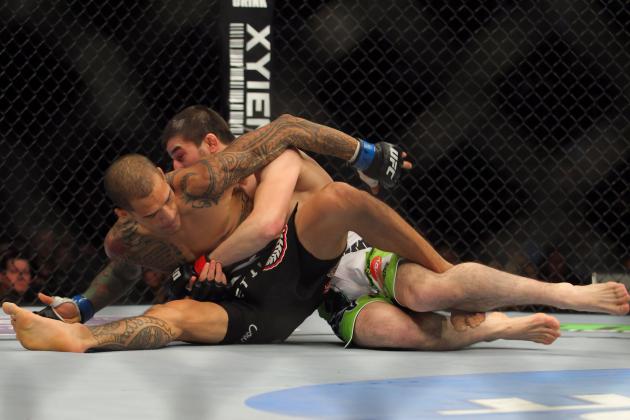 Brad Penner-USA TODAY Sports
Yancy Medeiros broke his thumb, leading to an unfortunate end to his fight.
Yancy Medeiros was brought in to give his opponent, the electrifying Rustam Khabilov, an easy win. Unfortunately, the win proved to be a bit too easy, coming from a thumb injury as Medeiros was defending a takedown attempt.
While this is Medeiros' first loss, it was still supposed to be a slam dunk for Khabilov. Medeiros had just nine career fights, with two in Strikeforce, and was returning to the cage after nearly three years away due to a slew of injuries. Because of this and the fact that the UFC hasn't been especially forgiving with losers from Strikeforce, this loss may end up to be a blessing.
Look for Medeiros to face any lightweight outside of the Top 10 on the UFC's roster. God knows the UFC has plenty of them.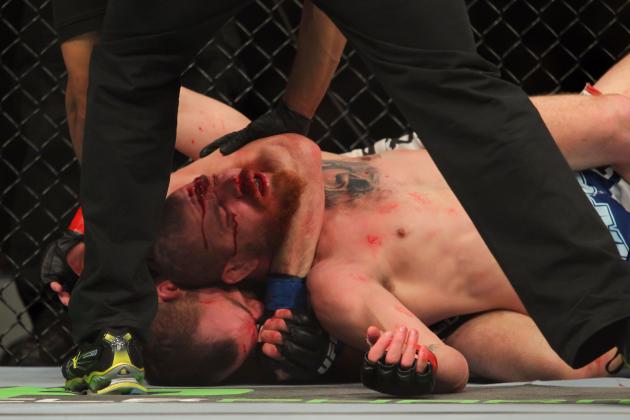 Brad Penner-USA TODAY Sports
Jim Miller refused to tap and went out for a split second before the ref broke it off.
David Baron, Matt Wiman, Mac Danzig, Steve Lopez, Duane Ludwig, Mark Bocek, Gleison Tibau, Charles Oliveira, Kamal Shalorus, Melvin Guillard and Joe Lauzon. That's the list of people that Jim Miller has beaten. With the exception of Lauzon, Guillard and Tibau, though, it's not exactly a who's who of top lightweights from the past five years.
The list of people who have beaten Jim Miller? Gray Maynard, Benson Henderson, Nate Diaz and now Pat Healy. That's a substantially more impressive group of fighters.
Jim Miller is good, but he may not qualify as "great." Because of that, he is likely to be penciled in as a gatekeeper in the lightweight division for the indefinite future.
There is a load of fighters that he could face in this role. The winner of Rafael dos Anjos vs. Evan Dunham, Khabib Nurmagomedov (if he beats Abel Trujillo, which he certainly will), Eddie Alvarez (if he ever finally comes to the UFC), Josh Thomson, Jamie Varner and Jorge Masvidal all make sense.
Brad Penner-USA TODAY Sports
Vinny Magalhaes needs to be a bit more careful with whom he calls out.
Submission wiz Vinny Magalhaes had loads of people excited for his fight with Phil Davis. Many, though, felt he had bitten off more than he could chew by calling out a Top-10 opponent, and he did.
Magalhaes was booted from the UFC in 2009 after going 0-2 against Ryan Bader and Eliot Marshall following TUF 8. He returned with a submission victory of Igor Pokrajac last September, and while Pokrajac has skills, he is not exactly an elite fighter.
Davis showed why he is ranked as the eighth-best light heavyweight in the UFC and Magalhaes is ranked...not eighth. As stated in the Villante slide, there is a stable of middling talent for Magalhaes to compete with.
Depending on how committed the UFC is to keeping him around, he could find himself against somebody less formidable on the ground like Ovince St. Preux or Cyrille Diabate. If not, some other non-elite fighter will do just fine.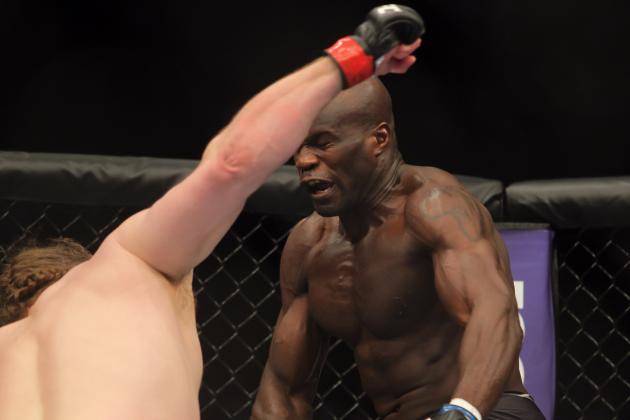 Brad Penner-USA TODAY Sports
Cheick Kongo doesn't remember this picture being taken.
Dana White probably isn't all that happy to cut Roy Nelson another extra check. He's even less happy to to have Nelson firmly embedded in the title picture, partly due to the division's lack of elite talent.
Either way, Nelson punched Kongo out of his senses and back down into gatekeeper status in the heavyweight division. It's not a place the Frenchman likes to be, but it's the right place for him. Every promotion needs a physically powerful striker to flesh out the middle tier of any given division, and that's what he has been since getting beaten by Cain Velasquez at UFC 99.
As such, look for Kongo to face another guy who seems like he just might be legit. Brendan Schaub (if he beats Matt Mitrione), Soa Palelei (if he beats Stipe Miocic) and Todd Duffee would make for exciting opponents for Kongo.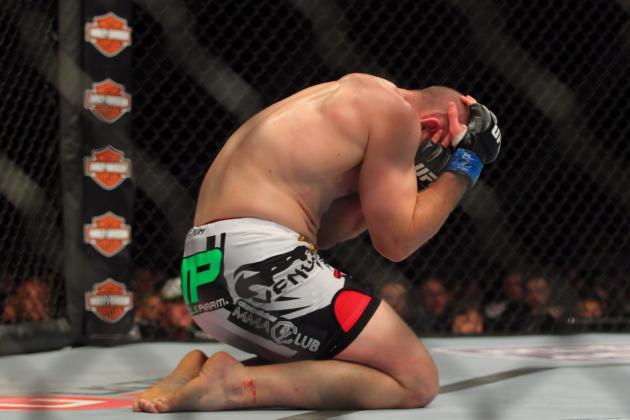 Brad Penner-USA TODAY Sports
Alan Belcher's career may be in jeopardy after suffering another injury to his surgically repaired eye.
First of all, this slide assumes that Belcher is capable of returning to MMA. I'm not a doctor, but I'm sure that bleeding out of a surgically repaired eye is a very bad thing.
Either way, even before things went terribly wrong for Belcher, things weren't going terribly right for him, either. Bisping consistently outlanded him in the second round, and Belcher was gassing mightily in the third. I have never been all that high on Belcher, and with his convincing losses to Yushin Okami and now Bisping, it's time everyone else got on board.
If he is capable of returning, the middleweight division is rich with talent. By far the best opponent for him, though, would be Brian Stann.
Stann is another striker coming off an ugly loss, and the two of them would likely combine for a barn burner of a fight. If not, Lorenz Larkin and Luke Rockhold, should he lose to Vitor Belfort, are both realistic opponents.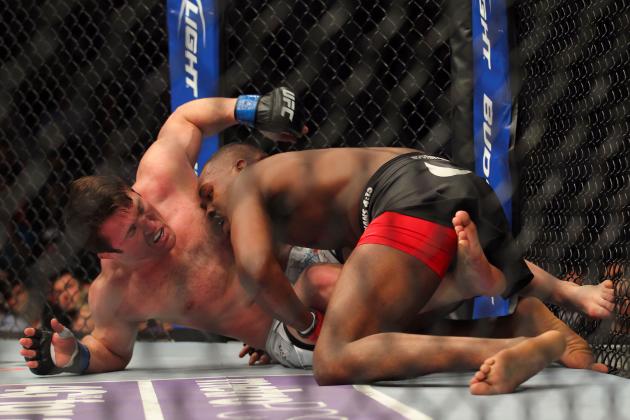 Brad Penner-USA TODAY Sports
Chael Sonnen may or may not retire following his loss to Jon Jones.
A third UFC title fight and a third loss for Chael Sonnen. As a fan of the "American Gangster," I'm disappointed, but completely unsurprised by how it played out (as I'm sure is the case with most of you).
Sonnen, after the fight, sounded incredibly disappointed and mentioned the possibility of retirement.
As with Belcher, we're going to assume that he is in fact returning. Ff he does decide to stick around (and the UFC should push for him to stay), there are exciting fights to be made.
Sonnen is still a skilled grappler with amazing cardio and enough size to stick around in the light heavyweight division for years. Even though he was beaten soundly by Jones, he can still realistically beat the vast majority of the UFC's ranked fighters.
Sonnen would be the safe bet against Gegard Mousasi, Phil Davis, Glover Teixeira, Antonio Rogerio Nogueira and Dan Henderson at this point. Even then, it's hard to say Ryan Bader, Rashad Evans and Alexander Gustafsson would be huge favorites. Anybody on that list makes an interesting opponent for Sonnen.
Far and away, though, the best fight to make would be against Wanderlei Silva. "The Axe Murder" is apparently making his move to 205 lbs permanent, and the two of them have an ugly feud lingering from Sonnen's tirades against Anderson Silva.
While Sonnen would be a huge favorite, I think many fans would love to see that fight.