Initial Post-Draft Depth Chart for the Jacksonville Jaguars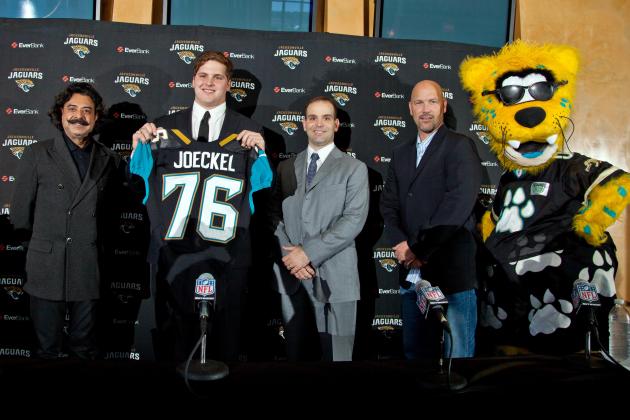 Rob Foldy-USA TODAY Sports

Jacksonville's roster has been more than made over this offseason; it's been demolished. The Jaguars have very few players left from the old regime, as general manager Dave Caldwell has spent this weekend adding eight rookies to the roster via the draft, and as many as 21 undrafted free agents (UDFAs) as well.
The Jaguars' 2013 roster will be full of competition. Almost no spots will be guaranteed. Players who might have been comfortable in the past will have to fight for their spot on the final 53-man roster. The battles will be especially brutal at the cornerback position, where there are a ton of rookies and almost zero guaranteed spots.
With the draft and undrafted free agency in the books, it's time to see how the Jaguars' roster shapes up going into OTAs from a depth chart perspective. These are preliminary rankings; since the players have not even been on the field yet, it's as far from an official list as you can get.
This depth chart will include ALL players reportedly heading to Jacksonville as undrafted free agents. I got my list of Jaguars UDFAs from Big Cat Country; it's a fantastic list.
Let's take a look at how the Jaguars' roster looks going into OTAs.
Begin Slideshow

»
Thomas B. Shea/Getty Images

Projected Depth Chart
Blaine Gabbert, Chad Henne, Matt Scott, Jordan Rodgers
The Jaguars chose to forgo the quarterbacks in this year's draft. They passed over Geno Smith in the second round. They passed over Ryan Nassib and Matt Barkley in the 4th. They even passed over Zac Dysert and Tyler Bray in the 7th.
Does this mean they're happy with the quarterbacks already on the roster? Absolutely not. It simply means they weren't enamored with this year's quarterback class.
Blaine Gabbert won the starting job from Chad Henne last year in training camp. He should be able to do so again. I expect Henne to act as the backup during camp. If he's being outplayed by Scott or Rodgers, then I think he'll be cut relatively quickly. If Henne isn't the starter, there's really no reason to keep him and his contract on the roster.
Scott and Rodgers are both undrafted rookies that could battle for one roster spot. If one or both outplay Henne they could both make the final 53. Otherwise, one of these two might be ticketed for the practice squad.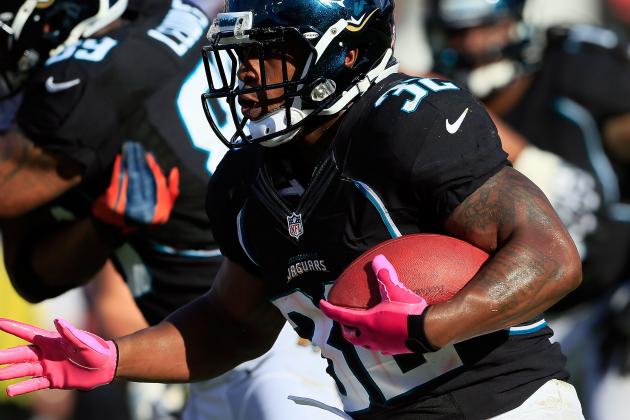 Sam Greenwood/Getty Images

Projected Depth Chart
Tailback: Maurice Jones-Drew, Justin Forsett, Denard Robinson, Jonathan Grimes, Richard Murphy, Jordan Todman
Fullback: Montell Owens, Lonnie Pryor, Willie Carter, Kyler Reed, Will Ta'ufo'ou
Maurice Jones-Drew is still the heart and soul of the Jaguars offense. This is the final year of his contract and he's playing for an extension. Look for him to put up another great season.
Justin Forsett and Denard Robinson may both see time in situational packages. Both are guarantees to make the roster.
Jonathan Grimes, Richard Murphy, and Jordan Todman all face very long odds to make the final roster. Even if one of the three primary rushers were to get hurt, I still don't see them having a good shot at a roster spot. If one of them does make it, my money is on Grimes; at least he has experience in a zone-blocking scheme from his time in Houston.
Montell Owens is on both depth charts due to his ability to play both positions, but he's honestly more of a fullback. Honestly, unless he's a massive improvement over the undrafted free agent fullbacks, he might find himself out of a roster spot. The future is now.
Lonnie Pryor is a fullback I hoped the Jaguars would pick up; he's not a gigantic player, but is more of a "new-age" fullback. I could easily see him not only making the final roster, but winning a starting spot at the position. He might have the clearest path to a roster spot of any undrafted free agent.
Kyler Reed and Willie Carter are both more of H-back types that can catch the ball out of the backfield. Carter blazed a 4.51-second 40-yard dash at his pro day, and Reed outdid him with a 4.47-second 40 at his. Carter outproduced Reed in college, though, so I'll give him the edge.
Ta'ufo'ou is a holdover from last year and an extreme long-shot to make the roster. The Jaguars seem to be more interested in a smaller, faster fullback, and Ta'ufo'ou is more of a traditional lead-blocker.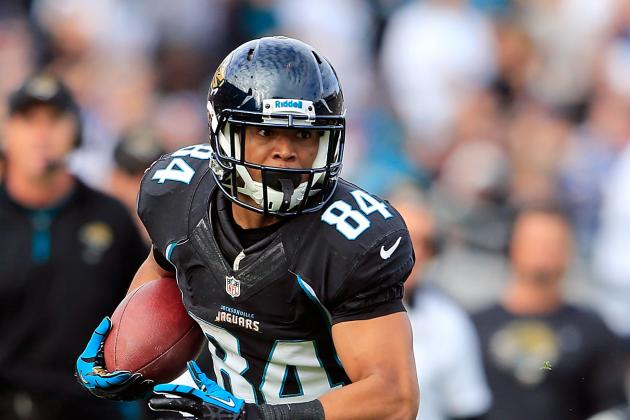 Sam Greenwood/Getty Images

Projected Depth Chart
Cecil Shorts III, Justin Blackmon, Ace Sanders, Mohamed Massaquoi, Jordan Shipley, Taylor Price, Jamal Miles, Toney Clemons, Jerrell Jackson, Cole McKenzie, Mike Brown
Cecil Shorts and Justin Blackmon are the Jaguars' starting wide receivers. Write it in pen. They're not going anywhere.
I see Ace Sanders as the favorite for the slot-receiver job. He and Jordan Shipley essentially play the same position, but I believe Sanders is the better bet to start.
Mohamed Massaquoi is very likely to stick around as the primary backup wide receiver. His spot is by no means guaranteed, and he could be beaten out by one of the receivers ranked below him, but I think the Jaguars see his blocking ability as an asset as well as his ability to be physical with defensive backs.
Jordan Shipley's spot on the roster is a bit more tenuous. If the Jaguars elect to go with Ace Sanders as the starting slot receiver, Shipley's spot will depend on if the Jaguars choose to keep a slot-only receiver as a backup. Justin Blackmon has the ability to operate out of the slot as well, so if Sanders wins the job Shipley might find himself forced off the roster by one of the players listed after him.
Price is a player Jaguars fans had high hopes for last year when he was claimed. He has the talent to develop into a contributor, but doesn't have much time to step up his play. Price seems the most likely of the incumbent wide-receiver group to stick around, however, with five players above him on the depth chart, his opportunity is shrinking fast.
The rest of the receivers are all bunched together. Miles and McKenzie are undrafted free agents, and Clemons/Jackson/Brown are all guys that played last year with minimal success. All five of these players face daunting odds to make the roster.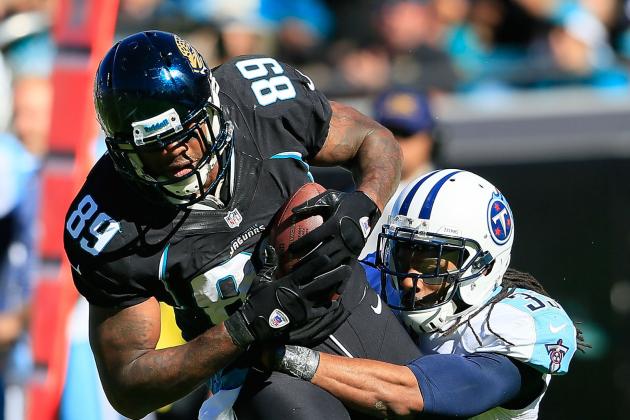 Sam Greenwood/Getty Images

Projected Depth Chart
Marcedes Lewis, Ryan Otten, Allen Reisner, Brett Brackett, Matt Veldman, Isaiah Stanback
Marcedes Lewis is the only one of these players with a spot locked up; the rest are up for grabs. Gene Smith liked to carry three or even four tight ends, but Dave Caldwell seems more likely to keep three at most, with two a possibility.
Quite honestly, I think Ryan Otten has a fantastic shot at making the roster. He's a solid all-around tight end, and he has the advantage of being a player Caldwell chose to add to the roster.
Reisner, Brackett, Veldman, and Stanback were all picked up by Gene Smith. Veldman is still recovering from a torn ACL, so he seems unlikely to make the roster. If the Jaguars keep more than two tight ends I think it comes down to Reisner and Brackett for one spot, with Otten taking the backup job.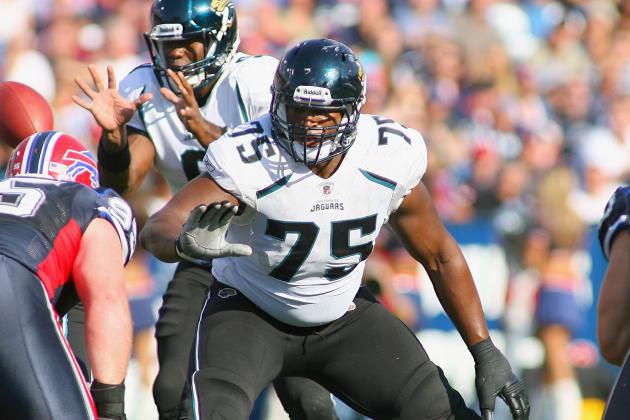 Rick Stewart/Getty Images

Projected Depth Chart
Eugene Monroe, Luke Joeckel, Cameron Bradfield, Mark Asper, Jeff Nady, R. J. Dill
Monroe is a lock to start on the left side for the Jaguars. Joeckel should start on the right, but if something were to happen to Monroe, then I'd expect him to slide over to the left.
Bradfield is likely the swingman with the ability to play both tackle spots. If Monroe and Joeckel both went down, then he would likely take over.
The rest of these guys are extremely unlikely to make the roster. I don't see the Jaguars carrying four offensive tackles on the active roster.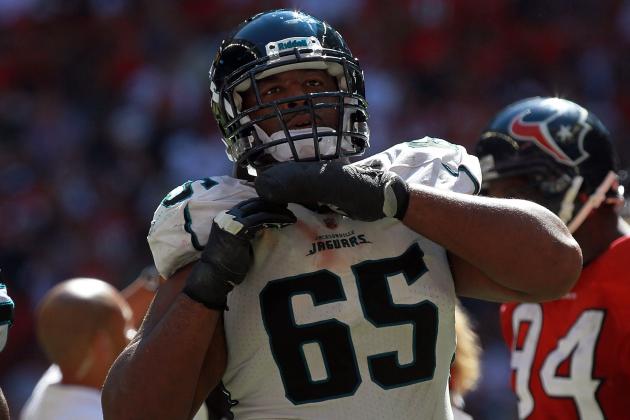 Ronald Martinez/Getty Images

Projected Depth Chart
Will Rackley, Mike Brewster, Jason Spitz, Drew Nowak, Roddy Tomlin, Austin Pasztor, Stephane Milhim
Rackley and Brewster should battle for the starting spot at left guard, and it could be one of the better training camp battles. Rackley's attributes are best-suited for the Jaguars' new zone blocking scheme, but Brewster played fairly well as Rackley's replacement last year.
The runner-up in this battle should back up the winner. Even if Brewster wins, he is also the backup at the center position, so if something happens to Brad Meester the Jaguars would go with Rackley and Brewster at left guard and center, respectively.
There is a chance for an undrafted rookie or holdover from last year to unseat Jason Spitz from his roster spot. The Gene Smith free-agent signing was hurt for most of last season, and Caldwell might see his salary not being worth him blocking someone else's opportunity.
Nowak showed promise last year before getting injured. Tomlin was listed as a tackle in college but could potentially move to guard in the pros. The last four players on this list are all battling Jason Spitz for that last spot, and any of them could win, but Spitz's ability to also back up the center position probably still gives him an edge.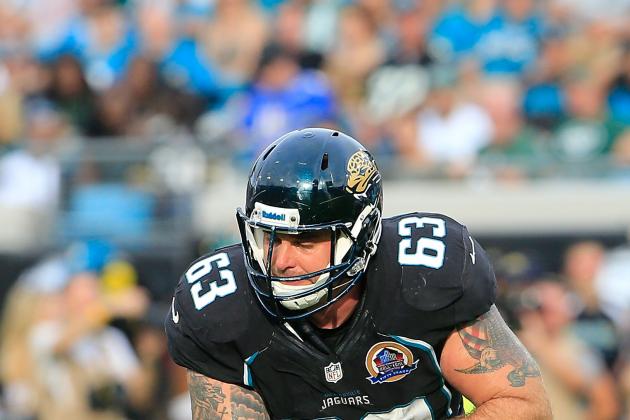 Sam Greenwood/Getty Images

Projected Depth Chart
Brad Meester, Mike Brewster, Will Rackley, Jason Spitz
Meester is the man in the middle after being brought back by new general manager Dave Caldwell on a one-year deal. Brewster is likely being groomed as Meester's successor, but the veteran isn't ready to give up the job just yet.
If Meester gets injured, Brewster should be able to step in. Rackley and Spitz should battle for the third-string center job, but Spitz's roster spot may not be secure, which gives Rackley the edge.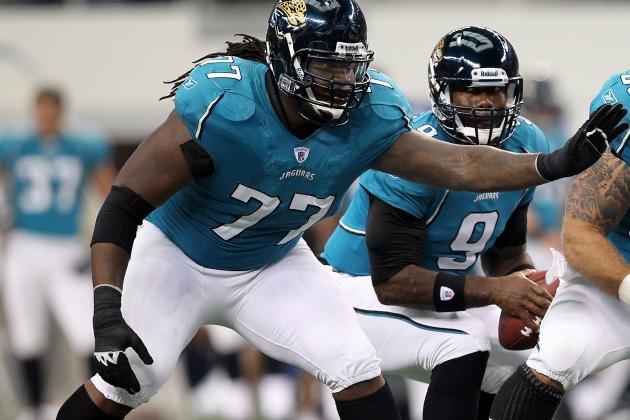 Chris Chambers/Getty Images

Projected Depth Chart
Uche Nwaneri, Will Rackley, Mike Brewster, Jason Spitz, Drew Nowak, Roddy Tomlin, Austin Pasztor, Stephane Milhim
This is Nwaneri's job, and the chances he doesn't start opening day, barring injury, are remote. If Nwaneri were to get injured, one of Rackley or Brewster would likely slide over to right guard, leaving the other to start on the left side.
Aside from Nwaneri, Rackley, and Brewster, the last spot is up for grabs. Spitz's ability to play center might help him hold off younger players Nowak, Tomlin, Pasztor, and Milhim, but those four have a legitimate chance to win a roster spot this fall.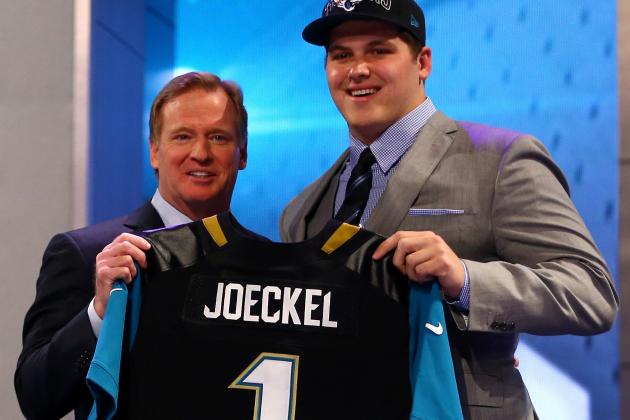 Al Bello/Getty Images

Projected Depth Chart
Luke Joeckel, Cameron Bradfield, Roddy Tomlin, Mark Asper, Jeff Nady, R. J. Dill
Joeckel should be the starter on the right side from day one. He should play every game at right tackle unless he were to get hurt, in which case his backup would step in, or if left tackle Eugene Monroe were to get hurt, in which case I'd expect him to slide to the left side.
Cameron Bradfield is the swing backup with the ability to play both tackle positions. If Joeckel were to get injured, Bradfield would take over.
The other four players face long odds to make the roster and are likely vying for spots on the practice squad, but one could surprise and make his way onto the final roster, as the Jaguars don't have a ton of depth on the offensive line.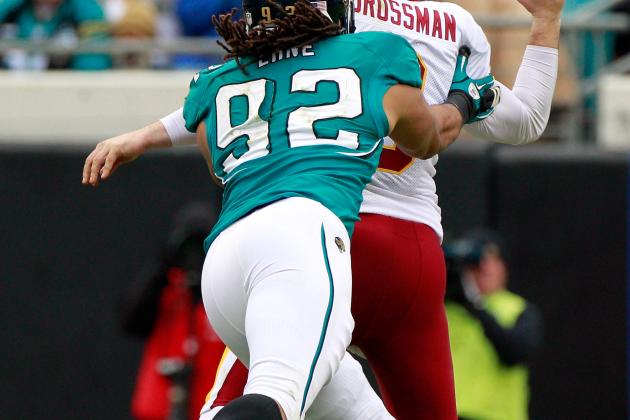 Sam Greenwood/Getty Images

Projected Depth Chart
Leo end: Jason Babin, Jeremy Mincey, Andre Branch, Ryan Davis
5-technique: Tyson Alualu, Sen'Derrick Marks, Austen Lane, Pannel Egboh, Abry Jones, Jerome Long, Uriah Grant
The Jaguars obviously like other players more than they liked the defensive linemen in this draft because they didn't select a single one. It seems Caldwell and Gus Bradley have decided better coverage will make the pass-rusher look better.
At the Leo position, Jason Babin should play there on a consistent basis, with Mincey and Branch rotating in. I could see all three rotating between the early-downs work and two-Leo sets on passing downs, giving all three a chance to make an impact.
Any of the three could take the job at camp and run with it, but Babin has the best track record. Davis seems like a long-shot to make the roster.
At the 5-technique position, I expect one of Tyson Alualu and Sen'Derrick Marks to start at the position while the other mans the 3-technique defensive tackle spot. Alualu played relatively well as a defensive end last year, and coming out was thought of as more of a 5-technique end anyway, so he makes the most sense. Marks seems likely to stick at the 3-technique spot, but I put him here in case Alualu fits better at 3-tech and Marks fits better at 5-tech.
Behind those two, Austen Lane is looking to make an impact, and this position seems like a great fit for him. He should be able to stick on the roster as a backup.
I don't expect any of Egboh, Jones, Long, or Grant to make the roster, but they could potentially be playing for a practice squad spot.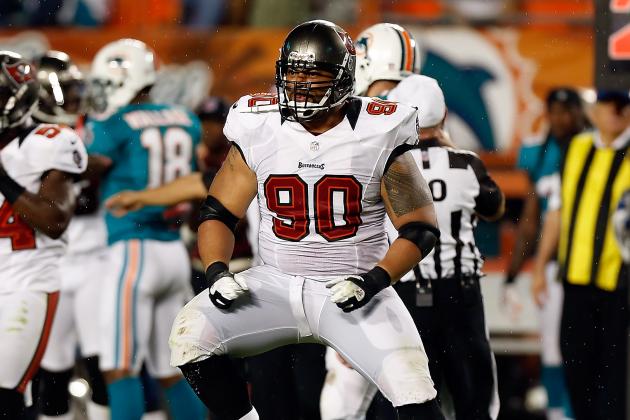 J. Meric/Getty Images

Projected Depth Chart
1-technique: Roy Miller, T. J. Barnes, Jeris Pendleton
3-technique: Sen'Derrick Marks, Tyson Alualu, D'Anthony Smith, Abry Jones, Jerome Long, Uriah Grant
At the 1-technique spot, Roy Miller is the clear starter. Barnes and Pendleton will battle for the backup job, and given the large number of other defensive linemen on the roster I think the loser of this battle has a good chance to be left off the final roster.
The starter at the 3-technique position should be one of Marks and Alualu. I feel Alualu is a better fit at the 5-technique, which would leave Marks to start inside. However, if Marks were to get injured I would expect Alualu to move inside and Austen Lane to take over at the 5-tech spot.
D'Anthony Smith's injury issues seem destined to force him off the roster, but he should enter OTAs with a leg up on the other three. However, this could be a spot that's up for grabs as well. If Smith's injuries cost him his spot, one of these guys (or the loser of the 1-technique battle) could find themself sitting pretty for a job.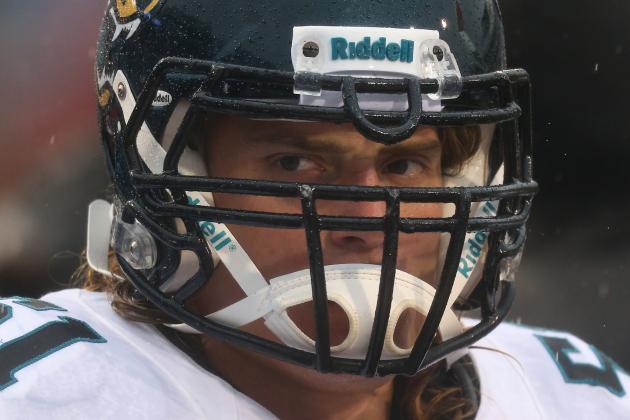 Tom Szczerbowski/Getty Images

Projected Depth Chart
Paul Posluszny, Geno Hayes, Russell Allen, Brandon Marshall, Jeremiah Green, Julian Stanford, Paul Hazel, Maalik Bomar, LaRoy Reynolds, Mike Zimmer, Greg Jones
Posluszny, Hayes, and Allen are all but cemented into the starting roles, leaving the rest of these guys to battle for backup spots.
Jack Del Rio always loved keeping lots of linebackers on his roster, but I have a feeling the Jaguars will keep about five. That leaves two jobs for eight players.
Marshall, Stanford, and Jones are incumbents, but they are all projects or flawed in some way. I have a feeling Dave Caldwell will want to choose his own projects, which probably means at least one and maybe two of these undrafted rookies make the roster.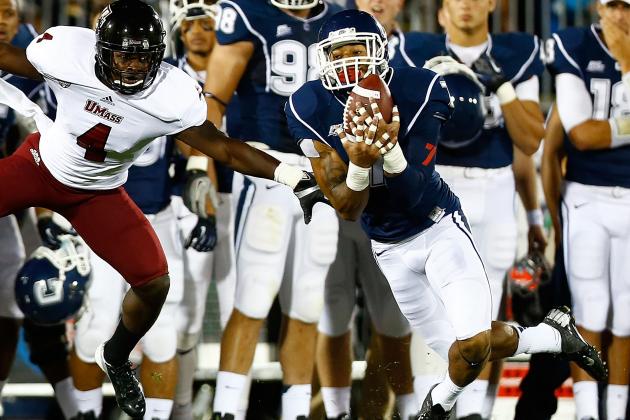 Jared Wickerham/Getty Images

Projected Depth Chart
Dwayne Gratz, Alan Ball, Mike Harris, Antwaun Molden, Jeremy Harris, Demetrius McCray, Trey Wilson, Steven Terrell, Kevin Rutland, Antwon Blake
Unless you are a big Alan Ball fan, Dwayne Gratz is probably the de facto No. 1 cornerback for the Jaguars.
Gratz, Ball, and Mike Harris' roster spots should be relatively safe, which likely leaves the rest of these guys to battle for two or maybe three spots. Molden was re-signed by Dave Caldwell, which gives him a leg up on the other two incumbents Rutland and Blake.
The last spots should be between Molden, Harris, McCray, Wilson, and Terrell, with one or two of them potentially ending up on the practice squad. The cornerback battle should be the most interesting one at training camp, especially given the fact five of these players are rookies and there isn't a single accomplished corner on the roster.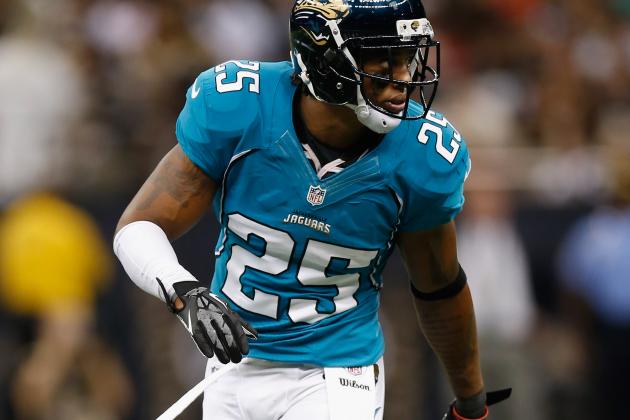 Chris Graythen/Getty Images

Projected Depth Chart
Dwight Lowery, Johnathan Cyprien, Josh Evans, Alan Ball, Chris Prosinski, Antwon Blake, Chris Banjo
Lowery has been one of the best defensive players on the team, so his position is likely safe. I do expect competition between Lowery and Evans for the starting free safety job, though.
Cyprien should be written down as the starting strong safety in pen. I'm excited to watch him play.
With Lowery already on the roster, two safeties added in the draft, and Alan Ball's ability to play safety, Chris Prosinski's tenure as a Jaguar is likely over. He might be one of the final cuts, and his ability to play special teams could save him, but I think his days are numbered.
Blake and Banjo are more of camp bodies than players I actually expect to make the roster.
Mike Ehrmann/Getty Images

Projected Depth Chart
Kicker: Josh Scobee, Adam Yates
Punter: Bryan Anger
Long Snapper: Jeremy Cain, Carson Tinker
Kickoff Returner: Denard Robinson, Ace Sanders, Justin Forsett, Jamal Miles, Richard Murphy
Punt Returner: Ace Sanders, Jamal Miles
Scobee's spot on the roster is a lock; Yates is simply a camp leg. Same goes for Anger...he's a lock.
Cain and Tinker should battle for the job in training camp, but I expect Cain to keep the job. Tinker will likely leave his contact info with Dave Caldwell in case something happens to Cain, though.
Denard Robinson and Ace Sanders' roster spots are locks, and I don't see Miles breaking through based on the strength of his return ability; he'd have to make it as a receiver. Forsett will already be on the roster, and Murphy is a long-shot either way.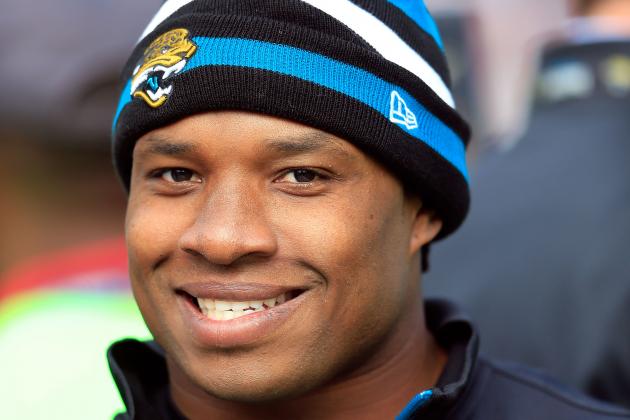 Sam Greenwood/Getty Images

QB (3): Blaine Gabbert, Chad Henne, Matt Scott
RB (5): Maurice Jones-Drew, Justin Forsett, Denard Robinson, Montell Owens, Lonnie Pryor
WR (6): Cecil Shorts III, Justin Blackmon, Ace Sanders, Mohamed Massaquoi, Jordan Shipley, Taylor Price
TE (3): Marcedes Lewis, Ryan Otten, Allen Reisner
OT (4): Eugene Monroe, Luke Joeckel, Cameron Bradfield, Roddy Tomlin
OG (4): Uche Nwaneri, Will Rackley, Mike Brewster, Jason Spitz
C (1): Brad Meester
DE (4): Jason Babin, Jeremy Mincey, Andre Branch, Austen Lane
DT (6): Roy Miller, Sen'Derrick Marks, Tyson Alualu, T. J. Barnes, D'Anthony Smith, Jerome Long
LB (5): Paul Posluszny, Geno Hayes, Russell Allen, Jeremiah Green, Julian Stanford
CB (6): Dwayne Gratz, Alan Ball, Mike Harris, Antwaun Molden, Demetrius McCray, Trey Wilson
S (3): Dwight Lowery, Johnathan Cyprien, Josh Evans
K (1): Josh Scobee
P (1): Bryan Anger
LS (1): Jeremy Cain
Total: 53
Practice Squad (8): WR Jamal Miles, CB Jeremy Harris, QB Jordan Rodgers, LB Paul Hazel, FB Willie Carter, OT Jeff Nady, LB Maalik Bomar, DT Abry Jones