Each MLB Team's Surprise Fantasy Star in April
Jim Rogash/Getty Images

The first month of the MLB season is coming to a close, and there's already been a plethora of players emerging as possible fantasy studs.
Some of the bigger surprises: Carl Crawford returning to form, while Brandon Crawford emerges as a young star. Clay Buchholz's healthy and returning to form, while Tampa Bay turns out another ace.
Taking a look around the league, we're breaking down each team's biggest fantasy surprise through the first month of the new season.
Advanced stats from FanGraphs
Begin Slideshow

»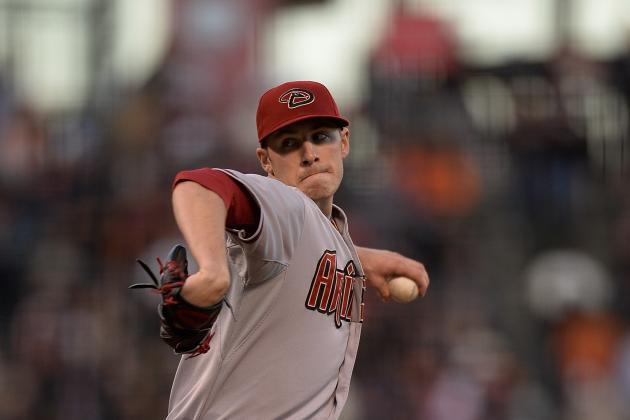 Thearon W. Henderson/Getty Images

Arizona has a way of turning unknown youngsters into fantasy studs. Last year it was Wade Miley, and this year it looks like Patrick Corbin.
The 23-year-old is 3-0 through five starts this season, leading the D-Backs rotation in wins (3), ERA (1.91) and innings pitched (33.0).
The southpaw doesn't strike out a lot of guys (6.82 K/9), but he isn't giving up very many free passes either (1.91 BB/9).
He's not the best 5x5 option, but he's a smart pickup if your rotation needs help.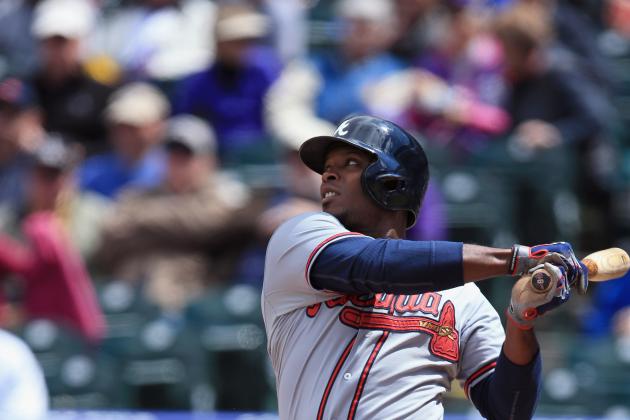 Doug Pensinger/Getty Images

We always knew Justin Upton was capable of great things, but he remained a risky buy in drafts this year. The outfielder's OPS slipped to .785 last season, and his move to Atlanta meant tougher pitchers and a less hitter-friendly ballpark.
But Upton has raked throughout April, and it looks like he's finally tapping into that potential.
Through 24 games, Upton has hit a Major League leading 12 home runs while posting a 1.171 OPS. He also has three stolen bases and 18 RBI.
If you didn't believe in Upton before, you certainly do now.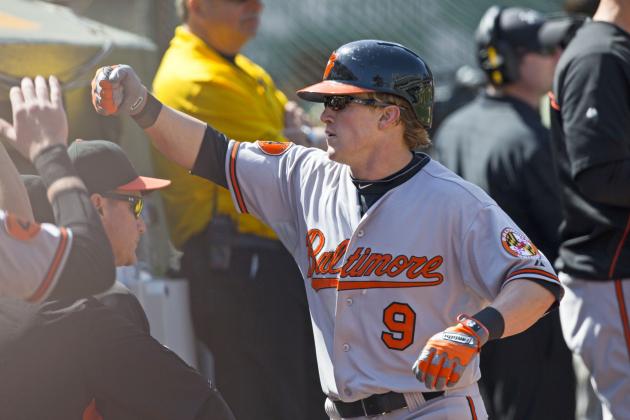 Jason O. Watson/Getty Images

McLouth hasn't been a fantasy factor since 2009 (his last 20 home run season). Finally healthy—and playing in a more hitter-friendly league—it looks like the outfielder's making up for lost time.
In 22 games this season, McLouth is batting .351 at the plate with 21 runs scored and eight stolen bases.
Even though the 31-year-old's walk rate is up, chances are his average isn't sustainable. However, the eight steals are a huge improvement, especially since he's only stolen 33 bags over the last three seasons.
With a chance at a 30-steal season, McLouth is the biggest fantasy surprise coming out of Baltimore.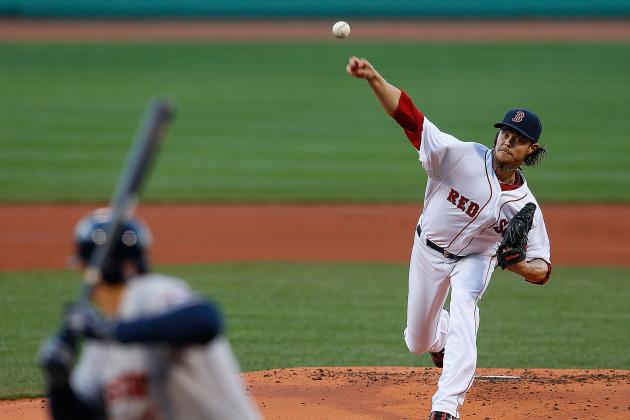 Jim Rogash/Getty Images

This was really a toss-up between Jon Lester and Clay Buchholz, but because the latter is dominating so well, he gets the nod.
In five starts, the right-hander is a perfect 5-0 while leading the Sox starters in ERA (1.19) and innings pitched (37.2).
The biggest improvement has been an increase in strikeouts, as he's posting a 9.32 K/9.
Seeing that he averaged a 10.2 K/9 in the minors, the numbers look less like a fluke and more like Buchholz finally getting the best from his pitches.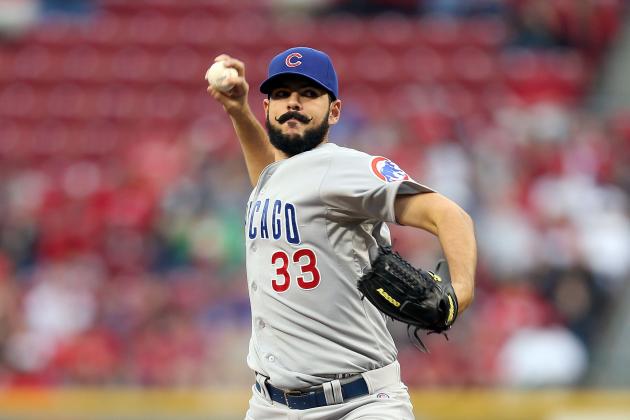 Andy Lyons/Getty Images

It's been a tough opening month for the Cubs, but that hasn't stopped their starters from being lights out. Surprisingly, one of the most dominant has been Carlos Villanueva.
Through five starts the 29-year-old is 1-1 with a 2.29 ERA in 35.1 innings pitched. He's struck out 29 batters and walked just nine.
Villanueva has pitched at least 6.0 innings in each of his starts and has six strikeouts in all but one. This one has sleeper written all over it.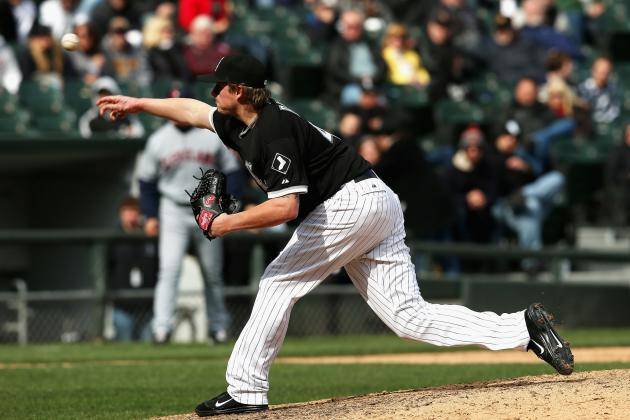 Jonathan Daniel/Getty Images

Reed was the White Sox closer last season and accumulated 29 saves. Not bad for a first-timer, unless of course you take into consideration his 4.75 ERA and 1.364 WHIP.
Without any other options, Chicago was forced to use Reed as its closer again in 2013. So far, it looks to be paying off.
Reed is a perfect 8-0 in save opportunities to start the season and his ERA is a solid 1.64. His walk rate is up from last year, but so is his strikeout rate, leaving his 3.00 K/BB on par with his mark from last season.
Joe Robbins/Getty Images

Third base has become an increasingly rich position early in the season, and one of the biggest surprise stars has been Frazier.
After hitting 19 home runs in just 128 games last season, Frazier is off to a better mark in 2013 with six through his first 25 games. His 19 RBI are second on the team to second baseman Brandon Phillips.
Frazier is rounding out as a hitter, drawing walks at a quicker rate than last season. With a .247 ISO, Frazier looks headed towards his first 30-home run season.
If you need support at third, look no further.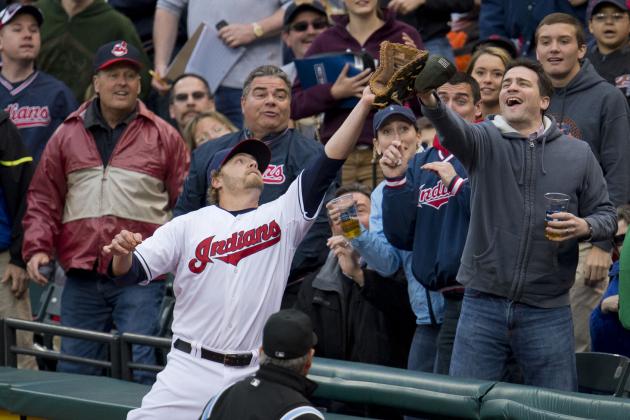 Jason Miller/Getty Images

We've seen hot streaks from Mark Reynolds before, but it seems no matter what, at the end of the season, he has a ton of strikeouts and a low-.200s batting average.
With that said, Reynolds could be in for a hot season. In just 21 games he's already amassed seven home runs and 19 RBI. His average is up to .280, and his OBP is a respectable .356.
For a third year in a row, the 29-year-old's managed to lower his strikeout rate while keeping his contact rate above 65 percent. Add in his .347 ISO and you have the makings of a great fantasy season.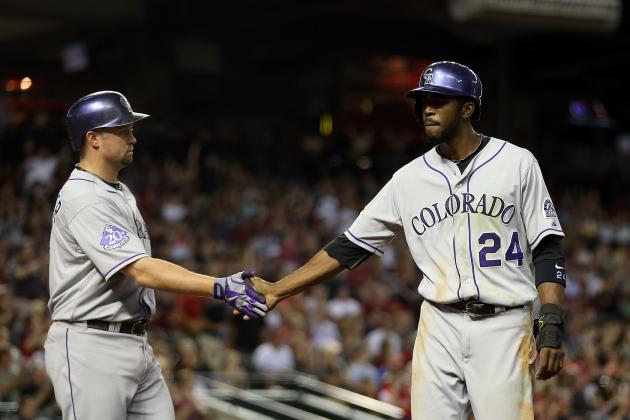 Christian Petersen/Getty Images

Colorado has been a surprisingly good team to kick off the season, and a big reason for that has been the breakout of Dexter Fowler.
The outfielder was always capable of power, but it was just a question of when.
Through 21 games the 27-year-old has a team-leading seven home runs, as well as 18 runs scored and three stolen bases.
Fowler continues to get better year to year, and it looks like 2013 could be his best season yet.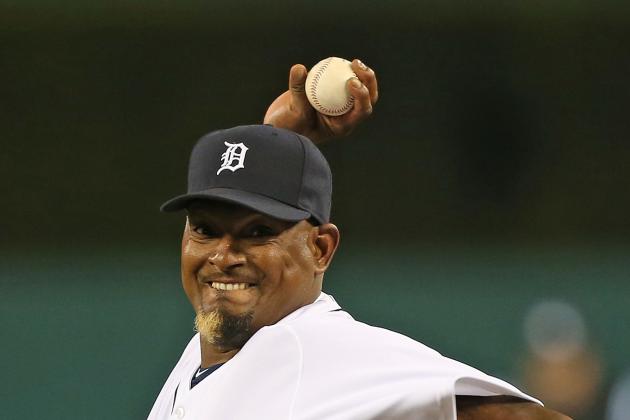 Leon Halip/Getty Images

It's hard to believe it, but here we are at the end of April and Jose Valverde is once again closing for the Tigers.
Not only is he closing, but he already has the team lead in saves with two.
He wouldn't be my ideal choice for a fantasy closer, but if you're looking for a guy who's sure to get a lot of save opportunities—as well as give you a heart attack every time he's on the mound—Valverde's your man.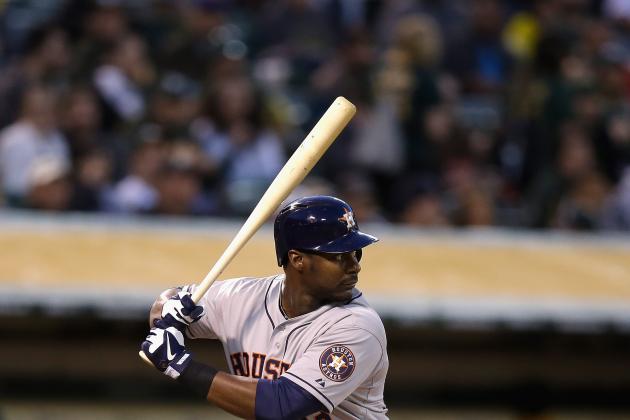 Ezra Shaw/Getty Images

This is a tough one, because virtually everyone on the Astro's roster—outside of Jose Altuve—has been horrible.
So we'll settle for Chris Carter, who's tied for the team lead in home runs (5) and RBI (12) after appearing in just 12 games.
While Carter's power is for real, you might want to wait to see a little more production before nabbing him off the waiver wire.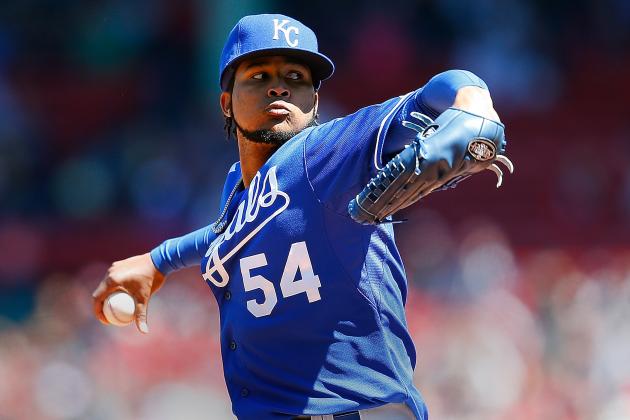 Jim Rogash/Getty Images

Ervin Santana has proved invaluable to fantasy owners in the past, but no one was paying much attention after his disappointing 2012.
Five starts into 2013 and Santana is reminding folks just how good he can be. He's 3-1 on the season with a 2.00 ERA and 31 Ks to just five walks.
He's pitched at least 6.0 innings while giving up two or fewer runs in all but one of his starts. He's pitched his last two starts without giving up a walk.
Santana has electric stuff, but doesn't always have the strikeout numbers to back it up. However, as long as he's not giving free passes he's in for a solid season.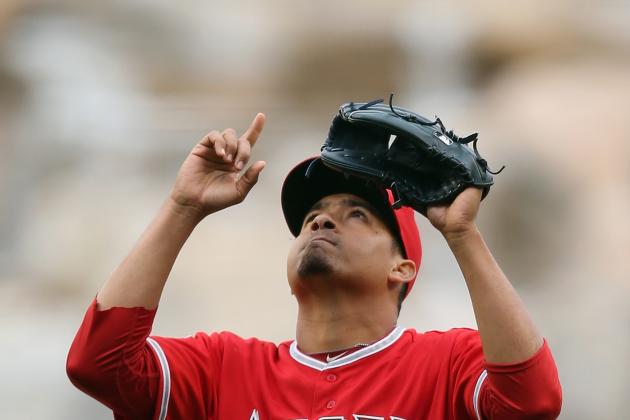 Jeff Gross/Getty Images

It's been a slow start to the season for the Angels, and it's much easier to find a player not carrying his fantasy weight than one who's surpassing expectations.
If I have to pick someone, it's got to be Frieri, considering it didn't look like he'd be the team's closer after L.A. brought in Ryan Madson during the offseason.
But Madson remains on the DL, and until anyone else supplants him, Frieri remains the ninth-inning man.
The 27-year-old hasn't had a ton of save opportunities, but he's done the best with what he's gotten. He has three saves on the season with a 1.93 ERA and 12 Ks in 9.1 innings pitched.
WHIP has been an issue, as Frieri's only had one appearance in which he hasn't allowed a walk or a hit. But if you need some cheap saves, you could do worse.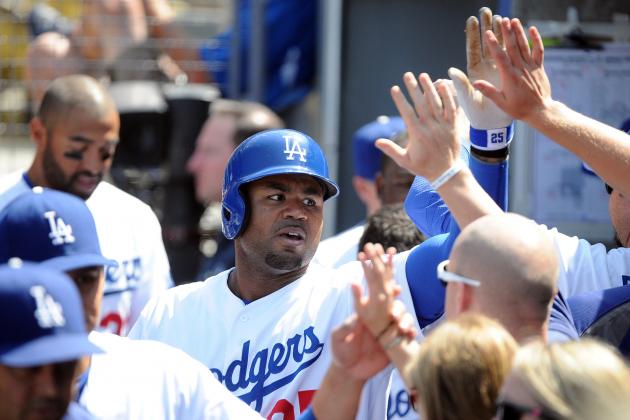 Lisa Blumenfeld/Getty Images

Who knew Carl Crawford still had some Carl Crawford in him?
Through 22 games, the outfielder has looked like a blast from the past, hitting .307 with four home runs and stolen bases. Even with the Dodgers' offensive woes, he's managed to score 20 runs.
Crawford's splits are a little daunting (he's had issues hitting on the road), but as long as that rounds out he'll be considered a huge steal in most fantasy leagues by year's end.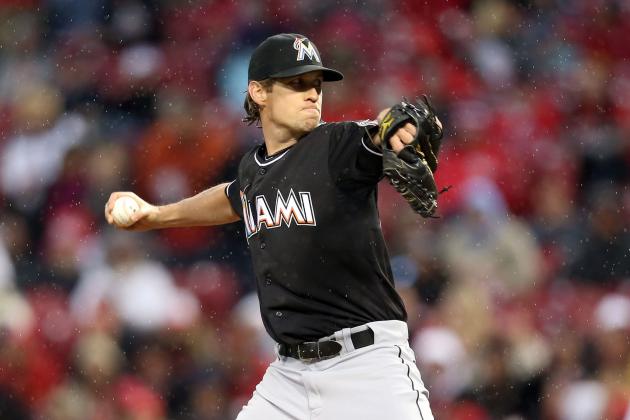 Andy Lyons/Getty Images

Once again, we find ourselves with a team in which no one's playing that well. Rookie starter Jose Fernandez would have been a perfect pick here if not for his last three disappointing starts.
So, we pick Kevin Slowey, whose 2.43 ERA leads the staff. The 28-year-old has pitched at least 6.0 innings in all but two of his starts, and has 21 strikeouts to six walks on the season.
While he's enjoyed a strong April, I wouldn't bet on him keeping it up throughout the entire season.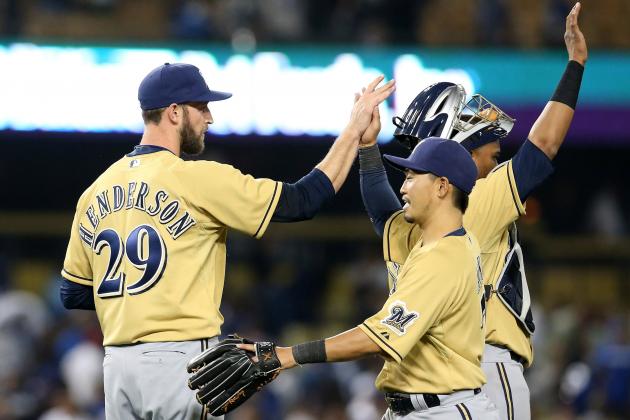 Stephen Dunn/Getty Images

With John Axford constantly blowing up in the ninth, the Brewers turned to Jim Henderson—a 30-year-old who was a rookie in 2012—to take over closing duties.
What seemed like an inevitable disaster has turned into a pleasant surprise throughout the season's first month.
Henderson has been lights out in the ninth, locking down six saves with a 0.82 ERA. He's posted an 11.5 K/9 with at least one strikeout in 10 of his 11 appearances.
While the move looked temporary until Axford figured things out, the job now looks like Henderson's to lose. As long as he keeps pitching like this, he'll be a vital source of saves for fantasy owners.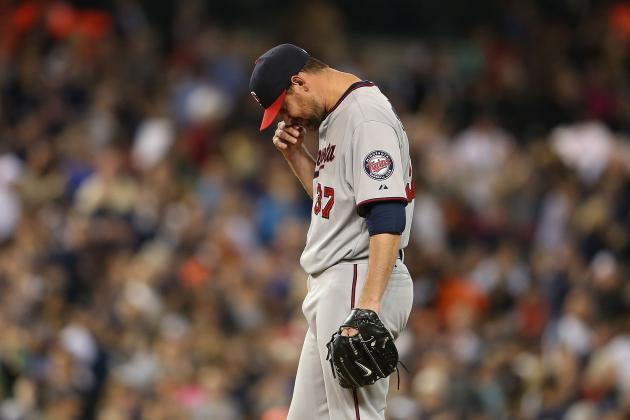 Leon Halip/Getty Images

I tried very hard to find someone for each team that was a surprising fantasy star, but I just can't do it for Minnesota.
The rotation has been horrid. Kevin Correia was a possibility, but he's had fantasy relevance before. Not to mention—ERA aside—he hasn't exactly been dominant.
Offensively, everyone's been a letdown. This was supposed to be Aaron Hicks' breakout year, but he's only hitting .113 with zero home runs.
I thought Glen Perkins would work, but his six saves aren't exactly "surprising." He pitched well in the closer role last year, and many saw him as a sleeper in 2013.
Sorry Minnesota, but your players are far from "fantasy stars."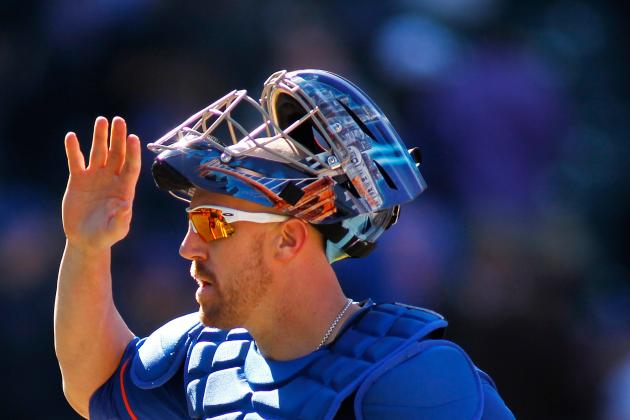 Mike Stobe/Getty Images

Matt Harvey seemed like an obvious choice here, but his breakout season wasn't a surprise. However, John Buck being relevant to fantasy baseball is.
At 32 years old, Buck's season stats are fairly consistent. He hits between 15-20 home runs with a measly average and below-average RBI numbers.
But 2013 is a new year and Buck has been on a tear through April. The catcher has eight home runs to his name, as well as 23 RBI.
He leads all catchers in home runs, while he's second in RBI (if your league still counts Mike Napoli as a catcher, otherwise Buck is first).
Buck will probably slow down as the season goes on, but there's a good chance he tops his career high in home runs by season's end.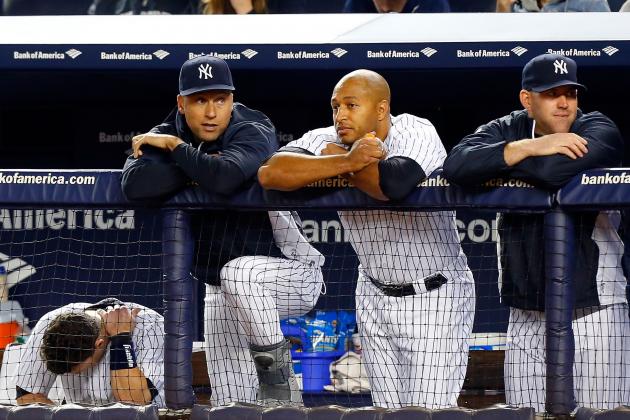 Jim McIsaac/Getty Images

After back-to-back years of abysmal production, the world had written off Vernon Wells. Except the Yankees, whose injury woes forced them to desperately trade for Wells in March.
So far it looks like New York had the right idea and the rest of us were premature in our opinions of the outfielder.
Through 23 games, Wells is hitting .307 at the plate with six home runs. His .911 OPS ranks third amongst Yankees.
Wells may not steal over 20 bases this year, but he's still proving to be a valuable source of both power and speed in fantasy.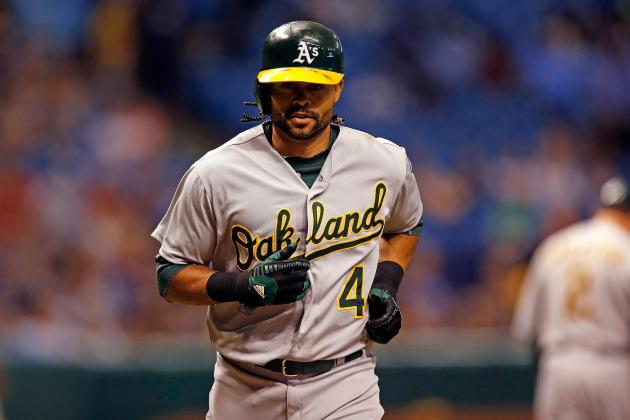 J. Meric/Getty Images

Coco Crisp has been a fringe fantasy contributor during his time in Oakland, providing a cheap source of steals. And it was surprising last year when his home run numbers finished in double-digits for the first time since 2005.
It seems Crisp isn't done with the surprises in 2013. The outfielder is enjoying a great surge of power, having already hit five home runs through his first 18 games.
The steals are there as well, as Crisp has seven.
Crisp is quickly rounding out into a five-category fantasy stud. The power and speed are there, and his .290 batting average doesn't look like a fluke (he has 16 walks and just six strikeouts).
If he's still available, now's the time to pick him up.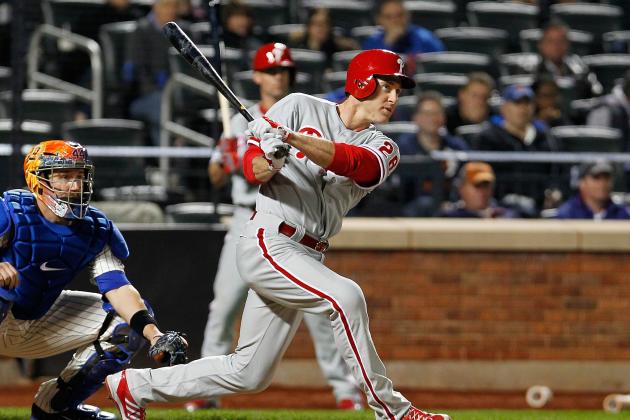 Mike Stobe/Getty Images

Chase Utley used to be one of the best fantasy contributors at second base. Then the injury bug struck and his production dropped across the board.
So far in 2013, Utley looks like his old self, hitting .295/.340/.505 with four home runs and stolen bases through his first 26 games.
The 34-year-old might never hit 30 home runs again, but for now, you could do far worse at one of fantasy's thinnest positions.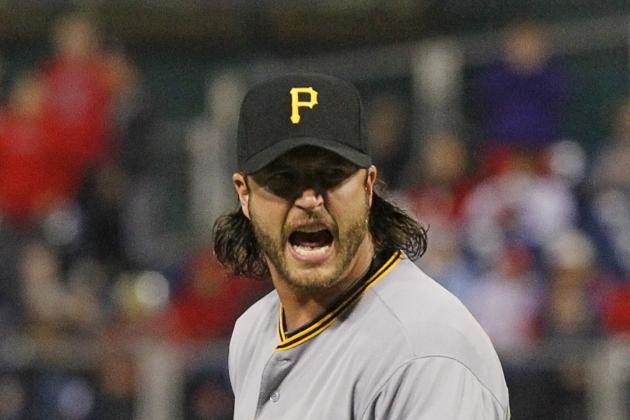 Hunter Martin/Getty Images

Jason Grilli has always been a great reliever, but he had just five career saves coming into the 2013 season. Pittsburgh needed a replacement for Joel Hanrahan, so they chose Grilli.
So far that choice has paid off.
Grilli is a perfect 10-for-10 in save opportunities this season, which has him tied for first in the MLB. He also has 17 strikeouts and a 0.84 ERA. Given how many close games the Pirates play, Grilli will amass plenty of saves this season.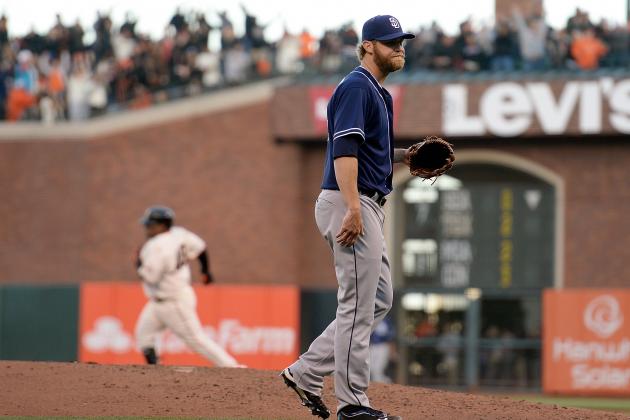 Thearon W. Henderson/Getty Images

It's a stretch—especially since Cashner has only two starts to his name in 2013—but I had to come up with someone. And it is surprising that the youngster is in San Diego's rotation this soon in the season.
While his first start of the year wasn't too great, the 26-year-old looked much better in start No. 2. Pitching against the rival Giants, Cashner went 6.0 strong innings, giving up one run while striking out five.
Given his overpowering stuff, Cashern's sure to rack up Ks this season. As long as he remains in San Diego's rotation, he'll be a fantasy stud in no time.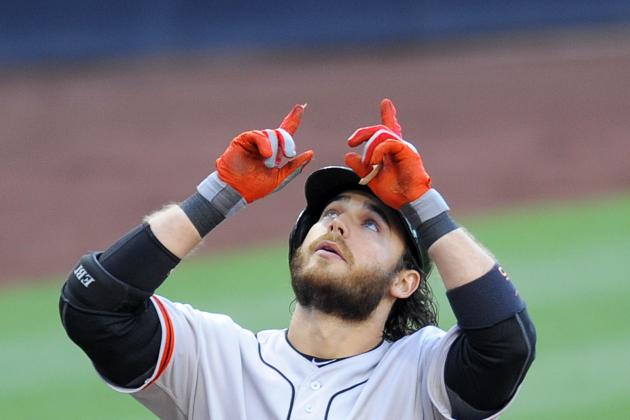 Denis Poroy/Getty Images

Shortstop is fantasy baseball's thinnest position, so it's always good when someone's hot bat comes along and shakes things up.
Brandon Crawford was always known for his glove, but so far in 2013 he's proving to be a force with a bat as well.
Through 26 games, Crawford is batting a respectable .281 and has slugged five home runs. That's second amongst shortstops only to Troy Tulowitzki's six.
Crawford's never shown a ton of power potential, but he is only 26 years old. That means there's reason to believe in the youngster this season.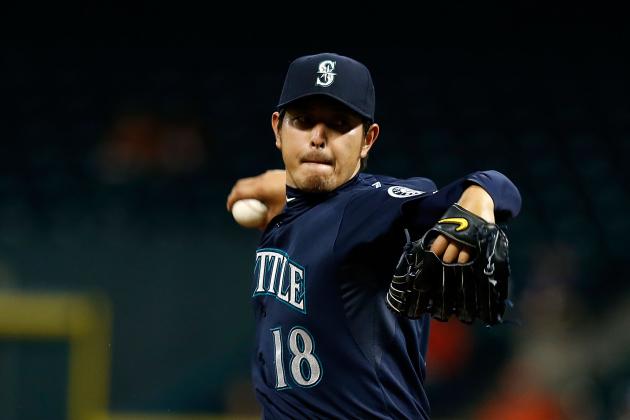 Scott Halleran/Getty Images

A bat would've have been the obvious choice here after the M's torrid start, but the power has certainly been waning in Seattle.
So we turn to the rotation, where Hisashi Iwakuma has been dominating the MLB.
Iwakuma is in just his second year in the Big Leagues, and he's already blossoming into an ace. The Japanese import is 2-1 on the young season with a 1.67 ERA and 0.690 WHIP in 37.2 innings of work.
Did I mention the absurd 7.40 K/BB?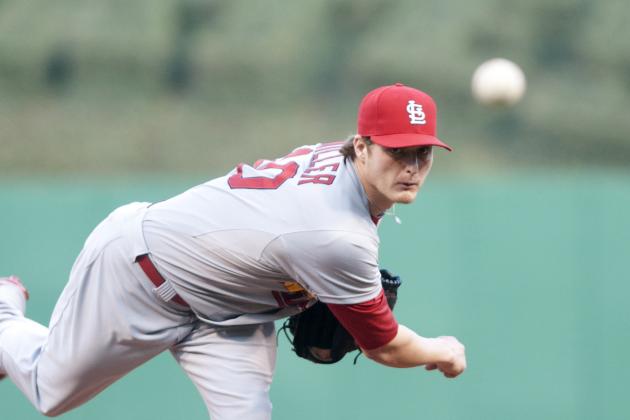 Vincent Pugliese/Getty Images

Shelby Miller was always capable of being something special, but it's surprising that he's been this good so early in his career.
Miller is 3-2 on the season with a 2.05 ERA in 30.2 innings pitched. Not to mention his superb 9.7 K/9 and 2.9 BB/9.
Hard to believe this kid is just 22 years old.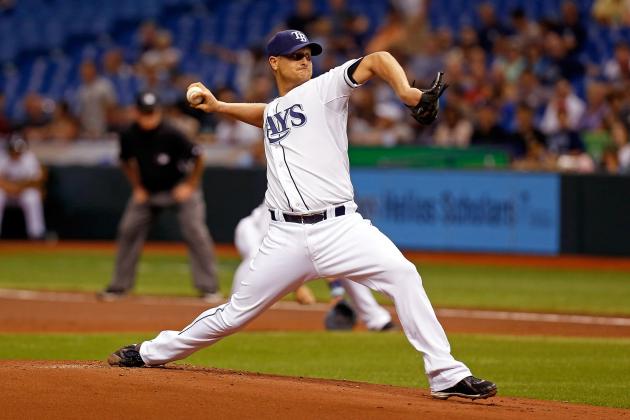 J. Meric/Getty Images

Who knew that by the end of April Alex Cobb would have the second-highest win total and second-lowest ERA amongst starting members of the Ray's rotation.
Cobb is 3-1 on the young season with a 1.82 ERA in 29.2 innings pitched. He's not striking out a ton of batters, but his 3.14 K/BB shows how good his control is.
At 25 years old, Cobb has all the signs of a breakout pitcher. So long as he's pitching for Tampa Bay—a team that knows how to handle its young pitchers—consider him a fantasy stud.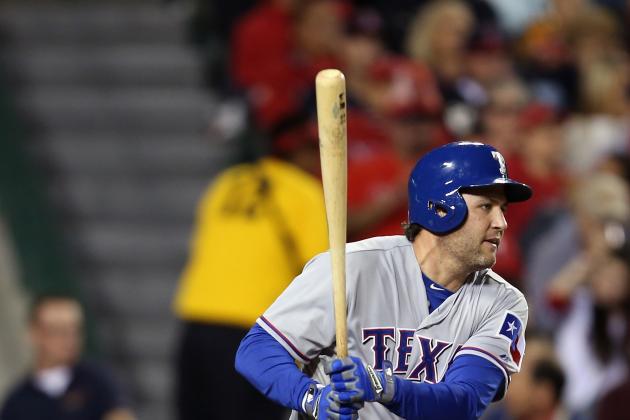 Jeff Gross/Getty Images

Lance Berkman looks made to be a Ranger. And while he's no Josh Hamilton, he's still been pretty darn good.
The veteran is hitting .319/.440/.493 through April. He's only hit two home runs, but that hasn't stopped him from knocking in 15 RBI.
Not to mention his 15 walks in 20 games (he had just 14 in 32 games last year).
While first base is a deep position, Berkman deserves your attention. He should put up great RBI numbers in Texas, and he can help any team in leagues that count OBP.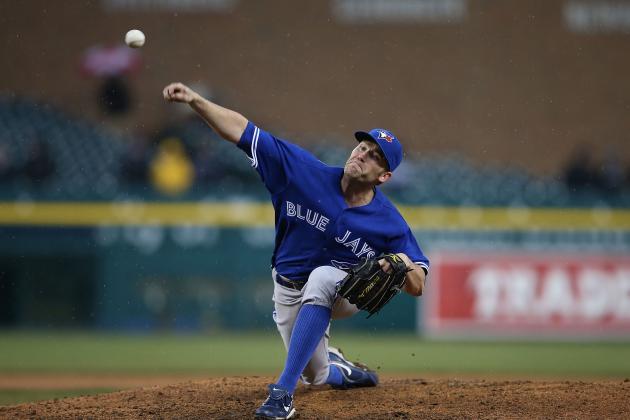 Leon Halip/Getty Images

With disappointing numbers from the starters and hitters, it's hard to find any good fantasy surprises on this Blue Jays squad.
So we once again turn to the bullpen and pluck out closer Casey Janssen.
Janssen is a perfect 6-for-6 in save opportunities, which isn't a huge deal since he had 22 last season. What is surprising is his ridiculous peripherals.
Janssen has yet to allow a walk this season while posting a 12.4 K/9. His WHIP sits at an otherworldly 0.375.
Now if his team could get him some more save opportunities, Janssen's fantasy relevance would get that much better.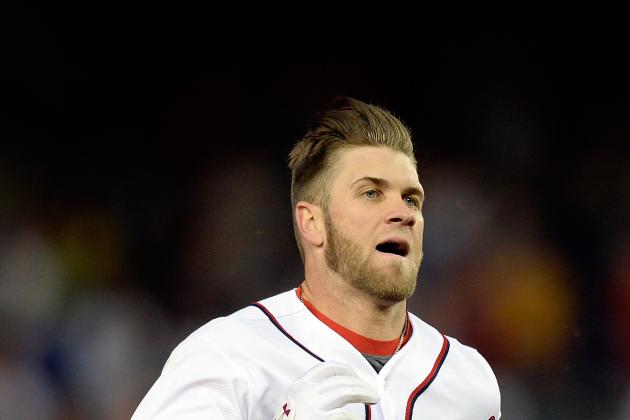 Patrick McDermott/Getty Images

Come on, who did you expect?
Was Bryce Harper bound to have a great 2013? Most likely. Did most fantasy owners expect as much? They'd be foolish not to. But did anyone foresee a start this good?
Through 24 games, the outfielder is hitting .360 with a 1.200 OPS. He has nine home runs, 18 RBI and nearly half his hits have been for extra bases.
We all knew it was coming, but I don't think anyone expected such dominance so soon.