The Greatest Feuds of All-Time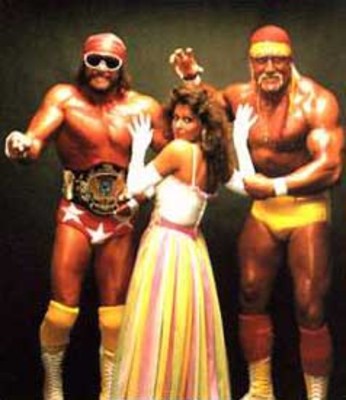 It's the reason we watch. It's the way money is generated. Some feuds were so great WWE and WCW were printing their own money because of it. Some were so great it created revolutionized an era. Some were just so well booked it made us believe it was real.
Gotta make a point to say that although the longevity of a feud makes it great, it doesn't necessarily make it one of the greatest. In some cases the fact that a storyline was used based on a past feuds doesn't mean that it should rank higher than well thought out feuds that changed wrestling and will go down in history for it's own reasons. So although longevity did play a role in some of my picks, it was not the deciding factor.
My choice for the greatest feud to never happen. Hulk Hogan vs. Ric Flair. Sure they had a feud storlyines here and there, but what would have been the ultimate dream match turned into the greatest feud to never happen. The WCW feuds did nothing for us, by that time each man was overshadowed by the new generation of stars.
Enjoy the list and I look forward to your feedback as I always do.
"Nature Boy" Ric Flair vs. "Macho Man" Randy Savage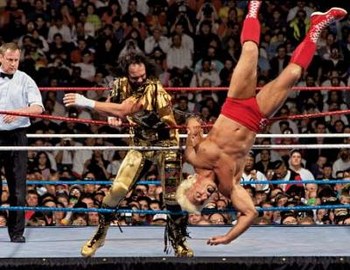 The feud between Randy Savage and Ric Flair was one of the first feuds to dive into the real lives of the wrestlers. Sure, everyone at this point knew Macho Man and Elizabeth were married but real lives were rarely if ever even so much as mentioned in WWE storylines at the time.
When Ric Flair began claiming that he and Elizbaeth had "something" going on it brought out the maniac of Savage. Flair would go on to reveal pictures of the Elizabeth and himself together. Of course, Elizabeth would never do such a thing and the only logical thing to do was beat up Ric Flair.
WWE has tried and failed this type of storyline since the success of this one. No one bought it, which makes this feud one of the best. The storyline even spread over to WWE Magazine.
(Check out the shocking allegations by Ric Flair: http://www.youtube.com/watch?v=BMBOSGVcTqA)
This feud even made it's way into WCW. Ric Flair had Elizabeth as one of his valets and the continuing storyline of who will she pick was the main focus of their feud. Truely a storyline that had wheels that lasted YEARS.
nWo vs. WCW
What started as the greatest storyline of all-time ended with a big dud. The fact that the storyline had no end, and that it was so watered down and unbearable towards the final run drops it on my list.
(Check out the very first "shot" taken by the nWo: http://www.youtube.com/watch?v=LVTou0JtUQA)
When Scott Hall appeared on WCW Nitro and declared "war" the wrestling world was shocked. Was this real? Will we see Scott Hall again? Will WWE send more wrestlers?
The nWo changed wrestling forever. nWo was on par with the popularity of Stone Cold and the Rock and anyone who tells you different is lying to you. The nWo was chalked full of wrestling firsts and shocking moments. It created the Monday Night War single handedly.
This feud saw wrestlers switch "brands" and unlike Raw and Smackdown people actually cared and were shocked when wrestlers would switch sides. It saw Hulk Hogan turn heel!!!! That was probably the most shocking moment in wrestling history. We even saw themed nWo pay-per-views and TV shows.
Fans really did think WCW would be taken over. The problem is the nWo ran its course and they kept going with it. It became a joke instead of having a true blow off to the faction. All in all there is no denying the impact the nWo feud against WCW had on wrestling.
nWo put WCW on the map. WCW became #1 for that moment in time and that is something that never happened before and will never happen again.
Bret "The Hitman" Hart vs. Owen Hart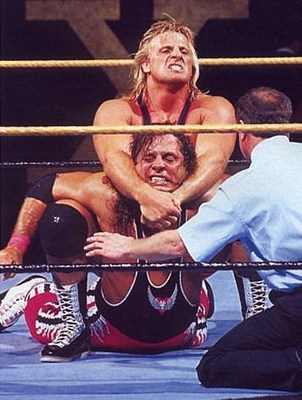 Another first that helped propel Bret as a legitimate World champion while making a star out of Owen Hart. A feud can truely be seen as great when it elevates everyone involved.
When Bret Hart won his first World title he wasn't perceived as a legitimate champion, look at everyone who held it before him. No one really saw Bret on that same level. Who would have thought a feud with his brother would do the trick?
Again, WWE took a page out of the Randy Savage/Flair feud and injected some real life scenarios to the feud. Even their parents got involved. Owen couldn't stand the favortism Bret received from the fans and his family. He was the better wrestler out of the two and nobody would give him credit for it.
The feud was built perfectly. Friends to tension to friends to complete disaster. I loved it, feuds need to be roller coasters and this one was the best one in the park.
When Owen Hart beat Bret Hart it was a "oh my god" moment in wrestling, and you will see a theme on this list of just that. Those moments make feuds great.
The feud lasted way past the blow off cage match, and Owen's career was dedicated to one upping his brother, what a storyline! Kane and Undertaker failed to follow, and Jeff and Matt Hardy failed miserably.
Many have tried to duplicate this storyline and everyone has failed.
"Nature Boy" Ric Flair vs. Sting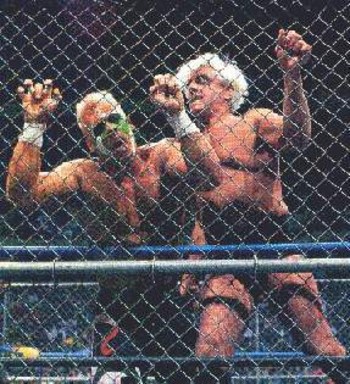 I've mentioned in a previous article that the Horsemen's betrayal and attack on Sting was one of my earliest memories of WCW. That moment shocked me. It made me a huge Sting fan, not because he did anything special but because it was so believable that I got behind Sting and wanted to see him get his revenge on Flair.
(See the Horsemen kick Sting out of the group: http://www.youtube.com/watch?v=-tsLt313qtU)
The two greatest stars in WCW (even did a slideshow on that) are also part of the one of the greatest feuds in WCW history. The flaw in the argument that their feud lasted over a decade was that the storyline was never progressed throughout that time. Sure they fought a bunch of times and even teamed, but it was all just coincidence and they never truely built off their past.
Sting's title chase coming off the attack by the Horsemen was so perfectly booked. It was similar to another feud you will see with Sting later in the countdown. People wanted to see Flair pay for his actions.
Sting is considered the greatest star in WCW history and maybe the most popular wrestler of all-time and it was all built from this feud.
Hulk Hogan vs. Andre The Giant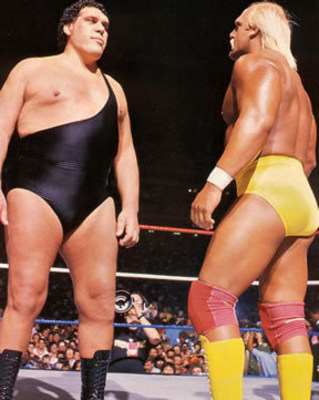 I was pondering a Hulk Hogan vs. Bobby "The Brain" Heenan feud as one of the greatest feuds of all-time. It seemed like the entire managerial career of Heenan revolved around screwing Hulk Hogan. Those were the good ole days!
The most famous feud in wrestling history. This feud should probably be higher on the list because it MADE wrestling. The reason I didn't do it was because wrestling was booming when the feud happened while the feuds ahead of it created the booms.
Best friends turned bitter rivals. You don't ever find feuds that had a progressive consistent storyline that lasted a good 2-3 years. It was also the feud that passed the torch from one generation to another. This feud brought some great moments that to this day are still remembered including the plastic surgery Hebner and the cross being ripped off of Hogan's neck.
Truely a legendary feud.
Bret "The Hitman" Hart vs. The USA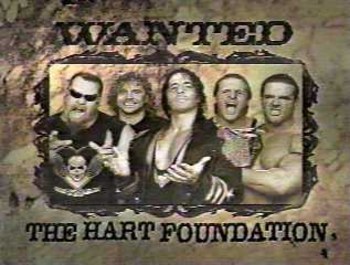 There are a select few wrestlers or feuds that can generate this type of reaction towards someone. There has never been a storyline before or after that has been anything like this one and it may never be able to be duplicated again.
It will be hard to find someone who got more heat than The Hitman during this time and then be so over the next week. He was literally the most hated wrestler while in the US and the most popular wrestler while in Canada.
You won't find a perfect feud, that was booked right in every single way but this one comes the closest. I think this feud could have had an even bigger impact on wrestling had the Montreal Screwjob never happened. It will go down as a big "what if".
Hulk Hogan vs. "The Macho Man" Randy Savage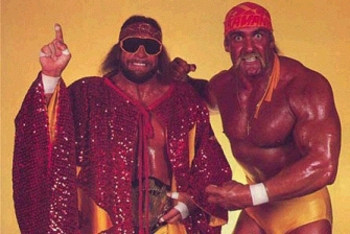 This was the first feud I ever witnessed the in WWE. It is what made me a wrestling fan, so it will always be special to me. From a pure storyline stand point I believe there was none greater. But the feuds that ranked above it did more for the business than this one had done.
Hulk Hogan vs. Sting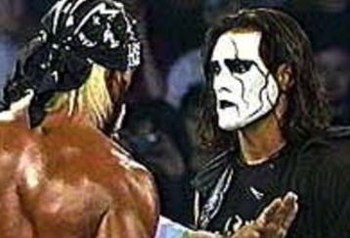 The greatest feud of all-time in WCW. There was nothing that has even come close. Ric Flair and Sting's rivarly is a distant second.
Hulk Hogan vs. "Rowdy" Roddy Piper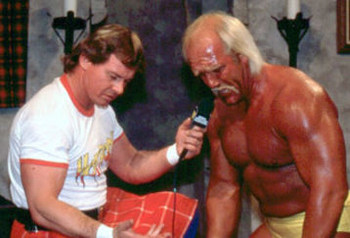 The feud that created Hulkamania.The feud that made WrestleMania a success. The feud in reality that kept WWE in business when all the chips were pushed in betting on this feud being a success.
WrestleMania wouldn't be the event that it is today without this feud. Wrestling may still be territorial without this feud. WWE may not even be here without this feud. Hulk Hogan would not be Hulk Hogan without Piper, but Piper could have never been Piper without Hogan. I don't think there was a feud that clicked as well as this one did.
The greatest feud of all-time? Almost, but there is one thing that seperated this feud from the #1 on the list and that was the level of which it elevated the sport. This one brought a fan base, the #1 put us far more into the mainstream.
"Stone Cold" Steve Austin vs. Mr. McMahon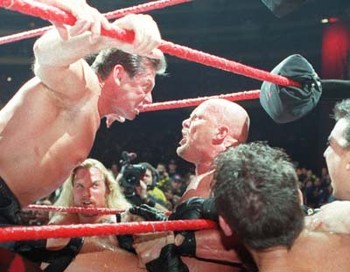 When a storyline can rejuvenate a business it is huge. It has come around twice in a lifetime. Wrestling was a joke, it was dead by many standards. This feud put wrestling back on the map and back in the mainstream.
No feud had gone this route. It was the feud that everyone could relate to, which is why it worked so well. Who didn't want to punch their boss in the mouth? Although this feud is over it did something no other feud has done in the past and that was create the blueprint for wrestling today. Heel authority figure versus the top draw. TNA is doing it. WWE is doing it. WCW did it.
Just to make a point about the significance of the Bret Hart vs USA feud was that this feud could have never happened had that incident not went down making Mr. McMahon an on air villan.
The greatest feud created (arguably) the greatest star of all-time. Nothing can touch that.
Keep Reading