A Video Tribute: The 13 Best NFL Backs of the Last 25 Years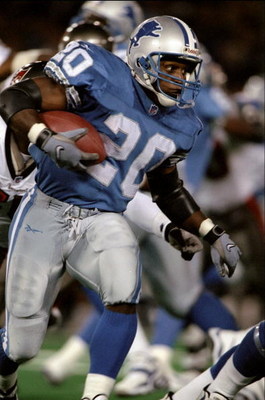 Forget those prima donna quarterbacks, give me a good tailback any day of the week and twice on Sunday.
I love seeing a guy that can make the opposition look silly. I'm enamored of the north-south runners in particular because they don't mind going straight up the gut and taking all comers as they make their way to the promised land.
So, this slideshow is more a video history. Great runs from the guys who made the game truly fun to watch.
In honor of the Detroit Lions having the first pick in today's draft, I have made Barry Sanders my cover man.
Here's my criteria: He was good at running the ball. He's no longer playing the game but played between 1984-2009.
That's it.
I will miss a few, no doubt, but the nature of a list pretty well establishes that from the get-go.
Let's get it started.
Tony Dorsett, Dallas Cowboys, 1977-1987
A four-time Pro Bowl selection, Tony Dorsett rushed for 12,739 yards and 92 touchdowns in his career.
He was so quick and so smooth out of the backfield that there was little a defender could do to stop him.
He found lanes where there seemed to be none and got out of traffic when yardage seemed impossible.
He was a true weapon on the field, both as a runner and a receiver, and the Cowboys would win 42 of the 46 games in which he gained 100 yards or more.
Franco Harris, Pittsburgh Steelers, 1972-1984
Before "The Bus" to town, Pittsburgh had another big-time back by the name of Franco Harris.
He wasn't highlight reel pretty but he got the job done with ease.
Voted Rookie of the Year in 1972, Franco is best known by the mainstream for his "Immaculate Reception", but Pittsburgh fans know that the man is more than the sum of one play.
Harris totaled 12,120 yards and 100 touchdowns in his career.
Barry Sanders, Detroit Lions, 1989-1998
WOW! All I can say when I talk about, hear about, or see a Barry Sanders highlight is "WOW." The guy was so sick-talk about a tailback who made people look silly. Barry was the quintessential "fool-maker."
Now, I understand that a lot of people say he seemed to lose more yards than he lost, but for real, if Barry ran backwards to find space, he found the space he needed more times than not.
He found the space to the tune of 15,269 yards and 109 touchdowns.
He would have broken Payton's record had he not left. Not a doubt in my mind about that.
At 5'8", 203 pounds, he seemed too small for the position, but those legs that he so famously used to juke, spin, and shake defenders off, housed a majority of that strength-making him nearly impossible to bring down.
Ten Pro Bowls, A Rookie of the Year award, two-time NFL Offensive Player of the Year, and Co-MVP of the league in 1997-the only thing missing from Barry is a Super Bowl ring.
Eric Dickerson, Los Angeles Rams, 1983-1993
Eric Dickerson made it look like a walk in the park when he ran the ball. He may have been huffing and puffing underneath that helmet, but to the naked eye, he looked like he was putting in hardly any effort at all.
He was named Rookie of the Year in 1983 after running a ridiculous 1,808 yards on 390 attempts.
He followed that performance up with yet another-gaining a record-setting 2,105 yards (a 5.6 yards per carry average), leading the Rams to a playoff berth.
For his career, he has 13,259 yards and 96 touchdowns.
Marshall Faulk, St. Louis Rams, 1994-2006
Marshall Faulk was drafted second overall by the Indianapolis Colts and played in Indy for the first four years of his career.
He was traded to the Rams in 1999 and that is where a lot of people remember his playing days most notably.
He was a dual-threat to run or catch whenever he was on the field and that made him difficult to contain.
As a member of the "Greatest Show on Turf" in 1999, Faulk put up out of this world numbers-1,381 yards rushing, 1,048 yards receiving and twelve touchdowns-on his way towards leading the Rams to a Super Bowl Championship.
Jerome Bettis, Pittsburgh Steelers, 1993-2005
Bettis was a big guy-hence the nickname "The Bus".
He didn't have to finesse you with a juke or a spin, He would just run you the heck over and leave your carcass on the field to fester and become food for the maggots.
Sorry, but that's the truth.
He was a powerful back who did not go down easily. Just ask Brian Urlacher.
If you did bring him down, it came with a punishing price as he could take the hits better than his opponents usually could.
Bettis ended his career with 13,662 yards and 96 touchdowns and was selected to the Pro Bowl six times.
Billy Sims, Detroit Lions, 1980-1984
Billy Sims was incredibly athletic, agile, and gifted as a runner.
He was the first overall pick out of Oklahoma in 1980 and immediately turned a losing 2-14 Lions team into a winning 9-7 team-gaining 1,303 yards rushing and scoring twelve touchdowns.
Sims was named Rookie of the Year and would go on to be selected for three Pro Bowls.
His career was cut short by a knee injury in the 1984 season, but his contributions to the Detroit Lions are still remembered today.
Walter Payton, Chicago Bears, 1975-1987
Payton was the man. He didn't run to the sidelines to avoid a hit and he was not afraid to run into traffic when that's what the play called for him to do. He played fearless on the field and for that reason he is beloved by many.
His 16,726 yards and 110 touchdowns for his career was good enough to make him the leagues all-time rusher until Emmit Smith broke his record in 2002.
His durability despite his playing style is what I found to be most amazing. Especially since these days you find tailbacks are hesitant to play even with a sprained wrist or ankle.
Payton is still the best in my mind, despite his position in the record-book.
Marcus Allen, Los Angeles Raiders, 1982-1997
Marcus Allen is probably best remembered for his 191-yard, two touchdown, performance in Super Bowl XVIII against the Washington Redskins, however there are many other highlights to his very stellar career.
He was named Rookie of the Year in 1982 where, in a strike-shortened season, he rushed for 697-yards and led the Raiders to an 8-1 record.
He was the first player to ever rush for 10,000 yards and catch for 5,000-he has 145 total touchdowns in his career.
In 1985, he ran for 1,759 yards and caught sixty or more passes three years in a row-this during a time when tailbacks were typically not called upon to do so.
Earl Campbell, Houston Oilers, 1978-1985
Every time I see Earl Campbell on film, I think about a sledge-hammer because he was pure punisher when he ran.
It's amazing to imagine that a guy his size run with such force and agility at the same time, especially back then where it seemed that backs fell into one of two categories-either they ran with finesse or they ran with power. None of the cutesy stuff you find in a lot of backs of today.
Campbell had 9,407 yards and 74 touchdowns in his career. He led the league in rushing three years in a row, something that only Jim Brown had done before him, and in 1980 he rushed for 1,934 yards.
If not for overuse by Coach Bum Phillips, Campbell might have lasted a bit longer in the league-while under Phillips, Campbell had seasons of 302, 368, 373, and 361 attempts in consecutive years.
John Riggins, Washington Redskins, 1971-1985
"The Diesel" was known for running over people. All he did was score touchdowns and make a complete fool of would-be tacklers who quickly found that it took more than one man to bring him down.
He played for several teams during his career, but most notably for the Washington Redskins (1976-79, 81-85), with whom he won Super Bowl XVII and garnered Super Bowl XVII MVP honors after a 166-yard rushing performance.
He ended his career with 11,352 yards and 104 touchdowns.
Emmitt Smith, Dallas Cowboys, 1990-2004
It's impossible to compile a list without putting Emmitt Smith on it, right? Well, Maybe.
Seriously, though, Emmitt is the all-time leading rusher with 18,355 yards and 164 touchdowns-a tough runner with a deceptive amount of elusiveness and strength for a guy his size.
The first guy in NFL history to have five consecutive 1,400+ yard seasons, Emmitt had 78 100+ yard games in his pro career.
He was a dominant north-south type of guy, thanks to an outstanding Dallas offensive line to run behind, as well as an exceptional pass-blocker. A trait that few give him credit for.
Curtis Martin, New York Jets, 1995-2005
One of the most under-rated backs of his generation, I think, Martin is one of the only tailbacks in history to have ten consecutive 1,000-plus yard rushing seasons. The other guy to do that is named Barry Sanders.
He is behind only Barry Sanders, Emmitt Smith, and Walter Payton on the all-time rushing list and is a class act.
His career ended due to a knee injury.
Keep Reading