Initial Post-Draft Depth Chart for the San Diego Chargers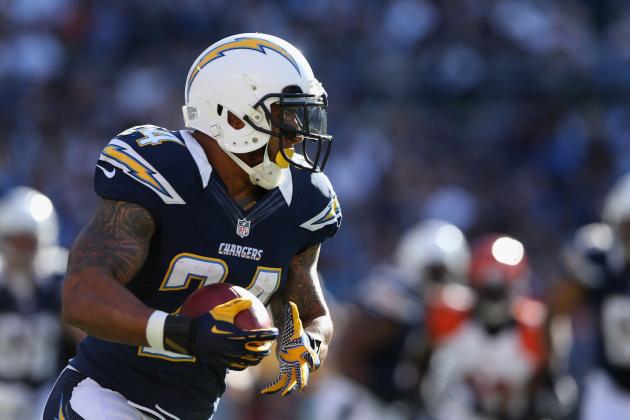 Jeff Gross/Getty Images

The 2013 NFL draft saw a lot of fresh faces added to the San Diego Chargers roster. New general manager Tom Telesco brought in players that can make an instant impact for the Chargers and be difference makers in their first season.
D.J. Fluker should be the right tackle for the next decade, Manti Te'o can become the leader of the defense and Keenan Allen has a versatile skill set to add to the receiving corps.
However, there is still a lot of work to do in order to get down to the final 53-man roster before the regular season kicks off. San Diego will have a number of decisions to make at multiple positions, including wide receiver, running back and cornerback.
So which players will be battling for positioning heading into the OTA's and what might that final 53-man roster look like?
Let's breakdown the initial post-draft depth chart for the Chargers.
Begin Slideshow

»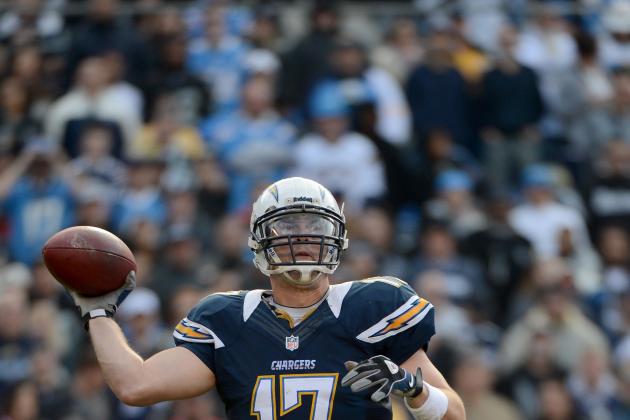 Donald Miralle/Getty Images

Projected Depth Chart: Philip Rivers, Charlie Whitehurst, Brad Sorenson
There is no debate that Philip Rivers is the starting quarterback for the Chargers and he has to be happy to see what the front office added to the offense in the draft. Rivers was sacked 49 times last season but should find himself staying upright more often this year thanks to D.J. Fluker.
Expecting at least 4,000 yards out of Rivers is not too much to ask, as he should have some time to dissect defenses and move the ball down the field vertically. Behind him, Charlie Whitehurst will be the unquestioned No. 2 option. He is a solid backup QB that may eventually get a chance to start somewhere but is currently a very good option behind Rivers.
Brad Sorenson is a developmental QB who was drafted at the end of the draft and has a long way to go before being able to play in a meaningful football game. Playing at Southern Utah did not allow him the chance to play much elite competition, so he will need to catch up to the speed of the NFL game.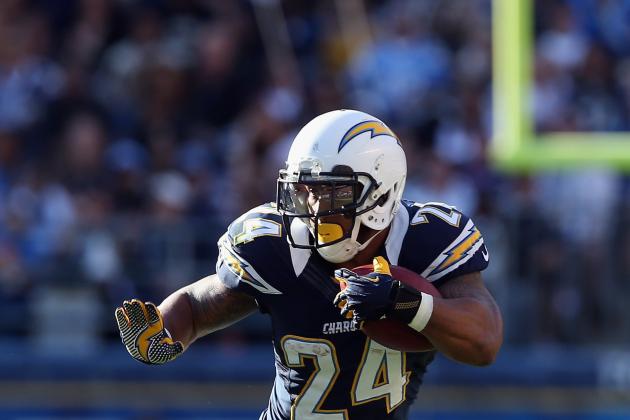 Jeff Gross/Getty Images

Projected Depth Chart: Ryan Mathews, Danny Woodhead, Ronnie Brown, LeRon McClain, Chris Gronkowski, Edwin Baker, Fozzy Whittaker
It is tough to call the Chargers running back situation settled because it is impossible to know if Ryan Mathews will finally play an entire season. He has yet to play an entire 16-game slate, but there is talent galore in Mathews and it is clear that San Diego is going to stick by him, at least for now.
Danny Woodhead is a nice player to have behind Mathews. He has handled his fair share of work with the New England Patriots and proven his value as a rotational running back. Ronnie Brown has seen better days, but can still handle the occasional carry or even Wildcat formation.
Edwin Baker and Fozzy Whitaker will be battling to make the roster, but Baker in particular is interesting because he provides a different dynamic than the guys above him. He is a downhill, power runner.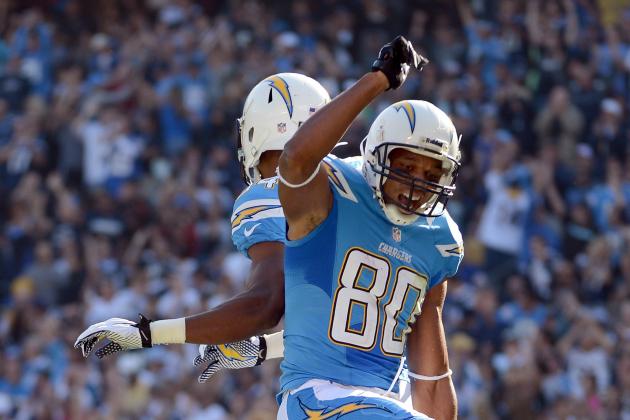 Harry How/Getty Images

Projected Depth Chart: Malcom Floyd, Danario Alexander, Vincent Brown, Eddie Royal, Robert Meachem, Keenan Allen, Mike Willie, Deon Butler, Dan DePalma, Richard Goodman, Cortney Gardner, Luke Tasker
The Chargers are certainly not hurting for wide receiver depth, as the team should carry 13 wide receivers into OTA's.
Drafting Keenan Allen in the third round was a no-brainer simply because he had borderline first-round talent, but he will have to carve out a role in this crowded group. Malcom Floyd and Danario Alexander were the only real contributors last season, combining for 12 touchdowns, but Eddie Royal, Robert Meachem and Vincent Brown all have talent.
It is likely that Floyd and Alexander remain the top two options, with Allen taking over the No. 3 spot on the depth chart. It will then be a free-for-all with everyone else. Royal's value really comes as a returner and Meachem has a lot to prove if he is going to see the field much at all. He caught just 23 passes last season.
Mike Willie, Deon Butler, Dan DePalma and Richard Goodman will all be battling just to make the roster.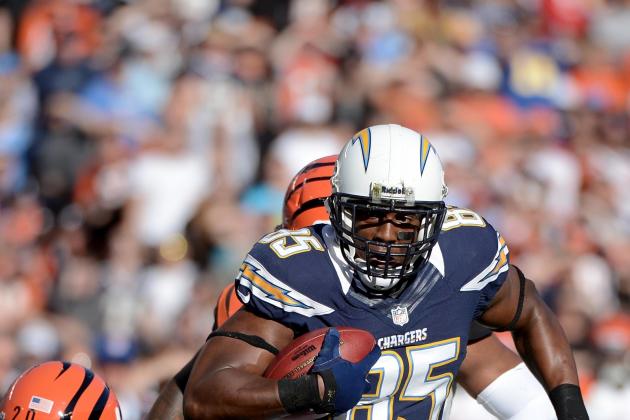 Donald Miralle/Getty Images

Projected Depth Chart: Antonio Gates, John Phillips, Ladarius Green, Dallas Walker, Ben Cotton
Antonio Gates cannot play football forever, but the sunset for him is not ready to creep in just yet. Gates is still one of the best tight ends in football and that should still be true this season. His statistics have consistently dropped over the last three seasons, but a new regime and improved offensive line should do wonders for his relationship with QB Philip Rivers.
The question here is if Gates can stay on the field for an entire season. He has not played 16 games since 2009 and is now 32 years old. Behind him on the depth chart are guys like John Phillips and Ladarius Green. Neither have spent much time on the field, so San Diego is again putting all their tight-end eggs into the Gates basket for this season.
He is a good player to rely on, but at some point the Chargers need to find a legitimate heir apparent. Until then, look for around 800 yards and eight touchdowns from Gates this season.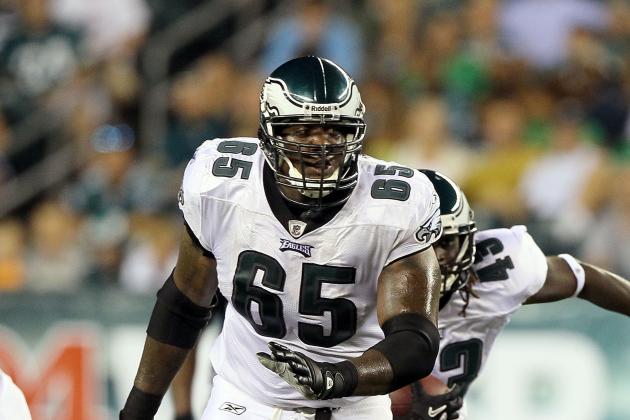 Jim McIsaac/Getty Images

Projected Depth Chart: King Dunlap, Michael Harris, Kevin Haslam
It really hurts to see King Dunlap atop the San Diego depth chart. This is a player that looked like a pylon in his time with the Philadelphia Eagles and now brings his slow feet and poor fundamentals to an already struggling Chargers offensive line.
Left tackle was a position that many would have liked to see San Diego address in the draft, but the top three guys at the position were all gone by pick No. 11 and the Chargers decided to address the right tackle spot instead. That move made a lot of sense, but Dunlap cannot be considered a solution for this season.
He is not going to be a sound option for protecting Rivers' blindside and may actually do more harm than good. His backups, Michael Harris and Kevin Haslam, provide just as little reason to be optimistic.
This is the biggest area of concern for San Diego at the moment.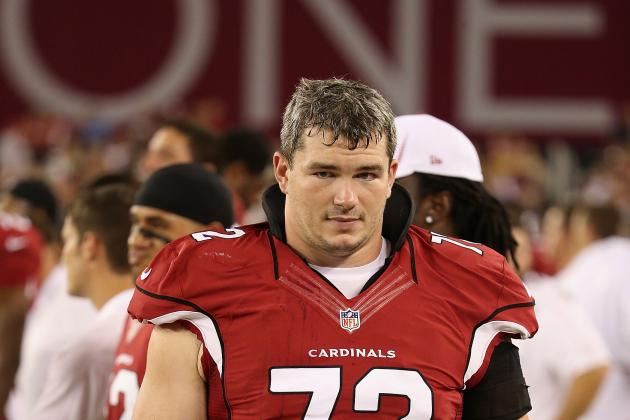 Christian Petersen/Getty Images

Projected Depth Chart: Rich Ohrnberger, Johnnie Troutman
Is Rich Ohrnberger going to make the Pro Bowl or set the world on fire? No, but he should serve as a serviceable left guard for San Diego this season and that is acceptable.
This is still a team in transition along the offensive line and not every spot can be upgraded immediately. Ohrnberger is a competent player that will know his assignments and should be a decent option at creating rushing lanes for Ryan Mathews.
Again, this is a spot that will need youth and potential at some point, but Ohrnberger can hold down the fort until San Diego gets there. Johnnie Troutman will come in as the backup, and he is a player that needs to stay a backup.
Poor footwork and bad pass-protection skills mean that he is barely hanging onto the depth chart.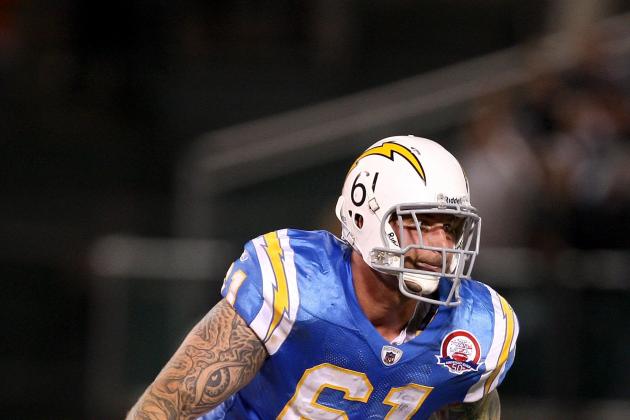 Ezra Shaw/Getty Images

Projected Depth Chart: Nick Hardwick, Colin Baxter, David Molk
An area of strength along the Chargers offensive line? It's true, and it comes courtesy of Nick Hardwick at center. Hardwick is an absolute rock at the position and he anchors the entire line. He is quick and knows how to handle defensive linemen when they stunt and shift around him.
Hardwick has battled through the good and the bad for San Diego, but is now finally getting some help around him. There is also a bit of depth behind him, as Colin Baxter is a solid No. 2 option and David Molk is a great developmental prospect that just needs to add size to his frame.
The Chargers need offensive linemen, but they are set at center.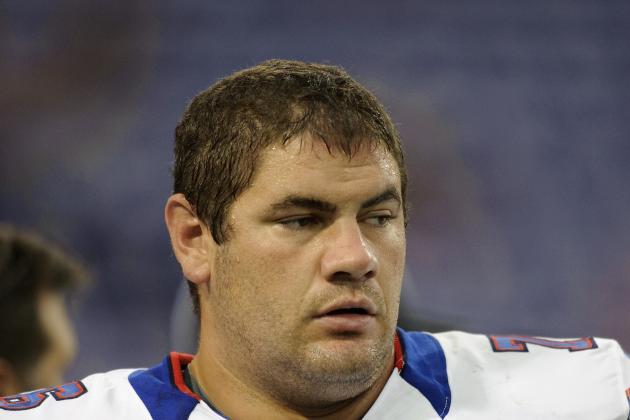 Hannah Foslien/Getty Images

Projected Depth Chart: Chad Rinehart, Steve Schilling, Randy Richards
I would like to just copy and paste everything that was said about Rich Ohrnberger, but let's go into a bit more detail about what is going on at the right guard position.
Rinehart is actually a guy that has never been a consistent starter in the NFL, but did get two starts last season with the Buffalo Bills and has spent time under the tutelage of the Chargers offensive line coach, Joe D'Alessandris. Their relationship obviously fueled San Diego's desire to bring in Rinehart, and it will be interesting to see how he plays over an entire season.
Do not expect anything fantastic out of Rinehart, but he did look good in those two starts a season ago.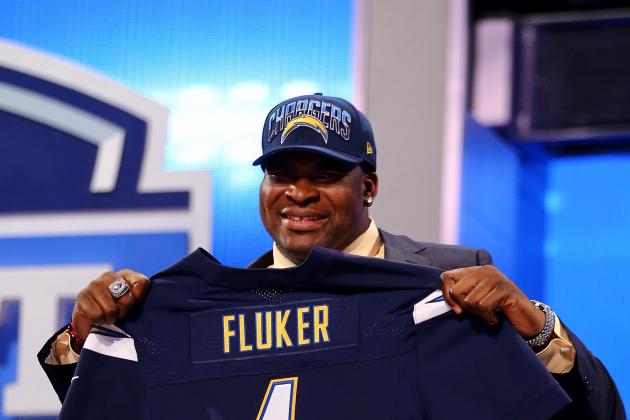 Al Bello/Getty Images

Projected Depth Chart: D.J. Fluker, Jeromey Clary, Brandyn Dombrowski, Nick Beckton
This is truly exciting: D.J. Fluker was not the most talked about offensive tackle heading into this year's NFL draft, but he was the top right tackle in this class and he will be able to step onto the field immediately for San Diego.
Fluker is someone that the Chargers will be counting on to be a staple of their line for the next decade. He has a balanced game that should bode well for a team that looks to both run and pass the ball. He is 6'6", 340 pounds and can attract multiple defensive linemen at a time.
Jeromey Clary becomes a good backup option that has been in the league for six seasons and can step in at a moments notice. This is easily the better of San Diego's two tackle positions.
Kent Horner/Getty Images

Projected Depth Chart: Corey Liuget, Kendall Reyes, Jarius Wynn, Damik Scafe, Logan Harrell
San Diego is largely unproven at the defensive end position, but there are some exciting players on the depth chart. Liuget in particular really seemed to put things together last season, as he recorded seven tackles and really wreaked havoc at times off the edge.
Kendall Reyes disappeared at times, but he recorded 5.5 sacks of his own and should see monumental growth in his sophomore campaign. The guys behind them are a bit more of a mixed bag. Jarius Wynn is a reliable veteran to plug into a rotation, but a guy like Damik Scafe is a complete mystery at this point.
It would be nice to see San Diego add more depth at defensive end, but Liuget and Reyes should combine for at least 15 sacks this season and really assert themselves as a quality pair of defensive ends in the AFC West.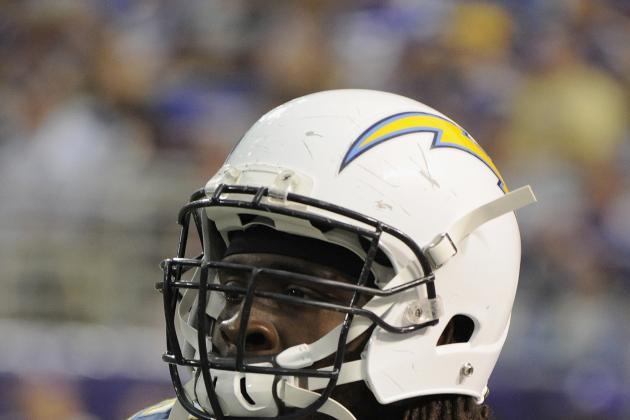 Hannah Foslien/Getty Images

Projected Depth Chart: Cam Thomas, Kwame Geathers
There is a lot riding on Cam Thomas to perform at the nose tackle position at the moment and that is a truly scary thought. This is a player with a good skill set, but he is largely unproven and really needs depth behind him to ensure his success.
Adding Georgia's Kwame Geathers as a post-draft free agent was a good start, but more still feels necessary here. Geathers is extremely raw and one-dimensional as a run-stuffer.

A 3-4 defense has to have depth along the defensive line and right now the Chargers are putting a lot of pressure onto Thomas. He recorded 14 tackles last season, but expecting 30-35 this year seems reasonable.
Chris Humphreys-USA TODAY Sports

Projected Depth Chart: Melvin Ingram, Jarret Johnson, Tourek Williams, Larry English, Frank Beltre
This is going to be a really fun group of outside linebackers to watch develop. Well, at least most of it will. Jarret Johnson is an 11-year veteran whose best days are behind him. He has gotten slower off the snap and is not much of a threat off the edge at this point in his career.
Everyone else, however, is young and only going to get better. Melvin Ingram looked better in each passing game during his rookie campaign of 2012, recording 27 total tackles and one sack.
Tourek Williams is a nice mid-round draft pick that excels at getting to the quarterback in a hurry and compiling sacks. He is not going to do much in coverage, but that won't be expected of him in San Diego.
Larry English has yet to develop into the player the Chargers would like him to be, but maybe adding Williams into the mix will invigorate him and allow him to reach his decent potential.
Brian Spurlock-USA TODAY Sports

Projected Depth Chart: Donald Butler, Manti Te'o, Jonas Mouton, DJ Smith, Andrew Gachkar, Phillip Dillard, Bront Bird, Dan Molls
Very few saw Manti Te'o slipping all the way to the 38th pick of the NFL draft, but once he did the Chargers almost had no choice but to move up and pluck him off the board. Te'o is going to fit in perfectly next to Donald Butler at inside linebacker and the two should form one of the better inside linebacker pairings among the league's 3-4 defenses.
Te'o needs to get better at shedding blocks, but there is no denying his instinctive play and leadership qualities. Similarly, Butler is only 24 years old and has been a consistent tackler in two seasons with San Diego.
Jonas Mouton will benefit from not being asked to start this season and should be a good rotational piece behind Te'o. He did not see the field much in 2012, but Mouton is an athletic player with room to develop.
Expect around 160 tackles, five sacks and three interceptions between Te'o and Butler.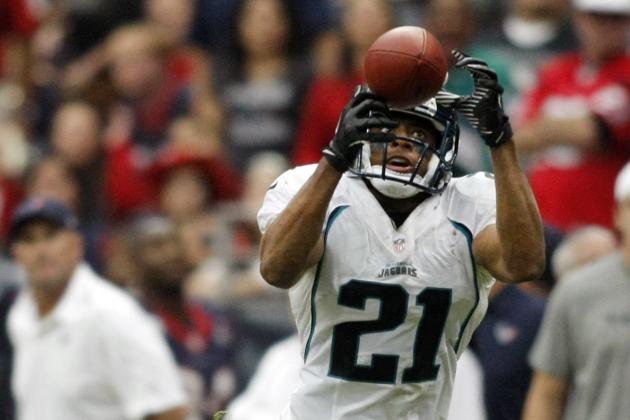 Brett Davis-USA TODAY Sports

Projected Depth Chart: Derek Cox, Marcus Gilchrist, Steve Williams, Shareece Wright, Greg Gatson, Johnny Patrick, Cornelius Brown, Marcus Cromartie, Jay Jay Johnson
The Chargers defensive backfield is going to look a lot different in 2013, and that change begins at the cornerback position. Gone are last year's starters in Antoine Cason and Quentin Jammer. In their place are younger players like Derek Cox and Marcus Gilchrist.
Cox and Gilchrist are both serviceable starters that can play press coverage, but are not afraid to get up and jam at the line of scrimmage. Still, neither of these are elite playmakers that should be considered more than stopgap solutions as starters, especially Gilchrist who needs more time to develop before being asked to be a full-time starter.
However, they are the starters right now and there will be expectations placed on them heading into the season. Look for Derek Cox to make around 65 tackles and haul in five interceptions, while Gilchrist will make 40 tackles and have two interceptions.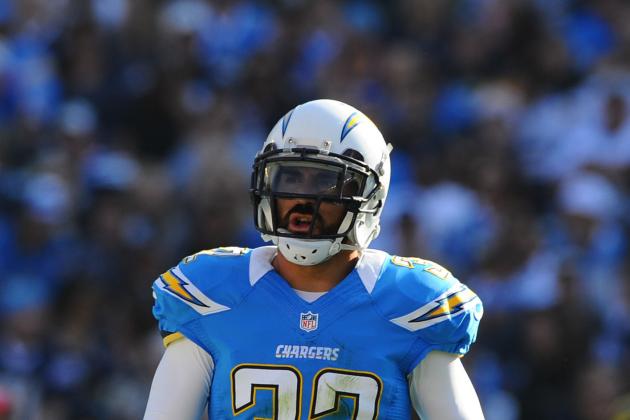 Christopher Hanewinckel-US PRESS

Projected Depth Chart: Brandon Taylor, Eric Weddle, Sean Cattouse, Darrell Stuckey, Jahleel Addae
Eric Weddle is quietly one of the better free safeties in football and he can be counted on to make up for a lot of blunders that come out of San Diego's defensive backfield. He is a smart and skilled safety that is always in the right place and has good ball skills that have helped him grab 16 interceptions in his six-year career.
Brandon Taylor is an unproven commodity at the strong safety position. He showed some flashes of brilliance in limited action last season, but it is still nice to see San Diego go out and pick up a guy like undrafted free agent Jahleel Addae out of Central Michigan.
Addae is a heavy-hitter that moves fluently around the field and has great speed. He is undersized, which likely kept him from being drafted, but Addae could actually push Taylor for playing time and force him to play to his potential.
Expect another great season out of Weddle, recording six to seven interceptions and 80 tackles. Taylor's production will be much harder to predict, but let's hope for 65 tackles and three interceptions.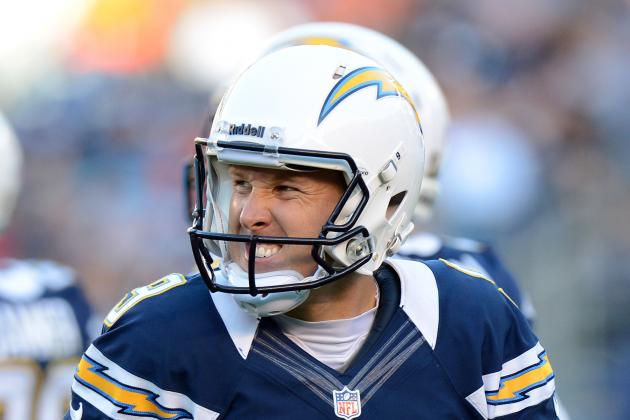 Jake Roth-USA TODAY Sports

Projected Depth Chart: Punter = Mike Scifres, Kicker = Nick Novak, Long Snapper = Mike Windt, Punt Returner = Eddie Royal, Kick Returner = Richard Goodman
No questions at punter or kicker, as both Mike Scifres and Nick Novak are firmly settled in as San Diego's long term solution's at those two positions, respectively.
Similarly, Mike Windt should have no problem winning the long-snapper job over Kyle Nelson. The real intrigue here will come from the return men.
Will Eddie Royal and Richard Goodman hang onto their spots at punt returner and kick returner? Keenan Allen was an electrifying return man at Cal and it seems safe to assume that the coaching staff wants to get him on the field by any means necessary.
At the very least, an open competition is sure to ensue and should be a lot of fun to watch.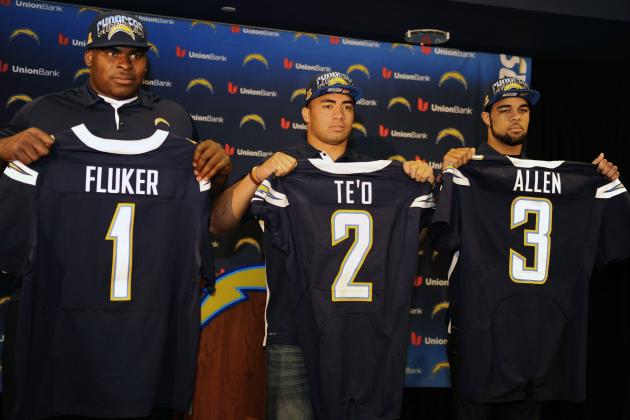 Christopher Hanewinckel-USA TODA

QB (3): Philip Rivers, Charlie Whitehurst, Brad Sorenson
RB (3): Ryan Mathews, Danny Woodhead, Ronnie Brown
FB (2): LeRon McClain, Chris Gronkowski
WR (6): Malcom Floyd, Danario Alexander, Vincent Brown, Eddie Royal, Keenan Allen, Robert Meachem
TE (2): Antonio Gates, John Phillips
LT (2): King Dunlap, Michael Harris
LG (2): Rich Ohrnberger, Johnnie Troutman
C (2): Nick Hardwick, David Molk
RG (2): Chad Rinehart, Steve Schilling
RT (2): D.J. Fluker, Jeromey Clary
DE (4): Corey Liuget, Kendall Reyes, Jarius Wynn, Damik Scaife,
DT (2): Cam Thomas, Kwame Geathers
OLB (4): Melvin Ingram, Jarret Johnson, Tourek Williams, Larry English
ILB (4): Donald Butler, Manti Te'o, Jonas Mouton, DJ Smith
CB (6): Derek Cox, Marcus Gilchrist, Steve Williams, Shareece Wright, Greg Gatson, Johnny Patrick
FS (2): Eric Weddle, Darrell Stuckey
SS (2): Brandon Taylor, Jahleel Addae
P (1): Mike Scifres
K (1): Nick Novak
LS (1): Mike Windt
KR: Eddie Royal
PR: Keenan Allen