Preview and Prediction for Chicago Blackhawks vs. Minnesota Wild Playoff Matchup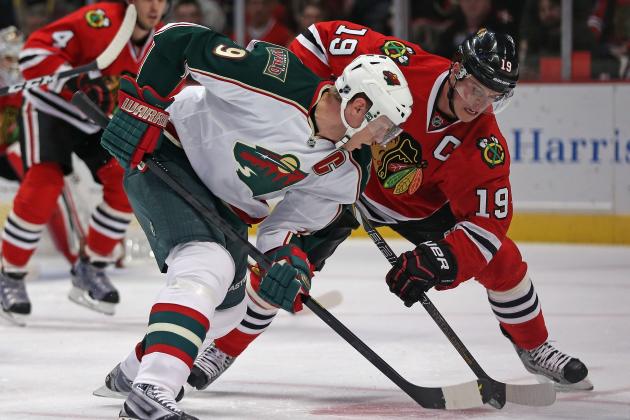 Jonathan Daniel/Getty Images

The opening round of the Western Conference playoffs will feature a matchup between the Chicago Blackhawks and the Minnesota Wild.
This is the first time that these two clubs have ever met in the postseason.
The Blackhawks last qualified for the playoffs last year and have now reached the postseason five straight seasons. They won the Stanley Cup in 2010 and many players from that club remain on Chicago's roster.
Last season, Chicago was ousted in the first round of the playoffs by the Phoenix Coyotes in six games.
The Wild, on the other hand, have reached the playoffs for the first time since 2008. In their last appearance, they were ousted in the opening round of the playoffs in six games by the Colorado Avalanche.
Despite the fact that this is a 1-vs.-8 matchup, it has the potential to be a very interesting playoff series.
Begin Slideshow

»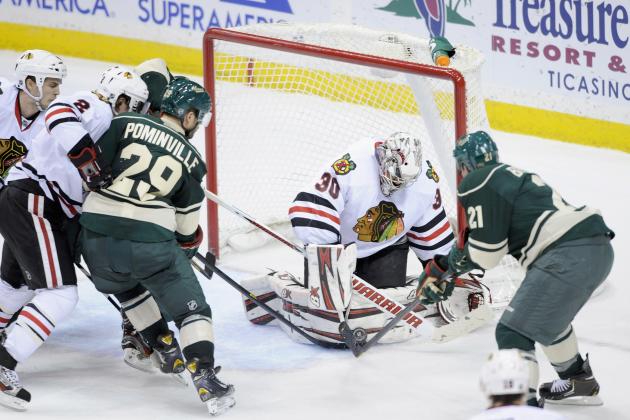 Hannah Foslien/Getty Images

Chicago Blackhawks:
Chicago won the Presidents' Trophy this year with the league's best record (36-7-5).
They got off to an incredible start, getting through the entire first half of the season without losing in regulation (21-0-3).
The amazing thing about the Blackhawks' success is how many players have contributed to it. Fourteen different players scored game-winning goals for Chicago. It wasn't just the star players like Jonathan Toews, Marian Hossa and Patrick Kane, but role players like Nick Leddy, Marcus Kruger and Dan Carcillo who have taken turns stepping up and coming up big.
The Blackhawks nearly coasted to the league's best record, losing two of their last four games.
Minnesota Wild:
The Wild have been hot and cold all season. There were times when the team looked like a title contender while at other times, it played like a very average team. They finished the season with a 26-19-3 record.
The Wild added two high-profile free agents in Zach Parise and Ryan Suter and having a shortened training camp and no preseason meant they had to adjust to their new teammates and coach on the fly.
After a slow start, the Wild rallied and played better in the second half of the season. Still, inconsistency was a problem for Minnesota throughout the season. With a chance to clinch a playoff berth in their next-to-last game, they stumbled badly, losing at home to the Edmonton Oilers 6-1. It took a 3-1 victory over the Avalanche in Denver in their season finale to get Minnesota into the postseason.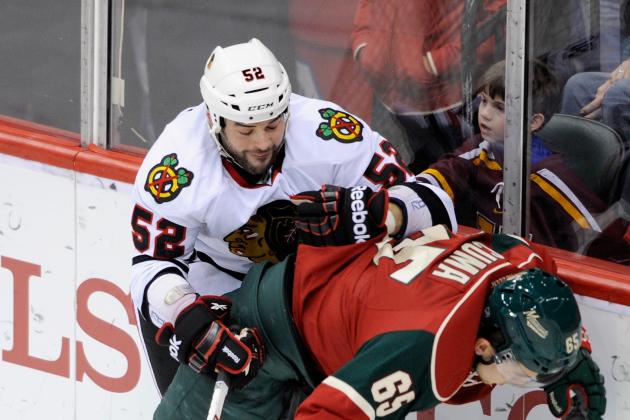 Hannah Foslien/Getty Images

1. How do the Blackhawks handle the pressure of being the Presidents' Trophy winners? Anything short of another Stanley Cup would make Chicago's dominant regular season a hollow memory.
2. How do Minnesota's high-priced free agents fair in the postseason? Parise and Suter both have plenty of playoff experience but there are also many younger players on the Wild who have little or no history in the Stanley Cup playoffs. The leadership of these two stars will be more important than ever.
3. How does Blackhawks' coach Joel Quenneville decide who plays in goal for his club? Both Corey Crawford and Ray Emery have played exceptionally well during the season and their statistics are almost identical. In the playoffs, most teams turn to one netminder to lead the way but Quenneville may start off by alternating his duo (if both are healthy and available) and then going with the hot hand.
4. Will the Wild score enough goal to stay with the Blackhawks? Chicago was second in the league in goals scored and first in goals against. The Wild was 23rd entering their season finale and had only one player on their roster with more than 15 goals scored.
5. The rivalry between the Twin Cities and Chicago is being renewed. In the 1980s and '90s, the Blackhawks and North Stars had some intense and physical playoff battles. These two cities have a big rivalry in football and baseball and to a lesser extent in basketball but the hockey rivalry is about to heat up again.
Jonathan Daniel/Getty Images

Patrick Kane, Chicago Blackhawks
Kane was a force during the 2010 playoffs when the Blackhawks won the Stanley Cup. His play fell off for the two seasons after that.
This year, Kane returned to his All-Star form, tying for the team lead in goals with 23 and leading Chicago with 55 points.
Chicago will need Kane to maintain his high level of play if they hope to go deep into the playoffs and possibly even win a Stanley Cup. Getting off to a strong start against the Wild would go a long way towards reinforcing Kane's confidence.
Ryan Suter, Minnesota Wild
If the Wild is going to pull off the upset, defenseman Ryan Suter is going to have to play a major role.
Expect the former Nashville Predators star to play 30 minutes or more per game for Minnesota.
The Wild will be counting on Suter to quarterback their power play, help shut down the explosive Chicago attack and make strong transition passes to jump start the team as they clear the puck out of their own end and begin their attack. It's a tall order, but Suter is one of the best defensemen in the game and may just be capable of pulling it off.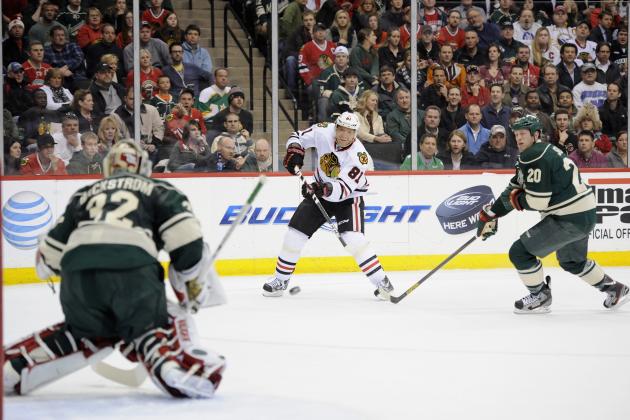 Hannah Foslien/Getty Images

Corey Crawford, Chicago Blackhawks:
Ray Emery's status for the playoffs is still uncertain but it is likely Crawford would get the nod anyway as the team's starter in Game 1.
Crawford won 19 games and finished with an impressive 1.94 GAA and .926 save percentage.
Having Emery available to play nearly half the club's games certainly helped reduce the pressure Crawford was under during the regular season and that may not be the case in the playoffs.
Crawford stumbled in both the regular season and playoffs last year and needs to make amends. In the past, Crawford had been prone to bad nights. That rarely happened this year and Crawford needs to make sure it doesn't happen too often in the playoffs. He does have a strong defense in front of him.

Niklas Backstrom, Minnesota Wild
Backstrom played in 42 games for the Wild and started 41 of them. He finished the season with 24 wins and a GAA of around 2.50.
Without their Finnish goalie, the Wild would not have reached the playoffs. His hallmark is his consistency. Backstrom also has plenty of experience in big games, not just with the Wild but in international competition for Finland.
Minnesota has little chance of winning if Backstrom does not steal at least one game in this series.
Backstrom is 35 and the Wild have to hope he isn't tired after playing nearly every game for them this season.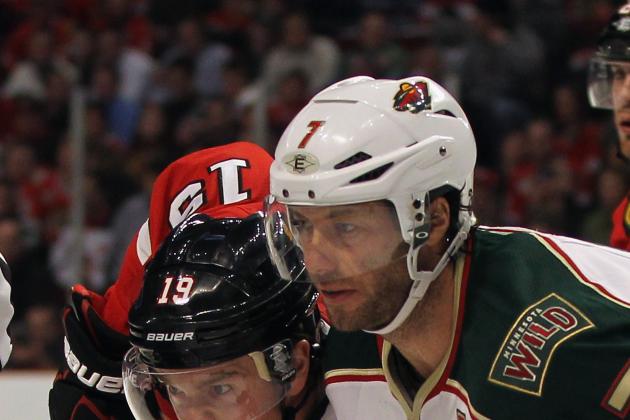 Jonathan Daniel/Getty Images

The biggest mismatch is Chicago's team defense against Minnesota's offense.
The Blackhawks gave up fewer goals than any other team in the NHL with 97. Minnesota were 23rd in goals scored entering their season finale.
Unless the Wild can score enough to compete with Chicago, they will have trouble winning games.
In addition to having a deep blueline corps and some physical players in their bottom-six forwards, Chicago's top-six forwards are also responsible in their own zone.
Minnesota's offense has been inconsistent all season.
Zach Parise led all Wild players with 17 goals but only four players reached double digits in goals scored this season.
The Wild will need their offense to step it up a notch against the league's stingiest defense. That's no easy task.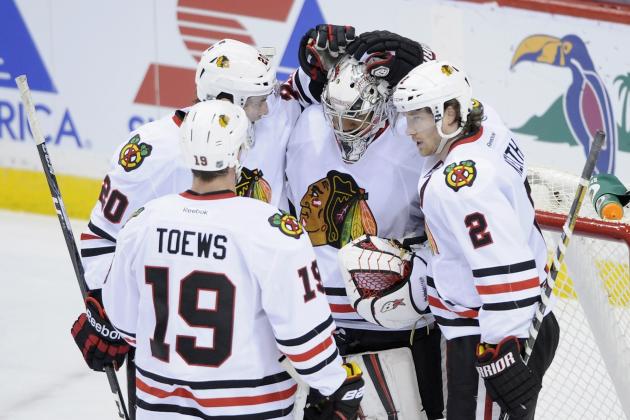 Hannah Foslien/Getty Images

The Blackhawks will win if they play anywhere close to the level they've played all season.
If Chicago gets good goaltending and plays smart hockey within Joel Quenneville's system, they are the more talented and deeper team and should win.
The Blackhawks should use this series to adjust to playing playoff-style hockey. They have plenty of players on their roster with a lot of postseason experience and that gives them another edge.
Jonathan Daniel/Getty Images

There are several ways the Wild can win this series, but probably two or more of the following things will have to happen.
1) Corey Crawford (and possibly Ray Emery if he's healthy) will have to stumble in net, probably in two or more games.
2) Niklas Backstrom has an outstanding series and steals one or two games for the Wild. Minnesota will also have to play great team defense in front of Backstrom and play a physical enough series to wear down some of the Hawks more talented players.
3) The Wild's power play, which was middle of the road during the regular season, has to shine in this series.
4) Second and third line players step up and have a strong offensive series for Minnesota. If the Wild gets key goals from players like Cal Clutterbuck, Kyle Brodziak, and Pierre-Marc Bouchard, they stand a better chance of pulling off the upset.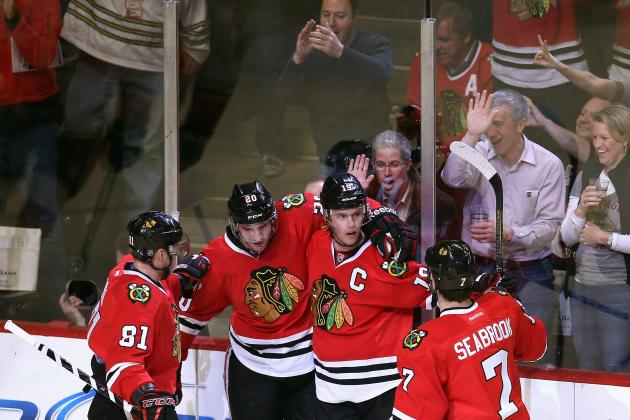 Jonathan Daniel/Getty Images

On paper, the Blackhawks should win this series fairly easily.
They have superior goaltending, offensive talent, depth up front and defense. Their special teams are better as well.
But the NHL playoffs are funny and the Los Angeles Kings showed last season that a No. 8 seed can catch fire and make a long playoff run.
Chicago is too deep, too talented and too experienced to lose this series. The Wild have taken a big step forward, but their young players are probably a year away from being true contenders.
Prediction:
Blackhawks in 5