The Biggest Steals from Day 3 of the 2013 NFL Draft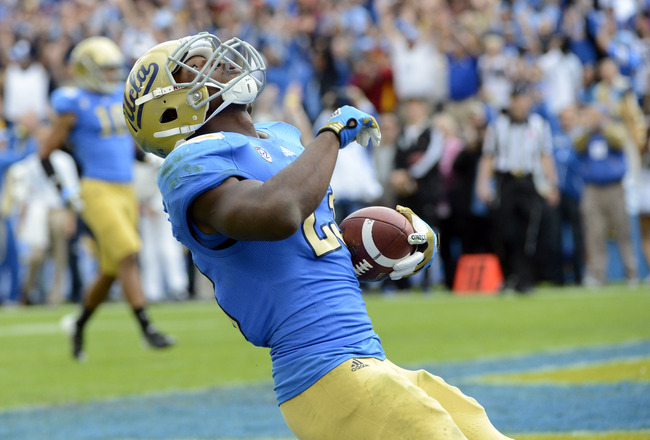 UCLA running back Johnathan Franklin was one of the biggest steals of the 2013 draft.
Richard Mackson-USA TODAY Sports
There was a lot of talent remaining on the board coming into Day 3 of the draft. For what the 2013 NFL draft class lacked in elite talent, it had in depth.
Normally only the top 100 picks are expected to become starters. Players in the fourth and fifth rounds are typically role players, special teamers or developmental projects. Players in the sixth and seventh rounds aren't typically expected to contribute immediately, except on special teams.
A "steal" at this point is a bit different from what it would be in the first few rounds. There were several starters, early contributors and key role players that were steals on Day 3, and a lot of players have the potential to exceed expectations for their draft slot.
Alex Okafor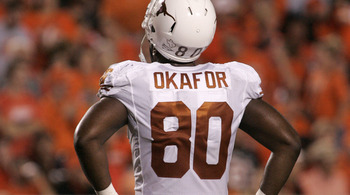 Brett Deering/Getty Images
Pass-rushers aren't easy to find. Even a good situational nickel pass-rusher is pretty rare. It was a surprise, then, that Alex Okafor fell into the fourth round, which made him a steal for the Arizona Cardinals with the 103rd overall pick.
Okafor was a good example of a tweener that may lack the speed required to be a great outside pass-rusher in the NFL, but he can set the edge against the run and will make effort plays in the passing game. Unlike some of his peers, Okafor's only fit is as a 4-3 defensive end, but he has a very good chance to become a starter early in his career.
It's not often that a quality player like Okafor is available at the top of the fourth round. The Cardinals needed a great draft to compete in the NFC West, and Okafor was just one of several great picks they had in 2013.
Tyler Wilson

Matt Miller Breaks Down Tyler Wilson

NFL.com draft analyst Josh Norris had Tyler Wilson graded as the best quarterback in this draft class. Wilson was a potential first-round pick last year if he didn't stay at Arkansas for what ended up being a rough senior year because of a situation outside of his control.
There's a chance that Wilson starts a game before any of the other rookies in this draft class because of his ability and situation. E.J. Manuel may sit behind Kevin Kolb initially, Matt Barkley will have to beat out three other guys and Ryan Nassib will sit behind Eli Manning.
Wilson only has to beat out Matt Flynn and Terrelle Pryor to become the starter.
Wilson has a bunch of ugly mechanical issues that can be ironed out, and he has all the other qualities you need in a franchise quarterback. Wilson is a leader, he's tough, he hangs in the pocket, takes hits and has a very good arm.
The Raiders got a steal in Wilson. Don't be surprised if he ends up being the best quarterback to come out of this draft class.
B.W. Webb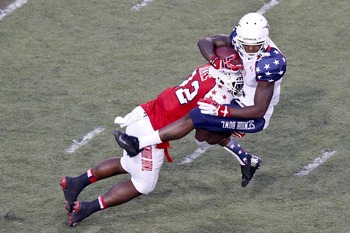 Webb showed he can play at the next level at the Senior Bowl.
Derick E. Hingle-USA TODAY Sports
The Cowboys took a beating for most of their draft picks not named Gavin Escobar, but the scouts started taking control in Dallas in the fourth round when the 'Boys selected B.W. Webb from William and Mary.
Webb showcased uncommon traits for a cornerback at the Senior Bowl. Webb has adequate speed to stay with receivers, he's competitive and he quickly gets his head around when the ball is in the air.
He's on the smaller side for a cornerback at 5'10" and 184 pounds, but he has the skills to turn into a starter in the future and can probably be a quality backup and help out in the slot immediately.
Webb was a steal this late for a team that needed a few quality picks to make up for selecting a center in the first round.
Khaseem Greene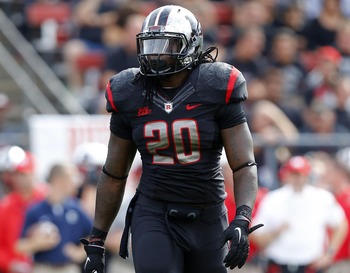 Jim O'Connor-USA TODAY Sports
Athletic linebackers should have been hot commodities in the draft, but for some reason many of them went later than anticipated.
That was the case with Khaseem Greene, who converted to linebacker from safety. The Bears needed linebackers, and Greene is a perfect fit for their defensive mentality.
Greene is a playmaker and had 136 tackles in 2012. His experience as a safety shows up in coverage, and he has a knack for forcing turnovers. Greene obviously needs to refine his game, but he's got massive potential.
Linebackers like Greene don't have to come off the field, and they can even cover bigger slot receivers and tight ends. Greene can also be used as a blitzer and clearly has a knack for finding the ball.
The Bears got a steal in Greene. It wouldn't be surprising if he's a Day 1 starter.
Phillip Thomas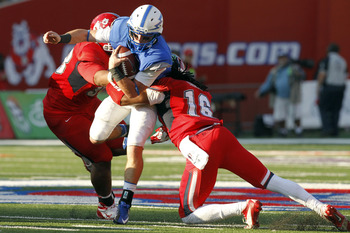 Phillip Thomas will throw his body around.
Cary Edmondson-USA TODAY Sports
The 2013 NFL draft had a deep group at safety, but for some reason one of the best ones fell to the Redskins with the 119th overall pick.
Phillip Thomas is a physical safety with a nose for the ball in the run game and ball skills in the passing game. Thomas has good feet and agility, and he's quick enough in coverage not to be a total liability. Thomas is also a hitter and has a knack for the big play.
To be able to find a quality starter at safety at the end of the fourth round is a steal. Thomas will make receivers think twice before coming over the middle. He will also come up and support the run. The mental side of the game is the only thing you have to worry about with Thomas, which is no different from any rookie defensive back.
Johnathan Franklin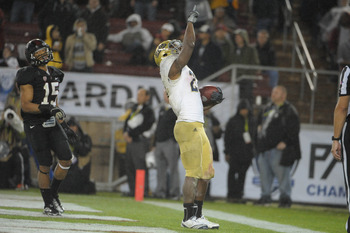 Johnathan Franklin will prove to be a great pick for the Packers.
Kirby Lee-USA TODAY Sports
The Packers picked up Eddie Lacy in the second round, but in following their best-player-available draft strategy, they selected UCLA running back Johnathan Franklin with the 125th overall pick.
This wasn't the best running back class, but Franklin was considered by many to be the best. Franklin was Matt Miller's No. 1 running back and 34th overall player.
When you watch Franklin, you notice exceptional vision and agility. Franklin has nimble feet and finds running lanes if they exist. He's surprisingly powerful and has adequate speed, although he's not going to be a burner. Franklin is also a great fit for Green Bay's scheme.
Don't be surprised if Franklin ends up starting over Lacy next season in what is reminiscent of when Matt Flynn won the backup quarterback job over Brian Brohm despite being drafted five rounds later.
Quinton Patton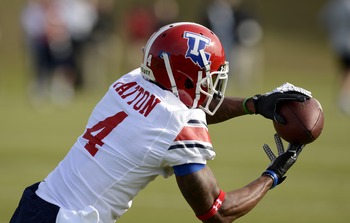 USA TODAY Sports
Not everyone was high on Quinton Patton, and some people anticipated him falling slightly on draft day, but I don't think many people envisioned him falling to the end of the fourth round. It should be no surprise that the San Francisco 49ers saw the value and pulled the trigger on the Louisiana Tech product.
Patton might not be super explosive, but he runs excellent routes. Some have compared him to Reggie Wayne in his ability to get open.
Far too many NFL teams overvalue the athletic ability of receivers when the mental part of the game is so vital. Receivers are playing a chess match with cornerbacks, and Patton plays the board as well as any receiver in this class.
For the 49ers to steal Patton in the fourth round is absurd. Patton could push his way onto the field early in his career, even in San Francisco.
Marcus Lattimore

Matt Miller breaks down Marcus Lattimore

The 49ers drafted Frank Gore coming off a nasty knee injury and got a steal. They repeated history by selecting Marcus Lattimore.
The funny thing is that Lattimore's injury is comparable to that of Willis McGahee, who was still drafted in the first round. Lattimore was once considered a first-round pick before his knee injury and really only fell because of his knee.
With the way modern medicine has progressed, it wouldn't be surprising if Lattimore is ready to go by training camp, but at worst he'll be ready for next season and can spend the season on the PUP list.
Also, no one is rooting against this guy. He'll get all the time he needs to heal.
NFL.com compared Lattimore to Arian Foster, and Matt Miller said on the Bleacher Report live draft show that he had him graded up there with Trent Richardson before his injury.
The 49ers continue to stockpile talent, and Lattimore will probably end up taking over for Frank Gore in a couple years.
Sanders Commings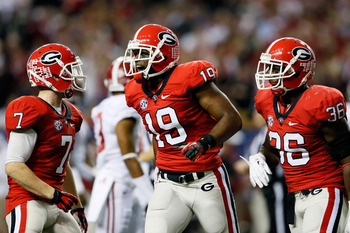 Sanders Commings was overshadowed by his teammates at Georgia.
Kevin C. Cox/Getty Images
At the top of the fifth round, the Kansas City Chiefs found a steal in cornerback Sanders Commings from Georgia. Commings is a big, physical cornerback with adequate top-end speed.
If Commings can improve his technique, he can probably become the next Brandon Browner, but a conversion to safety would make sense if he's too stiff to play outside.
NFL receivers are only getting bigger. Smaller cornerbacks just can't handle their physicality, but Commings can.
Just look at the size of the wide receivers in the AFC West alone. Demaryius Thomas, Eric Decker, Malcom Floyd and Danario Alexander are all over 6'3". The Chargers just added Keenan Allen, who is also 6'3" and over 200 pounds. The NFL is full of these tall receivers, and Commings has the necessary skills to stop them.
Jesse Williams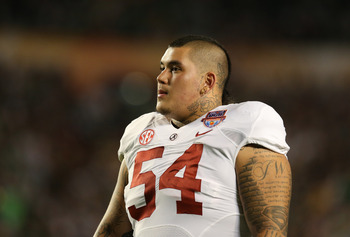 Yolo!
Matthew Emmons-USA TODAY Sports
We know why the Alabama nose tackle probably fell in the draft, but that doesn't make it right. Williams had some medical red flags, but the Seahawks very shrewdly nabbed him with the fourth pick of the fifth round.
Williams is the type of player that is vastly underappreciated because there are no stats or workout numbers that will really make you appreciate his value. Williams opens things up for his teammates by simply eating space, but that doesn't mean he just stands there in the middle of the defense.
The Seahawks already had a good defense, but Williams is going to turn their linebackers into stars if he can get healthy and contribute.
Just to put this steal in perspective, Williams was Matt Miller's 27th overall player, and he wasn't the only draft analyst that had him rated so highly.
Quanterus Smith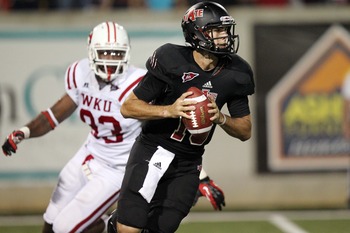 Quanterus Smith likes to sack the quarterback.
Nelson Chenault-USA TODAY Sports
Matt Miller's biggest sleeper at defensive end was Western Kentucky defensive end Quanterus Smith, who dominated Alabama's quality offensive line to the tune of 3.5 sacks last year. Smith fell in the draft because he tore his ACL in November, but once healed he's going to be a very good pass-rusher.
Smith wasn't always consistent when he was healthy, but that was basically his only problem. He was impacting the pocket in just about every game. Few players in college football could string together moves to get around offensive tackles like Smith. He's not an amazing athlete, but it's adequate across the board.
The Broncos found a young pass-rusher that can replace Elvis Dumervil as soon as next year, and to get him this low is a steal.
Brandon Jenkins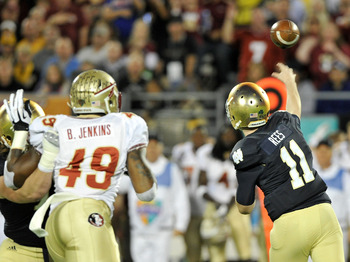 Brandon Jenkins can get after the quarterback.
Brad Barr-USA TODAY Sports
Last January, Brandon Jenkins was potentially a first-round pick, but the Redskins got him with the 162nd overall pick in the 2013 NFL draft.
Jenkins dropped because he played in only one game due to a Lisfranc injury in 2012. If he's healthy, the Redskins got a first-round quality pass-rusher for where teams are normally just hoping the guys can make the roster. If Jenkins hadn't been hurt, Tank Carradine doesn't see the field much last year and likely never becomes a Day 2 pick.
There is a chance that Jenkins is the steal of the draft if he becomes an elite pass-rusher in the NFL, but at worst he'll be a great situational nickel pass-rusher.
The Redskins had one heck of a draft on Day 3, and Jenkins is just one example.
Jordan Poyer

Matt Miller breaks down Jordan Poyer

One of the mysterious occurrences of the entire draft was the fall of Jordan Poyer. At one point Poyer was considered a potential second-round pick—and he fell all the way to the seventh round before he was selected by the Eagles with the 218th overall pick.
Maybe there is a major character red flag, or maybe he had an undisclosed medical issue, but we'd be speculating. Poyer as a football player is clearly better than a seventh-round selection and could even be a starter early in his career.
The Eagles did very well to roll the dice on Poyer, even if he has a major issue. The only way this is a bad pick is if Poyer can't play at all, otherwise he would have been worth a fourth-round pick. Poyer was Matt Miller's 46th overall player, and only five cornerbacks were ranked higher.
Michael Buchanan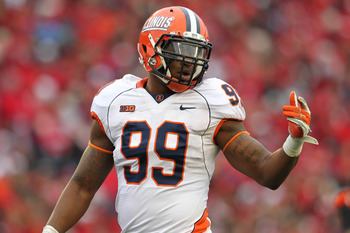 Brace Hemmelgarn-USA TODAY Sports
Pass-rushers usually come off the board early, even if they are only projected to be on the field on third downs in the NFL. To see a guy that tested well at the combine and had a productive career as a pass-rusher in college fall all the way to the seventh round is shocking.
The Patriots saw the value and drafted Michael Buchanan with the 20th pick in the seventh round. Buchanan has the size, speed and agility needed to get to the quarterback in the NFL and just needs to clean up his technique and add muscle. He's also versatile and can do a lot of things for a defense.
Buchanan could have helped a lot of teams before the seventh round, but he landed in a perfect spot with the Patriots. Don't be surprised if Buchanan contributes for the Patriots early in his career. Buchanan is a steal for the Patriots after a lot of questionable mid-round picks.
Keep Reading