UFC 159 Results: What's Next for the Winners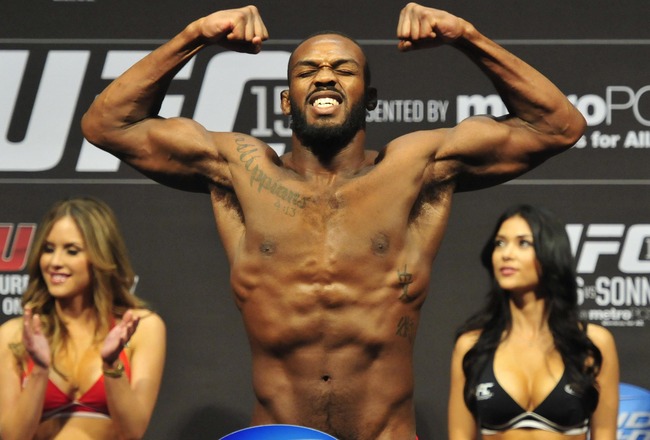 Joe Camporeale-USA TODAY Sports
On Saturday night, Jon Jones thoroughly dominated the always-polarizing Chael Sonnen for his fifth successful defense of the UFC Light Heavyweight Championship.
Also on the card, Michael Bisping pillaged Alan Belcher, while Roy Nelson made a major statement to the heavyweight division by knocking out Cheick Kongo in the first round.
What's next for Jones? How about the rest of the winners from the entire card? Here is a look at what's next for the winners from UFC 159.
Steven Siler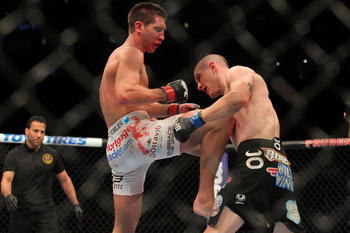 Brad Penner-USA TODAY Sports
After three rounds of action, Steven Siler edged a very tough Kurt Holobaugh to pick up an important win in his budding career.
Siler grabbed the attention of the UFC's featherweight division when he dominated an always-game Cole Miller in 2012. His momentum was slowed after a loss to Darren Elkins last year.
The victory on Saturday night improved Siler's post-TUF record to 4-1 and makes him a player to watch in the always-exciting 145-pound division.
Next up, Siler should meet Akira Corassani later this year. Corassani lived with Siler as a cast member of TUF 14 and currently holds a 2-0 mark inside the Octagon. These two men were originally scheduled to meet at the season finale, but Akira was forced out due to injury.
Cody McKenzie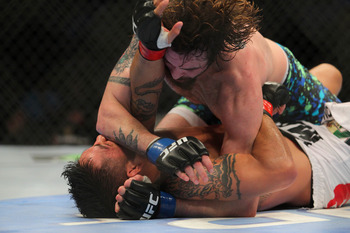 Brad Penner-USA TODAY Sports
Prior to Saturday night, to say that Cody McKenzie had his neck on the chopping block would have been a massive understatement. After a 1-3 stint in recent appearances, a loss against Leonard Garcia would have undoubtedly resulted in a pink slip.
However, McKenzie rose to the occasion and outworked an overmatched Garcia and earned a unanimous decision on the Facebook preliminary card of UFC 159.
McKenzie should meet Daniel Pineda later this summer. Pineda competed at the beginning of April, where he picked up a Submission of the Night bonus against Justin Lawrence. Like McKenzie, his April win pulled this featherweight from an unfortunate skid.
Bryan Caraway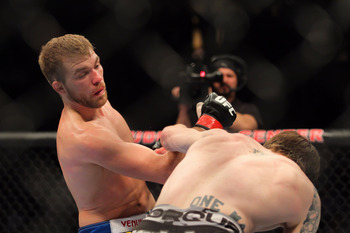 Brad Penner-USA TODAY Sports
"Just coast" wasn't exactly the game plan utilized by Bryan Caraway on Saturday night. Despite being only 16 seconds away from a surefire decision victory, Caraway successfully hunted for a guillotine choke against opponent Johnny Bedford and earned his third tapout victory inside the Octagon.
Were it not for a controversial decision loss to Takeya Mizugaki, Caraway would boast a flawless 3-0 record as a UFC bantamweight. By taking out Bedford, the Ultimate Fighter alumnus takes his place as a must-see prospect.
Caraway should next fight Erik Perez, the man whom he replaced on this card. Perez has a trio of first-round stoppages since joining the UFC ranks and holds the record for fastest knockout in promotional history.
Sara McMann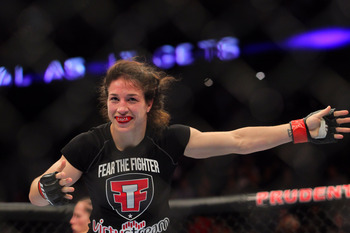 Brad Penner-USA TODAY Sports
Sara McMann continued her winning ways on Saturday night with a dominant first-round stoppage over Sheila Gaff. The victory improves the Olympian's record to 7-0 and puts her in an enviable position within the division.
Regardless of her next opponent, McMann's next bout will be a title eliminator. For that reason, booking options are limited, especially now that five of the top six women in the division have bouts scheduled.
In fact, there is only one fighter ranked above McMann who is lacking a dance partner. For that reason, there is only one option worth entertaining. McMann should fight Sarah Kaufman in her UFC debut.
Ovince St. Preux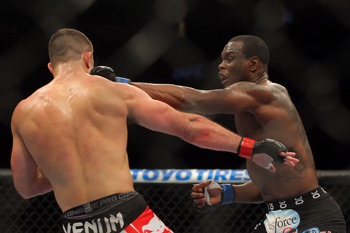 Brad Penner-USA TODAY Sports
Ovince St. Preux may not have won a pretty fight against Gian Villante, but he walked away with the W on Saturday night nonetheless.
Early in the third round, St. Preux accidentally poked Villante in the eye, and in a moment of poor communication, referee Kevin Mulhall called a halt to the contest when Villante said that he couldn't see.
OSP picked up a rare win by technical decision to kick off his UFC career, and he will likely meet another light heavyweight who is new to the organization. We can't fault him for the odd referee decision, and there is no need for a rematch, so looking forward is key at this point.
Cody Donovan should be considered as an opponent for OSP. Donovan debuted back in December on only nine days notice and picked up a first-round TKO against Nick Penner.
Rustam Khabilov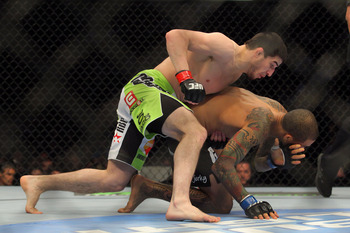 Brad Penner-USA TODAY Sports
In the second peculiar finish of the evening, Rustam Khabilov picked up a TKO victory after opponent Yancy Medeiros seemingly dislocated his thumb and was unable to continue halfway through the opening round.
Khabilov now sits 2-0 in the UFC lightweight division, which has long been considered the most stacked in the promotion. That means there are plenty of options for the 26-year-old Russian.
The UFC loves to pit top prospects against one another and watch the cream rise to the top. For that reason, Khabilov should meet the undefeated Myles Jury, who improved his UFC record to 3-0 last Saturday at UFC on Fox 7.
Pat Healy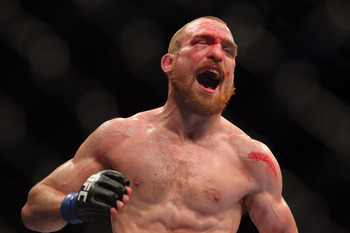 Brad Penner-USA TODAY Sports
Kudos to Pat Healy, because on Saturday night, "Bam Bam" scored the biggest win of his career by choking out No. 4 lightweight Jim Miller to conclude an exciting scrap.
The Strikeforce contender now rides high on a seven-fight winning streak, and he has won 10 of his last 11 bouts. Now that the Oregon native has earned his place as a true contender, it's time to put Healy into a title eliminator.
Healy has previously called out final Strikeforce champion Gilbert Melendez for backing out of a twice-scheduled matchup due to an injury that Pat believes to be fictitious.
With Melendez being denied a rematch against Benson Henderson for the UFC championship, the time for Healy vs. Melendez to finally come to fruition has arrived.
Phil Davis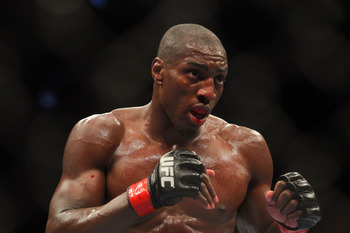 Brad Penner-USA TODAY Sports
Phil Davis has been a top-10 light heavyweight ever since he defeated Pride star Antonio "Lil' Nog" Nogueira in 2011. However, on Saturday night, he did little for his career after an uninspiring victory over unranked Vinny Magalhaes.
The NCAA standout had an improved jab on display throughout three rounds of action, but was never really close to finishing his opponent in this grudge match. Davis won't rise in the rankings after the performance.
In a battle of young fighters eager to climb the ladder, Davis should fight Ryan Bader once the Ultimate Fighter star returns from injury.
Roy Nelson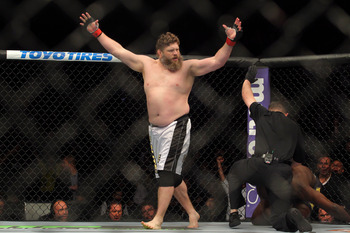 Brad Penner-USA TODAY Sports
Roy Nelson is on a roll. In the last calendar year, "Big Country" is 3-0 and has won all of his fights via first-round knockout. Among his list of victims are Matt Mitrione, Dave Herman and, after Saturday night, Cheick Kongo.
Nelson is open about wanting a title shot, but that's just not going to happen anytime soon. An upcoming Junior dos Santos vs. Mark Hunt bout is scheduled to crown the next man in line for the UFC Heavyweight Championship.
Should that fight not clear up the title picture, Fabricio Werdum will likely earn a shot with a June victory over Big Nog.
In the mean time, Nelson has potential fights with Alistair Overeem, Daniel Cormier or Travis Browne waiting in the wings. Any of those matchups would be important to the division. However, Overeem is coming off of a loss and Cormier would like to drop down to light heavyweight.
Browne vs. Nelson sounds like an incredible matchup between powerhouse heavyweights, doesn't it?
Michael Bisping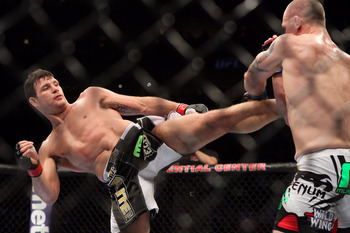 Brad Penner-USA TODAY Sports
Two technical decisions in the same night? I'm not positive that has ever happened before in UFC history.
Michael Bisping was making Alan Belcher look like an amateur throughout their two-and-a-half round affair. By pushing the pace and landing power strikes with relative ease, there is no question that "The Count" would have walked away victorious had the fight gone to the scorecards.
This was a much-needed victory for Bisping, but a win after an eye poke is tainted regardless of what happened beforehand.
In an ideal world, Bisping would fight the winner of Mark Munoz vs. Tim Boetsch, which takes place at UFC 162. He has a history with both men and was even scheduled to face Boetsch in 2012, although the contest fell through.
However, that fight is more than two months away, so it is unlikely that the popular British striker will wait for this fight.
If Bisping truly wants a crack at the UFC Middleweight Championship, the only man he should consider as an opponent is No. 3 contender Yushin Okami, who is currently without an opponent.
Jon Jones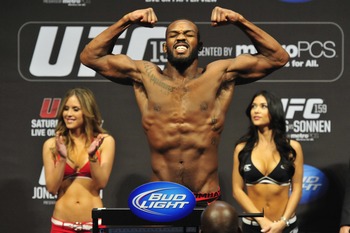 Joe Camporeale-USA TODAY Sports
With his win on Saturday night, Jon Jones ties Tito Ortiz for the most title defenses in UFC light heavyweight history. The historic victory came after one round of action against Chael Sonnen in a matchup where "Bones" out-wrestled his nemesis before scoring a ground-and-pound victory.
Jones broke his toe in gruesome fashion during the fight (per Sherdog.com), although adrenaline masked the pain long enough that the champion didn't notice it until his post-fight interview with Joe Rogan.
The injury will put the light heavyweight on the shelf for a bit, as he will certainly need surgery to repair his broken toe.
Upon his return, former champion Lyoto Machida will likely be waiting for him, as "The Dragon" recently turned down a potential matchup with Alexander Gustafsson in lieu of cashing in a title shot earned at UFC 157.
However, depending on how long Jones is on the shelf, we could be looking at a completely different title picture when he gets back.
Stay tuned to Bleacher Report MMA for news on Jon Jones' injury, as well as post-fight analysis for all things UFC 159.
Keep Reading