Philadelphia Eagles Post-Draft Wish List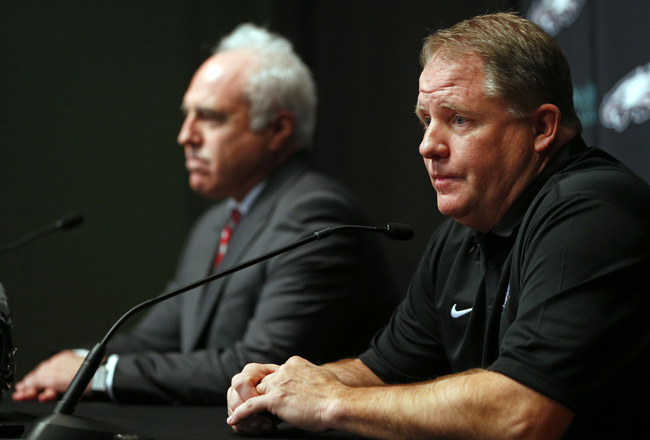 Rich Schultz/Getty Images
Chip Kelly's first draft as the head coach of the Philadelphia Eagles is complete.
On paper, it appears that the new Eagles coach made some pretty exceptional picks, but of course, we'll never know until the players take the field. Even then, it usually takes three to four years to accurately judge a draft class.
The Eagles' draft produced a starter at right tackle, a playmaking tight end, a potential starter at defensive end, a potential starter at quarterback and depth at safety, defensive end, defensive tackle and cornerback.
But there are still a few remaining roster spots to fill on this team, which can be done by adding undrafted free agents (at this point, the Eagles have already added one in running back Miguel Maysonet).
The following slides will highlight five positions where the Eagles could still look to add more talent.
1. Offensive Guard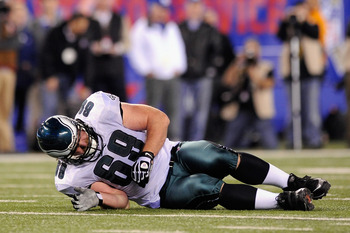 Patrick McDermott/Getty Images
Offensive line was one of the team's biggest weaknesses in 2012. It should be one of the biggest strengths in 2013. The five starters project to be a very solid unit, perhaps one of the best in the game.
Jason Peters, Jason Kelce and Todd Herremans return from season-ending injuries, Evan Mathis is at the top of his game and Lane Johnson has loads of potential as an early first-round draft pick.
But look closely at the Eagles' offensive line and there's really not a lot of depth.
Former first-round draft pick Danny Watkins is the top backup at guard, if he even makes the roster. Julian Vandervelde is the only other backup, a fifth-round pick in 2011 who has had multiple stints with the Eagles.
Adding one or two undrafted free agents in training camp to challenge for a backup role makes sense.
2. Center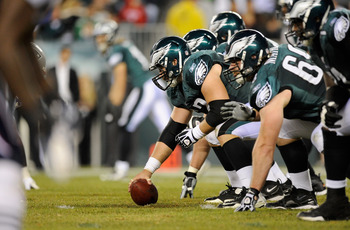 Patrick McDermott/Getty Images
The Eagles have had their backup center play more games than their starting center over the past three seasons. That's because Jamaal Jackson missed the final 15 games of the 2010 season with torn triceps and Jason Kelce missed the final 13 games of the 2012 season with a torn ACL.
Replacement center Mike McGlynn was less than adequate in 2010, as was Dallas Reynolds (what player is going to succeed in Philadelphia with the name Dallas?) in 2012.
Reynolds is still on the roster, as is Matt Tennant, but both are subpar backup players.
3. Nose Tackle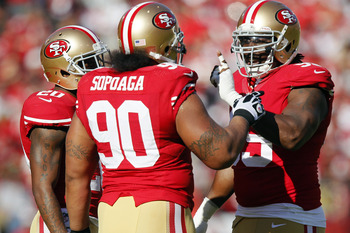 Brian Bahr/Getty Images
Nose tackle might be the weakest position on the defensive side of the ball.
Veteran Isaac Sopoaga was signed from the San Francisco 49ers, and the 31-year-old is expected to enter the year playing the majority of the snaps at the position. Still, he is definitely on the decline and after a subpar performance in 2012.
Veteran Antonio Dixon is a solid run-stopper, but he doesn't have experience playing nose tackle in the NFL. Ronnie Cameron is unproven.
The Eagles should bring in a big nose tackle as an undrafted free agent to compete for a roster spot.
4. Cornerback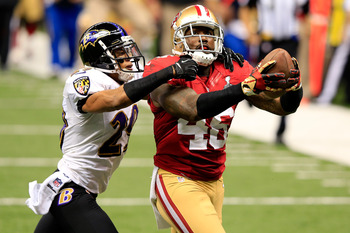 Jamie Squire/Getty Images
The Eagles have lots of bodies at cornerback, but none of them might even be an average starter.
Free-agent signings Cary Williams and Bradley Fletcher are the likely starters, but Williams surrendered a lot of passing yards last season and Fletcher was delegated to the nickel role in St. Louis.
Brandon Boykin and seventh-round draft pick Jordan Poyer will be the likely nickel and dime backs, with Curtis Marsh, Brandon Hughes and Trevard Lindley fighting for the final few roster spots, depending on how many cornerbacks the team keeps.
Williams, Fletcher, Boykin and Poyer are locks to make the team, but I'd have no problem bringing in free-agent rookies to compete with the other three for the final spots on the roster.
5. Returner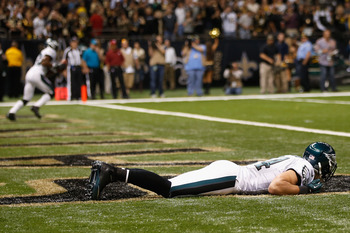 Chris Graythen/Getty Images
The above image, as Riley Cooper laid on the ground to fake out the defense during an eventual attempted Music City Miracle return, symbolizes the Eagles' return duties in 2012.
Rookies Brandon Boykin and Bryce Brown were the definition of boring. You knew what you were getting from them: a return to the 19 or 20 every single time. There were no long returns, nothing exciting at all.
The Eagles should bring in a cornerback or a receiver who has exceptional return duties to compete for the job in 2013.
Not since Brian Mitchell has the team had an electrifying kick returner. Brian Westbrook and DeSean Jackson have been home run hitters as punt returners, but they haven't been allowed to continue their duties for fear of injury.
Keep Reading

Philadelphia Eagles: Like this team?