The results are in for the 2013 NFL draft, with all 254 picks filled.
While the late-round picks might not have gotten the same attention as those that did on Thursday, the reality is these selections can turn out to be just as important as more reputable picks.
We saw last year, with the success of Doug Martin and Russell Wilson that, rookie successes can come outside of the first round. We're reminded every week when Tom Brady takes the field that greatness is found in the lower rounds, and the same will no doubt ring true for the players selected late in 2013.
Read on to see which late-round picks are primed for success in the NFL, as well as a full breakdown of all 254 picks from the 2013 NFL draft.
Jesse Williams, DT—Selected 5.4 (137) by Seattle Seahawks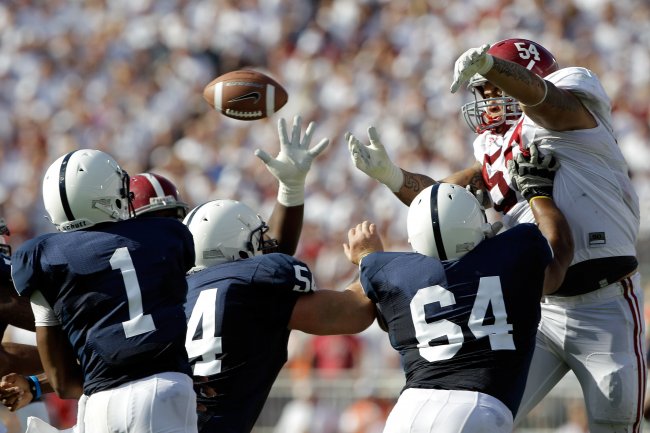 Rob Carr/Getty Images
With a poor showing at the scouting combine earlier in the year, Jesse Williams was expected to be somewhat of a slider come draft day, but few expected him to fall past the third round. For him to be sitting there at the start of the fifth round was an incredible opportunity for Seattle, which gladly obliged with its pick.
Williams is a beast in the running game and has tremendous athleticism for his size. He'll be a big body in an already-impressive defensive unit and will definitely help the Seahawks in those ground-and-pound divisional games that they love to get into.
Talk about the rich getting richer.
Ryan Swope, WR—Selected 6.6 (174) by Arizona Cardinals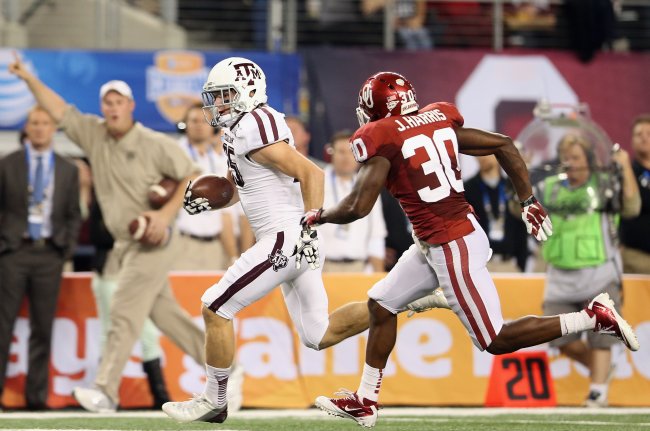 Ronald Martinez/Getty Images
I really like the move by Arizona to pick up Ryan Swope, who fell this far down the draft boards thanks to a rush at wide-receiver earlier on.
Swope isn't the quickest or biggest receiver in the world, but he is an excellent route-runner who has excellent hands to match. He does his best work inside and against zone coverages and will be an excellent target for the Cardinals—helping to spread the field for their big-name WRs as well.
What's more, Swope can take a hit over the middle and knows how to get that half-step open, which will prove invaluable for the Cardinals.
DeVonte Holloman, MLB/OLB—Selected 6.17 (185) by Dallas Cowboys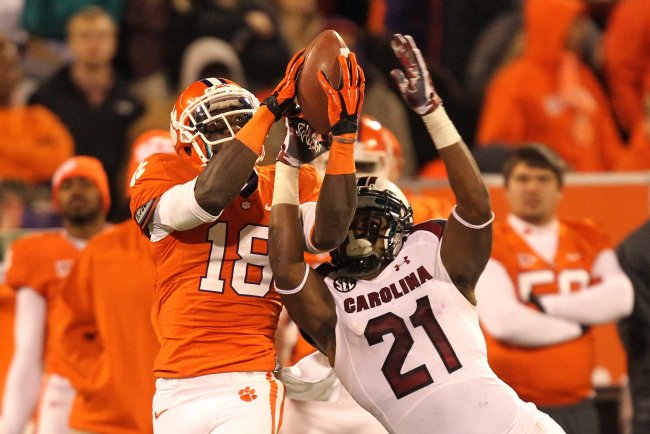 Streeter Lecka/Getty Images
A former safety, DeVonte Holloman is a great pick for Dallas this late in the draft given the athleticism that he brings for the Cowboys at the linebacker position.
He gives the Cowboys options at either outside linebacker (where he has spent much of his time) or at middle linebacker in a Tampa 2 scheme. Either way, he is bound to give Dallas great success with Holloman able to show just how deadly he can be in pass coverage from the linebacker position.
Jordan Poyer, CB—Selected 7.12 (218) by Philadelphia Eagles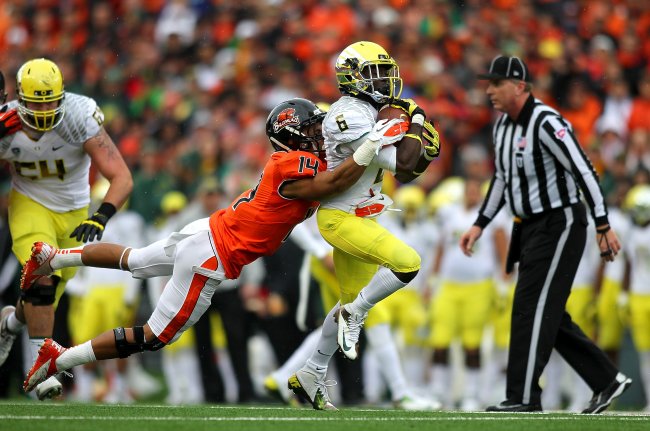 Jonathan Ferrey/Getty Images
Jordan Poyer isn't the best corner in the draft this year. In fact, he's not even close to the best, but he represents a huge steal in the seventh round for the Philadelphia Eagles and could star under Chip Kelly.
Poyer is a scrappy corner who knows how to get the job done against the run and the pass. He isn't the most naturally athletic guy in the secondary, but he does have a huge heart that thrives in competition and he knows how to throw a wide receiver off his game.
His technique is sound and he could be volatile (in a good way) in the secondary for Philly this year.
2013 NFL Draft Full Results
Round 1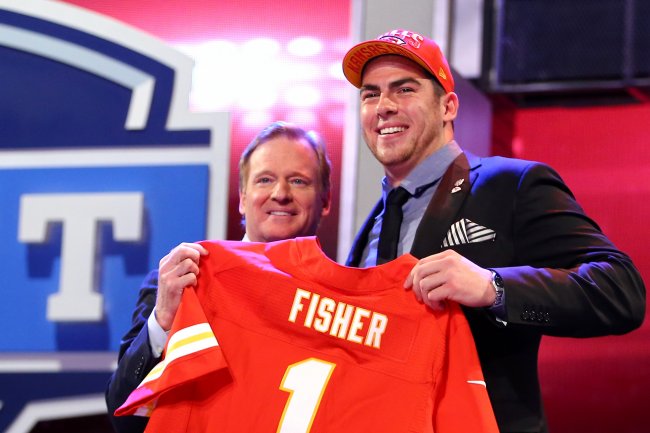 Al Bello/Getty Images
| | | | | |
| --- | --- | --- | --- | --- |
| Pick | Team | Player | Position | School |
| 1. | Chiefs | Eric Fisher | OT | Cent. Michigan |
| 2. | Jaguars | Luke Joeckel | OT | Texas A&M |
| 3. | Dolphins* | Dion Jordan | DE | Oregon |
| 4. | Eagles | Lane Johnson | OT | Oklahoma |
| 5. | Lions | Ezekiel Ansah | DE | BYU |
| 6. | Browns | Barkevious Mingo | DE | LSU |
| 7. | Cardinals | Jonathan Cooper | OG | UNC |
| 8. | Rams* | Tavon Austin | WR | West Virginia |
| 9. | Jets | Dee Milliner | CB | Alabama |
| 10. | Titans | Chance Warmack | OG | Alabama |
| 11. | Chargers | D.J. Fluker | OT | Alabama |
| 12. | Raiders* | D.J. Hayden | CB | Houston |
| 13. | Jets* | Sheldon Richardson | DT | Missouri |
| 14. | Panthers | Star Lotulelei | DT | Utah |
| 15. | Saints | Kenny Vaccaro | S | Texas |
| 16. | Bills* | E.J. Manuel | QB | Florida State |
| 17. | Steelers | Jarvis Jones | OLB | Georgia |
| 18. | 49ers* | Eric Reid | S | LSU |
| 19. | Giants | Justin Pugh | OG | Syracuse |
| 20. | Bears | Kyle Long | OG | Oregon |
| 21. | Bengals | Tyler Eifert | TE | Notre Dame |
| 22. | Falcons* | Desmond Trufant | CB | Washington |
| 23. | Vikings | Sharrif Floyd | DT | Florida |
| 24. | Colts | Bjoern Werner | DE | Florida State |
| 25. | Vikings* | Xavier Rhodes | CB | Florida State |
| 26. | Packers | Datone Jones | DE | UCLA |
| 27. | Texans | DeAndre Hopkins | WR | Clemson |
| 28. | Broncos | Sylvester Williams | DT | UNC |
| 29. | Vikings* | Cordarrelle Patterson | WR | Tennessee |
| 30. | Rams* | Alec Ogletree | OLB | Georgia |
| 31. | Cowboys* | Travis Frederick | C | Wisconsin |
| 32. | Ravens | Matt Elam | S | Florida |
Round 2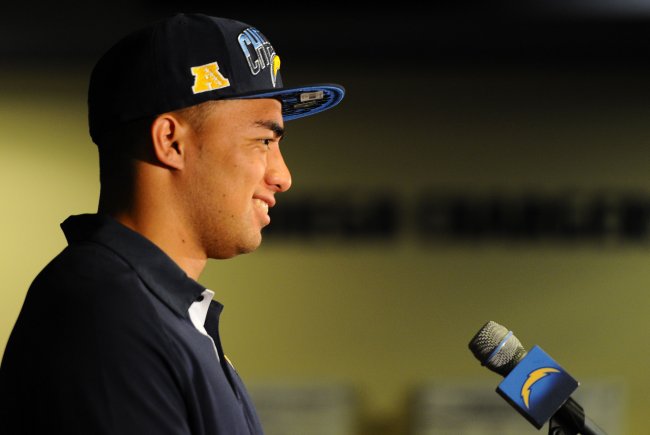 Christopher Hanewinckel-USA TODA
| | | | | |
| --- | --- | --- | --- | --- |
| Pick | Team | Player | Position | School |
| 33. | Jaguars | Johnathan Cyprien | S | FIU |
| 34. | Titans* | Justin Hunter | WR | Tennessee |
| 35. | Eagles | Zach Ertz | TE | Stanford |
| 36. | Lions | Darius Slay | CB | Mississippi St. |
| 37. | Bengals* | Giovani Bernard | RB | North Carolina |
| 38. | Chargers* | Manti Te'o | ILB | Notre Dame |
| 39. | Jets | Geno Smith | QB | West Virginia |
| 40. | 49ers* | Cornellius Carradine | DE | Florida State |
| 41. | Bills | Robert Woods | WR | USC |
| 42. | Raiders* | Menelik Watson | OT | Florida State |
| 43. | Buccaneers | Johnthan Banks | CB | Mississippi St. |
| 44. | Panthers | Kawann Short | DT | Purdue |
| 45. | Cardinals* | Kevin Minter | ILB | LSU |
| 46. | Bills* | Kiko Alonso | ILB | Oregon |
| 47. | Cowboys | Gavin Escobar | TE | San Diego St. |
| 48. | Steelers | Le'Veon Bell | RB | Michigan St. |
| 49. | Giants | Johnathan Hankins | DT | Ohio State |
| 50. | Bears | Jon Bostic | ILB | Florida |
| 51. | Redskins | David Amerson | CB | NC State |
| 52. | Patriots* | Jamie Collins | OLB | Southern Miss |
| 53. | Bengals | Margus Hunt | DE | SMU |
| 54. | Dolphins* | Jamar Taylor | CB | Boise State |
| 55. | 49ers* | Vance McDonald | TE | Rice |
| 56. | Ravens* | Arthur Brown | OLB | Kansas State |
| 57. | Texans | D.J. Swearinger | S | South Carolina |
| 58. | Broncos | Montee Ball | RB | Wisconsin |
| 59. | Patriots | Aaron Dobson | WR | Marshall |
| 60. | Falcons | Robert Alford | CB | SE Louisiana |
| 61. | Packers* | Eddie Lacy | RB | Alabama |
| 62. | Seahawks* | Christine Michael | RB | Texas A&M |
Round 3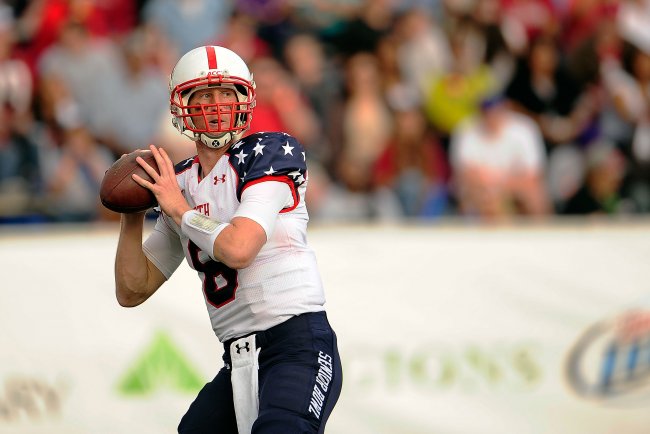 Stacy Revere/Getty Images
| | | | | |
| --- | --- | --- | --- | --- |
| Pick | Team | Player | Position | School |
| 63. | Chiefs | Travis Kelce | TE | Cincinnati |
| 64. | Jaguars | Dwayne Gratz | CB | Connecticut |
| 65. | Lions | Larry Worford | OG | Kentucky |
| 66. | Raiders | Sio Moore | OLB | Connecticut |
| 67. | Eagles | Bennie Logan | DT | LSU |
| 68. | Browns | Leon McFadden | CB | San Diego St. |
| 69. | Cardinals | Tyrann Mathieu | CB | LSU |
| 70. | Titans | Blidi Wreh-Wilson | CB | Connecticut |
| 71. | Rams* | T.J. McDonald | S | USC |
| 72. | Jets | Brian Winters | OG | Kent State |
| 73. | Buccaneers | Mike Glennon | QB | NC State |
| 74. | Cowboys* | Terrance Williams | WR | Baylor |
| 75. | Saints | Terron Armstead | OT | Arkansas-Pine Bluff |
| 76. | Chargers | Keenan Allen | WR | California |
| 77. | Dolphins | Dallas Thomas | OG | Tennessee |
| 78. | Bills* | Marquise Goodwin | WR | Texas |
| 79. | Steelers | Markus Wheaton | WR | Oregon State |
| 80. | Cowboys | J.J. Wilcox | S | Georgia Southern |
| 81. | Giants | Damontre Moore | DE | Texas A&M |
| 82. | Saints* | John Jenkins | DT | Georiga |
| 83. | Patriots* | Logan Ryan | CB | Rutgers |
| 84. | Bengals | Shawn Williams | S | Georgia |
| 85. | Redskins | Jordan Reed | TE | Florida |
| 86. | Colts | Hugh Thornton | OG | Illinois |
| 87. | Seahawks | Jordan Hill | DT | Penn State |
| 88. | 49ers* | Corey Lemonier | DE | Auburn |
| 89. | Texans | Brennan Williams | OT | North Carolina |
| 90. | Broncos | Kayvon Webster | CB | South Florida |
| 91. | Patriots | Duron Harmon | S | Rutgers |
| 92. | Rams* | Stedman Bailey | WR | West Virginia |
| 93. | Dolphins* | Will Davis | CB | Utah State |
| 94. | Ravens | Brandon Williams | DT | Missouri Southern St. |
| 95. | Texans | Sam Montgomery | DE | LSU |
| 96. | Chiefs | Knile Davis | RB | Arkansas |
| 97. | Titans | Zaviar Gooden | OLB | Missouri |
Round 4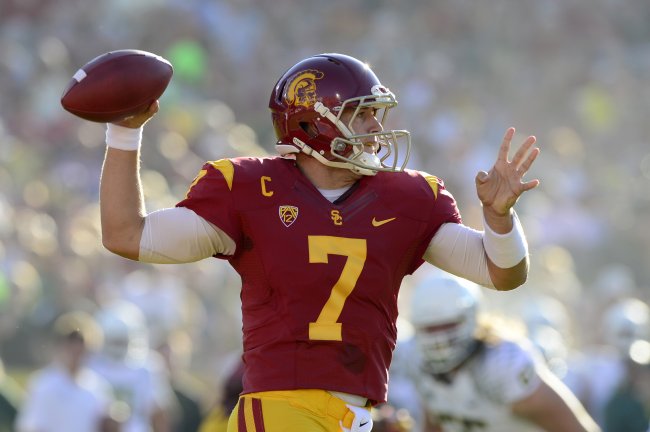 Robert Laberge/Getty Images
| | | | | |
| --- | --- | --- | --- | --- |
| Pick | Team | Player | Position | School |
| 98. | Eagles* | Matt Barkley | QB | USC |
| 99. | Chiefs | Nico Johnson | ILB | Alabama |
| 100. | Buccaneers* | Akeem Spence | DT | Illinois |
| 101. | Jaguars* | Ace Sanders | WR | South Carolina |
| 102. | Patriots* | Josh Boyce | WR | TCU |
| 103. | Cardinals | Alex Okafor | DE | Texas |
| 104. | Dolphins* | Jelani Jenkins | OLB | Florida |
| 105. | Bills | Duke Williams | S | Nevada |
| 106. | Dolphins* | Dion Sims | TE | Michigan State |
| 107. | Titans | Brian Schwenke | C | California |
| 108. | Panthers | Edmund Kugbila | OG | Valdosta State |
| 109. | Packers* | David Bakhtiari | OT | Colorado |
| 110. | Giants* | Ryan Nassib | QB | Syracuse |
| 111. | Steelers* | Shamarko Thomas | S | Syracuse |
| 112. | Raiders* | Tyler Wilson | QB | Arkansas |
| 113. | Rams | Barrett Jones | C | Alabama |
| 114. | Cowboys | B.W. Webb | CB | William & Mary |
| 115. | Steelers | Landry Jones | QB | Oklahoma |
| 116. | Cardinals* | Earl Watford | OG | James Madison |
| 117. | Bears | Khaseem Greene | OLB | Rutgers |
| 118. | Bengals | Sean Porter | OLB | Texas A&M |
| 119. | Redskins | Phillip Thomas | S | Fresno State |
| 120. | Vikings | Gerald Hodges | OLB | Penn State |
| 121. | Colts | Khaled Holmes | C | USC |
| 122. | Packers | J.C. Tretter | OG | Cornell |
| 123. | Seahawks | Chris Harper | WR | Kansas State |
| 124. | Texans | Trevardo Williams | DE | Connecticut |
| 125. | Packers* | Johnathan Franklin | RB | UCLA |
| 126. | Buccaneers* | William Gholston | DE | Michigan State |
| 127. | Falcons | Malliciah Goodman | DE | Clemson |
| 128. | 49ers | Quinton Patton | WR | Louisiana Tech |
| 129. | Ravens | John Simon | DE | Ohio State |
| 130. | Ravens | Kyle Juszczyk | FB | Harvard |
| 131. | 49ers | Marcus Lattimore | RB | South Carolina |
| 132. | Lions | Devin Taylor | DE | South Carolina |
| 133. | Falcons | Levine Toilolo | TE | Stanford |
Round 5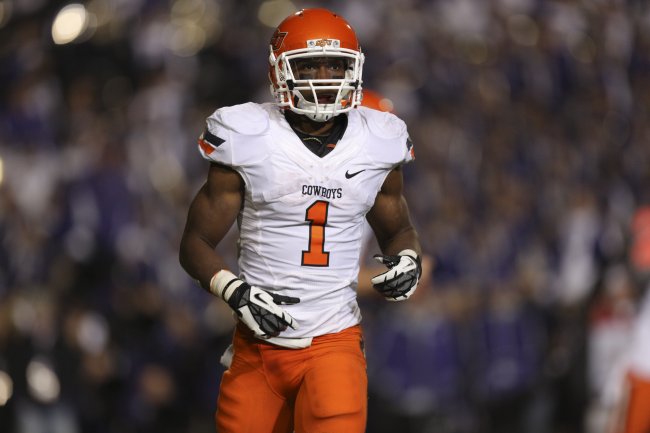 Ed Zurga/Getty Images
| | | | | |
| --- | --- | --- | --- | --- |
| Pick | Team | Player | Position | School |
| 134. | Chiefs | Sanders Commings | CB | Georgia |
| 135. | Jaguars | Denard Robinson | WR | Michigan |
| 136, | Eagles | Earl Wolff | S | NC State |
| 137. | Seahawks* | Jesse Williams | DT | Alabama |
| 138. | Seahawks* | Tharold Simon | CB | LSU |
| 139. | Colts* | Montori Hughes | DT | Tenn-Martin |
| 140. | Cardinals | Stepfan Taylor | RB | Stanford |
| 141. | Jets | Oday Aboushi | OG | Virginia |
| 142. | Titans | Lavar Edwards | DE | LSU |
| 143. | Bills | Jonathan Meeks | S | Clemson |
| 144. | Saints | Kenny Stills | WR | Oklahoma |
| 145. | Chargers | Steve Williams | CB | California |
| 146. | Broncos* | Quanterus Smith | DE | Western Kentucky |
| 147. | Buccaneers | Steven Means | OLB | Buffalo |
| 148. | Panthers | A.J. Klein | ILB | Iowa State |
| 149. | Rams | Brandon McGee | CB | Miami (FL) |
| 150. | Steelers | Terry Hawthorne | CB | Illinois |
| 151. | Cowboys | Joseph Randle | RB | Oklahoma State |
| 152. | Giants | Cooper Taylor | S | Richmond |
| 153. | Falcons* | Stansly Maponga | DE | TCU |
| 154. | Redskins | Chris Thompson | RB | Florida State |
| 155. | Vikings | Jeff Locke | P | UCLA |
| 156. | Bengals | Tanner Hawkinson | OT | Kansas |
| 157. | 49ers* | Quinton Dial | DE | Alabama |
| 158. | Seahawks | Luke Wilson | TE | Rice |
| 159. | Packers | Micah Hyde | CB | Iowa |
| 160. | Rams* | Zac Stacy | RB | Vanderbilt |
| 161. | Broncos | Tavarres King | WR | Georgia |
| 162. | Redskins* | Brandon Jenkins | OLB | Florida State |
| 163. | Bears* | Jordan Mills | OT | Louisiana Tech |
| 164. | Dolphins* | Mike Gillislee | RB | Florida |
| 165. | Lions* | Sam Martin | P | Appalachian St. |
| 166. | Dolphins | Caleb Sturgis | K | Florida |
| 167. | Packers | Josh Boyd | DT | Mississippi St. |
| 168. | Ravens | Ricky Wagner | OT | Wisconsin |
Round 6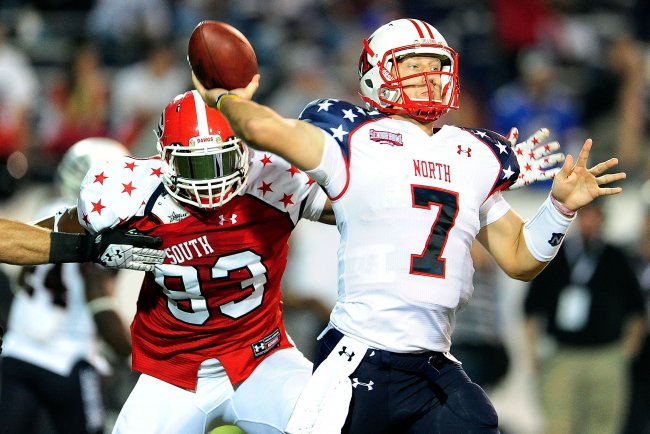 Stacy Revere/Getty Images
| | | | | |
| --- | --- | --- | --- | --- |
| Pick | Team | Player | Position | School |
| 169. | Jaguars | Josh Evans | S | Florida |
| 170. | Chiefs | Eric Kush | C | California (PA) |
| 171. | Lions | Corey Fuller | WR | Virginia Tech |
| 172. | Raiders | Nick Kasa | TE | Colorado |
| 173. | Broncos* | Vinston Painter | OT | Virginia Tech |
| 174. | Cardinals | Ryan Swope | WR | Texas A&M |
| 175. | Browns | Jamoris Slaughter | S | Notre Dame |
| 176. | Texans* | David Quessenberry | OT | San Jose State |
| 177. | Bills | Dustin Hopkins | K | Florida State |
| 178. | Jets | William Campbell | DT | Michigan |
| 179. | Chargers | Tourek Williams | DE | FIU |
| 180. | 49ers* | Nick Moody | OLB | Florida State |
| 181. | Raiders* | Latavius Murray | RB | Central Florida |
| 182. | Panthers | Kenjon Barner | RB | Oregon |
| 183. | Saints | Rufus Johnson | DE | Tarleton State |
| 184. | Raiders* | Mychal Rivera | TE | Tennessee |
| 185. | Cowboys | DeVonte Holloman | OLB | South Carolina |
| 186. | Steelers | Justin Brown | WR | Oklahoma |
| 187. | Cardinals* | Andre Ellington | RB | Clemson |
| 188. | Bears | Cornelius Washington | DE | Georgia |
| 189. | Buccaneers* | Mike James | RB | Miami (FL) |
| 190. | Bengals | Rex Burkhead | RB | Nebraska |
| 191. | Redskins | Bacarri Rambo | S | Georgia |
| 192. | Colts | John Boyett | S | Oregon |
| 193. | Packers | Nate Palmer | OLB | Illinois State |
| 194. | Seahawks | Spencer Ware | RB | LSU |
| 195. | Texans | Alan Bonner | WR | Jacksonville St. |
| 196. | Vikings* | Jeff Baca | OG | UCLA |
| 197. | Bengals* | Cobi Hamilton | WR | Arkansas |
| 198. | Texans* | Chris Jones | DT | Bowling Green |
| 199. | Lions* | Theo Riddick | RB | Notre Dame |
| 200. | Ravens | Kapron Lewis-Moore | DE | Notre Dame |
| 201. | Texans | Ryan Griffin | TE | Connecticut |
| 202. | Titans | Khalid Wooten | CB | Nevada |
| 203. | Ravens | Ryan Jensen | OG | Colorado St.-Pueblo |
| 204. | Chiefs | Braden Wilson | FB | Kansas State |
| 205. | Raiders | Stacy McGee | DT | Oklahoma |
| 206. | Steelers | Vince Williams | ILB | Florida State |
Round 7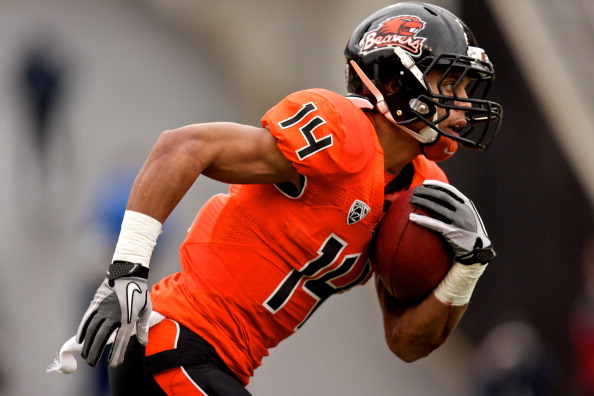 Craig Mitchelldyer/Getty Images
| | | | | |
| --- | --- | --- | --- | --- |
| Pick | Team | Player | Position | School |
| 207. | Chiefs | Mike Catapano | DE | Princeton |
| 208. | Jaguars | Jeremy Harris | CB | New Mexico St. |
| 209. | Raiders | Brice Butler | WR | San Diego State |
| 210. | Jaguars* | Demetrius McCray | CB | Appalachian St. |
| 211. | Lions | Michael Williams | TE | Alabama |
| 212. | Eagles* | Joe Kruger | DE | Utah |
| 213. | Vikings* | Michael Mauti | ILB | Penn State |
| 214. | Vikings* | Travis Bond | OG | North Carolina |
| 215. | Jets | Tommy Bohanon | FB | Wake Forest |
| 216. | Packers* | Charles Johnson | WR | Grand Valley St. |
| 217. | Browns* | Armonty Bryant | DE | E. Central Oklahoma |
| 218. | Eagles* | Jodran Poyer | CB | Oregon State |
| 219. | Cardinals* | D.C. Jefferson | TE | Rutgers |
| 220. | Seahawks* | Ryan Seymour | OG | Vanderbilt |
| 221. | Chargers | Brad Sorensen | QB | Southern Utah |
| 222. | Bills* | Chris Gragg | TE | Arkansas |
| 223. | Steelers | Nick Williams | DT | Samford |
| 224. | Packers* | Kevin Dorsey | WR | Maryland |
| 225. | Giants | Eric Herman | OG | Ohio |
| 226. | Patriots* | Michael Buchanan | DE | Illinois |
| 227. | Browns* | Garrett Gilkey | OG | Chadron State |
| 228. | Redskins | Jawan Jamison | RB | Rutgers |
| 229. | Vikings* | Everett Dawkins | DT | Florida State |
| 230. | Colts | Kerwynn Williams | RB | Utah State |
| 231. | Seahawks | Ty Powell | OLB | Harding |
| 232. | Packers | Sam Barrington | OLB | South Florida |
| 233. | Raiders* | David Bass | DE | Missouri Western |
| 234. | Broncos | Zac Dysert | QB | Miami (Ohio) |
| 235. | Patriots | Steve Beauharnais | ILB | Rutgers |
| 236. | Bears* | Marquess Wilson | WR | Washington State |
| 237. | 49ers | B.J. Daniels | QB | South Florida |
| 238. | Ravens | Aaron Mellette | WR | Elon |
| 239. | Eagles | David King | DE | Oklahoma |
| 240. | Bengals | Reid Fragel | OT | Ohio State |
| 241. | Seahawks | Jared Smith | DT | New Hampshire |
| 242. | Seahawks | Michael Bowie | OT | NE Oklahoma State |
| 243. | Falcons | Kemal Ishmael | CB | Central Florida |
| 244. | Falcons | Zeke Motta | S | Notre Dame |
| 245. | Lions | Brandon Hepburn | ILB | Florida A&M |
| 246. | 49ers | Carter Bykowski | OT | Iowa State |
| 247. | Ravens | Marc Anthony | CB | California |
| 248. | Titans | Daimion Stafford | S | Nebraska |
| 249. | Falcons | Sean Renfree | QB | Duke |
| 250. | Dolphins | Don Jones | S | Arkansas State |
| 251. | Bengals | T.J. Johnson | C | South Carolina |
| 252. | 49ers | Marcus Cooper | CB | Rutgers |
| 253. | Giants | Michael Cox | RB | Massachusetts |
| 254. | Colts | Justin Cunningham | TE | South Carolina |
Note: An asterisk (*) indicates that a trade was made for the pick