Carolina Panthers Undrafted Free Agent Wish List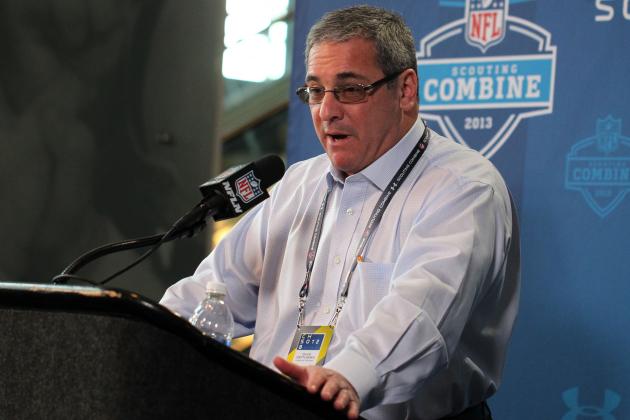 Brian Spurlock-USA TODAY Sports

The 2013 NFL draft has come to a close, and while some of the top names are off the board, that doesn't mean there isn't a prize to be had among those who went undrafted. The Carolina Panthers will look at some of the players left in the prospect pool and decide which ones will be a good fit for the team.
After seven rounds and five picks, the Panthers failed to make any additions to their secondary or their wide receiver corps. Both positions could be given a closer look in free agency.
It shouldn't surprise anyone if Carolina signs another defensive or offensive lineman. General manager Dave Gettleman likes the hog mollies, and he may be willing to sign a player to a short-term deal if he feels he can contribute.
The Panthers have a wish list, and here is a look at the most probable players they could target over the next week.
Begin Slideshow

»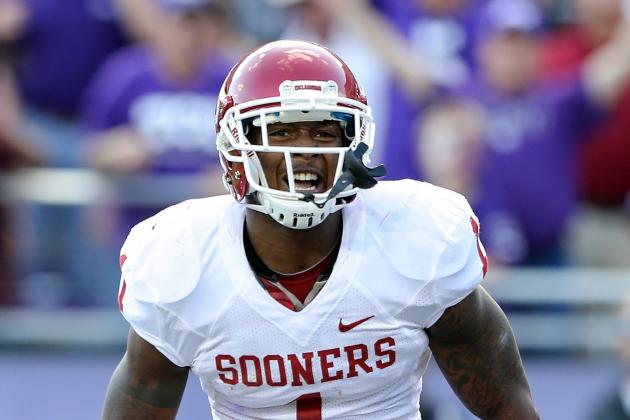 Kevin Jairaj-USA TODAY Sports

Best Available
Tony Jefferson, FS/Oklahoma
Ray Polk, FS/Colorado
Johnny Adams, CB/Michigan State
Adrian Bushell, CB/Louisville
Corey Broomfield, CB/Mississippi State
The Carolina Panthers disappointed a lot of people by not drafting a safety or cornerback in this year's draft. With opportunities to pick Zeke Motta and Bacarri Rambo, the Panthers opted instead to select a linebacker and running back with their final two picks.
It could be part of Dave Gettleman's strategy to let the defensive front rush the passer and force bad throws. If that is the case, even the Carolina secondary should fare a little better than what it did last year. However, this unit in general cannot be overlooked much longer.
Jefferson could be the best-rated defensive back on this list, but Polk looks to be bigger and more physical. The Panthers should entertain the idea of looking at one of these guys or one of the cornerbacks despite ignoring the position during the draft.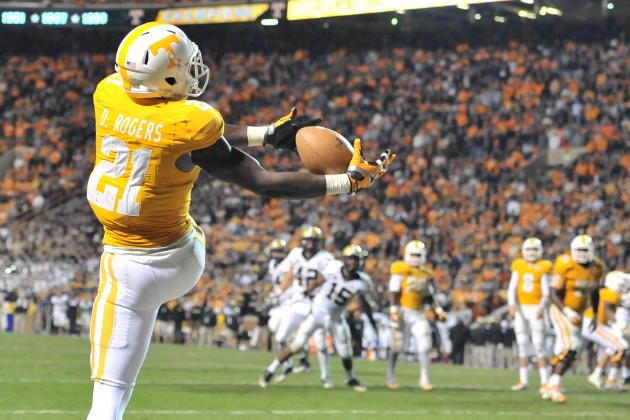 Jim Brown-USA TODAY Sports

Best Available
Da'Rick Rogers, Tennessee Tech
Brandon Kaufman, Eastern Washington
Dan Buckner, Arizona
Rodney Smith, Florida State
Carolina may be content with with its current group of receivers, but it wouldn't hurt to look at the free-agent pool and find which undrafted wide receivers can help the team. Of this list, no one is shorter than 6'2" and each could provide Cam Newton with a big target downfield.
Rogers is the most impressive wide receiver of this group, and his off-field issues probably led to him going undrafted this weekend. However, he is a physical player and will challenge for the ball in the air. He was a top performer at the combine and could prove to be a low-risk high-reward signing.
Kaufman is the tallest receiver standing at 6'5". He draws comparisons to Brian Finneran who spent most of his career with Atlanta. While he has not been exposed to elite competition having played at a small school, his size would be a valuable commodity, especially in the red zone.
The Panthers don't have much to lose here as they could offer one of these guys a chance to compete for a roster spot and see what happens from there. They have nothing to lose and everything to gain.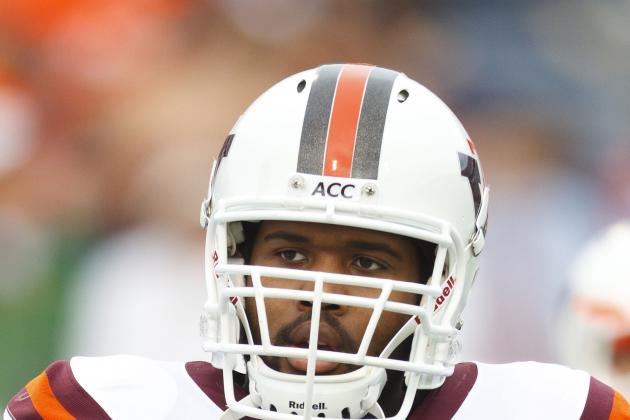 Jason O. Watson-USA TODAY Sports

Best Available
Luke Marquardt, OT/Azusa Pacific
Nick Becton, OT/Virginia Tech
Xavier Nixon, OT/Florida
LaAdrian Waddle, OT/Texas Tech
Oscar Johnson, OG/Louisiana Tech
One thing Dave Gettleman made very clear this weekend is that he loves big men on the line. If the battle can't be won in the trenches, chances are the war won't be won on the field. This group of linemen highlight a group of such men, also called "hog mollies," as they stand at least 6'5" and weigh over 300 lbs.
It wouldn't be out of the question to see the Panthers sign another lineman and interestingly enough could find more value in free agency than they did in the draft.
Being able to offer quality protection and opening up running lanes shouldn't be an issue for someone that is as big as these guys, but then again, they are undrafted. Still, they could provide the Panthers with some extra competition in camp and could be worth signing to the scout team.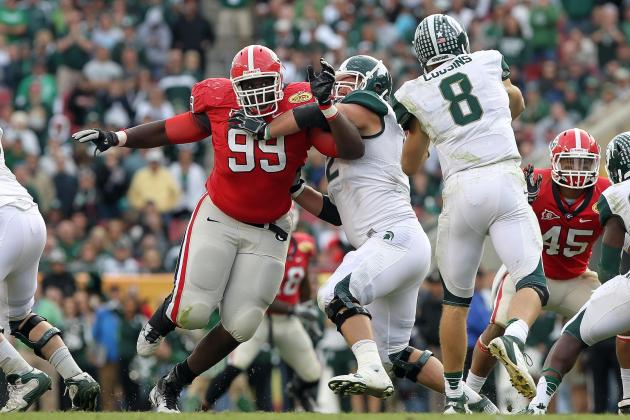 Kim Klement-USA TODAY Sports

Best Available
Corey Grissom, DT/South Florida
Anthony McCloud, DT/Florida State
Brent Russell, DT/Georgia Southern
Kwame Geathers, DT/Georgia
Abry Jones, DE/Georgia
The Panthers wouldn't consider adding another defensive lineman, right? Given the fact they drafted a defensive tackle in the first two rounds, you can't really put anything by them. All of these guys are in the mold of what Gettleman wants on his line, big men who tip the scales at 300 lbs or more.
Surprisingly enough, Geathers and Jones failed to be drafted despite being a part of a stout Georgia defense. While Geathers would appear to be the better player, Jones is a big guy who can hold his own on the outside.
Carolina may not be able to maintain the same level of talent between first and second string, but one thing it can control is having one of the heaviest lines in the league. While it's doubtful another defensive lineman is brought in, it shouldn't be counted out.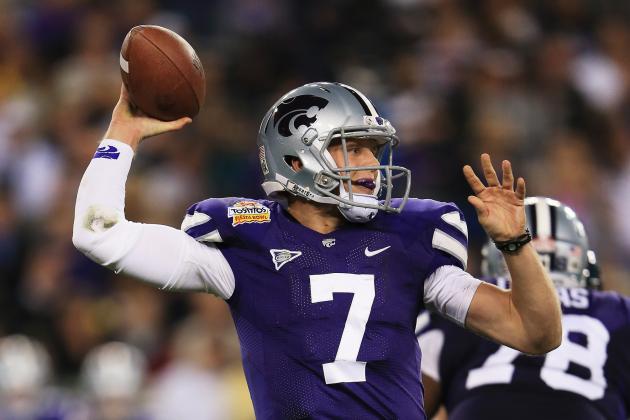 Doug Pensinger/Getty Images

Best Available
Tyler Bray, Tennessee
Colin Klein, Kansas State
Quarterback isn't a pressing need for the Panthers but Jimmy Clausen is in his final year with the team and Derek Anderson may not stay after the season. It's better to bring in a quarterback through free agency and, in the case of those who went undrafted, can be groomed into Carolina's system.
Bray is probably the best between the two as he is a big quarterback standing at 6'6" and had the benefit of throwing to one of the best receivers in this year's draft class, Cordarrelle Patterson. He would seem to be a good fit to back up Cam Newton, but the other guy on this list could be a better option.
Klein was in the Heisman discussion this past season and led Kansas State to a great season. If ever there was a quarterback who could be considered Cam Newton Lite, it's Klein.
He is a physical player and is not afraid to run. His skill set would fit perfectly within the Carolina offense as it wouldn't have to change the tempo of the offense like they do when Anderson or Clausen is in the game.
However, he has issues making clean throws and hitting his receivers. The good news for him is he can be brought on board and he can learn while improving his throws. He may draw comparisons to Tim Tebow, but rest assured there wouldn't be any calls for his presence in the game.