Initial Post-Draft Depth Chart for the Cleveland Browns
Matt Sullivan/Getty Images

The 2013 NFL draft is in the books, and more than ever, we have an idea of what the Cleveland Browns' roster will look like in 2013.
The Browns added a number of new players during the offseason, and they feature extensively in the team's plans for 2013. This is a different team than it was a year ago.
Whether that is for better or worse remains to be seen. Either way, though, there will be new players starting at and backing up numerous positions.
This is one way Cleveland's depth chart could look in 2013.
Begin Slideshow

»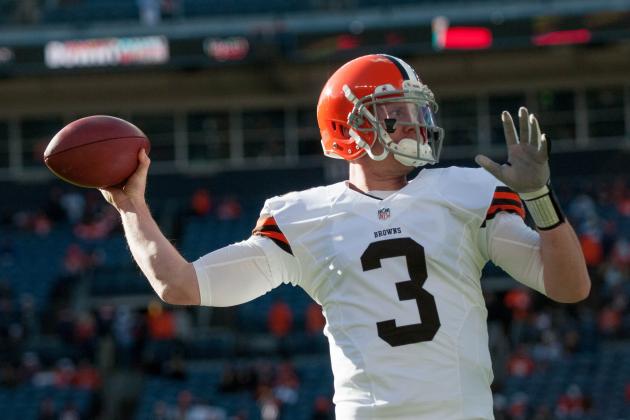 Dustin Bradford/Getty Images

Projected Depth Chart: Brandon Weeden, Jason Campbell, Thaddeus Lewis
Cleveland didn't bring in a new starting quarterback like many suspected the team would. The Browns did sign Jason Campbell to back up Brandon Weeden, but he doesn't have a legitimate chance to start.
Weeden showed talent in 2012, but he still has a lot to work on as a quarterback. With any luck, quarterback guru Norv Turner can help him fix some of these issues and bring out Weeden's natural ability.
Campbell is another talented player, but he has already proven that he isn't a starting quarterback. Thaddeus Lewis is athletic. He doesn't offer many other skills though, and he could be on the way out with a new coaching staff in place.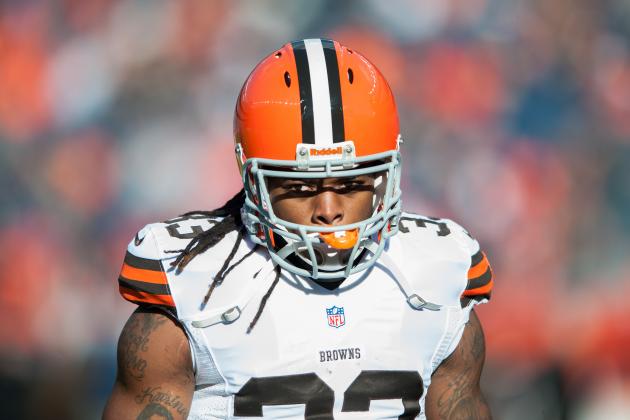 Dustin Bradford/Getty Images

Projected Depth Chart: Trent Richardson, Montario Hardesty, Dion Lewis, Chris Ogbonnaya
Richardson is quite clearly the head guy here. Last year's No. 3 overall pick is an incredible talent who was hindered as a rookie by knee and rib injuries.
Coming back healthy, Trent Richardson should be a beast in his second year with the Browns. There are few more talented runners in football.
Montario Hardesty has long been hindered by injuries, but he was healthy enough to contribute in 2012, and he showed some playmaking ability. He seems likely to retain his spot as Richardson's primary backup.
Dion Lewis is a shifty running back with explosive ability. It's impossible to say how the Browns will use him, but he can make plays. Ogbonnaya's fit is more questionable, and he isn't a lock to make the team.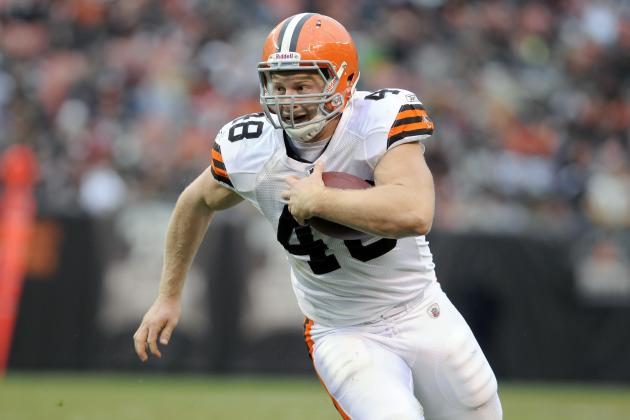 Jason Miller/Getty Images

Projected Depth Chart: Owen Marecic
Simply put, Owen Marecic should not be starting. However. he is the only fullback on Cleveland's roster, so he might just be handed the job.
In his two years with the Browns, Marecic has displayed a complete inability to run or catch the football. Known as a blocker, Marecic hasn't impressed there, and he far too often fails to clear a hole in the run game.
It's possible that the Browns could play H-back Brad Smelley at fullback. He isn't much of a blocker either, but he can at least catch the football.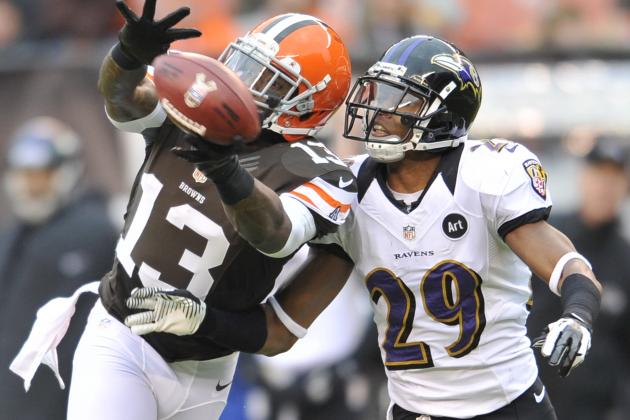 David Richard-USA TODAY Sports

Projected Depth Chart: Josh Gordon, Greg Little, Davone Bess, David Nelson, Travis Benjamin, Jordan Norwood, Josh Cooper
Josh Gordon took the NFL by storm last year, catching 50 passes for 805 yards at the age of just 21. He is an incredible talent and should improve as he enters his second NFL season.
Greg Little is another big, athletic wide receiver. He isn't the vertical threat Gordon is, but he is a legitimate weapon. Davone Bess is a consistent slot receiver who should catch upwards of 60 passes out of the slot.
David Nelson is coming off a torn ACL, but he is a big, physical threat in the red zone who can make some plays. Travis Benjamin is essentially a pure deep threat, but he is effective at stretching the field and making plays.
Neither Jordan Norwood nor Josh Cooper has a great chance of making the team, and if one does, he likely won't make much of an impact.
USA TODAY Sports

Projected Depth Chart: Jordan Cameron, Kellen Davis, Gary Barnidge, Brad Smelley, Dan Gronkowski
A great athlete, Jordan Cameron should get his chance to start in 2013. He had previously worked as a backup, but Rob Chudzinski is apparently going to try Cameron out as the starter in his tight-end-friendly offense.
Cameron has soft hands and can move, but he has to prove he can produce at the NFL level. Kellen Davis is a strong blocker who struggles as a receiver, so he won't be producing too much.
On the other hand, Gary Barnidge is more of a complete player who can block and catch. Brad Smelley is an H-back who would spend the majority of his time working out of the backfield as a receiver.
Dan Gronkowski isn't a good bet to make the team, as he lacks the athleticism to profile even as a pure-blocking tight end.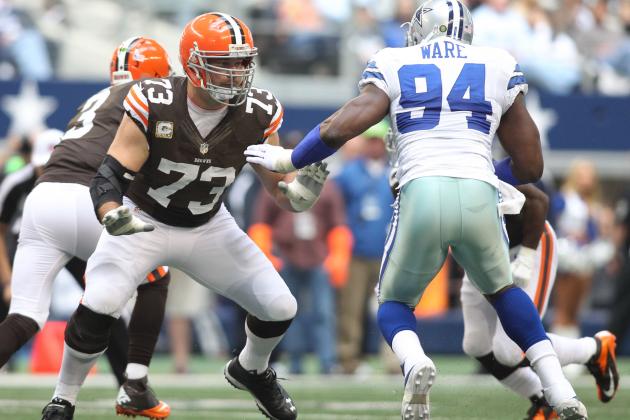 Tim Heitman-USA TODAY Sports

Projected Depth Chart: Joe Thomas, Oniel Cousins
Arguably the best left tackle in the NFL, Joe Thomas hasn't missed a game for the Browns since he played his first game as a rookie in 2007. Thomas is an elite pass-blocker who is at least average as a run-blocker too.
Thomas has been one of Cleveland's few stable players, and he should continue to be reliable on Brandon Weeden's blind side.
The Browns are in trouble if Oniel Cousins has to play. He's slow and struggles to contain pass-rushers. He is, however, Cleveland's best option as a backup.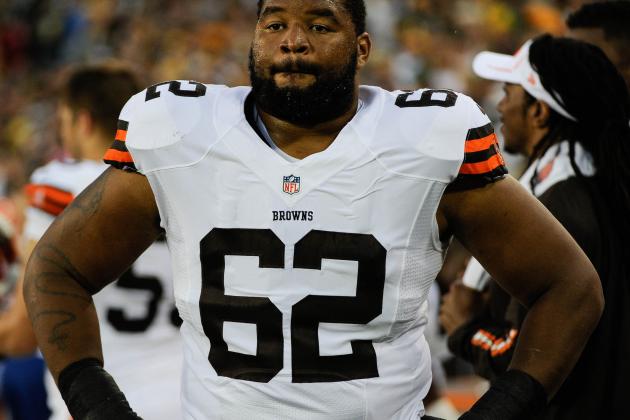 Benny Sieu-USA TODAY Sports

Projected Depth Chart: Jason Pinkston, Garrett Gilkey, Dominic Alford
If he makes a full recovery from a blood clot, Jason Pinkston is the obvious starter at left guard. The 6'4", 305-pounder showed above-average ability as a rookie but missed the majority of the 2012 season.
Garrett Gilkey is a college tackle who needs to adapt to playing guard. The 6'6", 318-pounder has starter potential in the future, but he may not yet be ready to make the 53-man roster.
Dominic Alford is big, but he simply isn't that good. It would be a huge surprise for him to make Cleveland's team out of training camp.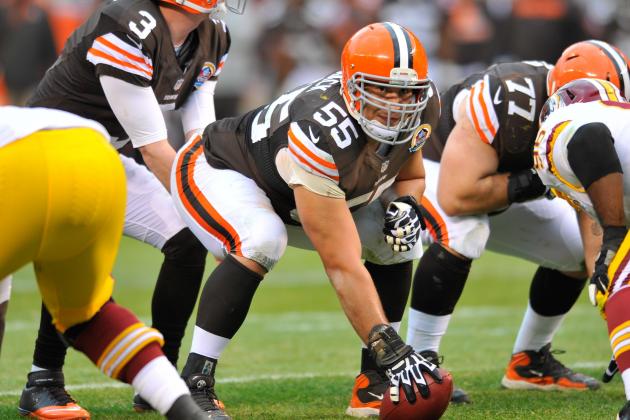 USA TODAY Sports

Projected Depth Chart: Alex Mack
A first-round pick in 2009, Alex Mack is one of the better centers in the NFL. He's strong as both a run-blocker and pass-protector, and he plays with great intelligence.
Mack can play physically at the point of attack or work his way into the second level, picking off linebackers and defensive backs. He is a complete player.
The Browns don't really have much of a backup at center, though John Greco can play the position. They should probably just hope Mack doesn't get hurt.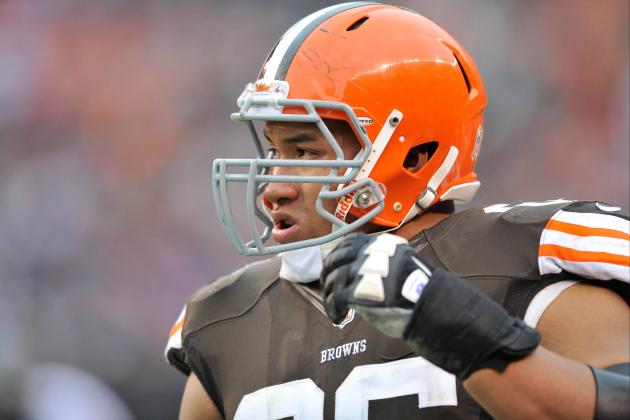 David Richard-USA TODAY Sports

Projected Depth Chart: Shawn Lauvao, John Greco, Jarrod Shaw
This could end up with either Shawn Lauvao or John Greco starting. Both saw significant playing time last year in the wake of Jason Pinkston's blood clot.
Lauvao is the younger and perhaps more physically talented of the two. Greco, however, is more refined and plays with a better mean streak. There may not be much of a drop-off between the two.
Jarrod Shaw is simply camp depth. There is little chance of him making the roster, though the two-year pro does have great size.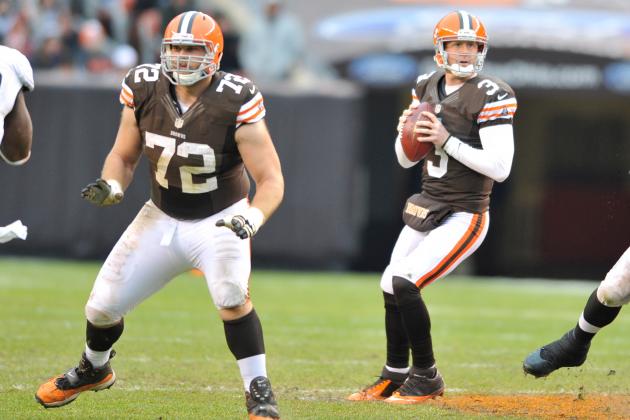 David Richard-USA TODAY Sports

Projected Depth Chart: Mitchell Schwartz, Ryan Miller
As a rookie, Mitchell Schwartz surprised just about everybody with his ability to step in and play at right tackle. Even the most optimistic of supporters didn't expect Schwartz to immediately be one of the NFL's top 10 right tackles, which he was.
Schwartz is an athletic pass-protector who moves well in the run game and does a great job of getting to the second level. He plays with the nasty streak that all fans love to see.
Ryan Miller is a bit of a swing lineman. He can technically play right tackle, but he's better off inside at guard. He will likely back up both positions in 2013.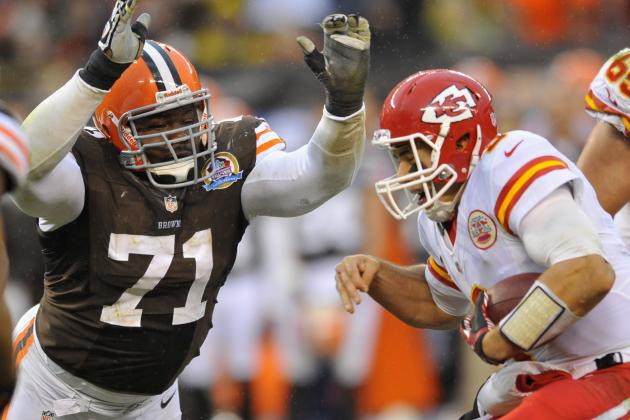 USA TODAY Sports

Projected Depth Chart (LDE): Ahtyba Rubin, Brian Sanford
Projected Depth Chart (RDE): Desmond Bryant, Billy Winn
It remains to be seen who (Ahtyba Rubin or Phil Taylor) will play defensive end and who will play nose tackle. Early indications are that Rubin will play the 5-technique, however.
Rubin is a strong player with surprising athleticism and a constant motor. He makes plays all over the field, and he is incredibly consistent. Brian Sanford isn't overly strong, but he's fairly athletic and can fill in for nickel situations.
Desmond Bryant joined the Browns in free agency. The 6'6", 300-pounder is a terrific athlete with great pass-rushing ability. He consistently penetrates the backfield against the run and pass.
Billy Winn is a similar player. He obviously isn't as good as Bryant is, but he's athletic and makes his living as a pass-rusher.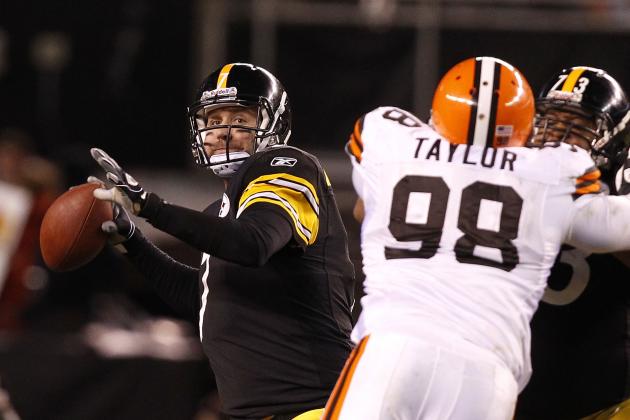 Matt Sullivan/Getty Images

Projected Depth Chart: Phil Taylor, John Hughes, Ishmaa'ily Kitchen
As was mentioned in the last side, it isn't yet known whether Phil Taylor will play 5-technique or nose tackle. The 6'3", 335-pounder could play either position, though he seems destined for the nose.
Taylor is a great athlete with tremendous power and quickness. He can hold strong against the run, but he will also surprise with his ability to penetrate against both the pass and run.
John Hughes is a strong run defender, but he probably needs to bulk up some to play nose tackle. Hughes understands leverage and is strong. However, he simply isn't big enough to two-gap right now.
Ishmaa'ily Kitchen isn't a roster lock by any stretch. He's big and stout, but he simply isn't that great. He is, at best, a 50/50 shot to make the team.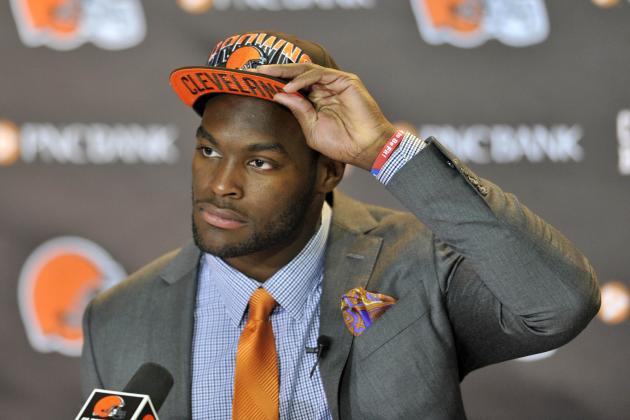 David Richard-USA TODAY Sports

Projected Depth Chart (ROLB): Jabaal Sheard, Barkevious Mingo, Armonty Bryant, Kendrick Adams
Projected Depth Chart (LOLB): Paul Kruger, Quentin Groves, Hall Davis
It's difficult to say if Jabaal Sheard or Barkevious Mingo will start opposite Paul Kruger. Sheard is better against the run and more experienced, but Mingo is the better pass-rusher with more upside.
Mingo needs to develop his coverage skills, but his natural skill set should make him good there. His pass-rushing ability is through the roof, and Cleveland is clearly high on him, since the team drafted him No. 6 overall.
Sheard is experienced and solid, but he isn't a star by any means. Though he is raw, Armonty Bryant has natural pass-rushing ability and could develop into a solid piece. Kendrick Adams is athletic, but he simply isn't that good and probably won't make the team.
Kruger is a complete player. He is capable of 10 sacks in a season, and he can play in coverage. He isn't great against the run, but he is probably average there. Quentin Groves is another all-around player, though he is definitely a backup, not a starter.
Hall Davis is big and strong. However, he isn't a great fit in a 3-4 defense and lacks the pass-rushing ability to stick on the roster.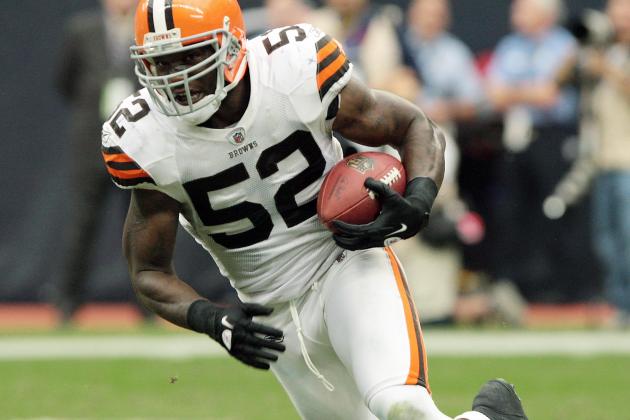 Troy Taormina-USA TODAY Sports

Projected Depth Chart (RILB): D'Qwell Jackson, James-Michael Johnson, Adrian Moten
Projected Depth Chart (LILB): Craig Robertson, L.J. Fort, Tank Carder, Ryan Rau
D'Qwell Jackson is the only established starter of this group. Jackson excelled the last two years in Cleveland's 4-3 defense, but the Browns are now moving back to the 3-4, in which he isn't as good of a fit. Even in a 3-4, though, Jackson is a solid player.
Either James-Michael Johnson or Craig Robertson could end up starting next to Jackson. Robertson seemed to get most of the reps in the team's pre-draft minicamp, though. Johnson is more athletic, and Robertson is better at clogging the run.
Adrian Moten is undersized but athletic. He is a stretch to make the roster. L.J. Fort is surprisingly stout given his lack of size. He has a legitimate chance at making the roster as a backup and special-teams player.
Tank Carder is another undersized linebacker. He shows good ability in coverage but isn't great against the run. Ryan Rau is simply a camp body.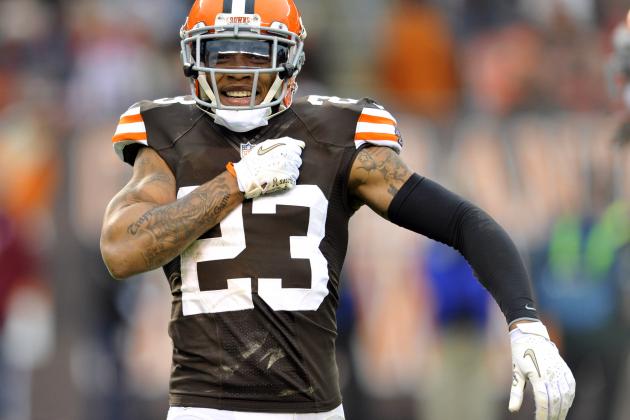 David Richard-USA TODAY Sports

Projected Depth Chart (LCB): Joe Haden, Buster Skrine, Kevin Barnes, Kent Richardson
Projected Depth Chart (RCB): Leon McFadden, Chris Owens, Trevin Wade, Prince Miller
Joe Haden is an established star. He is one of the best cornerbacks in the NFL, and few cornerbacks offer his combination of physicality and athleticism. The Browns can essentially leave him on an island with the opponent's No. 1 wide receiver.
Leon McFadden is unproven. However, the third-round rookie is physical and fairly athletic. He needs some refinement, but he is quite clearly Cleveland's best option opposite Haden.
After those two, the rest are essentially interchangeable. The quick Buster Skrine will probably fill in as the Browns' nickelback, where he played decently last year. However, Chris Owens and Kevin Barnes could also offer competition there.
Trevin Wade is still developing. He's big and physical, but he isn't yet as good as the Browns' other options. Kent Richardson and Prince Miller won't make it out of training camp.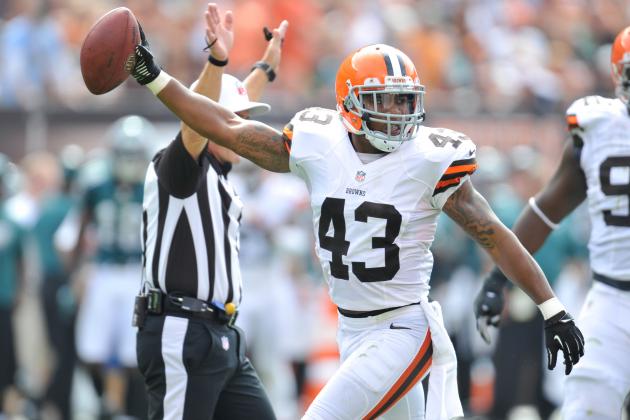 David Richard-USA TODAY Sports

Projected Depth Chart (FS): Tashaun Gipson, Jamoris Slaughter, Eric Hagg
Projected Depth Chart (SS): T.J. Ward, Johnson Bademosi
The question here is at free safety. T.J. Ward is a great strong safety who excels when attacking against the run and blitzing the quarterback. However, he is also capable of playing center field in a deep zone.
Ward's only serious problem is staying healthy, and he played in 14 games last year.
Johnson Bademosi is probably actually a better fit at free safety, but he's listed as a strong safety for the purposes of this. He's a good athlete with experience at cornerback, so he can play in coverage.
Then there is free safety. Tashaun Gipson has limited experience and isn't some great talent. Jamoris Slaughter is an intriguing late-round project, but he struggles athletically and will get beaten in coverage. He doesn't offer much immediate help.
Eric Hagg was given the chance to start in 2012, and the results were terrible. He may not even make the team based on his prior track record.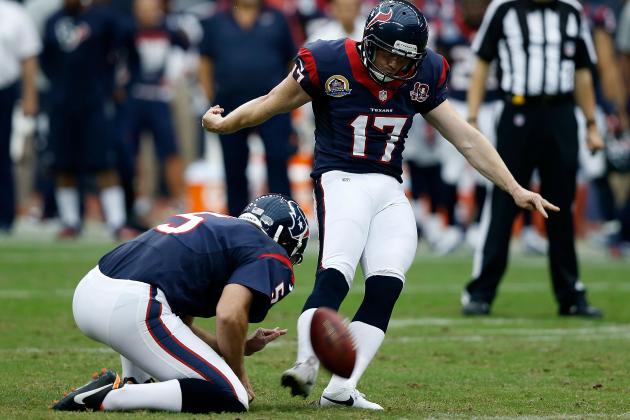 Scott Halleran/Getty Images

Projected Depth Chart (K): Shayne Graham, Brandon Bogotay
Projected Depth Chart (P): Jake Schum, Spencer Lanning
Projected Depth Chart (LS): Christian Yount
Projected Depth Chart (KR): Travis Benjamin
Projected Depth Chart (PR): Travis Benjamin
Shayne Graham is not Phil Dawson. He won't make Browns fans forget about Dawson, and he won't be as good. Graham is solid up until 50 yards. On kicks 50 yards and longer, Graham made just four of nine attempts in 2012.
Brandon Bogotay is simply a camp kicker to keep Graham's leg fresh.
At punter, Cleveland has a legitimate competition. Either Jake Schum or Spencer Lanning could win the punter job. Both are inexperienced, and neither has blown anyone away in the past. The loser will be cut.
Christian Yount is a typical long snapper. He may not make the Pro Bowl like Ryan Pontbriand did, but he rarely messes up. That is the most important trait in a long snapper.
Many are operating under the assumption that Cleveland's return game will suffer without Josh Cribbs. That, however, simply inaccurate. Travis Benjamin looked better on returns than Cribbs did last year. The second-year pro is certainly faster and more explosive.
Benjamin won't be like Cribbs was in his prime, but he should be better than the 30-year-old version of the star returner.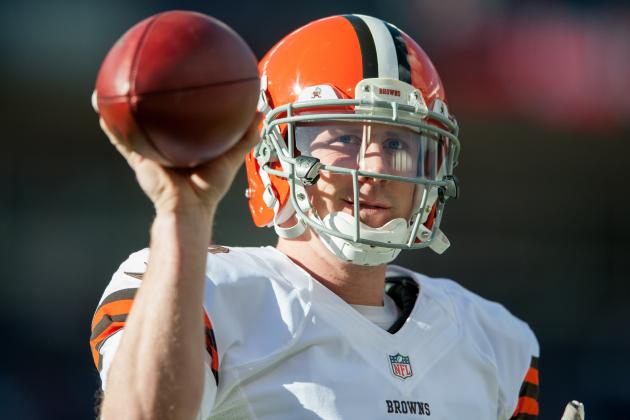 Dustin Bradford/Getty Images

QB (2): Brandon Weeden, Jason Campbell
RB (4): Trent Richardson, Montario Hardesty, Dion Lewis, Chris Ogbonnaya
FB (1): Owen Marecic
WR (5): Josh Gordon, Greg Little, Davone Bess, David Nelson, Travis Benjamin
TE (4): Jordan Cameron, Kellen Davis, Gary Barnidge, Brad Smelley
LT (2): Joe Thomas, Oniel Cousins
LG (1): Jason Pinkston
C: (1): Alex Mack
RG (2): Shawn Lauvao, John Greco
RT (2): Mitchell Schwartz, Ryan Miller
RE (2): Desmond Bryant, Billy Winn
NT (2): Phil Taylor, John Hughes
LE (2): Ahtyba Rubin, Brian Sanford
ROLB (3): Jabaal Sheard, Barkevious Mingo, Armonty Bryant
RILB (2): D'Qwell Jackson, James-Michael Johnson
LILB (3): Craig Robertson, L.J. Fort, Tank Carder
LOLB (2): Paul Kruger, Quentin Groves
CB (3): Joe Haden, Buster Skrine, Kevin Barnes
FS (2): Tashaun Gipson, Jamoris Slaughter
SS (2): T.J. Ward, Johnson Bademosi
CB (3): Leon McFadden, Chris Owens, Trevin Wade
K (1): Shayne Graham
P (1): Jake Schum
LS (1): Christian Yount