Tennessee Titans' Post-Draft Wish List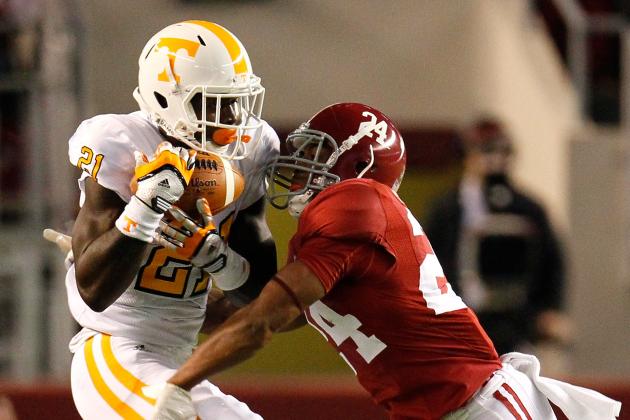 Kevin C. Cox/Getty Images
The Titans are going shopping once the draft is over.
The Tennessee Titans drafted eight players, and there's no guarantee that all will make the opening-day roster. Undrafted free agents remain to sign, and the Titans have to focus on those players before the draft weekend is officially over. DaJohn Harris is the only UDFA from 2012 who made the regular-season squad, but there are practice-squad slots to consider.
The team's still looking for depth at offensive tackle, running back, wide receiver, defensive line, linebacker and the secondary.
Begin Slideshow

»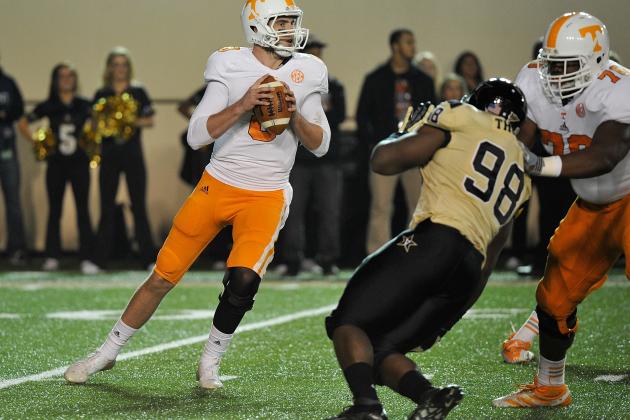 Frederick Breedon/Getty Images
Will the Titans challenge perennial third-stringer Rusty Smith?
Ideally, the Titans would like their backup quarterback to have a similar skill set to starter Jake Locker. Tyler Bray is a more traditional pocket passer who has the mobility of T-Rac, the team's mascot.
He's a big guy, at 6'5", 215 pounds, and has one of the strongest arms in the 2013 draft class. He may not have one of the strongest minds. He had multiple off-field incidents and might not have been welcome back for his senior season.
As an undrafted free agent, it's almost risk free to take a player. The Titans should give Bray a shot.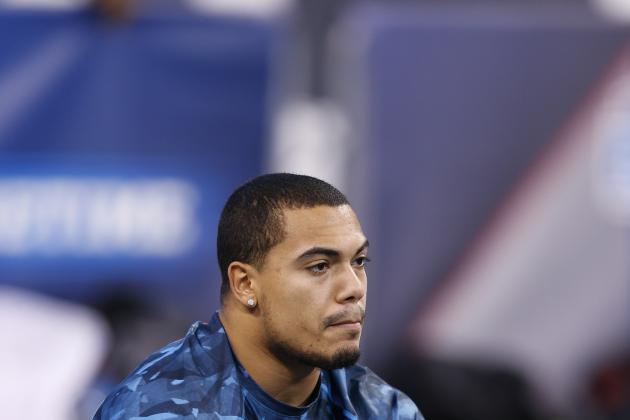 Joe Robbins/Getty Images
Maysonet was one of the top lower-division running backs in the draft.
Chris Johnson and Shonn Greene are set as the Titans' top two running backs. After that, Jamie Harper has no solid grip on the third slot. The Titans could use a little versatility in that third back.
Miguel Maysonet was the runner-up for the Walter Payton Award for the best player in FCS, or what used to be 1-AA. He helped guide Stony Brook to the playoffs. He doesn't have amazing speed but is fast enough. He'll need some work on his pass-catching skills if he's going to have some value as a third-down back.
Maysonet is a talented enough back to deserve a shot to unseat the unproductive Harper.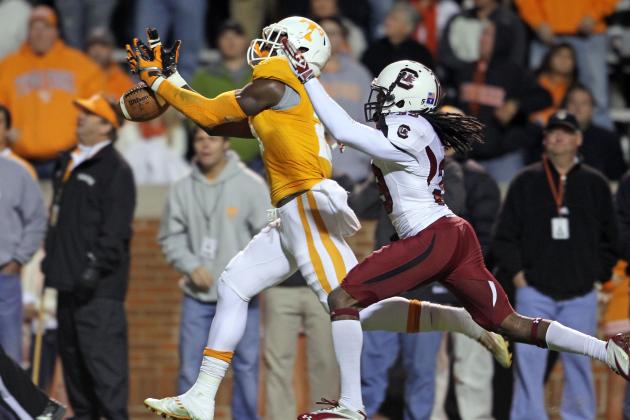 Andy Lyons/Getty Images
Undisclosed issues cost Rogers a draft slot. He will be a coveted UDFA.
Da'Rick Rogers led the SEC in receptions as a sophomore and was on pace to be a top pick in the 2013 draft. His college career derailed after being suspended by Tennessee last summer. He transferred to Tennessee Tech, played well, had no off-field issues but was shunned in the draft.
He's a physical receiver who may not have elite speed but has excellent hands and can beat the jam at the line of scrimmage. He has an excellent catch radius, which is a good thing with Locker's scattershot arm.
We'll know soon enough why he was taken off teams' draft boards. It's very unlikely that he will not get a shot as an undrafted free agent. The Titans added one former University of Tennessee wideout in Justin Hunter. They could use another.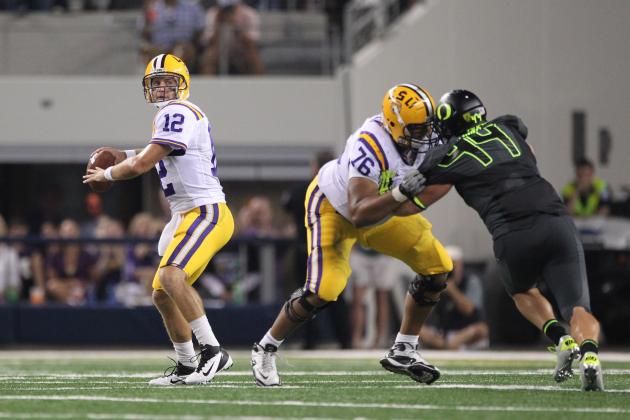 Matthew Emmons-USA TODAY Sports
A little offensive tackle depth wouldn't hurt.
The Titans selected LSU defensive end Lavar Edwards. It's time to bring in one of his teammates.
Chris Faulk had a tragic junior season. He was on track to be a top prospect in the 2013 draft until he tore his ACL early in the season. He decided to enter the draft anyway. He was a great run blocker who struggled in the pass game. Initially, it looks like his best fit is as a right tackle.
On the Titans, he'd have the perfect opportunity to "redshirt" if he hasn't completely recovered from his injuries and spend an additional year rehabbing to try out as the team's swing backup tackle in 2014.
Streeter Lecka/Getty Images
You can't get enough defensive linemen.
Anthony McCloud of Florida State is a space-eater. He's not going to be the kind of defensive tackle who chases down quarterbacks. He has good upper-body strength and leverage but is not the most athletic prospect. McCloud played a lot of 1-technique at Florida State.
His best position with the Titans would be a run-down rotational guy only who leaves the field on passing downs.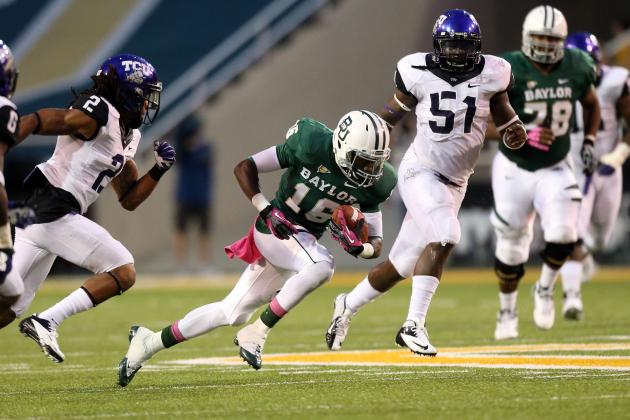 Layne Murdoch/Getty Images
Cain could fit in as a backup middle linebacker.
Colin McCarthy is the Titans' starting middle linebacker, but he's been a little injury-prone in his NFL career. The Titans could use a young middle linebacker in case things don't work out. Kenny Cain is a candidate for that position.
Cain was a running back in high school who converted to linebacker in college. He has excellent quickness and has the violence necessary to stand out at the position.
The downside is his lack of size. A 225-pound guy tends to play safety in the NFL. A position change to make a roster might be in order, and the Titans aren't exactly stacked at strong safety.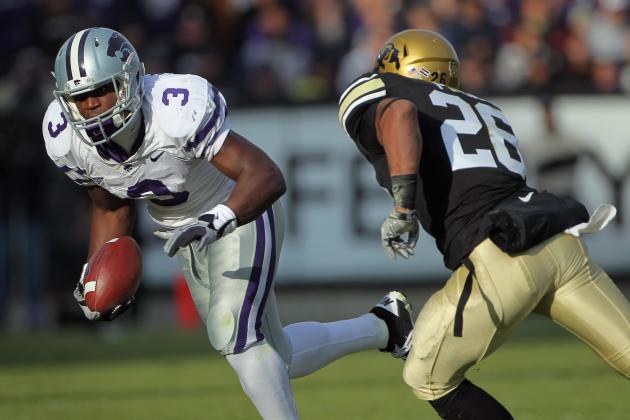 Doug Pensinger/Getty Images
Polk is a converted running back who found a home at safety.
Ray Polk took over as Colorado's free safety in 2010 despite one year's experience at the position. A high ankle sprain limited him to seven starts as a senior.
He can play single-high safety and has the speed to cover a lot of ground, as he ran a 4.43-second 40-yard dash at the Colorado pro day.
Injuries and lack of big plays kept Polk off teams' draft boards. As a pure athletic specimen, the player is worth a shot at a spot on the Titans' training camp roster.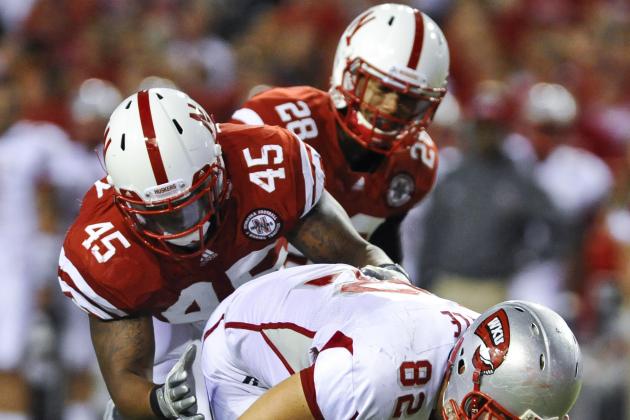 Eric Francis/Getty Images
The Titans could use another tight end.
Jack Doyle is the first UDFA to sign with the Titans (h/t www.nepatriotsdraft.com). He started all four years at Western Kentucky, earning All-Sun Belt honors as a senior.
Doyle is more of a receiver as a tight end than a blocker. He tends to get too high and can overextend himself. His height (6'5") is ideal for the position.
With Delanie Walker, Craig Stevens and Taylor Thompson as roster locks, it's going to be tough for Doyle to do anything other than make the practice squad.