2013 NFL Draft: Full Recap of Every Miami Dolphins Pick and Trade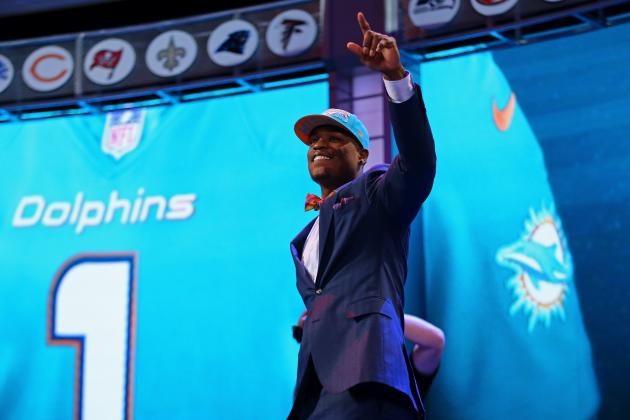 Al Bello/Getty Images

The Miami Dolphins had one heck of a surprising Thursday night, then followed it up with a busy Friday night and productive Saturday.
After an active free-agency period (that isn't over yet, by the way), the Dolphins found themselves still in need of some players on both sides of the ball. They filled those positions beautifully in this draft, getting both quality and quantity at places where they desperately needed it.
They also changed the roster itself a little bit on top of drafting and adding the rookies, which will be detailed in the slideshow.
I hate giving grades in general, because they're so arbitrary, and especially not so soon, when these guys haven't played a down in the NFL yet.
My favorite picks were Jamar Taylor, Dion Sims and Mike Gillislee, while I'm a little skeptical about Dallas Thomas and Will Davis, although I do think they make sense.
But overall, I think this was a really great draft for Jeff Ireland, Joe Philbin and the Dolphins organization.
Begin Slideshow

»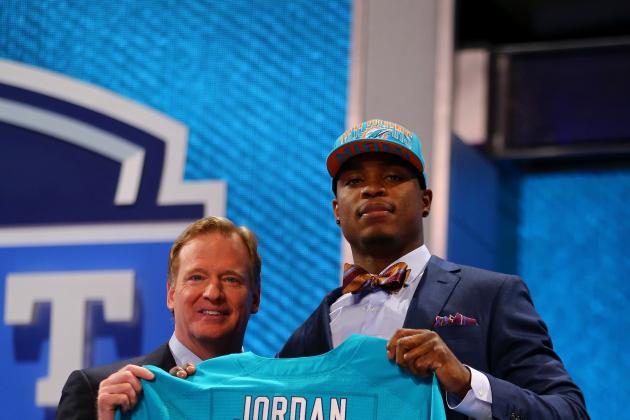 Al Bello/Getty Images

Anyone who thinks this was a bad move for Miami needs to go back and look at Dion Jordan's tape a little more. The trade up and selection of Jordan was a bold, fantastic move by Jeff Ireland.
First off, he somehow only gave up one second-round pick to move up from 12th to 3rd, which is incredible value.
When I predicted the trade, using the draft value chart, the only way it really evened out was to give up both second-round picks, so kudos to Ireland.
And the Dolphins really got themselves a fantastic player in Jordan. It's been beaten into the ground already, but he's over 6'6" with long arms and incredible agility. He's still learning the position too, so his ceiling as a pass-rusher is very high.
He also has the ability to drop back in coverage, play as a linebacker, and get moved all over the field. He's so versatile and makes Miami's defense that much more dangerous. Jon Gruden called him a "one-trick pony" on air, and that just helps prove that he needs to get back on the sidelines and off our TVs.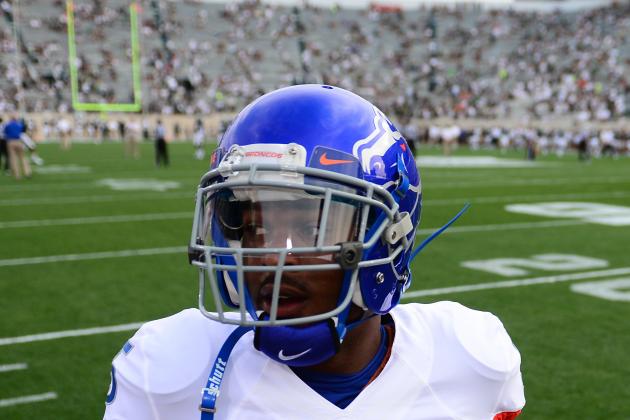 Andrew Weber-USA TODAY Sports

Another really good pick here by Ireland, marrying value with need perfectly at 54th overall. Jamar Taylor was considered a high second-round pick, possibly the fourth-best corner in the draft.
He can do everything: he has good height and length, great quickness, is aggressive, is a capable tackler and can play in both man or zone coverage.
The Dolphins will likely ask him to step right in and start as the No. 2 corner behind Brent Grimes, and I fully expect him to contribute there from day one.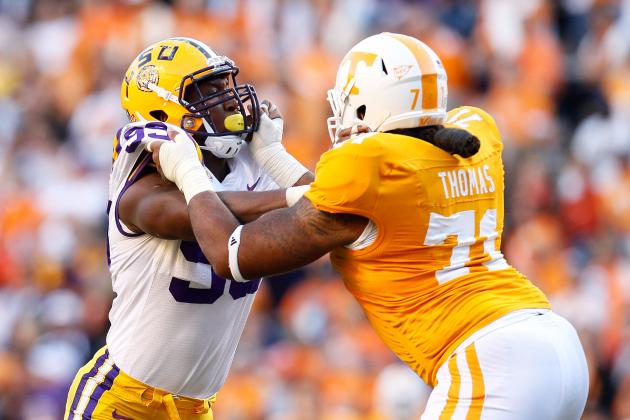 Kevin C. Cox/Getty Images

Here's another pick that makes a lot of sense, although it's definitely less flashy than their first pick and not quite as impactful as their second-rounder.
But Dallas Thomas is a versatile offensive lineman who really helps them, although he doesn't address their need for a good tackle who can start right away. But Thomas was ranked right around here, if not higher, on most people's boards.
Thomas started every game at left tackle as a sophomore and junior, and then switched inside to guard as a senior. He has good size and is pretty active with his hands and feet, meaning he'll fit nicely into Miami's system.
He seems a little more like a guard than a tackle at the NFL level, but could certainly play right tackle in a pinch and gives Miami some flexibility with its line.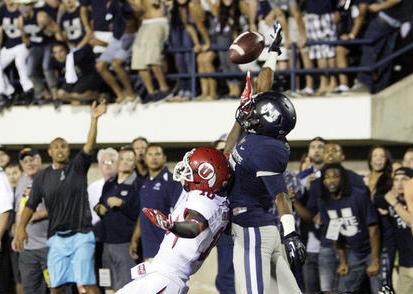 photo via deseretnews.com
Here's a pick that I didn't love at the time, because I thought there were better players on the board and the Dolphins could have gotten him 11 picks later.
But then Miami nailed its fourth-round picks, which made this one look a little better. It definitely gives them a deep secondary, finally, so injuries won't deplete them again.
It also gives them a really raw talent in Will Davis, who only started playing football in 2007 and had to start at junior college before transferring to Utah State.
He has a solid frame similar to Jamar Taylor's and is a fluid athlete who is very aggressive and has a nose for the ball. He may need some time to work on technique but is a worthy project.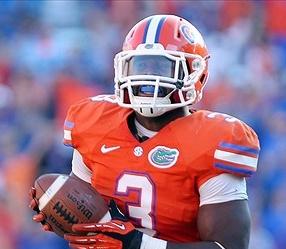 photo via nflmocks.com
Jelani Jenkins was drafted to cover Aaron Hernandez. Obviously he has some other value too, but Jenkins is a perfect counter to the growing number of big, athletic tight ends.
He's actually on the shorter side—about 6'0"—but is a perfect fit for Miami, which is already set with its starting linebackers and will allow Jenkins to settle in and develop as the primary backup.
Read more about my analysis of that pick here, but basically he's a high-character kid who gives Miami much-needed depth at the position and is just a ridiculous athlete with experience against top SEC competition.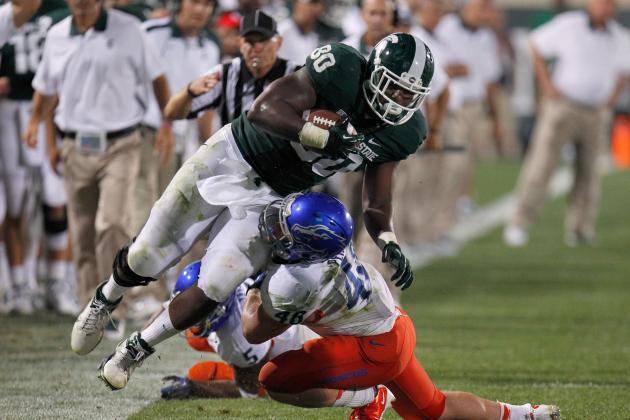 Gregory Shamus/Getty Images

If you clicked on that article from the previous slide, you'll also learn about why I loved this pick so much too. I think Dion Sims could make a huge impact on Miami's offense even early in 2013.
He's 6'5" and played in the 280s during college, although he has trimmed down into the 260s, where he should try to stay.
But even though he is enormous, you'll be shocked when you see how light this kid is on his feet. He has great coordination, can jump up and get the ball, and has really underrated playmaking ability.
His biggest asset, at least for now, is his ability to block. He's still a bit raw, but he swallows up defenders and perfectly complements Dustin Keller.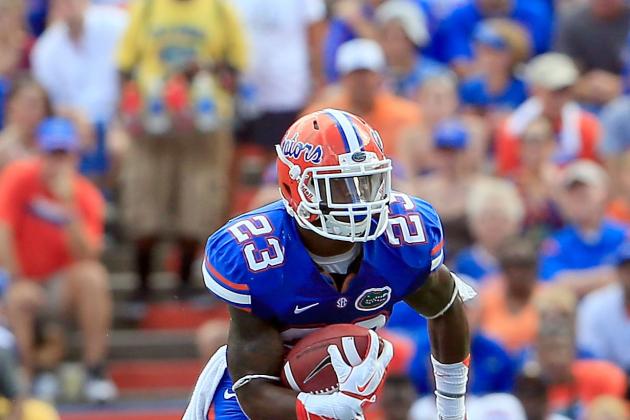 Sam Greenwood/Getty Images

If you check out my most recent mock draft, I actually did a reasonably good job with my predictions: the Dolphins taking a corner in the second and third rounds, then a Florida linebacker in the fourth, then Mike Gillislee in the fifth along with one of the top two kickers in the fifth as well.
This pick was one of my favorites by far, as the Dolphins stayed patient, filled other needs, and then found themselves with a surprising sliding running back here.
Mike Gillislee is an electric talent who didn't get a ton of reps during his four years at Florida, but to me, that just means he has less tread on the tires, which is a good thing for a running back.
Because when Gillislee did take over the reins during his senior season, he ran for 10 touchdowns and over 1,100 yards. He is a very well-rounded back who could steal carries from Lamar Miller right away.
Kevin C. Cox/Getty Images

I would have preferred Dustin Hopkins here, but you can't really go wrong with Caleb Sturgis, who was incredibly accurate, especially over the past two seasons at Florida.
He went 22 for 26 during his junior year with a long of 55 yards and then 24 of 28 during his senior year while being named a Lou Groza Award finalist both years.
He was also a kickoff specialist all four years at Florida and boasted a 45 percent touchback rate as a senior. His career long was a 56-yarder against Georgia during his sophomore season.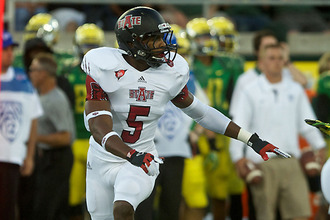 photo via miamidolphins.com
This last pick was a bit of a mystery for me, because two talented safeties, Alabama's Robert Lester and Oklahoma's Tony Jefferson, were still on the board with this pick.
But I guess the Dolphins saw what they liked out of Don Jones. They actually did scout him specifically at Arkansas State's pro day, with their defensive backs coach working out Jones.
And he put up some very impressive numbers at that pro day: a 4.40 40-yard dash, 42-inch vertical, 127-inch broad jump and 17 bench-press reps would all have been among the tops for safeties at the combine.
Jones, if he makes the team, could provide a some cheap depth behind Jimmy Wilson at safety.