Undrafted NFL Free Agents 2013: Looking at Most Notable Names Available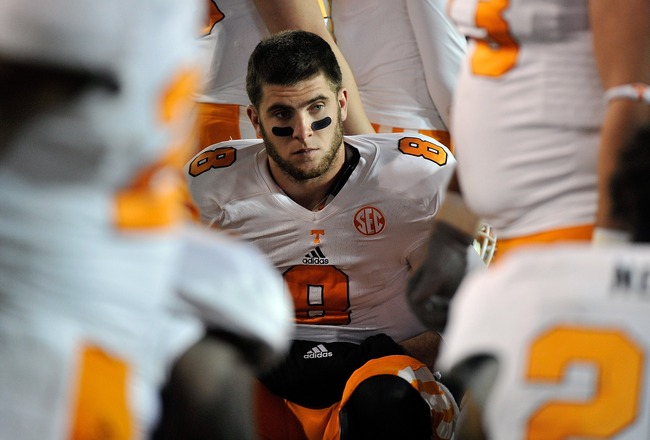 Frederick Breedon/Getty Images
The 2013 NFL draft has reached its conclusion after three days, seven rounds and 254 total picks. Many of those selections could prove to immediately change the fortunes of some franchises, but there are still several diamonds in the rough whose names didn't come off the board.
Those players who were passed over will enter free agency, where plenty of undrafted players have capitalized on opportunities and become raging successes in the pros.
So let's take a look at the top rookies set to hit the open market, with a mix of skills evaluations and analysis of their respective careers to date.
Tyler Bray, QB, Tennessee

Matt Miller Breaks Down Tyler Bray

A couple of off-field incidents and the fact that Bray is barely 21 years old were enough to make him completely fall off the board.
UPDATE: Saturday, April 27 at 10:47 p.m. ET by Matt Fitzgerald
Clay Travis of Outkick the Coverage reports that Bray has already caught on with an NFL team, signing with the Miami Dolphins:
Tyler Bray signs with Dolphins as undrafted free agent.

— Clay Travis (@ClayTravisBGID) April 28, 2013
---End of update---
Bray is an extremely gifted passer, who can throw the ball with velocity and accuracy. The problem is that he isn't consistent enough in his mechanics and decision-making to be a surefire, successful pro.
In all three of his years as a starter for the Volunteers, Bray averaged over eight yards per attempt. His constant downfield attacking is partially to blame for him never reaching the 60 percent completion threshold, as is the difficult competition he faced in the SEC.
Additionally, there is room for Bray to pack on more muscle to his ideal 6'6" frame. If Bray falls into the right organization that allows him to mature over time and polish up his fundamentals, there is little doubt that Bray could make a final NFL roster in 2013.
Matt Scott, QB, Arizona

Matt Miller Breaks Down Matt Scott

The zone-read option trend that is swarming the NFL makes Scott a strong candidate to make somebody's roster.
UPDATE: Saturday, April 27 at 9:25 p.m. ET by Matt Fitzgerald
Well, that didn't take long. Ryan O'Halloran of the Florida Times-Union reports that the Jacksonville Jaguars have agreed to terms with Scott:
#Jaguars agree to terms with Arizona QB Matt Scott, Vanderbilt QB Jordan Rodgers and Florida State FB Lonnie Pryor.

— Ryan O'Halloran (@ryanohalloran) April 28, 2013
---End of update---
Scott is far from a finished product in terms of throwing the ball, but he did thrive in Rich Rodriguez's spread offense for the Wildcats, throwing for 3620 yards and 27 touchdowns while rushing for 506 yards and an additional six scores.
His 6'2" height is just on the ideal side for a pro quarterback, and he has a lively enough arm to make the requisite throws. A quick release is another strong asset that Scott possesses, although he tends to put too much heat on passes at times.
Should there be an opportunity for Scott to hold a clipboard on game day and work on more effectively going through his progressions on the practice field before taking off and running, there is a chance that he could be a massive, undrafted steal in free agency.
Mark Harrison, WR, Rutgers
Alex Trautwig/Getty Images
4.46 speed in the 40-yard dash, a 38.5" vertical jump and a strong 231 pounds filling out a 6'3" frame make Harrison arguably the most intriguing receiver prospect still available.
Harrison wasn't as dynamic as a senior as he was in his prior two years, as he saw his yards per catch drop from approximately 19 yards to just 13.3.
Inconsistent catching ability has plagued Harrison, who has a tendency to drop easy passes and not live up to the measurable talent he possesses, per his NFL.com scouting report.
Despite those concerns, there have been flashes of brilliance that make Harrison worth a free agent flier—most notably his 10-catch, four touchdown game as a sophomore against Cincinnati (h/t ScarletKnights.com).
Kwame Geathers, DT, Georgia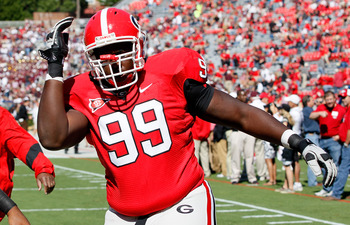 Kevin C. Cox/Getty Images
The Bulldogs had an extremely talented defense filled with NFL-caliber talent, and Geathers is part of that cluster as well.
What helps him is that he has two siblings, Robert and Clifton, who already play defensive end in the pros. Any advice that Kwame Geathers needs as he prepares to get a training camp shot at making a roster will be given by his own family.
Geathers is 6'5" and 342 pounds, and although stamina and weight control are obvious concerns, there is a ton of upside here for him to be a dominant nose tackle at some point in his career.
Even with fellow massive teammate Johnathan Jenkins clogging the middle of the Georgia defense, Geathers managed to rack up 40 total tackles as a junior, including five for loss (h/t SportsReference.com).
Nickell Robey, CB, USC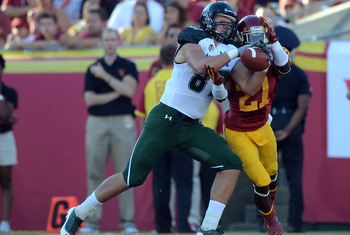 Harry How/Getty Images
Quite the opposite of Kwame Geathers, the diminutive stature of Robey is part of what pushed him out of drafting consideration. Robey is only 5'7" and a feather-light 169 pounds, which doesn't exactly project well for the pros.
Don't mistake that slight frame for a lack of tenacity and toughness, though. It may be more difficult in the pros, but Robey isn't afraid to stick his nose in and help out in run support. His coverage skills are also exceptional, as he's an extremely agile athlete with quick hips and phenomenal closing speed.
Putting on an extra 10 or 15 pounds would benefit Robey immensely, and it should be feasible in a focused, regimented program.
Starting out, though, Robey should compete for a nickel cornerback spot, as he has the ideal physical attributes to stick with shifty receivers on the inside.
Da'Rick Rogers, WR, Tennessee Tech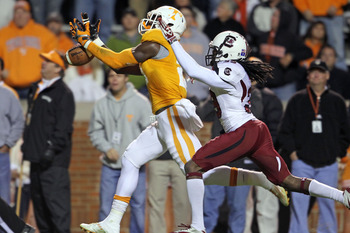 Off-field issues forced Rogers to transfer from the University of Tennessee.
Andy Lyons/Getty Images
As his NFL.com scouting report highlights, Rogers was dismissed ahead of the 2012 season by the Tennessee Volunteeers. Before then, he tweeted about transferring and sat out practices on a whim.
As a former second-team All-SEC selection—when he had six 100-yard games in 2011—it wasn't a shock that Rogers put up big-time numbers for the Golden Eagles, catching 78 passes for 1207 yards and 11 touchdowns.
Rogers is somewhat inconsistent, but does have great height at 6'2" and is an explosive leaper, registering a 39.5" vertical at the combine.
There is all the talent here for Rogers to be a successful receiver at the next level, but he needs to add a little bit more strength to effectively beat press coverage. At the very least, Rogers can be a dangerous red zone target if he comes close to realizing his potential.
Johnny Adams, CB, Michigan State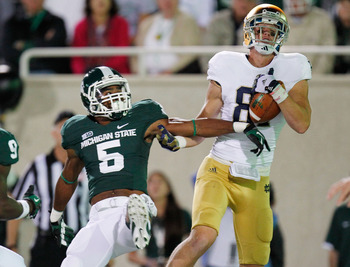 Gregory Shamus/Getty Images
Adams possesses great length for a 5'10" corner, which allows him to jam receivers effectively at the line of scrimmage. When facing bigger targets, though, he is susceptible to missing the press and getting beaten deep.
Having said that, there is a lot to like from this former Spartan. With the ability to initiate contact at the line of scrimmage, receivers have a difficult time battling him to get inside position.
The other great element that Adams brings to the table is a strong football IQ and the ability to tackle. That combination makes him a great blitzer and a valuable contributor in run support.
Don't be surprised if Adams garners strong consideration from several teams thin at cornerback—especially with how unprecedentedly important the position is in today's pass-happy NFL.
Keep Reading