Jones vs. Sonnen: Round-by-Round Recap and Analysis
Photo credit: MMAjunkie.com
UFC 159 culminates Saturday night (or early Sunday morning) when Jon Jones defends his light heavyweight title against Chael Sonnen, the UFC's consummate ringmaster who is fighting at 205 pounds for the first time in eight years.
The avalanche of pro-Jones predictions and betting odds fades into the background once the cage door closes. Didn't order the pay-per-view? Cable on the blink? Just looking for a viewing companion? You've come to the right place. In the following slides, we'll provide real-time, round-by-round analysis as the action unfolds.
Round 1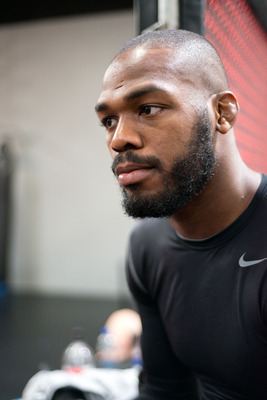 Steve Snowden/Getty Images
Jon Jones walks out to Bob Marley's "Jammin" and embraces his parents and fiance before stepping into the staging area. I think it's safe to say he's loose.
We're underway. Sonnen takes the center of the Octagon, but Jones attacks first with a double-leg takedown. They get back up and exchange a bit from the clinch. Jones pushes him back against the fence.
Sonnen landing knees and uppercuts from the clinch, but Jones takes him down again and is on top. He lands one of those elbows—maybe the most dangerous weapon in MMA.
Back on the feet and against the fence. Jones has double underhooks. Sonnen goes for a guillotine but nothing doing. Jones going for another takedown and it seems obvious that Jones is trying to prove a point about wrestling.
A spnning elbow from Jones finds the mark. Another takedown and that's three for four by my count. Jones now working inside Sonnen's guard. Another elbow at the 1:47 mark.
Jones now trying to work some ground and pound. Sonnen playing reasonably good defense but it's clear Jones is making a conscious effort to beat Sonnen at his own game and doing a pretty bang-up job of it. Sonnen tries to scramble out but gets in bad position. Jon Jones is standing over Sonnen, raining punches and elbows. Brutal. The ref steps in and this one is all over.
Sonnen protests the stoppage but he was hurt.
Odd postscript: Jones had a gnarly broken big toe on his left foot. Would he have been able to come out for the second round? We shall never know.
Jones def. Sonnen by TKO, 4:33 of Rd. 1
Keep Reading