Initial Post-Draft Depth Chart for the Carolina Panthers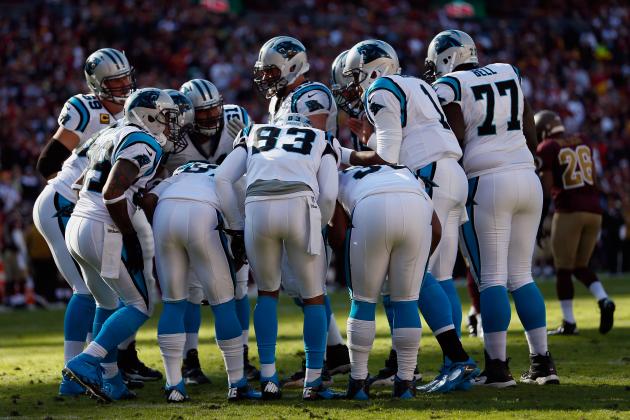 Rob Carr/Getty Images

The Carolina Panthers started their draft on a high note but ended it with a thud—that is, depending on whoever you ask. With draft weekend behind them, Carolina can focus on rookie minicamp and then prepare for the team's summer workouts, including training camp at Wofford College in South Carolina.
While there may be some last-minute deals following the draft, the Panthers depth chart is taking shape. Although there will be a lot of familiar faces, there will be new ones inside the huddle on game day.
Dave Gettleman has worked on putting together the best team possible even if there is some criticism floating around the Carolina fanbase. By taking a deeper look, one will notice the moves of this past weekend will come into play in the future.
Carolina will field a team that will look about the same offensively but will look noticeably different on defense, especially on the defensive line. Here is the projected depth chart for the Panthers following the NFL draft.
Begin Slideshow

»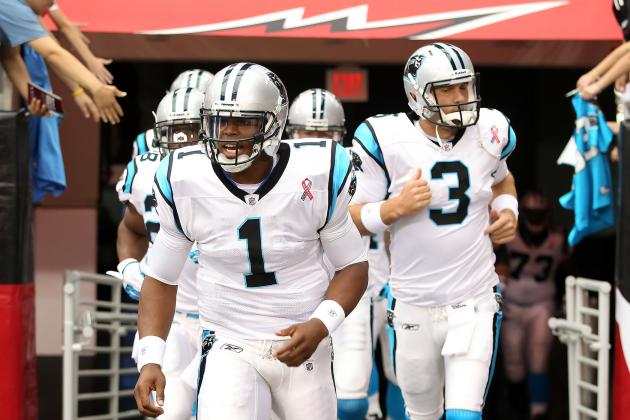 Christian Petersen/Getty Images

Starter: Cam Newton
Backups: Derek Anderson and Jimmy Clausen
Nothing new here. The Panthers were looking at Syracuse quarterback Ryan Nassib, which probably would have meant the release of Clausen. However they stayed away from drafting a quarterback and focused on other positions.
Newton will enter camp as the undisputed starter and look to improve his game in 2013. He put up good numbers last season, and while he decreased the number of interceptions thrown, he didn't improve upon his touchdown total.
Anderson will serve as a capable backup for the third straight year, while Clausen will remain the third-string quarterback.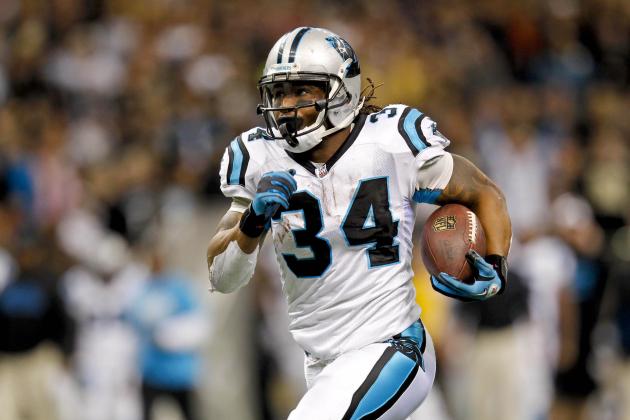 Derick E. Hingle-USA TODAY Sports

Running Backs
Starters: Jonathan Stewart & DeAngelo Williams
Backups: Armond Smith, Tauren Poole & Kenjon Barner
Fullbacks
Starter: Mike Tolbert
Backup: Richie Brockel
In a league where the offense is becoming more pass-oriented, the Panthers have thrived in keeping the ball on the ground. Unfortunately, Cam Newton has been a big reason for the rushing totals the team has accrued the past two years.
This could very well be Williams' last season as Carolina took Barner with their final pick in the 2013 NFL draft. However, Williams is still a dangerous back despite not having rushed for over 1,000 yards in four seasons. Stewart is a good back in his own right and has a nose for the end zone as well. The only knock against these two is their injury history.
Helping lead the way are the fullbacks, headlined by Tolbert. Carolina showed how lethal the offense could be in the red zone and around the goal line last season when Tolbert had the ball. The only drawback was a lot of those plays came in the last few games of the season.
The running game will still be important to the success of the team and will allow for a balanced attack on offense.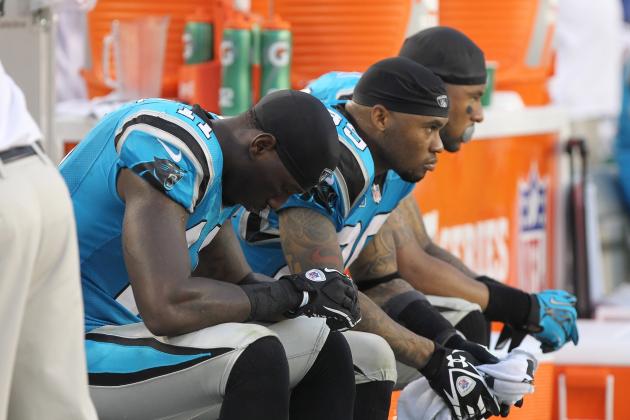 Kim Klement-USA TODAY Sports

Wide Receivers
Starters: Steve Smith, Brandon Lafell & Domenik Hixon
Backups: Ted Ginn, Jr., David Gettis, Armanti Edwards, Joe Adams, Kealoha Pilares, Lamont Bryant & James Shaw
Tight Ends
Starter: Greg Olsen
Backups: Ben Hartsock & Nelson Rosario
Many people were looking for additional help by drafting a wide receiver in the draft, but Carolina only drafted two offensive positions: an offensive guard and running back. What does that mean for the receivers in 2013?
Constant double teams on Smith will be expected, and unless Hixon can do enough to take the focus off of the veteran, opposing defenses will focus primarily on him.
Ginn and Adams could be wild cards in the receiving game as should Edwards, but those guys will probably be relegated to more of a special teams role.
Gettis has a lot to prove as he will be competing for advancement on the depth chart when training camp opens. He did well in his rookie year but has been limited by injuries the past two years.
Olsen will be the primary target coming off the offensive line and should improve upon last year's numbers, which saw career highs in receptions and receiving yards.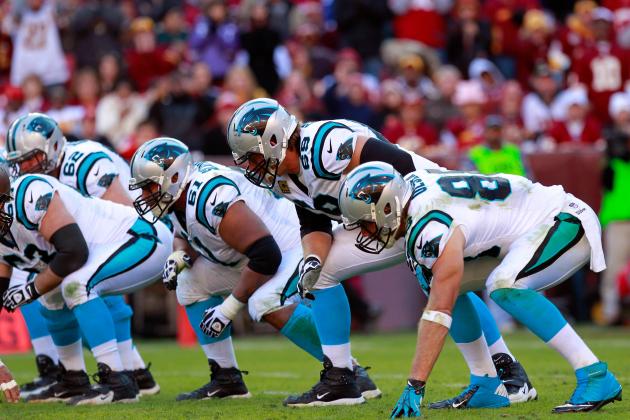 Geoff Burke-USA TODAY Sports

Starters: Ryan Kalil (C), Amini Silatolu (LG), Geoff Hangartner (RG), Jordan Gross (LT), Byron Bell (RT)
Backups: Jeff Byers (C), Edmund Kugbila (LG), Garry Williams (RG), Bruce Campbell (LT), Thomas Austin (RT), Zack Williams (RG), Hayworth Hicks (LG), Justin Wells (LG)
The good news: Carolina added some depth to the offensive line. The bad news: It was a player that probably could have waited a round or two to be picked. The Panthers drafted only one offensive lineman in the draft, and that was Kugbila.
Like Silatolu, he comes from a small school (Valdosta State), but unlike Silatolu, he was picked in the fourth round. However, the coaching staff saw enough in him to take a chance on him in the draft, and he should see action in his rookie campaign.
The injury bug took a toll on the line as Kalil and Gross saw their seasons end prematurely in 2012. These guys are the leaders of the line and will be needed if the Panthers are to have success in the trenches. When they are healthy, both are two of the league's finest linemen.
Silatolu and Bell will need to improve their play in 2013 because Dave Gettleman showed this year how much he loves linemen. If neither one performs up to par, expect Carolina to draft a guard and tackle early in the 2014 draft.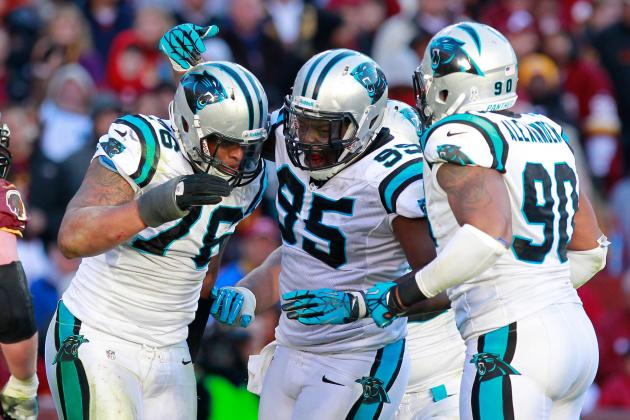 Geoff Burke-USA TODAY Sports

Defensive Ends
Starters: Charles Johnson & Greg Hardy
Backups: Frank Alexander, Thomas Keiser, Mario Addison
Defensive Tackles
Starters: Star Lotulelei & Kawann Short
Backups: Dwan Edwards, Sione Fua, Frank Kearse, Colin Cole, Nate Chandler
Perhaps the crowning moment from the Panthers draft was the selection of Lotulelei in the middle of the first round. Making the line even more intimidating was drafting Short the following round. In two moves, the Panthers vastly improved their defensive front.
While an argument could be made that Edwards will be starting, he could be involved more on passing plays or third-down situations as the coaching staff will not want to see a highly drafted rookie sitting most of the time.
Johnson and Hardy will make life unbearable from the edges as they will try to duplicate last year's sack totals if not improve their numbers. Hardy could even find himself moved to the interior just to create more problems at the line of scrimmage.
Alexander showed promise last year and should be able become a more polished player in his sophomore year.
What was once a defensive line that was dangerous from the outside is now dangerous up the middle too. Lotulelei and Short will do their part by taking away double teams and clearing the path for the Carolina linebackers.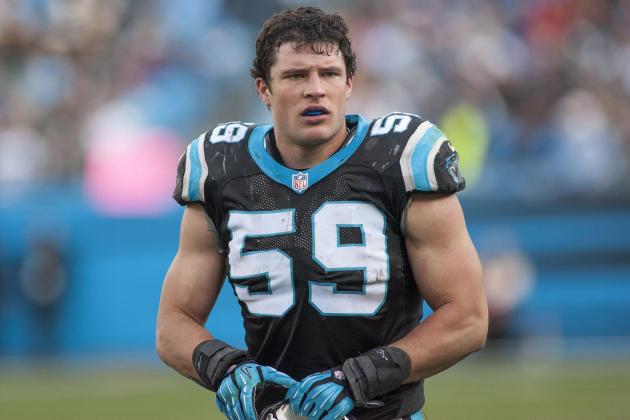 USA TODAY Sports

Starters: Luke Kuechly, Jon Beason, Thomas Davis
Backups: Chase Blackburn, A.J. Klein, Jordan Senn, Jason Williams, Doug Hogue
The Carolina linebackers unit has the potential to put up some big numbers in 2013 given the recent upgrade to the defensive line during the draft. However, this is a group of guys who will need to stay healthy.
Davis finally returned to a full season of action after being sidelined since the middle of 2009. Beason missed most of the season and is looking to see full-time action for the first time since 2010.
Kuechly will start up the middle after he took over for Beason following his injury. The reigning defensive rookie of the year is a tackling machine and should find himself in a position to make more tackles as opposing linemen will be concentrating on Lotulelei and Short up front.
Blackburn is a solid backup and could see a lot of time depending on how well Beason returns from his injury.
If this unit is healthy and on top of their game, they will be a good group of linebackers who will not only be an effective backup to the defensive line but be a major help to the secondary in keeping deep passes out of the air.
USA TODAY Sports

Free Safety
Starter: Haruki Nakamura
Backups: Colin Jones, Nick Hixson
Strong Safety
Starter: Charles Godfrey
Backups: Mike Mitchell, D.J. Campbell, Anderson Russell
Cornerbacks
Starters: Captain Munnerlyn, Josh Norman
Backups: Josh Thomas, Drayton Florence, D.J. Moore, James Dockery
This unit of the defense is hands down the biggest liability the team has now. There are concerns about Munnerlyn and Norman keeping some of the best receivers in the game in check, while Nakamura has proven to be a major letdown since signing with the Panthers last season.
Many wondered why the Panthers chose to ignore the secondary as there were ample opportunities to bring in a prospect to compete. Joe Person of the Charlotte Observer puts it best:
Improved rush=less time to fail in coverage. RT @travhaneyespn So how does Panthers secondary improve, @josephperson? Can Star play safety?
— Joe Person (@josephperson) April 27, 2013
While that may be the case, the growing concern is that with games against Drew Brees, Matt Ryan and Tom Brady this year, the Panthers could have really benefited from drafting a defensive back. If the pass rush is as effective as it's projected to be, then the deep ball will be a non-factor.
However, don't be surprised if Carolina looks for secondary help next year, whether it's through the draft or free agency.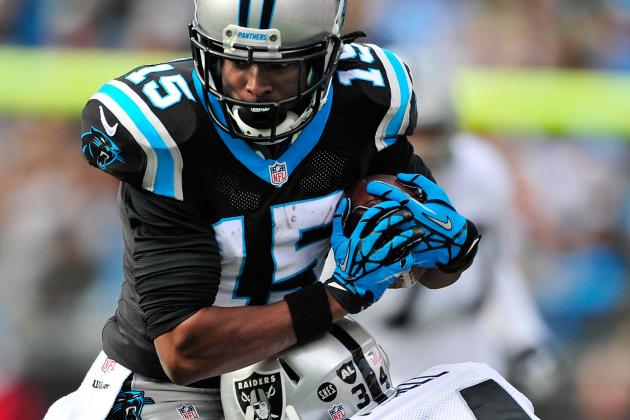 Grant Halverson/Getty Images

Kicker: Graham Gano
Punter: Brad Nortman
Long Snapper: J.J. Janson
Punt Returner: Joe Adams
Kick Returner: Ted Ginn, Jr., Armanti Edwards
Backup Returners: Kealoha Pilares, Joe Adams, Kenjon Barner
Aside from drafting Barner, this aspect of the team has been relatively quiet. Gano should be firmly in place as the kicker and should stay there unless he starts missing kicks. Nortman will return for a second season as the team's punter and, if he gets all the botched kicks out of his system, could be one of the better punters in the league.
The real position battle will be in the return game. Adams and Edwards haven't really proved to be the answer on special teams but Ginn and Barner could provide some competition in camp this summer. If Steve Smith starts fielding kicks, then the Panthers are in trouble.