Indiana Pacers vs. Atlanta Hawks: Game 3 Live Score, Results and Game Highlights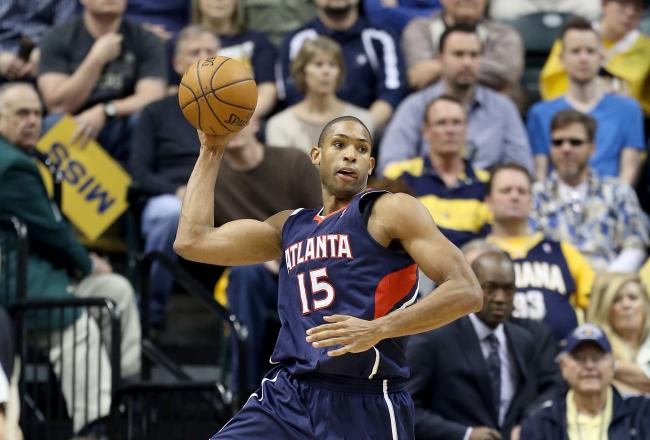 Andy Lyons/Getty Images
Commentary from the Atlanta Hawks 90-69 victory over the Indiana Pacers in Game 3 of the opening round of the 2013 NBA Playoffs. Played from Phillips Arena in Atlanta, GA on April 27, 2013.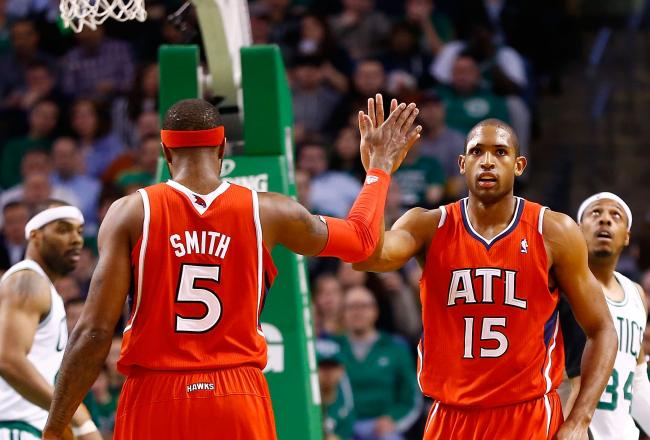 Keys to Hawks Romp:
1) Interior Dominance: Josh Smith and Al Horford both had huge nights. Smith was 6-of-13 from the floor for 14 points, while Horford was a more impressive 12-of-20 for 26 points. Horford also snagged 16 rebounds, six of which were offensive.
The Hawks had 48 points in the paint to the Pacers 28.
2) Hustle: The Hawks had 13 offensive rebounds, 11 steals and five blocks.
3) Took care of ball: 14 turnovers, not great, but good enough.
4) Forced Turnovers: The Hawks forced 22 Pacers turnovers for 24 points.
HAWKS 90, PACERS 69 — FINAL
The Pacers were 3-27 from the field during the Hawks 42-10 run

— ESPN Stats & Info (@ESPNStatsInfo) April 28, 2013
I'd like to attribute the Indiana crapfest offensively to great Hawks defense, but I just don't think I can. There's no impressive parts in the Hawks machine, and all they've done is force Indiana to take typical shots, which they've missed. Still, this stat tells a lot, doesn't it - about the pure futility?
HAWKS 86, PACERS 65 — 3:30 4th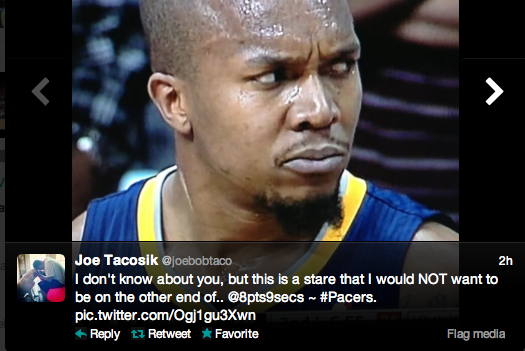 This is a mad man.
HAWKS 81, PACERS 62 — 5:13 4th
Open up an incognito window to watch this Josh Smith dunk because it is nasty #NBARapidReplay - on.nba.com/ZVVG1m

— NBA (@NBA) April 28, 2013
This Josh Smith punctuation mark from the first half is worth another look.
HAWKS 81, PACERS 61 — 5:57 4th
That Al Horford average-player-in-the-90s statement may have been a bit misguided after all. Horford is 10-of-17 from the floor for 22 points with his 15 rebounds and the Hawks are plus-12 for his 37 minutes tonight.
HAWKS 81, PACERS 61 — 6:05 4th
RT @jimlefko: Remember that terrific Bulls-Nets 3OT classic earlier today? Pacers-Hawks is the exact opposite.

— John Ledesma (@JohnnyNBA) April 28, 2013
What's absolutely horrifying is that I missed it. I missed the great triple OT thriller of today, to bring you guys this defensive snoozer of a bad shooter performance. And if you missed this one, don't scramble like crazy for a replay, it's not worth it.
HAWKS 77, PACERS 53 — 8:47 4th
Pacers Bench: 1/10 FG (10%), 4 points
Hawks Bench: 7/14 FG (50%)l, 19 points
HAWKS 75, PACERS 49 — End of 3rd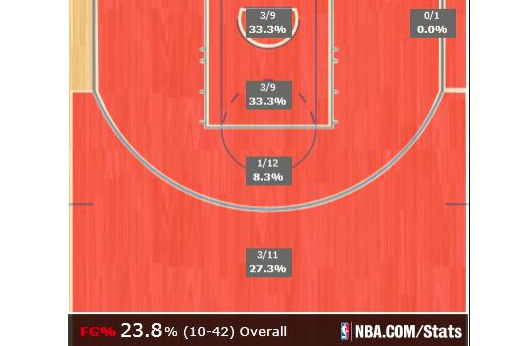 This shot chart is ugly for Indy's first half. I like the colors, but red, it's not good, it's not good here.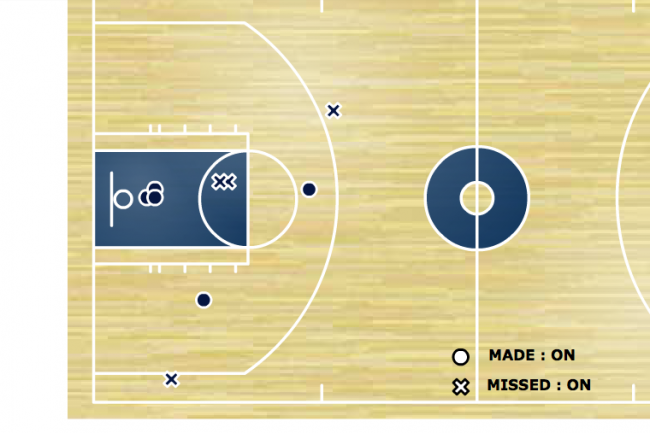 Indiana's shot chart is looking a lot better for the third quarter. You know, since they've made some shots.
HAWKS 66, PACERS 46 — 2:58 3rd
Outside of the Pacers starting frontcourt, the rest of the team is 3-of-23 from the floor.
Roy Hibbert, David West and Paul George have combined to score all but 11 of the Pacers 41 points, and they just can't seem to get their backcourt going.
HAWKS 64, PACERS 41 —6:04 3rd, Atlanta Timeout
3.5 minutes of game have passed, and it's been so unmemorable that all I can tell you is both teams scored a little and the Pacers are still down big. Atlanta really just needs to keep the pace slow and drain clock, because the Pacers aren't knocking down their shots anyway.
Forgive my lack of excitement.
HAWKS 62, PACERS 36 — 8:07 3rd
The Pacers are on a 10-9 run with Paul George going to the line for his 5th & 6th free throws on the night. George knocked them both down, and that's a 12-9 Pacers run to close the half. It's hard to get excited about going plus-3 over a six minute span of play, but Indy will take what it can get at this point.
Devin Harris split a double team at the end of the quarter to make that 12-11. All that excitement over the big run.
Hawks go into halftime with momentum and the Phillips Arena is lively. Hawks basketball is on display tonight, and we haven't seen this much red & white hysteria since the days of Dominque.
At the half, Indy is 23 percent from the floor, and the Hawks are shooting 50 percent.
HAWKS 54, PACERS 30 — Halftime
Paul George finally broke free for a triple and he knocked it down for his 10th point. Then, they came back down and proceeded to hack Devin Harris on a three.
Give and take.
Harris has nine points and three assists.
HAWKS 52, PACERS 28 — 27.6 seconds in 1st half
Jeff Teague is down in serious pain. His right elbow seems to have taken an awkward turn as it hit the floor. This hurts the Hawks a lot, he's been their leading scorer so far this playoffs.
HAWKS 43, PACERS 18 — 5:05 2nd, Hawks Timeout
The lowest scoring performance by a team in playoff history is the Jazz with 54 vs. the Bulls in the 98 finals. Pacers could get there.

— Sean Highkin (@shighkinNBA) April 28, 2013
Well, this is exciting.
HAWKS 43, PACERS 18 — 5:30 1st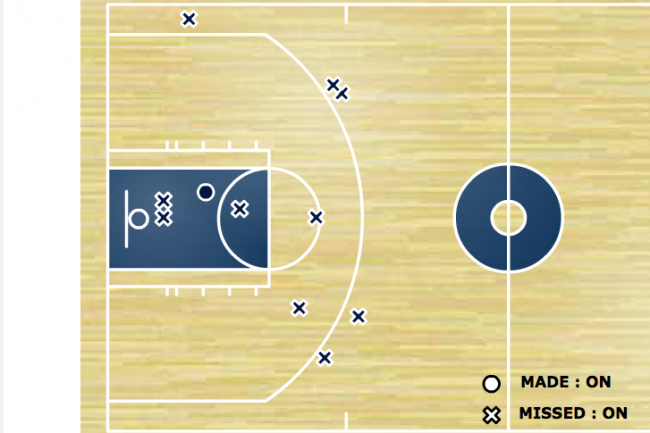 Indiana's second quarter has been as bad as their first. The Pacers have hit just one field goal through the first 6.5 minutes of the quarter.
HAWKS 43, PACERS 18 — 5:39 2nd
The Pacers have eight turnovers and have shot 22 percent from the floor. Some of this is Hawks defense, but a lot of it is just a lack of offensive firepower. It is easy to become enamored with the potential of this Pacers team just based on the strength of their defense.
But they can't beat the Miami Heat without some real scoring, and they've been without their usual No.1 option Danny Granger all season.
Tonight, this Pacers team doesn't look like a squad that could score with the Heat, even if their defense were superb.
HAWKS 41, PACERS 18 — 6:20 2nd
David West just committed a frustration foul on Ivan Johnson that is under review. West drew a flagrant foul, and then a technical was assessed to Jeff Teague. This one may not be close, but the playoff atmosphere hangs over it.
HAWKS 38, PACERS 17 — 6:55 2nd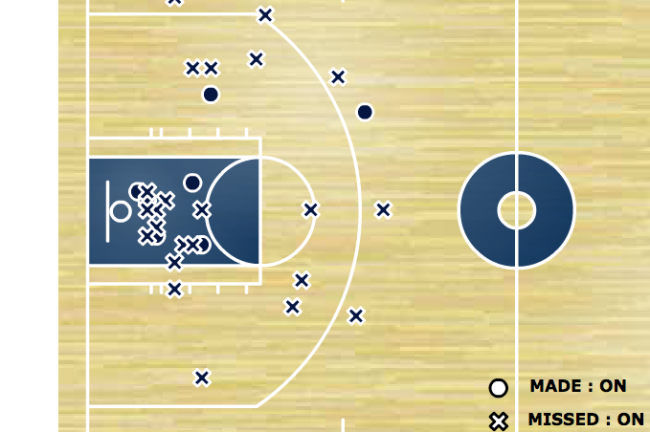 Indiana has missed a lot of good shots. And bad ones. Just not a pretty shot chart.
Indy is 7-of-31 from the floor.
HAWKS 36, PACERS 17 — 7:37 2nd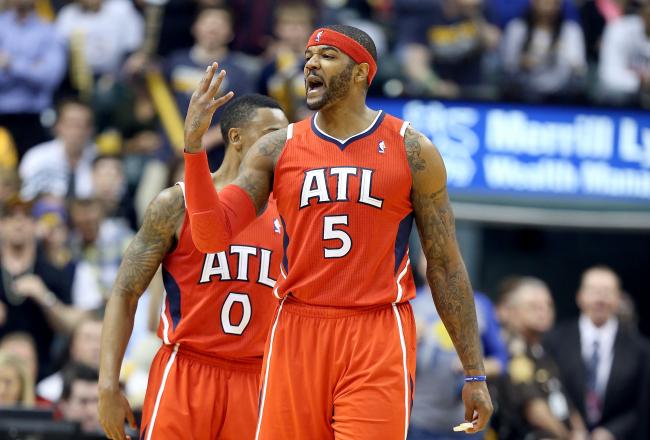 Josh Smith still has yet to make an All-Defensive first team, but he's making a case tonight that he should have made at least one by now. His lockdown defense on Paul George has been frustrating the Pacers leading scorer and lone All-Star immensely. George is just 2-of-5 from the floor. Typically, the 2-guard would have at least 10 attempts by this juncture.
HAWKS 36, PACERS 17 — 7:59 2nd
The Pacers haven't scored in 5.5 minutes and the Hawks are on an 18-0 run. Hansbrough is playing the 5-spot and directing the offense. The young Tar Heel is taking control of a sinking ship, but can he save it?
HAWKS 33, PACERS 16 — 9:15 2nd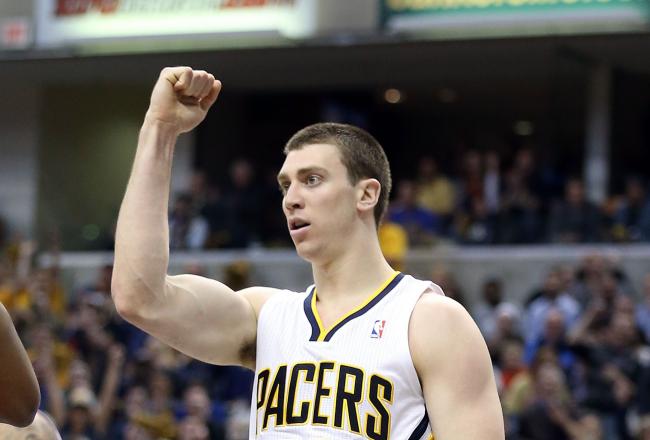 Tyler Hansbrough gives a good effort, but is it legendary? He needs some horn rimmed glasses to be this era's Kurt Rambis. Something to distinguish him from any other UNC farm boy.
Indiana Just can't get back in this. They've missed 17 of their last 19 shots, and that's enough to let an efficient Hawks team just run away with this one.
HAWKS 33, PACERS 14 — 10:30 2nd, Indiana Timeout
There's some excited Hawks fans at Philips Arena. Hawks fans.
Atlanta is rolling early in this, and they're seeming to like their often apathetic fanbase supporting them on this particular occasion. The Hawks shot 52 percent from the floor and held a plus-5 advantage on the glass.
HAWKS 27, PACERS 14 — End of 1st
Johan Petro starting tonight. Hawks in six.

— SBNation NBA (@SBNationNBA) April 27, 2013
Well, Johan Petro was a lottery pick. His field goal, three boards and a block in six minutes were productive enough. And the Hawks are up.
Sometimes our sarcasm comes to fruition as fact.
HAWKS 22, PACERS 14 — 1:31 1st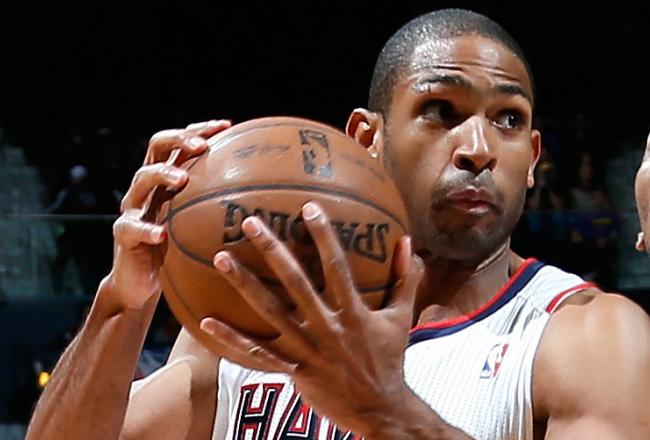 Al Horford does do one thing very well: run the court. Listed at 6'10", he's faster than most of the 6'10" forwards in the league with a few exceptions like Kenneth Faried and Blake Griffin. Horford has four points and three rebounds thus far.
Horford's two handed jam put the cap on a Hawk run forcing a Frank Vogel timeout.
HAWKS 15, PACERS 12 — 3:29 1st, Indiana Timeout
This article is
What is the duplicate article?
Why is this article offensive?
Where is this article plagiarized from?
Why is this article poorly edited?