Initial Post-Draft Depth Chart for the Tampa Bay Buccaneers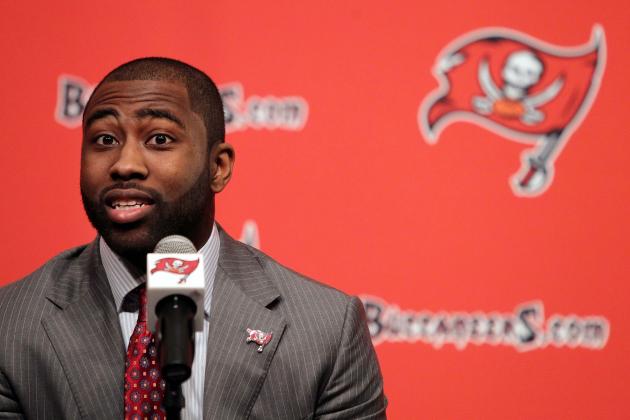 Kim Klement-USA TODAY Sports

For the Tampa Bay Buccaneers, an intrigue-filled first half of the offseason that has included a big free-agent signing (Dashon Goldson), a blockbuster trade (Darrelle Revis) and a respectable NFL draft class has reshaped the outlook of the franchise in 2013 and beyond.
Needing to address their porous, league-worst pass defense, the Bucs signed Goldson to a five-year deal worth $41.25 million.
Then, after several weeks of relative quiet in free agency, they completed a blockbuster deal for Revis that sent two picks, their first-round (No. 13 overall) this year and a conditional fourth-round pick in 2014, in exchange for a player many consider the top defensive back in the NFL—when healthy.
Those two additions alone overhauled the perception of the Bucs defense heading into next season, but then they added six players in this weekend's draft, some of whom should see significant playing time this season.
Among those drafted, defensive tackle Akeem Spence (No. 100 overall) and cornerback Johnthan Banks (No. 43 overall) will have the greatest opportunity to make an impact this season.
Banks was the Thorpe Award winner in 2012, given to the top collegiate defensive back in the nation. He brings good ball skills and height (6'2") and is a disruptive corner in coverage.
So, with the draft behind us, how does the depth chart look, admittedly, very early on?
Let's take a look.
Begin Slideshow

»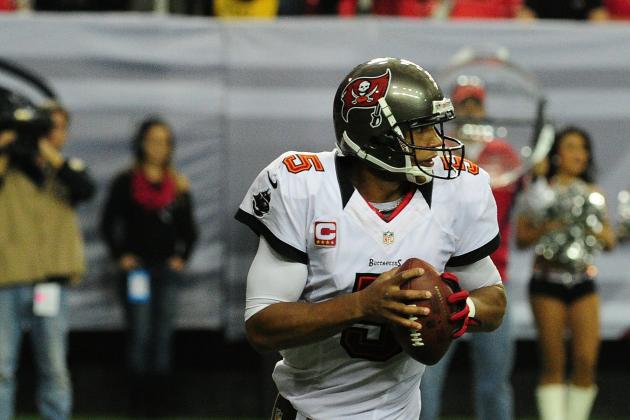 Scott Cunningham/Getty Images

Projected Depth Chart
1. Josh Freeman
2. Dan Orlovsky
3. Mike Glennon
4. Adam Weber

The Bucs drafted Mike Glennon in the third round (No. 73 overall) as someone they feel can "push" incumbent starter Josh Freeman to become a more consistent quarterback.
At the very least, he is a much more viable long-term backup than Dan Orlovsky, though with mechanical issues to overcome, he is still a year away from being a legitimate threat of supplanting Freeman as the starter.
Kevin C. Cox/Getty Images

Projected Depth Chart
1. Doug Martin
2. Brian Leonard
3. Mike James
4. Jeff Demps
5. Michael Smith

Late Saturday afternoon the Bucs shipped LeGarrette Blount to the New England Patriots in exchange for Jeff Demps and a seventh-round pick. While Demps will compete for playing time, Leonard played for Schiano at Rutgers, and the coach's familiarity with him should be an edge.
Both Demps and Smith are lethal returners, so it's likely only one of the two make the roster come September. James was Tampa Bay's sixth and final pick in this year's draft and is arguably the most physical of the group.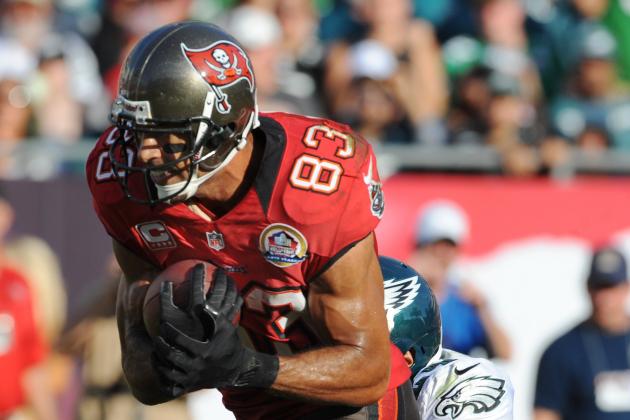 Al Messerschmidt/Getty Images

Projected Depth Chart
(receivers)
1. Vincent Jackson

2. Mike Williams
3. Tiquan Underwood
4. Steve Smith
5. Kevin Ogletree
6. Eric Page
7. Chris Owusu
8. David Douglas
(tight ends)
1. Luke Stocker
2. Tom Crabtree
3. Danny Noble
4. Nate Byham
5. Drake Dunsmore
6. Zach Miller
With a talent-laden group at receiver, the Bucs steered clear of adding any players via the draft which would have only further muddied the water. V-Jax and Williams are clearly the cream of the crop, but don't put it past Smith or Ogletree to eventually replace Underwood as the slot receiver.
As for the tight ends, this was a group that I felt was in need of adding a playmaker. Stocker, entering his third season, has frustrated many by failing to progress, and like Freeman, I felt he needed a young, talented TE to push him forward.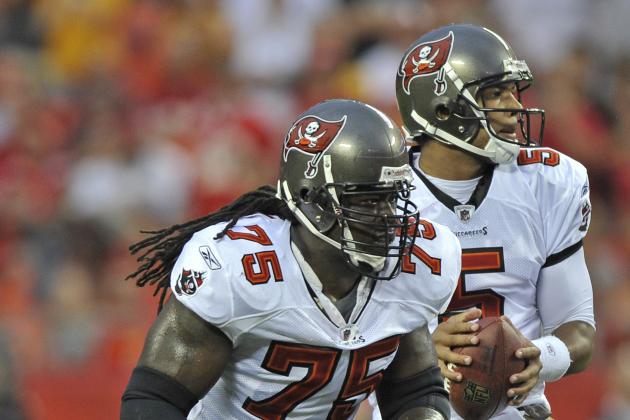 Peter Aiken/Getty Images

Projected Depth Chart
LT

1. Donald Penn
2. Mike Remmers
LG
1. Carl Nicks
2. Roger Allen
C
1. Jeremy Zuttah
2. Ted Larsen

RG
1. Davin Joseph
2. Desmond Wynn
RT
1. Demar Dotson
2. Jamon Meredith

If healthy, this group is as rock-solid as the Bucs have. The problem is, once they lost Joseph and Nicks last season, it revealed how little depth there truly is. Sure, Meredith and Larsen proved versatile, but that's not something the Bucs are hoping to see much of again this season.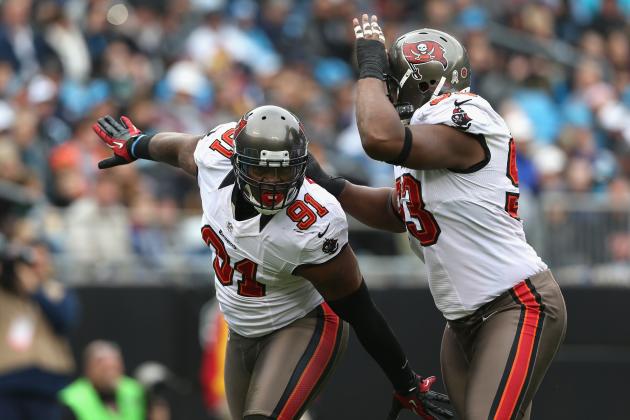 Streeter Lecka/Getty Images

Projected Depth Chart
DE
1a. Adrian Clayborn
1b. Da'Quan Bowers
2. Daniel Te'o-Nesheim
3. Markus White
4. William Gholston
5. George Selvie
6. Lazarius Levingston
7. Aaron Morgan
8. Earnest Owusu
DT
1a. Gerald McCoy
1b. Derek Landri
2. Gary Gibson

3. Akeem Spence

4. Corey Irvin
5. Richard Cleibert
6. Matthew Masifilo
While the Bucs suddenly have plenty of quantity up front, how much quality they have remains to be seen. Can Clayborn bounce back from his knee injury? Can Bowers stay healthy? Can McCoy build on his success from 2012? How quickly can Spence learn the ropes?
As you can tell, there are lots of questions and only four-plus months to answer them.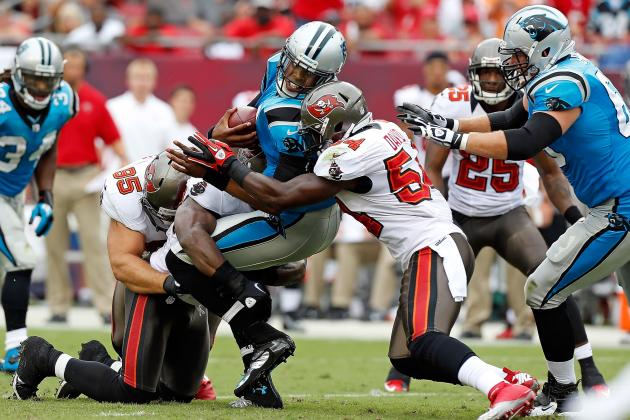 J. Meric/Getty Images

Projected Depth Chart
OLB
1a. Lavonte David
1b. Jonathan Casillas
2. Dekoda Watson
3. Jacob Cutrera
4. Steven Means
5. Joe Holland

MLB
1. Mason Foster
2. Adam Heyward
3. Najee Goode
Watson could eventually land the starting job from Casillas, although for the sake of argument I have him as first backup. The wild card is Means, who is loaded with raw athletic ability and has shown a knack for rushing the passer after racking up 18.5 sacks and 29.5 tackles for loss in his career at the University of Buffalo.
Foster will once again anchor the middle of the field with special teams standout Heyward and Goode providing much-needed depth behind him.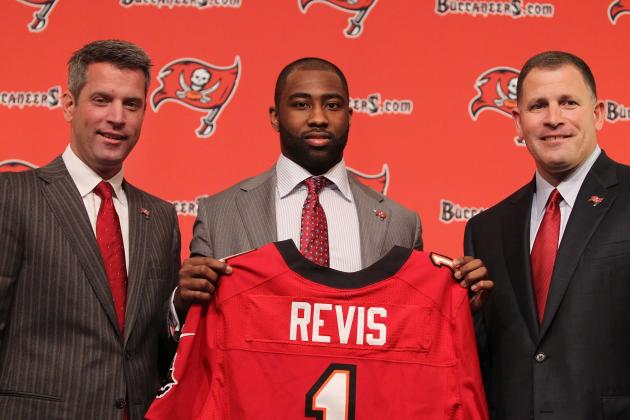 Kim Klement-USA TODAY Sports

Projected Depth Chart
1a. Darrelle Revis
1b. Eric Wright
2. Johnthan Banks
3. Anthony Gaitor
4. Leonard Johnson
5. Keith Tandy
6. Danny Gorrer
7. Myron Lewis
8. James Rogers

The Bucs did obvious wonders for this unit by landing Revis in a trade with the New York Jets. While there are some lingering concerns with the health of his knee, all signs point to him being at full strength come Week 1.
Wright restructured his contract to stay with the team and will start the season across from Revis. Banks has the ability to potentially replace Wright, although that appears unlikely to occur this season. Gaitor, Johnson and Gorrer are young and inexperienced, but with a little more coaching the Bucs could see their faith in their young CBs pay off.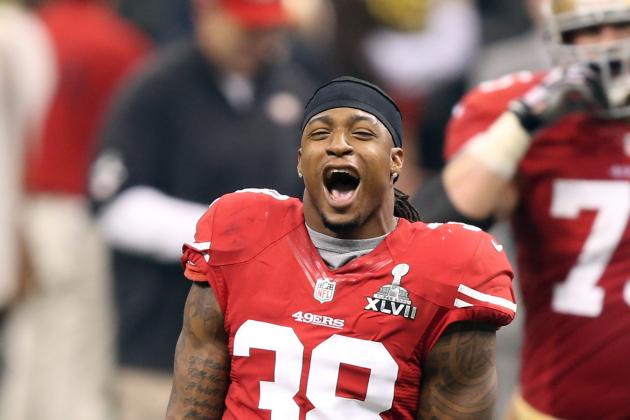 USA TODAY Sports

Projected Depth Chart
1a. Dashon Goldson
1b. Mark Barron
2. Ahmad Black
3. Cody Grimm
4. Sean Baker
5. Nick Saenz
Much like Revis, Goldson's addition immediately improves this group, as he is an experienced playmaker fresh off a Super Bowl appearance with the San Francisco 49ers. Barron is entering his second season, and the Bucs are hoping he can build upon lessons learned from a rough 2012 campaign.
Black and Grimm provide quality depth as players more than capable of stepping up in a pinch.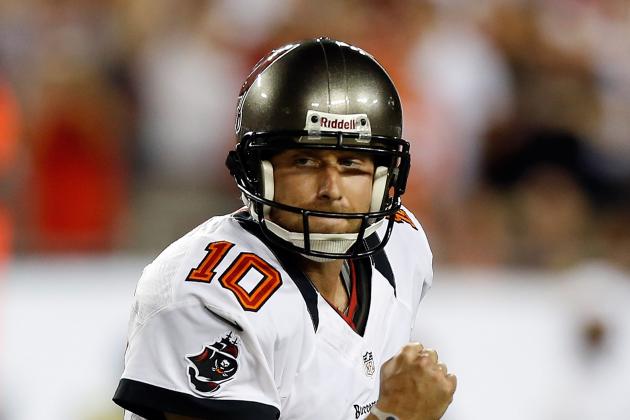 J. Meric/Getty Images