Biggest Reaches of the 2013 NFL Draft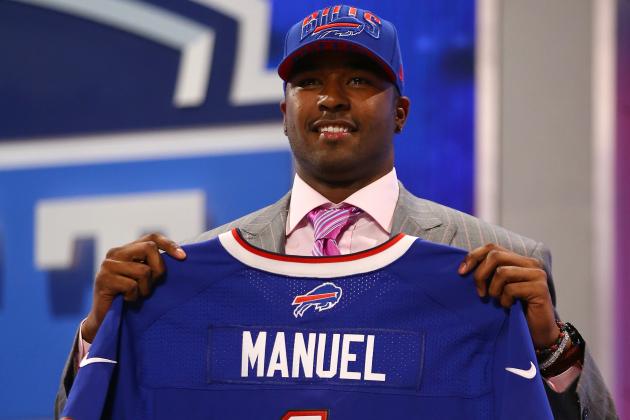 Al Bello/Getty Images

Normally, creating a list of the 10 biggest reaches is only difficult because it's tough to narrow the list to just 10 selections. But with the likes of Al Davis, Matt Millen and Gene Smith no longer occupying war rooms, the number of viable candidates for this list got significantly shorter in 2013.
Only three first-round picks cracked this year's top 10, and many of the players on this list actually have some promising futures, even if their new franchise may have grabbed them a little too soon.
Here are the biggest reaches of the 2013 NFL draft.
Begin Slideshow

»
The Steelers definitely needed to add some depth in the backfield, but this was too early for Le'Veon Bell, especially considering the other running backs on the board.
Bell is a powerful runner, but he's a one-trick pony. Much like similar runners such as LaGarrette Blount and T.J. Duckett, Bell can be effective in certain situations, but he will never be an elite feature back.
This wasn't a great class of running backs, but with more traditional feature backs such as Eddie Lacy, Montee Ball and Christine Michael on the board, this was a questionable selection by Steelers' GM Kevin Colbert.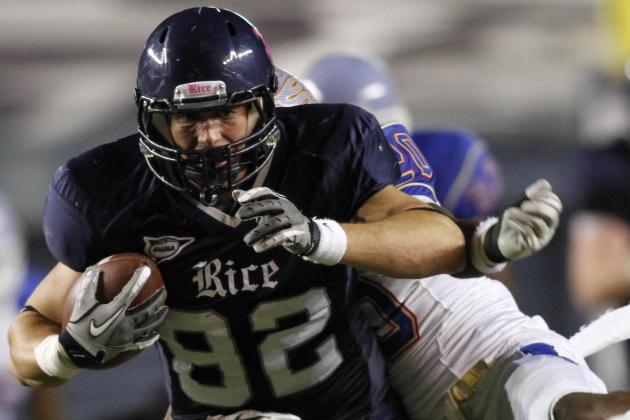 Brett Davis-USA TODAY Sports

Most of the top tight ends were off the board by the time the Seahawks selected Luke Willson in the fifth round, but it was far too early to gamble on a backup from Rice.
Willson showed some glimpses of promise early in his career, but he primarily backed up 49ers second-round pick Vance McDonald during his time at Rice.
To make matters worse, he was limited throughout his senior year by a lingering ankle injury.
If the Seahawks felt the need to address their tight end depth, they could have had much better value in Colorado's Nick Kasa or Connecticut's Ryan Griffin.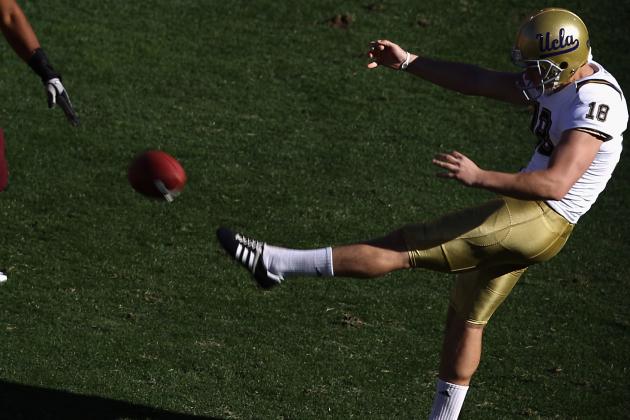 Christian Petersen/Getty Images

This isn't much of a surprise, because the Vikings visited or worked out multiple punters during the pre-draft process. But what happened to Chris Kluwe?
The only excuse for drafting a punter as early as the fifth round is if a team had a glaring need and a special prospect was on the board.
Locke was the top punter on Matt Miller's draft board, but there was no need for the Vikings to replace Kluwe.
Even if the Vikings fear Kluwe's career may be winding down, they could have simply signed someone as an undrafted free agent to push him for the job.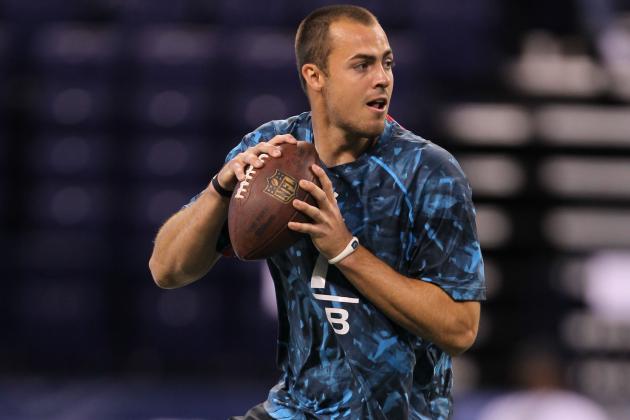 Brian Spurlock-USA TODAY Sports

The Steelers backup quarterback situation is among the worst in the league, but does it improve with Landry Jones?
Jones was a career underachiever at Oklahoma despite being surrounded by elite talent. He feasted on the porous secondaries of the Big 12 but rarely stepped his game up to an elite level against the Sooners' toughest competition.
In time, Jones may develop into an adequate quarterback, but the Steelers could be in trouble if he's forced onto the field for the injury-prone Ben Roethliserger early in his career.
Being thrown into the fire is the last thing Jones needs, and it could be detrimental to his long-term development.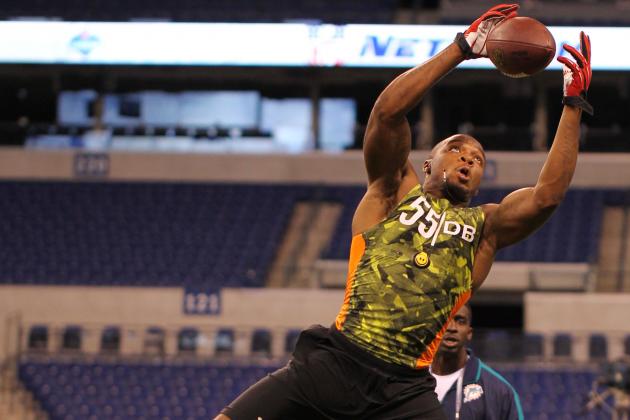 Brian Spurlock-USA TODAY Sports

Kayvon Webster is an elite athlete and may have a future as a nickel corner, but he is extremely raw and the third round is too early for a developmental prospect.
Webster has the speed to stick with just about any receiver, but his technique is shaky and he frequently bites on fakes.
Veteran NFL receivers will have no issue forcing Webster to take false steps, and even slower receivers will be able to create separation simply with their route-running.
The Broncos need to being using their early picks on players who can help them in the immediate future in their quest for a Super Bowl title. Even if Webster reaches his full potential down the road, he will make a minimal impact during the Peyton Manning era.
This was one of the most questionable selections of the entire draft, and according to RosterWatch.com, Cowboys head coach Jason Garrett agrees.
Reports out of Dallas: Jason Garrett had head in his hands when Cowboys made pick, scouts were seen arguing with Steven Jones before pick.

— RosterWatch (@RosterWatch) April 26, 2013
Travis Frederick was arguably the best center in this year's draft class and will start immediately for the Cowboys. However, the value in the late first round just wasn't there.
After the run on offensive linemen wrapped up in the mid-first round, the Cowboys should have abandoned their strategy to upgrade the offensive line and simply selected the best available player.
A number of quality defensive linemen were on the board, including Kawann Short and Tank Carradine, who would have been nice additions to the Cowboys' new 4-3 defense.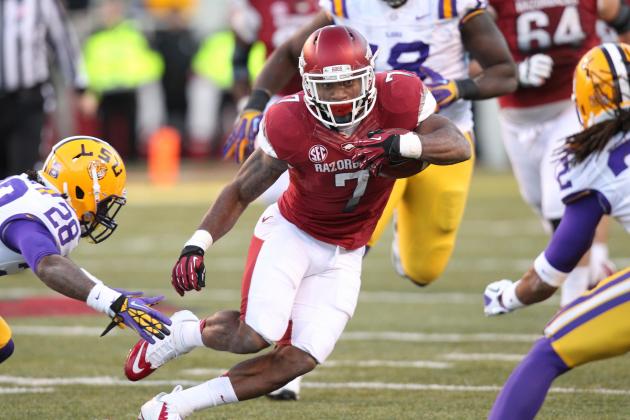 Nelson Chenault-USA TODAY Sports

There's no denying Knile Davis' raw talent, but his college career was marred by injuries and fumbles.
Davis missed the entire 2011 season with an ankle injury. When he returned in 2012, he was not the same player—clearly having lost something in terms of agility—and didn't make defenders miss with the same consistency.
He's a 230-pound running back who ran a 4.35 40-yard dash at the combine, so the intrigue in Davis is easy to see. But was he worth selecting over Marcus Lattimore and Johnathan Franklin? Probably not.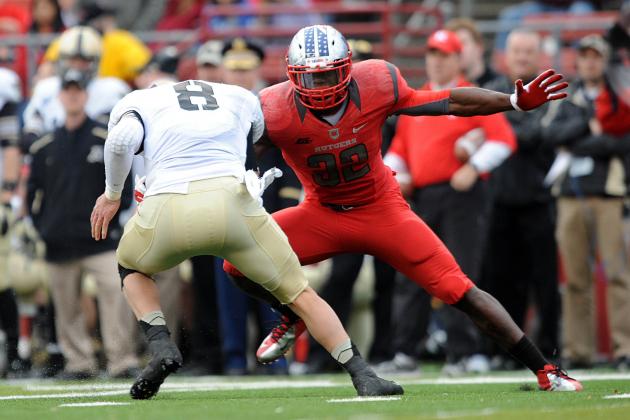 Joe Camporeale-USA TODAY Sports

Bill Belichick may be one of the greatest coaches of all time, but he also may be among the worst at drafting defensive backs.
The list of questionable second- and third-round picks by Belichick includes defensive backs Tavon Wilson, Darius Butler, Terrence Wheatley and Brock Williams.
Will Duron Harmon be the next to join that list?
Harmon is a hard hitter who will backup Adrian Wilson at strong safety, but there's no excuse for selecting him over the likes of Shamarko Thomas and Phillip Thomas.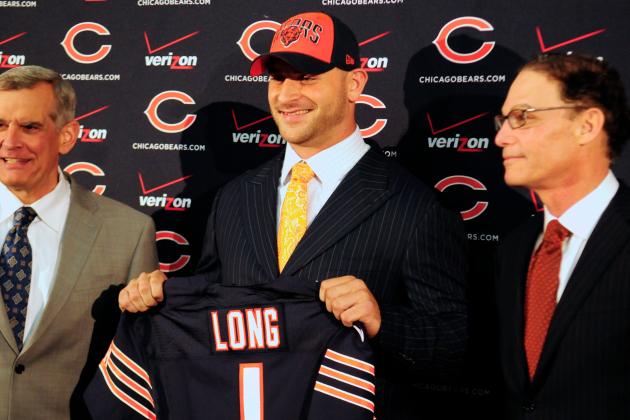 Reid Compton-USA TODAY Sports

Kyle Long certainly comes from an impressive family tree, but the Bears aren't getting Chris or Howie.
Long is a developmental prospect with just one year of experience at the FBS level. And his limited experience came at Oregon, a unique offense and blocking scheme that may not have prepared him for the NFL.
Three years from now Long might be the Bears starting left tackle, but how does that help Jay Cutler right now?
Cutler needs protection and, at least in the short term, Long may actually be a downgrade from the players currently on the roster.
There were no elite quarterbacks in this class, so 31 teams decided to simply wait until the value was right before considering a quarterback.
The Bills were the lone desperate franchise that elected to reach to fill their need in the early rounds of the draft.
Manuel might show some flashes of ability in Doug Marrone's offense, which will likely feature some form of the read option, but Manuel's physical tools are somewhat limited.
The elite quarterbacks in the game can throw the ball downfield, and while Manuel has the arm strength, he lacks the deep accuracy to ever be a consistent pocket passer.
He'll make the Bills fun to watch at times, especially with some of the weapons he's surrounded by, but it's hard to see the value in selecting Manuel in the middle of the first round.