Sergio Martinez Squeaks by Martin Murray to Defend Middleweight Title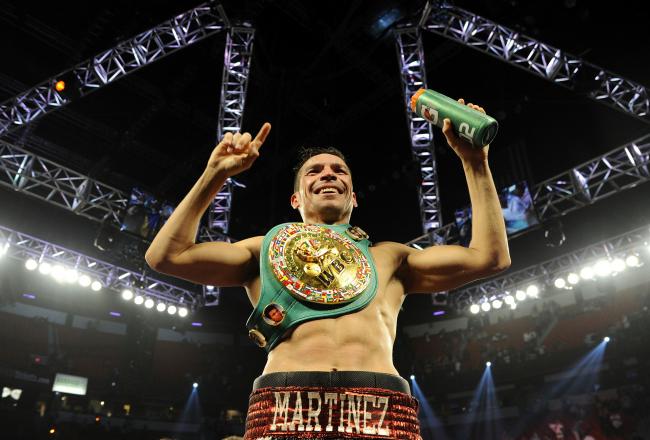 Martinez will defend his WBC title tonight on his home soil.
Jeff Bottari/Getty Images
In a homecoming spectacle complete with fireworks, torrential downpours and a raucous crowd, Sergio Martinez narrowly defended his middleweight title defeating Martin Murray by unanimous decision in Buenos Aires.
All three judges scored the fight 115-112 for the champion who was fighting in front of over 45,000 fans in his homeland.
The fight was much closer than many expected with Murray seemingly taking over the fight in the middle rounds and dropping the champion in the eighth and again in the 10th, though this was seemingly incorrectly called a slip.
Martinez (51-2-2, 28 KO) showed his trademark movement but struggled for long stretches of the fight to solve his opponent's tough defensive guard. Murray (25-1-1, 11 KO) landed at will over the second half of the fight and seemingly had a chance to win entering the final frame.
Murray however was undone by his inactivity. The fight was clearly on the table but he was not able to sustain the pressure he needed in order to convince the judges.
To his credit Martinez closed the show and sent the crowd home happy in a fight that is sure to spark some controversy and debate amongst fans and analysts.
And that'll do it for us boxing fans. We hope you enjoyed our coverage of Sergio Martinez's narrow decision victory over Martin Murray.
Stay tuned to us here at Bleacher Report for all your boxing news and analysis!
Martin Murray: "Sergio Martinez won fair and square. I didn't do enough." #boxing #boxingheads

— Kurt_Ward28 (@BoxingAsylum) April 28, 2013
He's right. Lost the fight in the final two rounds. But he did still land more shots and the harder ones. Lotsa debate on this one. Sergio can't feel good about it.
Should have been two knockdowns... But I gave it to Martinez... #martinezmurray Murray showed great performance tho.

— Lennox Lewis (@LennoxLewis) April 28, 2013
That's the real shame here. The story will be that Martinez has aged, not that Murray is legit.
Martinez: "I knew that I was winning clearly [entering final round.]"

— ESPN Boxing (@ESPNBoxing) April 28, 2013
Glad he did. Seemed close to the rest of us. Sergio lucky to get by tonight.
IMO, MM didn't show the passion that SM did. When the fight was on the table in the 11-12 rounds, Maravilla sat down & ate. #MartinezMurray

— Gabriel Montoya™ (@Gabriel_Montoya) April 28, 2013
Came down to the championship rounds and Sergio closed it out. He didn't look good, didn't look like much of a winner but did just barely enough.
Murray to his credit says he knows it wasn't enough to win the fight in Argentina. I feel for this kid. He had his shot and didn't do enough.
Martinez AT BEST squeaks out that decision. At BEST. I had him up by one point but jeez. Murray looked like the winner.
And we go to the judges scorecards:
115-112, 115-112, 115-112
All three have it for the winner...
And STILL middleweight champion of the world Sergio Martinez!!!!!!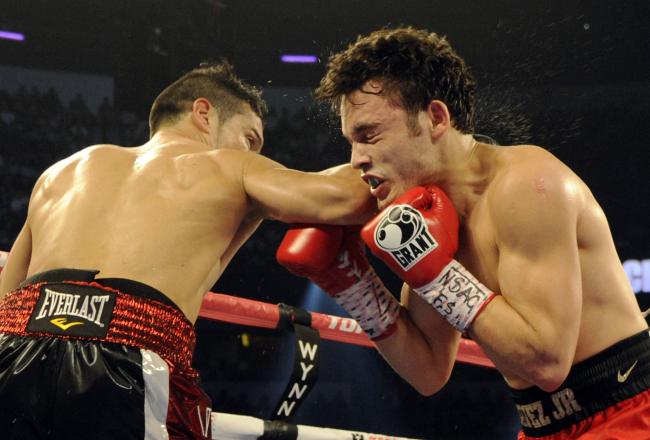 I've got it 115-112 for Martin Murray as we head to the scorecards. That counter right hand was the difference the whole fight.

— Brian Campbell (@BCampbellESPN) April 28, 2013
Had it 114-113 for Martinez. But that knockdown/non-knockdown in the 10th round is decisive.
Sergio Martinez closed out the show in the final frame. He won it and the fight on my card.
7-5 in rounds. 114-113 on points.
Bottom line in the 12th round. Sergio Martinez is closing the show. Martin Murray is NOT.
The fight is up for grabs on our scorecard (105-103 for Murray) entering final round. Martinez tells corner his left hand is hurt.

— ESPN Boxing (@ESPNBoxing) April 28, 2013
Some fight this has been. High drama. Murray will kick himself if he loses a decision with the fight on the table. Not aggressive enough early but took over in the middle.
The fight is definitely on the table going into the final round. Gave Martinez the 11th to give him a 6-5 advantage in rounds but 104-104 on points.
The middleweight title is on the table in the final round!!
Rosenthal: Rd. 10: Martinez went down but was called a slip. Murray seems to be too big and tough for the champ now. #boxing

— Michael, Doug or Lem (@ringmagazine) April 28, 2013
This is setting up for high drama if we go to the cards. Split, majority decision type fight.
Martin Murray got robbed of a knockdown in the 10th round. Landed a right hand to the head of Martinez and Sergio went down. Bad call, could be huge if the cards are as close as they should be.
The question now becomes this: CAN Martin Murray win a close decision in Argentina? Cause he's at the very least in striking distance, if not ahead in the fight at this point.
Gave the 10th to Murray which evens it in rounds 5-5 but the Brit leads 95-94 because of the extra point for the knockdown.
Martinez down again...referee rules a slip but looked like a knockdown. Could be a HUGE moment in the fight.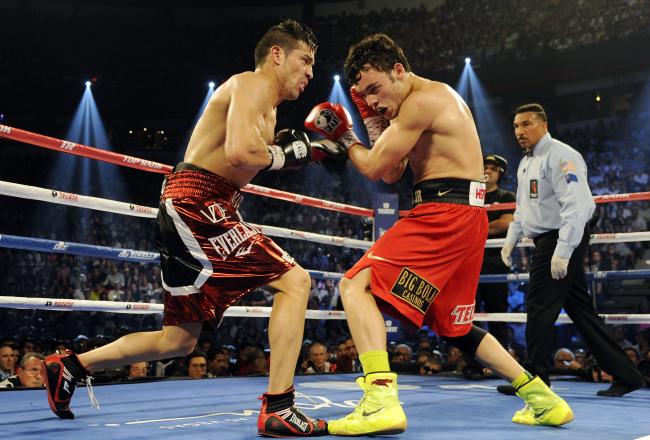 If I'm Martin Murray's corner I tell him to absolutely let his hands go for the rest of the fight. Martinez doesn't look scary at all tonight. Just go for it! You might never get this chance again.
Gave Martinez that ninth round. And have him up 5-4 in rounds and even on the cards 85-85
This fight is absolutely on the table. Murray needs to be more aggressive to avoid the regret of blowing a big chance.
I've got it 76-75 for Murray after 10-8 round. Martinez not looking good.

— Brian Campbell (@BCampbellESPN) April 28, 2013
Got it exactly the same. After open scoring in the eighth rounds. 77-74, 76-75, 76-75 all for Martinez.
R8: Murray lands left hook to the jaw of Martinez. And down goes Martinez on a straight right hand!

— ESPN Boxing (@ESPNBoxing) April 28, 2013
Huge drama now. Martinez down in round eight which Murray takes 10-8. Have it even in rounds 4-4 but Murray now leads on my card 76-75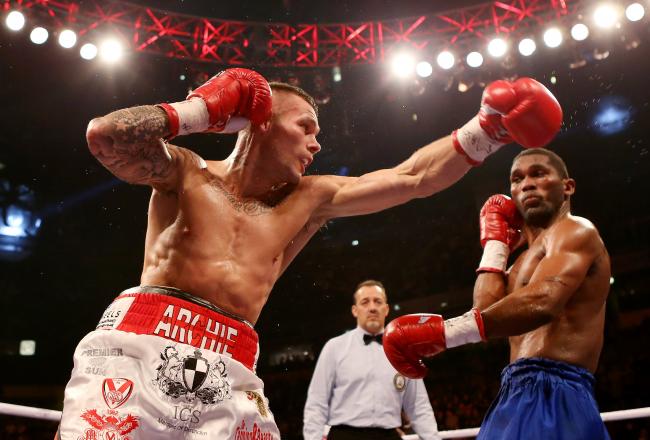 Martin Murray drops and hurts Sergio Martinez in the eighth round!!! High drama here in Argentina!
Martinez DOWN in the eighth round!!!!
Round for Martinez looks like Murray is looking for a one shot. If he wants to win he needs to let his hands go

— Timothy Bradley Jr. (@Timbradleyjr) April 28, 2013
This is much more competitive than most expected. Is Martinez aging or is Murray just underrated?
This article is
What is the duplicate article?
Why is this article offensive?
Where is this article plagiarized from?
Why is this article poorly edited?