Initial Post-Draft Depth Chart for the Pittsburgh Steelers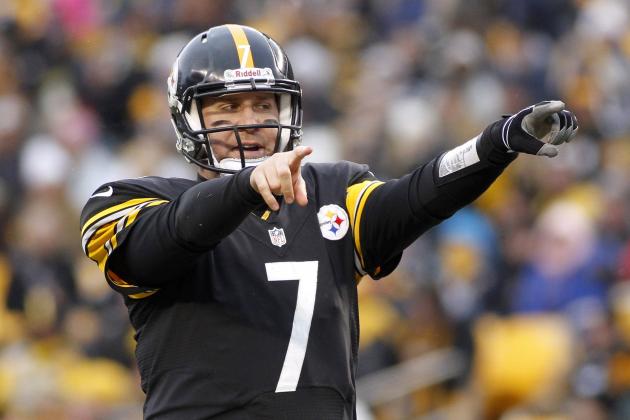 Justin K. Aller/Getty Images

Now that the draft has concluded and the Steelers have filled out some areas of need, we can get a clearer picture of what their 2013 roster might look like.
Pittsburgh did a great job in the draft of replacing players that they lost in free agency. Guys like Mike Wallace, James Harrison and Keenan Lewis will be missed, but they don't signal the end of the world. The Steelers had a lot of needs and covered their bases nicely during the draft.
So, with that said, let's check out a very early look at the Steelers depth chart for the 2013 season.
Begin Slideshow

»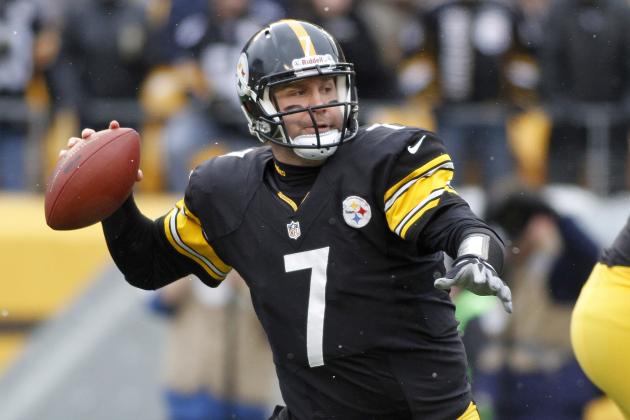 Justin K. Aller/Getty Images

Starter: Ben Roethlisberger
Second String: Bruce Gradkowski
Reserve: Landry Jones
There's no question that Ben Roethlisberger is going to be the Steelers quarterback next season. One of the best quarterbacks in the league will continue to lead a Steelers offense that could have somewhat of a new look to it next season.
At this point, Bruce Gradkowski will open camp as the backup to Big Ben and there's nothing wrong with that. Rookie fourth-rounder Landry Jones will compete for the backup job, but with the Steelers generally carrying three quarterbacks, all these guys should be on the active roster.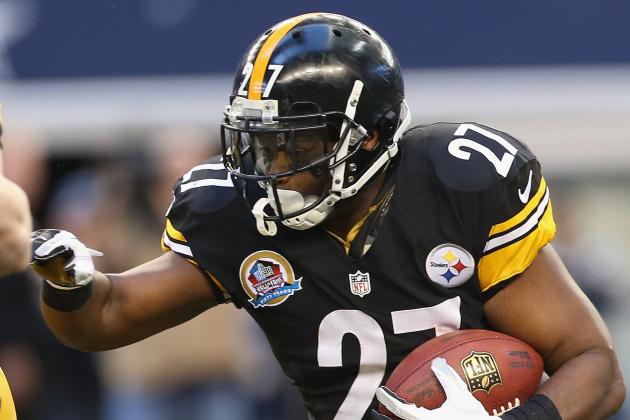 Ronald Martinez/Getty Images

Starter: Jonathan Dwyer
Rotation: Le'Veon Bell, Isaac Redman
Reserve: LaRod Stephens-Howling, Baron Batch
Right now, the Steelers will probably go with Jonathan Dwyer to get the bulk of their carries. He was the team's best running back last season and deserves a shot to carry the load.
Rookie Le'Veon Bell will probably carve out an early role as the team's third-down back because he's the best blocker and pass-catcher. Redman can get in the rotation but is at most risk of losing carries.
Newly acquired LaRod Stephens-Howling will most likely be a special team who can contribute catching out of the backfield while Baron Batch will be at risk for getting cut.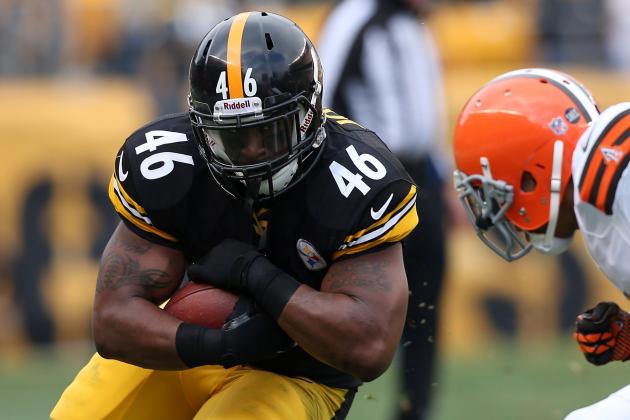 Karl Walter/Getty Images

Starter: Will Johnson
Reserve: David Johnson
Will Johnson came to the Steelers last year as a bit of an unknown and turned that into a very effective starting role. His unique blend of blocking and catching ability adds something nice to the Pittsburgh offense.
He'll remain the starter this year if he keeps up his play.
It's still unclear how David Johnson will return from injury, and with Will Johnson assuming the fullback role and a logjam at tight end, he may not make the final roster.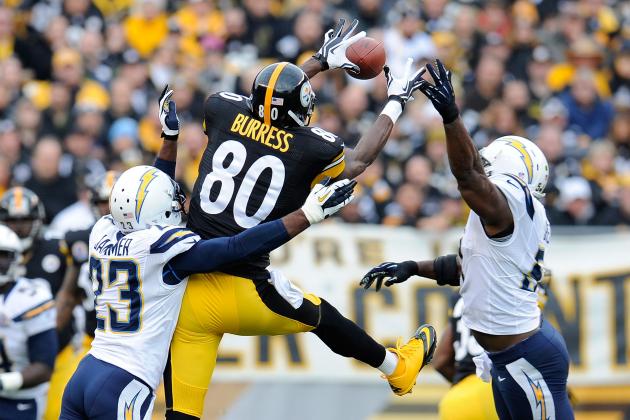 Joe Sargent/Getty Images

Starters: Antonio Brown, Emmanuel Sanders
Rotation: Plaxico Burress, Markus Wheaton
Reserve: Jerricho Cotchery, Justin Brown
2012 wasn't a banner season for the Steelers receivers. As Ben Roethlisberger went out, the passing game suffered. But that's not a knock on the Steelers receiving corps.
Antonio Brown and Emmanuel Sanders will surely open the season as the starters with Brown being the clear-cut No. 1. Sanders should be playing at the top of his game, as he'll be in a contract year and looking for a pay day.
Burress isn't the receiver he was during his time with the Giants, but he's the only "size" guy Pittsburgh has on their roster. He showed at the end of last season that he can still be a contributor.
Markus Weaton, the Steelers' third-round pick, should see more time as he becomes more familiar with the offense. He's most effective out of the slot and is a viable sub for either Brown or Sanders.
Although I like Cotchery, he's kind of the odd man out when it comes to the receivers. He's too much like Brown, Sanders and Wheaton to crack the lineup.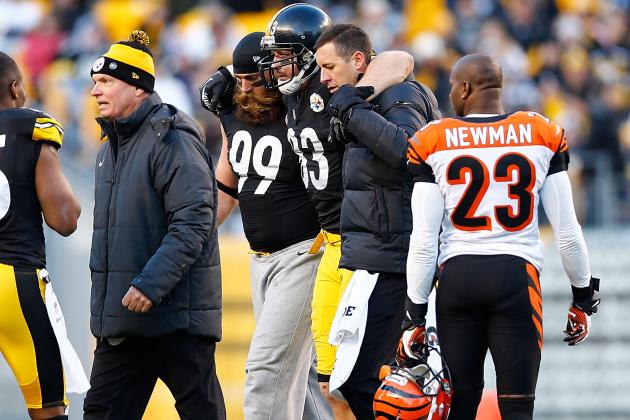 Jared Wickerham/Getty Images

Starter: David Paulson
Back-Up: Matt Spaeth
Paulson finished the season last year as the fill-in for Heath Miller and did a fine job. He progressed well over the course of the season and deserves to get a shot with Miller still injured.
With Miller's status for the start of the season up in the air, Pittsburgh brought in a familiar face in Matt Spaeth to cover that loss. He can compete for the starting job while Miller is out.
*PUP List: Heath Miller
I don't think Miller is going to be healthy enough to start the season and he may have to miss the first six weeks. That could be devastating to the Steelers offense.
Jared Wickerham/Getty Images

Starters: Marcus Gilbert (LT), Mike Adams (RT)
Reserves: Kelvin Beachum, Joe Long
After moving on from Max Starks, the Steelers will be putting their faith in a pair of second-round picks. Marcus Gilbert will most likely start the season on the left side and Mike Adams on the right, where he's better suited.
This has been the plan for some time in Pittsburgh, and in 2013 it'll come to fruition.
Currently the Steelers have pretty poor depth at offensive tackle. Beachum fared well last season but may have to bump inside for a need at guard depth.
They'll have to go to free agency to fill out their roster. Don't rule out a return of Max Starks.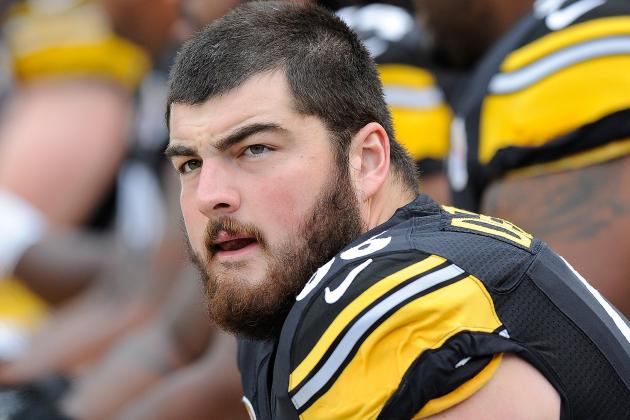 Joe Sargent/Getty Images

Starters: David DeCastro, Ramon Foster
Reserves: John Malecki, Justin Cheadle
The Steelers lost 2012 starter Willie Colon to free agency but were able to reach a deal with Ramon Foster. He'll most likely start at left guard while 2012 first-rounder David DeCastro attempts to play his first full season.
It remains to be seen if the Steelers will bring back Doug Legursky, but right now they lack any experience behind DeCastro and Foster.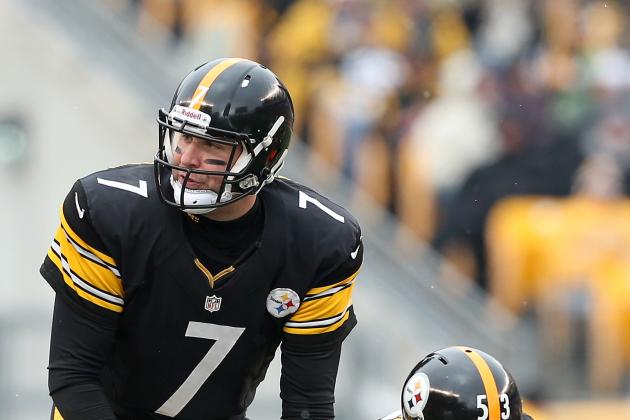 Karl Walter/Getty Images

Starter: Maurkice Pouncey
Maurkice Pouncey is going to be the starter for the Steelers at center. That was almost as obvious a choice as Roethlisberger at quarterback. He's the best offensive lineman on the team and has been a perennial Pro Bowler.
Even if the Steelers wanted to start someone else at center, they can't. Pouncey is the only center currently on the Steelers roster. Look for them to add Doug Legursky.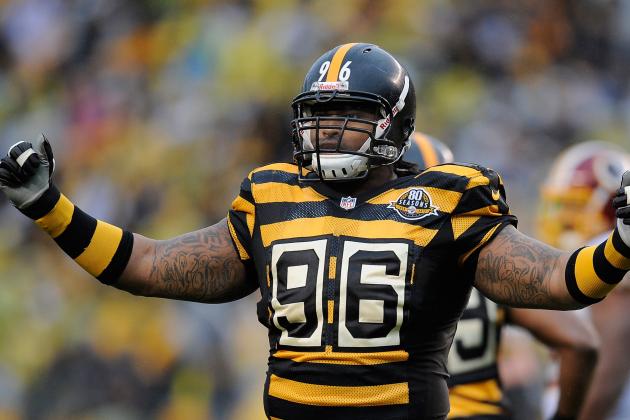 Joe Sargent/Getty Images

Starters: Brett Keisel, Ziggy Hood
Rotation: Cameron Heyward
Reserves: Al Woods, Nick Williams
The Steelers need to get more production out of their defensive ends this season and maybe, with a contract on the line, Ziggy Hood will step up. Brett Keisel was as effective as ever in 2012 and hopes he can keep his play up this year.
Cameron Heyward will play his usual role and spell the tired end. If Hood doesn't step up this season, watch for Heyward to take more of his snaps.
Al Woods will get some time and rookie seventh-rounder Nick Williams will push for a spot on the roster. He's a bit of a developmental project.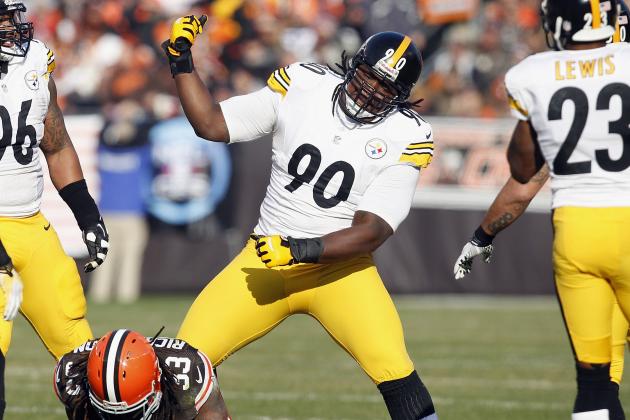 Matt Sullivan/Getty Images

Starter: Steve McLendon
Backup: Alameda Ta'amu
Reserve: Hebron Fangupo
With Casey Hampton out of the picture, Steve McLendon will finally get his shot to shine as the Steelers starting nose tackle. McLendon is quicker and not terribly big, but can still do some damage up front. His versatility will allow him to play all three defensive line spots.
Alameda Ta'amu is still on thin ice with the team, but he's the nose tackle of the future. If Hood struggles this year and the Steelers aren't comfortable with Heyward, McLendon could be moved to end and Ta'amu would take over at the nose.
Fangupo was a late add to the practice squad last season and could be sent back there in 2013.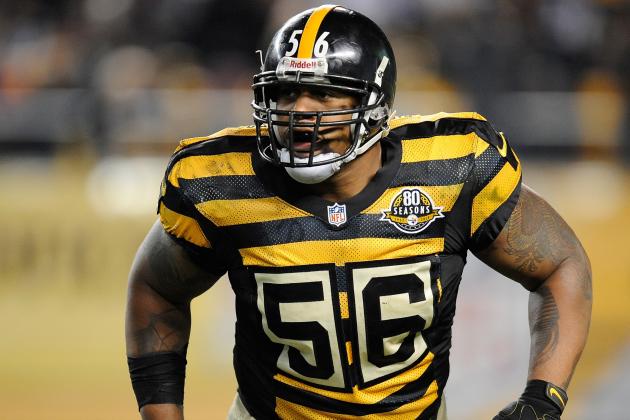 Joe Sargent/Getty Images

Starters: LaMarr Woodley, Jason Worilds
Rotation: Jarvis Jones
Reserves: Chris Carter, Adrian Robinson
It's pretty easy to mark LaMarr Woodley in his normal LOLB starting spot. But I think the guy standing across from him will be Jason Worilds—at least to start the season.
Worilds had his best year in 2012 and deserves to at least enter camp as the teams starter. It should be his job to lose.
That said, Jarvis Jones is more talented than Worilds and will push him for playing time. The Steelers could use Jones in the same way they used Woodley his rookie year, basically pass rushing situations to start.
Chris Carter and Adrian Robinson will hang around in case of injury. I actually like Robinson a little bit more. Carter has disappointed thus far into his career.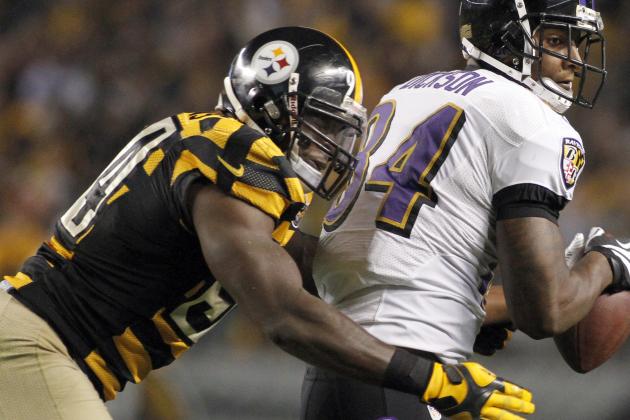 Justin K. Aller/Getty Images

Starters: Lawrence Timmons, Larry Foote
Backups: Brian Rolle, Stevenson Sylvester
Reserves: Kion Wilson, Marshall McFadden, Vince Williams
The Steelers will enter 2013 with the same starting inside tandem they held in 2012, and that accounts for a pretty good pair. Both Lawrence Timmons and Larry Foote played at a very high level last season with Foote leading the team in tackles and Timmons winning team MVP. The Steelers will need the same production out of them this year.
Brian Rolle was a pretty nice addition last year and could provide some impact if a starter were to go down. Stevenson Sylvester needs to improve this season or he could be out of a job.
Pittsburgh has a lot of reserves at inside linebacker and expect some serious cuts or practice squad transitions.
*PUP List: Sean Spence
With the gruesome knee injury Spence suffered last preseason, he could end up starting the season on the PUP. No rush to bring him back too soon.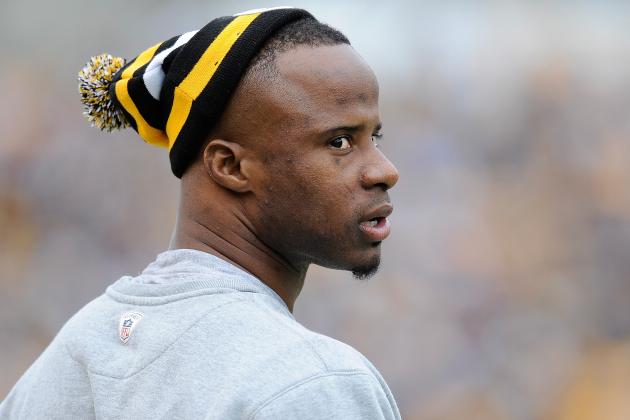 Joe Sargent/Getty Images

Starters: Ike Taylor, Cortez Allen
Nickel Package: William Gay
Reserves: Terry Hawthorne, Isaiah Green, Justin King, Demarcus Van Dyke, Josh Victorian, Ross Ventrone
Ike Taylor will undoubtedly be starting in his normal role and as it would appear, Cortez Allen is in place to replace Keenan Lewis. Allen played great filling in for Taylor last season and has earned a shot at the starting job.
The Steelers brought back William Gay to play their nickel corner and add depth. It was a nice, cheap addition Pittsburgh really needed.
As you can see, Pittsburgh has a ton of reserve corners. Obviously all of them won't be making the roster so expect massive cuts.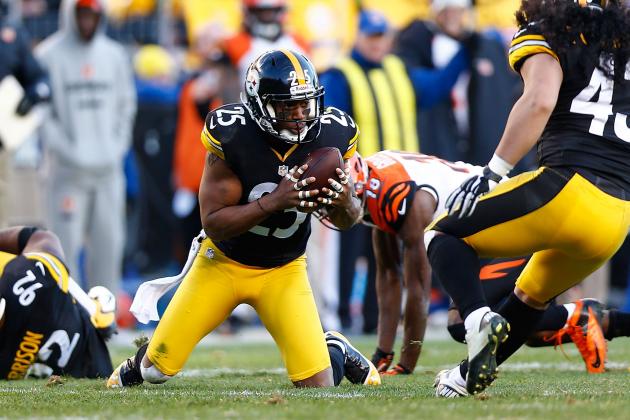 Jared Wickerham/Getty Images

Starters: Troy Polamalu, Ryan Clark
Backups: Shamarko Thomas, Robert Golden
Reserves: Curtis Brown, Da'Mon Cromartie-Smith
Troy Polamalu and Ryan Clark will enter the 2013 season as starters but these backup safeties are going to play. Polamalu missed nine games last season with a calf injury and both he and Clark have been injury-prone.
Pittsburgh acquired another fourth-round pick to take Syracuse's Shamarko Thomas. He's the guy they're planning to groom as a fill-in in case of an emergency. Robert Golden actually played pretty well last year when given an opportunity.
Curtis Brown, who has failed thus far as a corner, may be moving to safety for depth at the position. Da'Mon Cromartie-Smith could be on the chopping block.