Updated Grades for Every Impact NBA Rookie in the 2013 Playoffs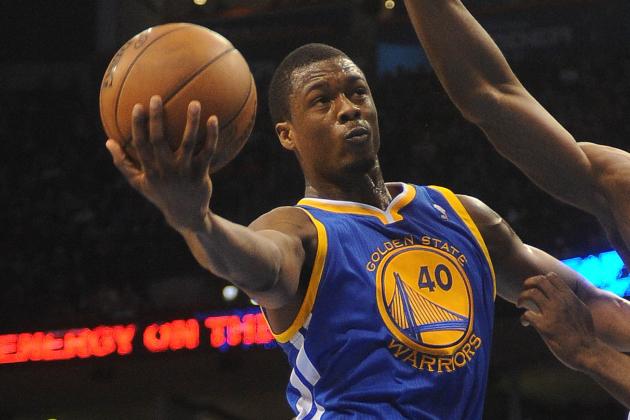 USA TODAY Sports

It's time to check in on the best rookies impacting the 2013 NBA playoffs.
Not many first-year players get the chance to compete in the postseason, so it's a special opportunity for this select group of newbies.
A trio of Golden State Warriors rookies has been instrumental in the squad's first-round success. Can they continue to produce if the Dubs move on to further rounds?
Meanwhile, a New York Knicks newcomer is piling up the steals at will, and a Houston Rockets replacement is fueling the team's comeback.
Find out how everyone graded as we get out the red pen, playoff style.
*An "impact rookie" is a rookie with more than 8.0 minutes per game in 2013 playoffs.
Begin Slideshow

»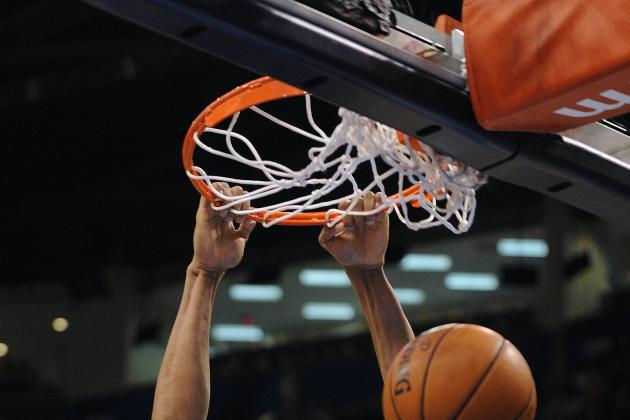 Mark D. Smith-USA TODAY Sports

2013 Playoff Stats: 8.3 MPG, 1.5 PPG, 2.0 RPG, 27.3% FG
During the Milwaukee Bucks' brief involvement in the playoffs, power forward John Henson saw scarce playing time and wasn't much of a factor.
Game 1 against the Miami Heat was his only true impact performance, as he scored six points and grabbed five rebounds in 20 minutes.
Henson's contributions fluctuated throughout the entire regular season, so it's not surprising that his postseason opportunities were inconsistent.
As one of the only Bucks under contract into the 2013-14 season, he could earn a key role on the squad in his second year.
Updated Grade: C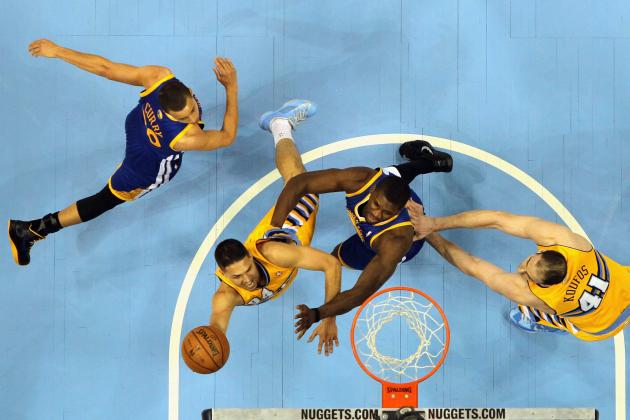 Doug Pensinger/Getty Images

2013 Playoff Stats: 13.3 MPG, 4.8 PPG, 1.0 APG, 35.3% FG
Denver Nuggets shooting guard Evan Fournier began the 2013 playoffs with a strong performance, but his impact diminished as the first round unfolded.
His 11 points and two assists helped George Karl's bunch win Game 1 against the Golden State Warriors. Since then, he's scored a combined eight points, and he didn't break a sweat in Game 5.
Fournier has yet to connect from long range, and that's severely affecting his productivity.
Karl won't ask for much out of Fournier in Game 6. A couple of jump shots and 10-to-15 minutes would greatly help the Nuggets tie the series.
Updated Grade: C+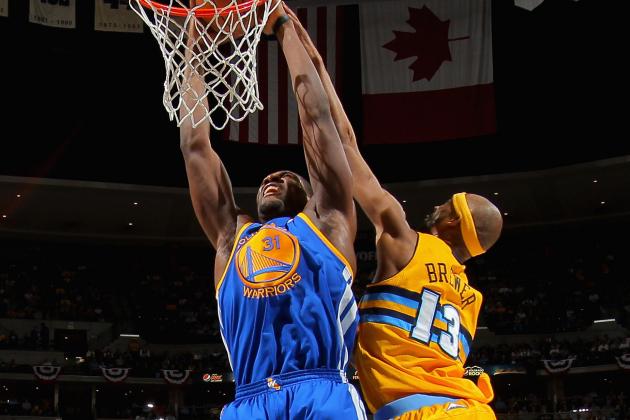 Doug Pensinger/Getty Images

2013 Playoff Stats: 10.2 MPG, 3.8 PPG, 2.2 RPG, 1.0 BPG, 83.3% FG
Due to his sprained right knee, Festus Ezeli's role in the Golden State Warriors' playoff run isn't as significant as Mark Jackson hoped.
Although he brings a physical presence with shot-blocking and mobility, Ezeli has been overmatched by the Denver Nuggets' front line from a skills standpoint. Kosta Koufos, JaVale McGee and Kenneth Faried are all superior bigs.
His bright spots include a trio of blocks in just eight minutes of Game 3 and five rebounds in 14 minutes of Game 5.
Ezeli's defense, rebounding and finishes around the rim could be the difference-maker for the Dubs as they try to close the series in Game 6.
Updated Grade: C+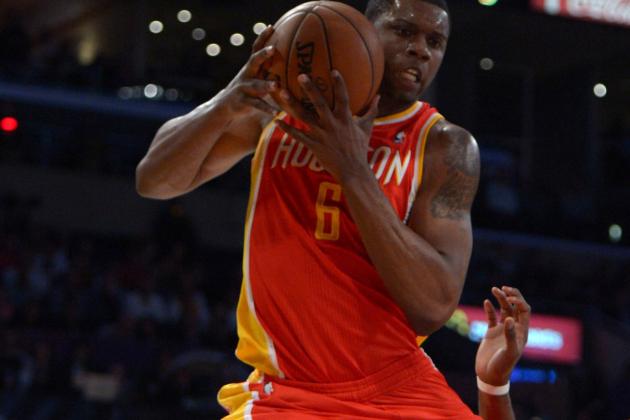 USA TODAY Sports

2013 Playoff Stats: 17.5 MPG, 4.0 PPG, 7.5 RPG, 40.0% FG
He hasn't played in every Houston Rockets playoff game, but during his shifts on the court, Terrence Jones cleaned up the boards.
In Game 1 against the Oklahoma City Thunder, he snagged eight boards in just 18 minutes. He followed that up with seven rebounds in 17 minutes of Game 3.
Offensively, he did most of his work close to the basket, because his few ventures away from the hoop proved unsuccessful.
Until he expands his ball skills, Jones will have a finite value for Kevin McHale. However, his effort on the glass shouldn't go unnoticed.
Updated Grade: B-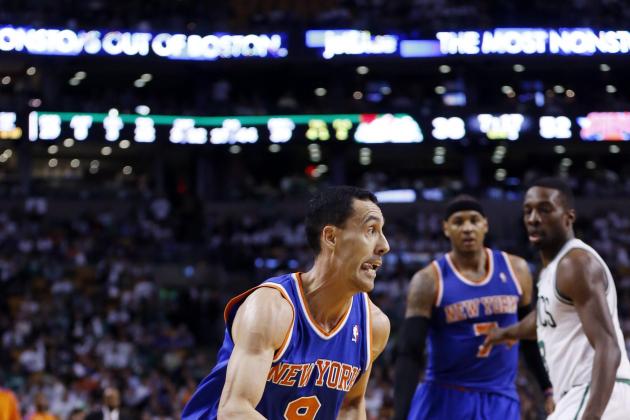 Greg M. Cooper-USA TODAY Sports

2013 Playoff Stats: 22.3 MPG, 4.0 PPG, 2.3 APG, 2.8 SPG, 27.8% FG, 30.8% 3PT
If Pablo Prigioni's grade was based primarily on steals, then he would get an A+.
The New York Knicks' Argentinian import has snatched twice as many steals as any other playoff rookie, including five in Game 3 against the Boston Celtics.
Unfortunately, his shooting has gone cold in the first round, as he's connected on 5-of-18 shots from the field.
Mike Woodson isn't expecting massive point totals from a facilitating caretaker like Prigioni. He is, however, expecting more consistency from long range.
Updated Grade: B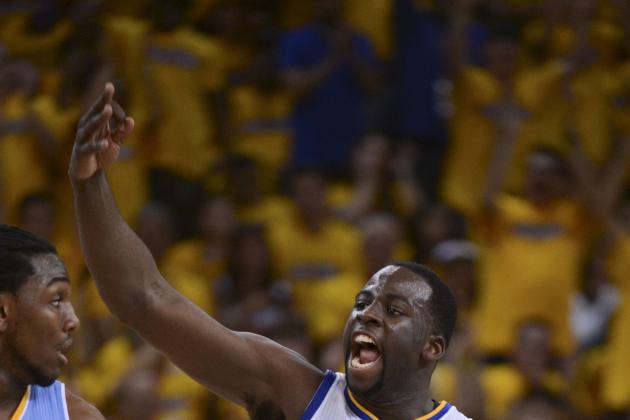 Kyle Terada-USA TODAY Sports

2013 Playoff Stats: 15.2 MPG, 5.6 PPG, 3.4 RPG, 66.7% FG, 50.0% 3PT
With his physical play, endless enthusiasm and red-hot shooting, Draymond Green has been one of the most fun players to watch in the playoffs.
Unless you're a Denver Nuggets fan.
Green's aggressive defense ruffled some feathers and got him into foul trouble on a couple of occasions, but it helped set a tone for the Golden State Warriors.
On the other end of the court, he's shooting much better than he did in the regular season. Green is 4-of-8 from the three-point line and 10-of-15 overall. He's clearly made a point to elevate his game in the postseason, using his unique combination of size and skill to influence the series.
Updated Grade: B+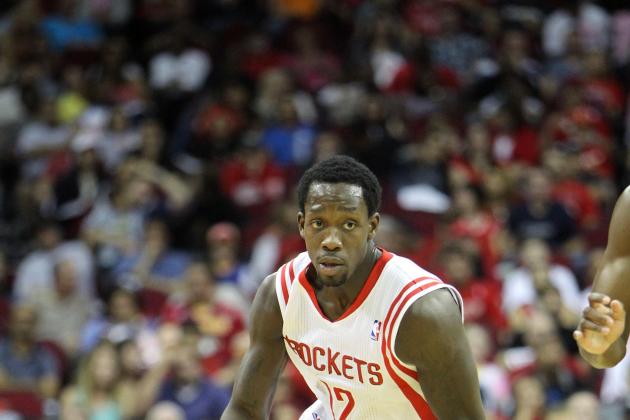 Brett Davis-USA TODAY Sports

2013 Playoff Stats: 33.4 MPG, 12.6 PPG, 6.0 RPG, 3.4 APG, 44.4% FG, 38.1% 3PT
One of the biggest X-factors of the NBA playoffs is Houston Rockets rookie guard Patrick Beverley.
His attempted steal during Russell Westbrook's timeout trot made him a hated figure in Oklahoma City (because Westbrook needed meniscus surgery). It's a shame that the play has overshadowed Beverley's superb overall performance against the Thunder.
With Jeremy Lin's chest injury sidelining him, Beverley has enjoyed a prominent role. He applies excellent defensive pressure to OKC's Reggie Jackson and Derek Fisher and then pushes the ball once he gets it.
In Game 2, he absolutely crammed the stat sheet, notching 16 points, 12 rebounds and six assists. Even though he's a proven shooter, he's more dangerous when using his speed and attacking the bucket.
Updated Grade: A-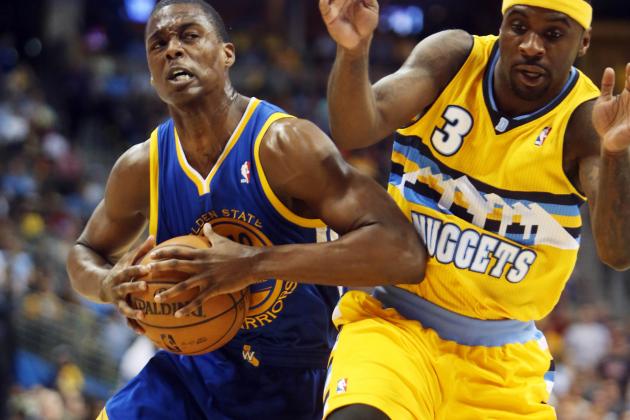 Chris Humphreys-USA TODAY Sports

2013 Playoff Stats: 35.4 MPG, 15.6 PPG, 5.6 RPG, 47.5% FG, 46.2% 3PT
Golden State Warriors forward Harrison Barnes entered the postseason as the most talented playoff rookie.
So far, his performance has validated that title.
Barnes has terrorized the Denver Nuggets with his rebounding, transition athleticism and outside shooting. He possesses confidence and poise beyond his years, and that's why he's able to thrive among veterans and produce. Most recently, Barnes dropped 23 points and collected nine boards in Game 5.
He also owns the best rookie play of the first round with this sensational reverse over Anthony Randolph.
Updated Grade: A+
For more interactive playoff hoops coverage, follow me on Twitter: