Jon Jones vs. Chael Sonnen: Live Blog for UFC 159 Main Event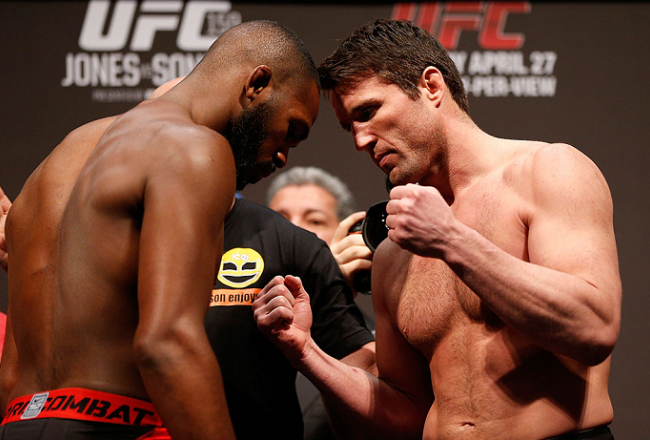 Photo by Josh Hedges/Zuffa LLC/Zuffa LLC via Getty Images

UFC light heavyweight champion Jon Jones looks to defend his title tonight for a record-tying fifth time when he meets Chael Sonnen in the main event of UFC 159 in Newark, New Jersey.
The Jones-Sonnen saga began back in August of last year when Sonnen agreed to step in at UFC 151 for an injured Dan Henderson. But Jones turned down the fight, resulting in the first event cancellation in UFC history.
Following the UFC 151 fallout, Sonnen and Jones were billed as opposing coaches for The Ultimate Fighter 17 and were scheduled to headline tonight's event. Sonnen has been doing most of the talking leading up to this contest, while Jones appears to be saving his rebuttal for the actual fight.
Join Bleacher Report this evening for a live blog of the five round main event between "Bones" and Sonnen, as well as pre- and post-fight commentary throughout the evening.
Chael Sonnen gives a rough critique of his performance...
"I whipped Jon for zero seconds and he whipped me for the entire fight." Chael Sonnen on UFC 159.

— Jonathan Snowden (@mmaencyclopedia) April 28, 2013
Jones says he'd rather fight Alexander Gustafsson next, not Lyoto Machida.

— Dave Doyle (@davedoylemma) April 28, 2013
Jon Jones has a few options for his next fight, but he hopes to avoid a rematch against Lyoto Machida, the former UFC light heavyweight champion.
Jones believes fight was stopped "a little on the early side."

— Matt Erickson (@MMAjunkieMatt) April 28, 2013
For what it's worth, Jones believes the fight was stopped a bit prematurely.
"@trainmilehigh: @stuartscott I see you're sitting with the TUF boys. Nice:)" Great night. So much respect 4 @ufc & @danawhite

— Stuart Scott (@StuartScott) April 28, 2013
ESPN's Stuart Scott joined the MMA crowd tonight in the Prudential Center for UFC 159. He didn't make a pick, but he seemed to have a good enough time.
Tito Ortiz, the former UFC light heavyweight champion, picked Jon Jones tonight, knowing "Bones" would tie his record for most 205-pound title defenses with a victory.
Is Tito really considering a return from retirement to defend that record?
Well I may have to come out of retirement to beat @jonnybones I can't let I'm beat my record. @punishment99 #ufc159 #UFConXboxLIVE

— Tito Ortiz (@titoortiz) April 28, 2013
For his sake, hopefully he is not...
Bleacher Report's Damon Martin says it best:
Jon Jones doing what Jon Jones does. Took Chael down, unloaded elbows and punches. Fight over #UFC159

— Damon Martin (@DamonMartin) April 28, 2013
Sonnen is interviewed next and says he has no problem with the stoppage.
He says he was surprised at Jones' power and size. "Jon's the man," he stated.
Rogan then asks him about his future, and Sonnen does not seem content to stick around any division in which he can not be champion. However, he has attempted to earn the belt at middleweight and light heavyweight.
Still, as commentator Mike Goldberg pointed out, Sonnen is all class in defeat and one of the best competitors in all of the UFC.
UFC commentator Joe Rogan comes into the cage to talk with Jones and almost immediately notices a break in his foot.
They call a doctor in, and Jones talks about how he was planning to go to Jamaica. After the foot injury, he doesn't think that is going to happen anymore. He looks to be in a lot of pain.
Jones vs. Sonnen Play-By-Play Results
Round 1:
Sonnen shoots out into the center of the cage, looking to strike. Jones wraps im up and takes him down. Sonnen back up. They're in the clinch, and Sonnen is landing uppercut after uppercut. Jones regains control and presses Sonnen against the cage.
Takedown from Jones, but Sonnen is able to stand back up. The champion smothers him up against the cage, but eventually takes him down again after a struggle in the clinch.
The fight moves up against the cage, and Jones begins to open up. Big strikes from Jones, and a knee to the body lands. Elbow after elbow from Jones. Sonnen is covering up, but he is taking damage. This fight is over.
The referee steps in at 4:33 of Round 1, and Jones has successfully defended his title against Sonnen.
Challenger Chael Sonnen is walking out to the Octagon. His song of choice is "Too Much Fun" by Daryle Singletary. Obviously, the man is in shape and ready to work.
The UFC light heavyweight champion, Jon Jones, walks out to "God Gave Me Style" by 50 Cent.
UFC light heavyweights Phil Davis and Vinny Magalhaes just finished battling it out in the second main card fight for UFC 159, and "Mr. Wonderful" was back in form against The Ultimate Fighter veteran.
He could prove a worthy challenger for the light heavyweight champion in 12 to 18 months, but he certainly has more to accomplish before entering into the division's elite.
In Jersey at the Prudential center #UFC …. I'm on Jones side

— Waka Flocka Flame (@WakaFlockaBSM) April 28, 2013
Meanwhile, Waka Flocka Flame is at the Prudential Center for the fights. The acclaimed rapper is going with Jon Jones in the main event of the evening.
The preliminary card of UFC 159 is in the books, and we're headed to the main card in Newark.
Four fights separate us now from the main event, featuring light heavyweight champion Jon Jones and top contender Chael Sonnen.
This should be one of the easiest fights for @jonnybones #ufc159 #UFConXboxLIVE

— Tito Ortiz (@titoortiz) April 28, 2013
As stated earlier, a win for Jones secures him a tie with Tito Ortiz for most title defenses at the 205-pound mark. Ortiz seems to think his record will be shared by the night's end.
This doesn't have anything to do with the main event, but if you saw Ovince St. Preux vs. Gian Villante you know it's worth mentioning.
For those that did not, the fight was called after an accidental eye poke. When asked if he could see by the referee, Villante stated that he could not, presumably expecting time to recover. Instead, the fight was called.
UFC middleweight contender Brian Stann summed the result up nicely:
Wow strange ending to an odd fight, @003_osp move to Atlanta so @rayjwrestle @artilheiromma and I can help you more

— Brian Stann (@BrianStann) April 28, 2013
We have just one fight before the main card goes live on Pay-Per-View.
Two FX preliminary card fights, two stoppages.
First, Bryan Caraway tapped out Johnny Bedford in the third round of their fight, then Sara McMann rolled through Sheila Gaff for a first round technical knockout stoppage.
Should we expect a a TKO or submission in the evening's main event?
The Facebook card is in the books, and we're heading over to FX for four more contests. Bantamweights Bryan Caraway and Johnny Bedford kick off the FX broadcast.
UFC 159 prelims are LIVE on FX right now!!! International fans can find where 2 watch here on.fb.me/ZEWKMy

— Dana White (@danawhite) April 27, 2013
We are still several hours away from the highly anticipated main event of the evening, but you can keep tabs on all the undercard happenings.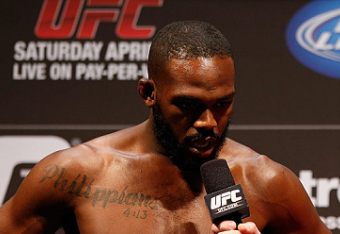 The preliminary card is underway at the Prudential Center in Newark, but we still have nine fights before the main event between Jones and Sonnen.
While you enjoy the Facebook fights, check out Jonathan Snowden's latest on Jon Jones, the promotion's "transcendent star."
This article is
What is the duplicate article?
Why is this article offensive?
Where is this article plagiarized from?
Why is this article poorly edited?