Oregon Football 2013 Spring Game: Live Analysis, Notes and Recap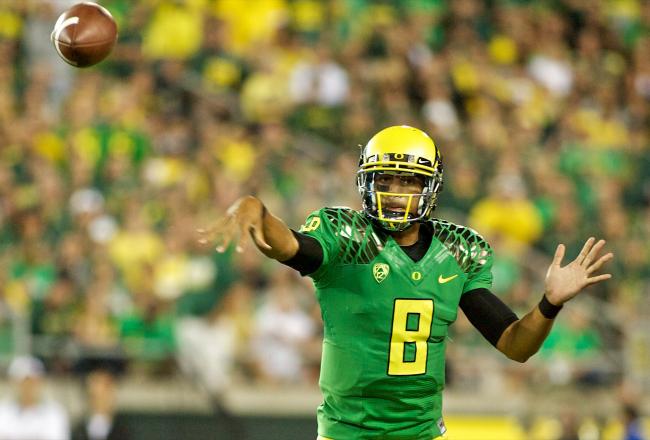 QB Marcus Mariota was the star in last year's spring game. Who will it be this year?
Craig Mitchelldyer/Getty Images
Final: Offense 65, Defense 10
The scoring system may not have worked as well as new head coach Mark Hefrich would have liked, but the Ducks certainly put on an impressive show for fans in their annual spring game.
Marcus Mariota kicked things off with a beautiful touchdown drive on his first possession and the offense never really looked back. Mariota finished the day with as many touchdowns (2) as incompletions, and he left the final 3/4 of the game to his primary backups, Jake Rodrigues and Jeff Lockie.
Both guys appeared exactly as we've come to know them through media reports. Rodrigues is more impressive physically and has an enormous arm, while Lockie looks a little more poised but can't make as many throws.
Byron Marshall had just six carries but turned those into 60 yards. Josh Huff and Bralon Addison both had solid performances at the wide receiver spot and each appear headed toward big things in 2013.
On defense, the story of the day was guys sitting out due to injury. DT Ricky Havili-Heimuli sat out as did linebackers Derrick Malone, Tyson Coleman and Rodney Hardrick. Joe Walker got plenty of run and appeared fairly comfortable, even blitzing Lockie on one occasion.
If cleanliness is what you'd like to see most out of the spring game, that's exactly what you got. The Ducks only turned the ball over once (Dustin Haines threw it right at a linebacker) and as far as I can remember only a couple passes were dropped. B.J. Kelley was dinged up in the first half but came back to make at least one more catch later on.
All in all, a solid day in Eugene despite the lack of fireworks that Mariota provided last season. Heading into the summer, the Oregon Ducks look every bit the part of powerhouse, and if they can carry spring momentum into the fall, a fifth BCS bowl could very well be on the horizon.
Jeff Lockie throws high on his last pass of the day and with that, the 2013 Oregon spring game has concluded.
Offense 65, Defense 10 is your final score.
Mark Helfrich says the team has played hard. I have to agree, not many dropped balls, just one turnover, some big hitting. All in all fans should be more than pleased right now. Can Lockie put one more score on the board?
Safe to say Bralon Addison has proved his worth today? Another grab and I'm officially wondering why he's still in the game. It's clear that he's going to be a nightmare for opposing defenses next season.
Ayele Forde still in the game and running hard. Remember that he's on scholarship now and might get a few more carries than usual next season.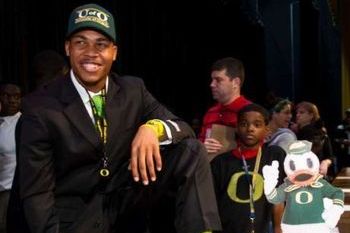 Both backup quarterbacks have looked sharp so far in the second half, and there's Rodrigues with a gorgeous TD throw to Chance Allen, who's been talked about a lot this spring. Nice for him to get on the board.
Offense 65, Defense 10
RB Lane Rosberry busts through the line and the lopsided scoreboard becomes even more so. Both Helfrich and Nick Aliotti have referenced the screwed up scoring system, which probably won't look the same next spring.
Offense 59, Defense 10
Lockie with a nice drive to open up his second half, but you know who's had a nice day so far? WR Eric Dungy. He must have at least seven catches so far.
Some tight end sightings with backup Pharoah Brown and Evan Baylis, a hulking talent who redshirted last season. Brown has had an excellent spring and should be a big piece of the offense come fall.
We finally have our first turnover, as LB Isaac Ava picks off Dustin Haines. Ava had that one thrown right at him and he made the play.
Offense 52, Defense 10
Dustin Haines in at quarterback, will anybody stand out in the second half?
And the second half is underway with "Joker and the Thief", the Ducks' pump up song, playing in the background. Not sure how fired up everybody is for the second half of the spring game, however.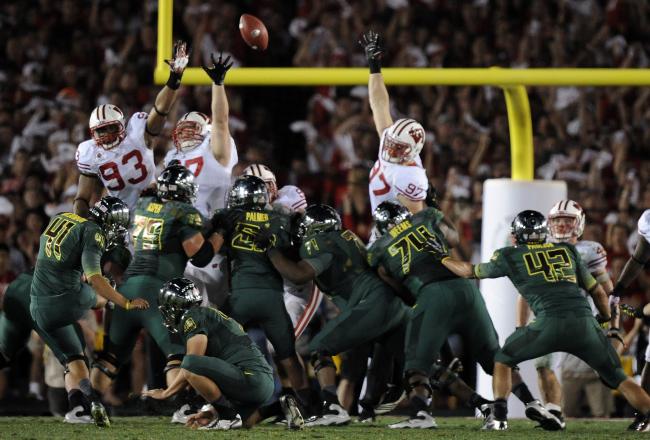 Are you kidding me, Alejandro Maldonado?? The much-maligned kicker nails a 48-yarder (pinch yourself, you're not dreaming) to end the half. Well done.
Offense 52, Defense 7
Doesn't appear to be a throw in the playbook that Rodrigues can't make. He still looks hesitant at times but when he has a target he really does fire it in there.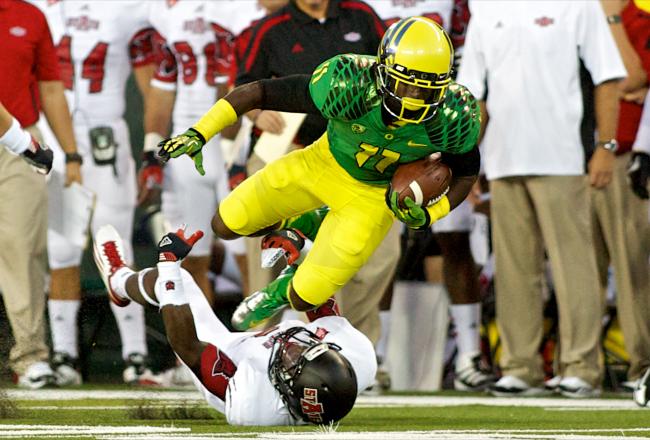 Bralon Addison clearly the player of the day so far (after Mariota). He snags a pass from Lockie, puts a move on redshirt freshman Oshay Dunmore and walks into the endzone. Nice to see another receiver besides Huff stepping up, which could really help out the passing attack.
Offense 49, Defense 7
Great to see Dior Mathis with the lockdown coverage there. He was a big-time recruit but has kind of gotten lost among all the DB's. Should Ekpre-Olomu or Mitchell go down, Mathis would likely be the next man up.
Nice drive by Rodrigues to match Lockie's of a series ago. TD to Blake Stanton, and the offense has complete control of the scoreboard.
Offense 42, Defense 7
It's interesting to note that Byron Marshall's day appears to be done. He ran well, but I thought we would have seen him more.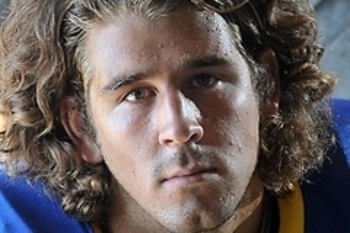 B.J. Kelley back in the game after getting dinged up earlier. Appears to have a nice connection going with Rodrigues. Also, the first mention of Joe Walker, who chased after Lockie on the previous possession before Lockie was able to throw a TD.
Pretty nice penetration by the defensive line this series, but Lockie escapes the pressure to throw a TD to walk-on Jeff Bedbury.
Offense 35, Defense 7
Seeing Isaac Dixon (No. 5) a lot out there. Just another young safety with a chance to contribute in 2013.
The hit on Kelley was made by Stephen Amoako, a redshirt freshman. You never want to see injuries but it's nice to see physical play from the the young DB.
There's a touchdown by walk-on RB Jordan Thompson, though QB Jake Rodrigues played a major role on the drive. He isn't always making the best decisions, but he clearly has a huge arm with enormous potential.
Offense 28, Defense 5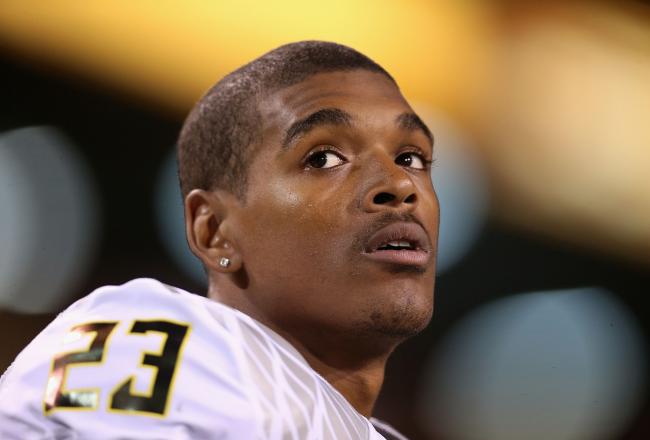 B.J. Kelley dinged up after making a nice grab. Appears to be okay though, walking off under his own power.
Announcers comparing Rodrigues to Mark Sanchez. Not sure that's a good thing....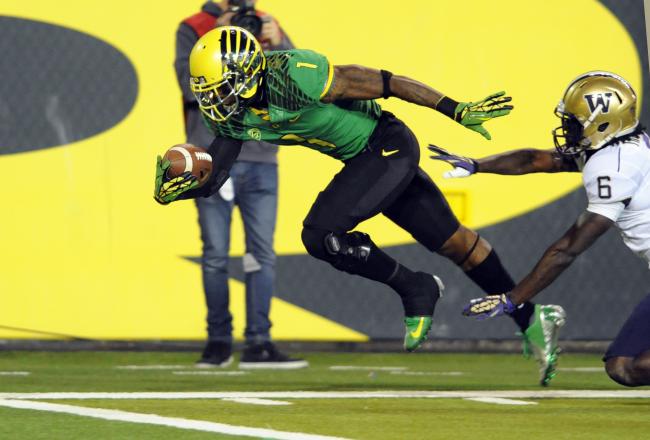 And there's yet another TD pass from Mariota to Huff. As much talent as Huff has, you'd have to say he hasn't really reached his full potential. Could he be in for an enormous senior season?
Offense 21, Defense 4
This article is
What is the duplicate article?
Why is this article offensive?
Where is this article plagiarized from?
Why is this article poorly edited?

Oregon Ducks Football: Like this team?