AC Milan vs. Catania: As It Happened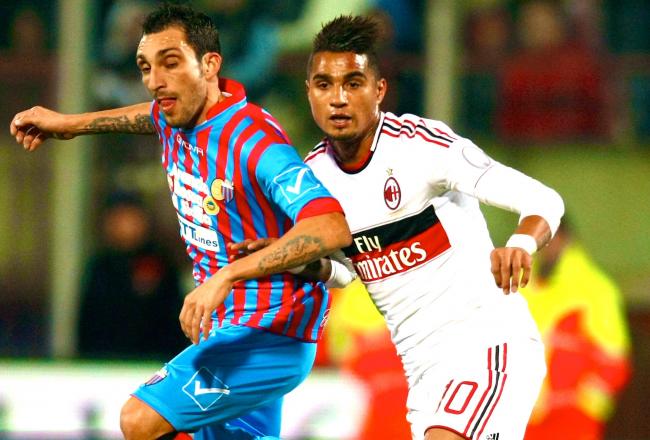 Serie A Round 34—San Siro, Milan
AC Milan 4-2 Catania (FULL TIME)
Goals: Legrottaglie (30'), Flamini (45'), Bergessio (66'), Pazzini (76', 77'), Balotelli (PEN 90'+2)
Lineups
Milan: Amelia, Abate, Mexes, Bonera, De Sciglio, Flamini, Montolivo, Nocerino (Pazzini 67'), Boateng (Niang 88'), Balotelli, El Shaarawy (Muntari 81')
Catania: Frison, Izco, Legrottaglie, Rolin, Marchese, Lodi (Capuano 88'), Almiron (Biagianti 81'), Barrientos, Castro, Gomez, Bergessio
Thanks very much for joining me tonight. I had a blast watching this match, and I sincerely hope you did as well. This is Sam Lopresti signing off for Bleacher Report. Good night!
A big shout out to Jack Keane and Nathan Finnegan of the Football Factory at Legends here in New York City. Their establishment is a wonder and I'd be hard pressed to cover matches like this without it.
This was a really fun match to watch. Catania defined the term "against the run of play," while their No. 2 goalkeeper had a day for the ages. It was telling just how Milan scored: three rebounds and a penalty. On another night with a few different bounces Catania would have been able to pull off the upset. Definitely one of those games you're sad to see end.
As for Catania, the loss effectively ends any chance they had of qualifying for the Europa League. They've improved a great deal under Vincenzo Montella last year and Rolando Maran this season, and if they make the right moves in another years time they may make a bigger and better run at the top five. For now, though, they'll have to be content with being the best team in Sicily, and making sure that their island province has been well represented in the Serie A this year despite Palermo's battle with relegation.
Gli elefanti were 15 minutes away from beating Milan for the first time since they returned to Serie A in 2006, but a predatory Pazzini was there to rescue the rossoneri. The win keeps Milan one point ahead of Fiorentina for the Serie A's third and final place in the Champions League.
FULL TIME
No further fight from Catania as the ref blows for time. The Sicilians put in a fantastic effort but Milan was the better side the entire night and Pazzini's entrance really changed things.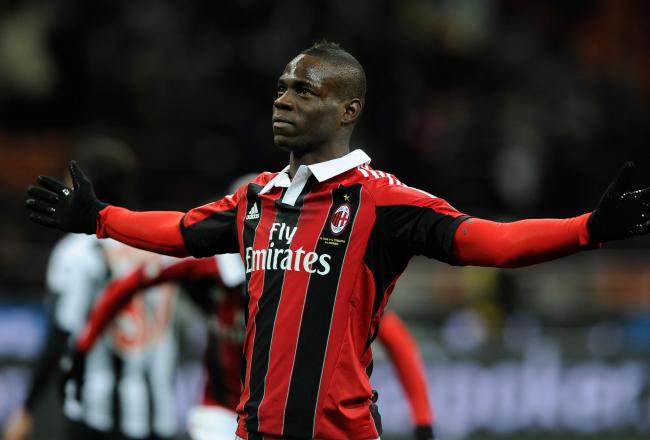 90+1' - GOAL MILAN
Balotelli stutter-steps Frison and taps it the other way. Actually wasn't the best of contact, but it was enough. Game over.
90+1' - PENALTY
Balotelli is brought down in the upper corner of the box by Izco. Milan can seal it here.
90+1' - Niang goes on a nice run but is snuffed out. Three minutes are on the board.
90' - Approaching stoppage time. Have yet to see the board. Milan using offense as their best defense.
89' - Bergessio gets hauled down in the area, but the ball must have been too far away from him for it to be judged a penalty.
88' - MILAN SUB
OUT: Boateng
IN: Niang
CATANIA SUB
OUT: Lodi
IN: Capuano
87' - Free kick cleared with the head.
86' - YELLOW CARD
Giovanni Marchese gets a yellow, I believe for hand ball. Play wasn't originally stopped, but now they've pulled it back. Montolivo on the free kick.
85' - Balotelli fouled. He and Muntari stand over the FK....Balotelli serves it for his teammates but Frison punches away.
84' - Pazzini is fouled near the left touch line. Free kick short. Milan needs to hold on for six minutes and not let their defense slip up again.
81' - CATANIA SUB
OUT: Almiron
IN: Biagianti
Barrientos went into the book with Flamini. Obviously there was some sort of altercation during the celebration of Pazzini's second, but I couldn't catch it on-screen.
81' - MILAN SUB
OUT: El Shaarawy
IN: Muntari
Allegri is going to consolidate now.
80' - MISS
Bergessio nearly levels but goes just high. This has been one heck of a match to watch.
78' - YELLOW CARD
Flamini is in the book now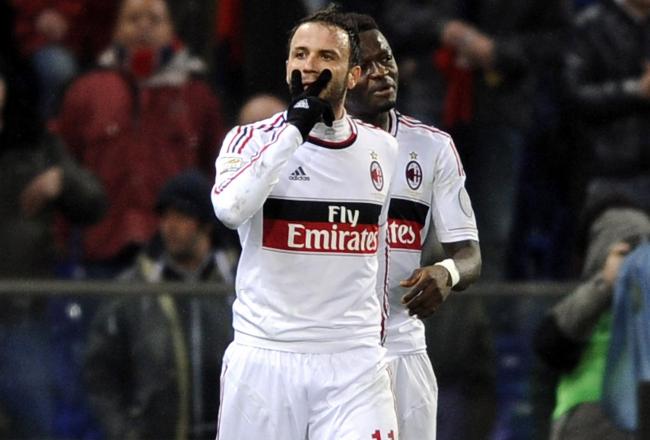 77' - GOAL MILAN!!
A quick second from Pazzini gives Milan the lead!! Another rebound poach, this time after Frison denies El Shaarawy.
76' - That goal's put the spring back into Milan's step. Corner coming.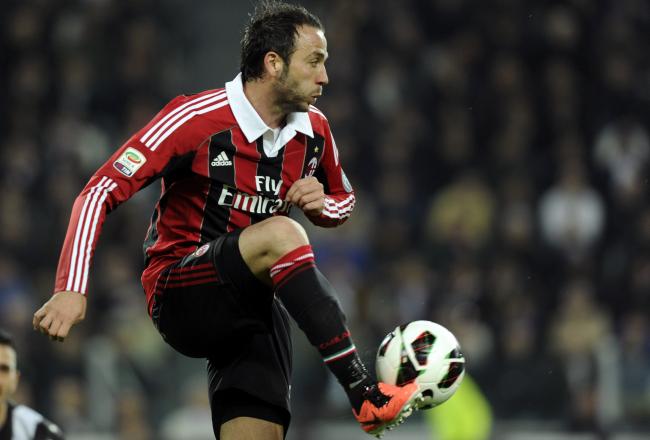 74' - GOAL MILAN!
Balotelli's shot is kept out yet again by Frison but Pazzini is there to put the ball in. Milan fans still had hearts in mouths though—it went in off the inside of the post. I thought it was bouncing out, to be honest.
72' - YELLOW CARD
Balotelli is shown a yellow for diving and isn't happy about it.
This article is
What is the duplicate article?
Why is this article offensive?
Where is this article plagiarized from?
Why is this article poorly edited?