UFC 159 Results: Top 10 Light Heavyweights in the UFC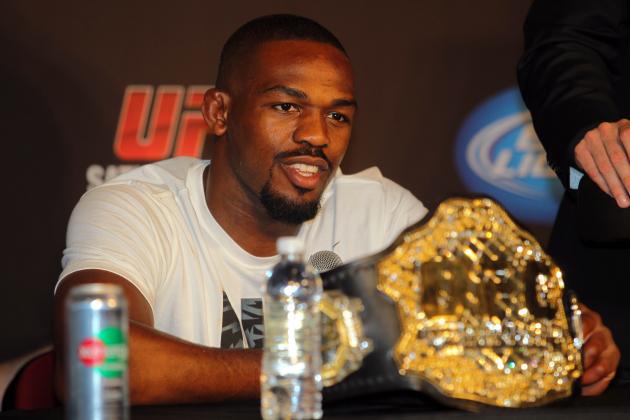 Brad Penner-USA TODAY Sports

UFC 159 came and went, and Jon Jones retained his UFC light heavyweight championship against Chael Sonnen. He probably could have made a quick turnaround to defend his title, but he broke his toe, which will likely put him on the shelf for a bit.
The light heavyweight division is loaded with talent, offering many contenders to Jones' belt. Jones has beaten most of them already, so challenges against guys like Alexander Gustafsson and Dan Henderson would be a change-up for the young champion.
Here are the top-10 light heavyweights post UFC 159.
Begin Slideshow

»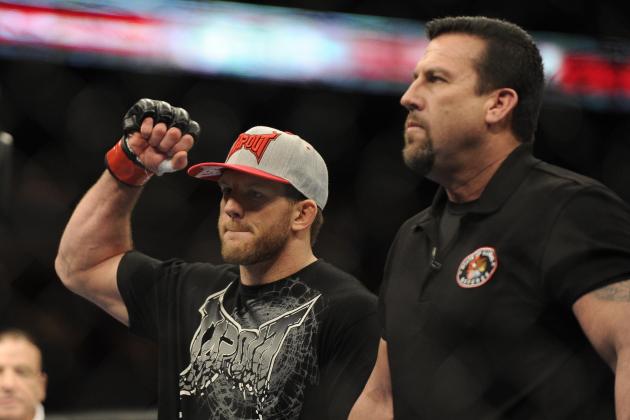 David Banks-USA TODAY Sports

Record: 15-3
Last Fight: Submission win vs. Vladimir Matyushenko
Next Fight: n/a
Leading off this list is The Ultimate Fighter 8 winner Ryan Bader. The Arizona State wrestling alum is 8-3 in the UFC, defeating some top guys along the way.
Bader's last win took just 50 seconds when he used a guillotine choke to tap out Vladimir Matyushenko. He would have made a quick turnaround against Glover Teixeira, but an injury forced him from that bout.
Bader's striking is powerful, which complements his wrestling nicely. He also has brutish strength, which allows him to ragdoll some opponents.
When he returns, I think a bout with Phil Davis would be a nice fit. They have similar styles and could meet to ascend the 205-lb ladder.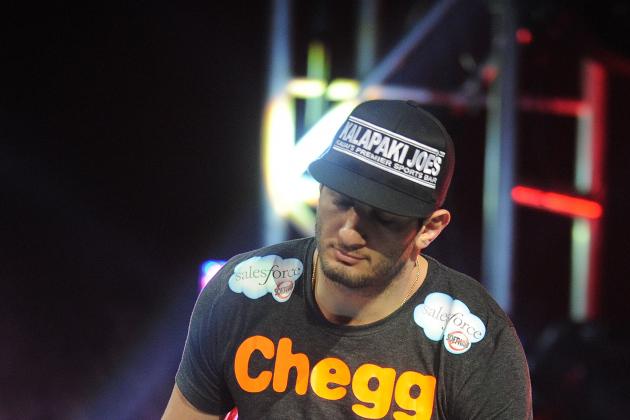 USA TODAY Sports

Record: 34-3-2
Last Fight: Unanimous-decision win vs. Ilir Latifi
Next Fight: n/a
Gegard Mousasi recently made the move over from Strikeforce successfully, when he won a decision against Ilir Latifi in Sweden. The win extended his winning streak to five.
Mousasi hasn't lost a fight since 2010, when he lost the Strikeforce title to Muhammed Lawal. Before that loss, he hadn't lost since 2006 while keeping a busy schedule in the cage.
Mousasi is a top-level boxer with an underrated ground game. Only five of Mousasi's wins have come via decision, showing that he is a finisher.
He has no opponent scheduled for his next fight. However, a bout with Wanderlei Silva would be great for his next outing.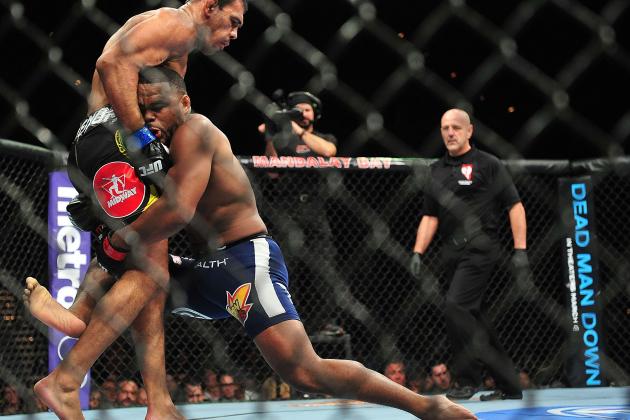 Gary A. Vasquez-USA TODAY Sports

Record: 17-3-1
Last Fight: Unanimous-decision loss vs. Antonio Rogerio Nogueira
Next Fight: Dan Henderson at UFC 161
Rashad Evans has fallen on hard times as of late, losing two straight fights. Before those losses, Evans had lost only once in his career.
Evans has top-level wrestling, great athleticism and powerful striking. The former champion won four straight fights previous to his current losing streak.
His next fight will be against the legendary Dan Henderson. He must avoid the big right hand and use his takedowns to be successful in that fight.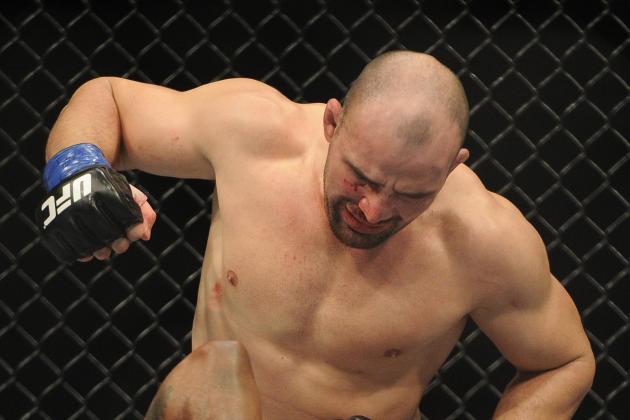 David Banks-USA TODAY Sports

Record: 20-2
Last Fight: Unanimous-decision win vs. Quinton Jackson
Next Fight: James Te Huna at UFC 160
Brazil's Glover Teixeira has taken the UFC by storm after being considered the top guy not in the UFC for a long time.
Teixeira has dominated all three of his UFC appearances, using his powerful striking and great ground game to destroy opponents. Wins over Kyle Kingsbury, Fabio Maldonado and Quinton Jackson have all been impressive.
He next takes on James Te Huna at UFC 160. A win over Te Huna would likely put Teixeira into title-contention talks.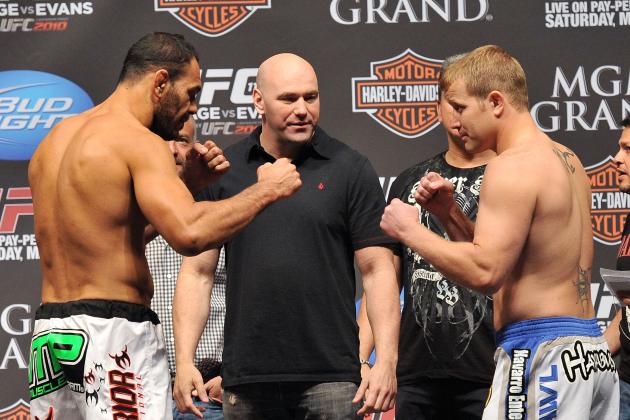 Jon Kopaloff/Getty Images

Record: 21-5
Last Fight: Unanimous-decision win vs. Rashad Evans
Next Fight: Mauricio Rua at UFC 161
Antonio Rogerio Nogueira skyrocketed up the rankings following his latest fight, a unanimous-decision victory over Rashad Evans. Nogueira was a heavy underdog, but he used great takedown defense and solid boxing to earn the judges' approval.
He now gets a shot at earning redemption when he takes on Mauricio Rua at UFC 161. The two first met in Pride when Rua won a unanimous-decision nod over Nogueira in 2005.
A win for Nogueira would give him a three-fight win streak over three top guys. That would give him serious consideration for a title shot against Jon Jones.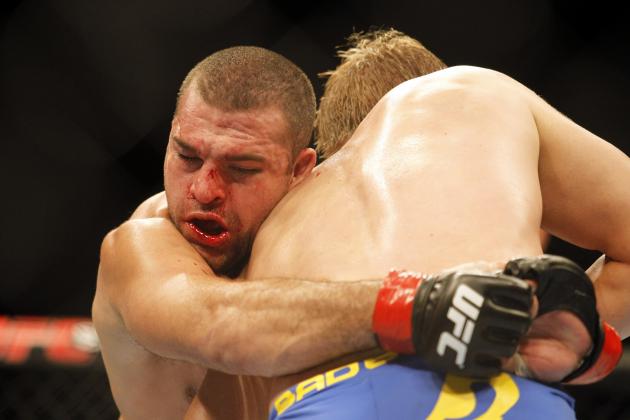 Joe Nicholson-USA TODAY Sports

Record: 21-7
Last Fight: Unanimous-decision loss vs. Alexander Gustafsson
Next Fight: Antonio Rogerio Nogueira at UFC 161
Mauricio Rua's career is slowing down after a long, successful career. That long career has created some serious wear and tear, but he still has a bit left in the tank.
Rua's muay Thai is top of the line. It could be better, but his knees are not what they used to be when he was a younger man.
He gets a chance to stay in the top of the division when he rematches Antonio Rogerio Nogueira. That win would give him title consideration again.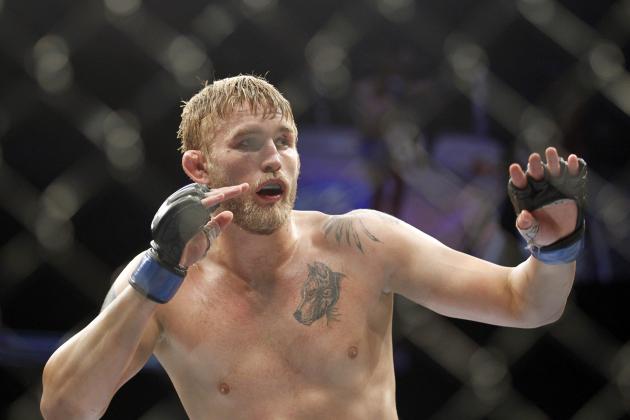 Joe Nicholson-USA TODAY Sports

Record: 15-1
Last Fight: Unanimous-decision win vs. Mauricio Rua
Next Fight: n/a
Alexander Gustafsson may be a future champion, as he is one of the youngest and most promising prospects in MMA. The Swede has helped with the rapid expansion of MMA in his home country, which is becoming a major hotbed.
Gustafsson has top-notch boxing and a solid submission game. He finds himself on a six-fight win streak, including wins over Mauricio Rua, Thiago Silva and James Te Huna.
He is currently mending an injury, but a return fight against Lyoto Machida would be great. It could present a top contender to Jon Jones.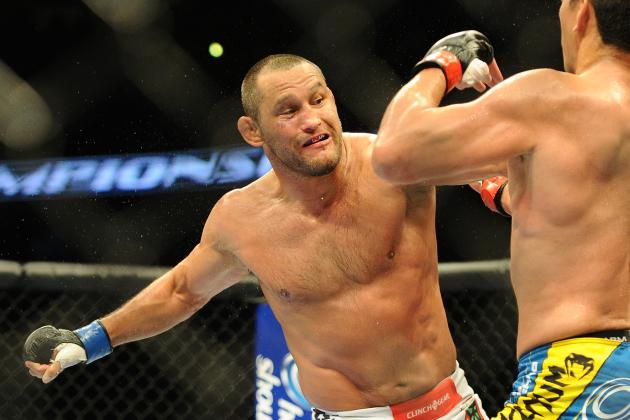 Jayne Kamin-Oncea-USA TODAY Sports

Record: 29-9
Last Fight: Split-decision loss vs. Lyoto Machida
Next Fight: Rashad Evans at UFC 161
Dan Henderson is in his 40s, but he has not slowed down much in his MMA career. The former two-division Pride champion is still a knockout machine with a chin made of granite.
His last loss to Lyoto Machida was controversial, but it could have gone either way. Henderson is nonetheless still a top-three fighter in the division.
His next bout is against Rashad Evans at UFC 161. One big right hand could earn Henderson the victory at any time.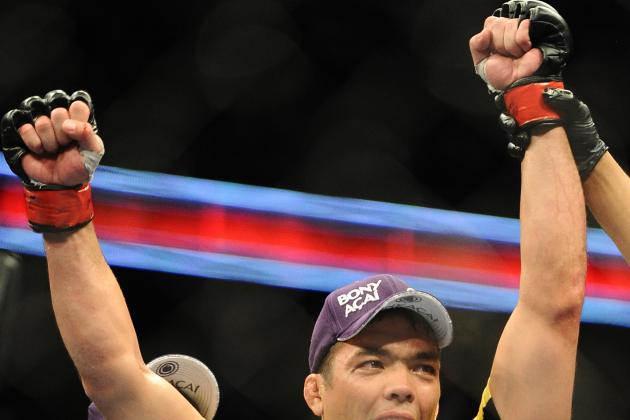 Jayne Kamin-Oncea-USA TODAY Sports

Record: 19-3
Last Fight: Split-decision win vs. Dan Henderson
Next Fight: n/a
Lyoto Machida is the second-best light heavyweight on this list, but that does not mean he should be next in line for a title shot. He was already trashed by Jon Jones at UFC 140 and was lackluster in his latest outing against Dan Henderson.
Machida is unorthodox in his striking and has solid takedown defense. The former champion has lost three of his last six, which was a turnaround from him winning his first 16 pro bouts.
A bout against Alexander Gustafsson would be great. It would give him a chance to earn a title rematch with Jon Jones.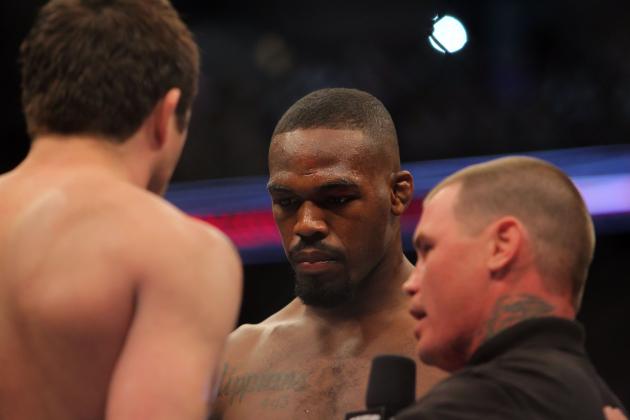 Brad Penner-USA TODAY Sports

Record: 18-1
Last Fight: TKO win vs. Chael Sonnen
Next Fight: n/a
Jon Jones retained his title against Chael Sonnen on Saturday night but broke his toe in the process. He will probably mend that injury for some time, but he will return with plenty of contenders vying for his belt.
Jones' only loss came via disqualification in a bout he would have clearly won. He has been nearly untouchable in his career and has rarely, if ever, been in trouble in a fight.
We will see how far this great champion will go in his career. He could become the greatest MMA fighter of all time.