Arizona Cardinals Mock Draft: Predictions for Day 3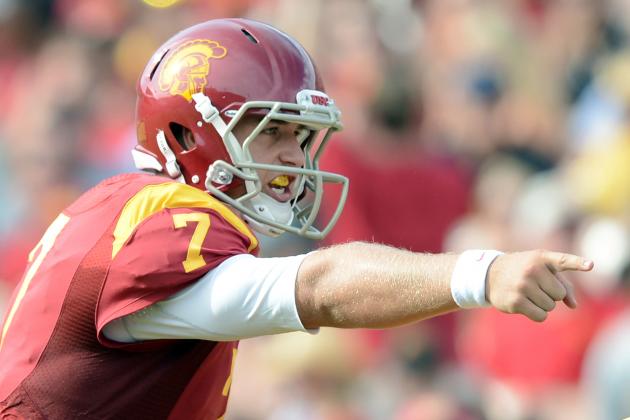 Harry How/Getty Images
Matt Barkley in Round 4 is a good pick for Arizona.
The third and final day of the 2013 NFL draft is upon us already, and the Arizona Cardinals have five picks after adding a fourth-rounder courtesy of the San Diego Chargers.
After selecting offensive guard Jonathan Cooper with the seventh overall pick Thursday night, general manager Steve Keim followed that up with two former LSU Tigers on Day 2, taking inside linebacker Kevin Minter 45th overall (the San Diego trade) and highly-scrutinized cornerback Tyrann Mathieu.
Click here to see my grades for those three picks, and come back to that article to keep up with the grades for all remaining Cardinals picks.
Here is your mock draft for the remaining Cardinals picks for today.
Begin Slideshow

»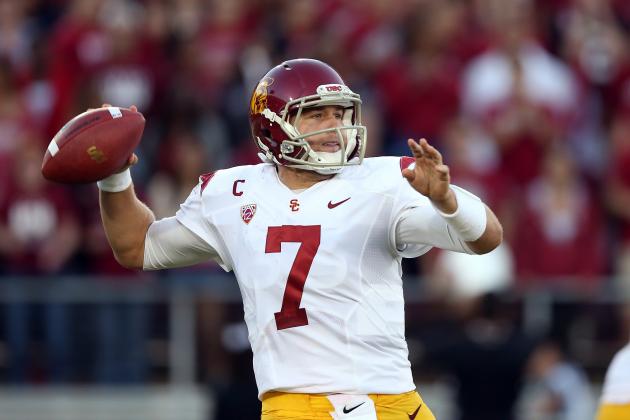 Ezra Shaw/Getty Images

Previous Pick: Quanterus Smith, DE/OLB, Western Kentucky
At No. 7 overall, this pick would have been a disaster. Other areas needed more attention, and clearly, the Cooper pick made a bunch more sense.
But way down in the fourth round, this pick is perfect. The Cardinals still have another fourth-rounder upcoming, thanks to San Diego moving up to take Manti Te'o, so this pick is kind of a freebie.
Matt Barkley started four years at Southern California. He tossed 116 touchdowns and 48 interceptions in that time while completing 64.1 percent of his passes for 12,327 yards. He is no lightweight in terms of college football quarterbacks.
He is the big-time quarterback prospect who went to the big-time college football program and put up big-time numbers while starting 47 games in four years.
But all those stats and all those games lead some to the conclusion—after watching his 1,562 pass attempts—that he doesn't have what it takes to be a franchise quarterback. I covered that topic in January, looking at some non-traditional quarterback stats in an attempt to determine if this quarterback class has a hidden gem within it.
In the right system with the right coaching, Barkley can be a solid NFL starter. Maybe he's not the elite "franchise guy" everyone covets, but if he can get the team to the next guy while winning some games, why not give him a shot in the fourth round?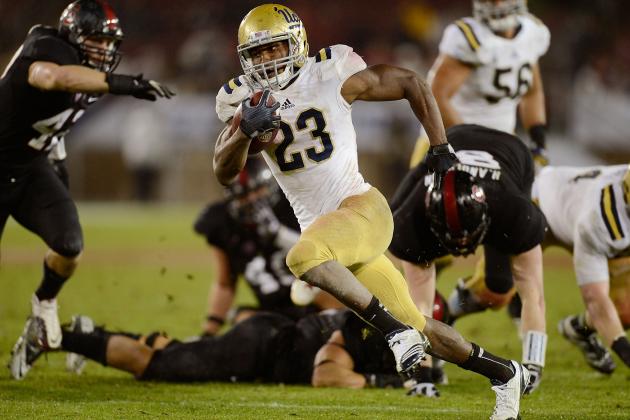 Thearon W. Henderson/Getty Images

As Day 2 was all about the SEC for Arizona, Day 3 starts out all about the Pac-12.
Johnathan Franklin was very productive for three years as UCLA's starting running back. In four seasons all told, he rushed for 4,403 yards, scored 31 rushing touchdowns and averaged 5.6 yards per carry.
Most of the time, he was the Bruins' only offense. Last year, he accounted for 31.5 percent of UCLA's yardage, gaining 2,057 yards from scrimmage.
His good burst through the line and excellent change-of-direction ability makes him one of the better running back prospects still available.
It's a bit of a shock he is still available in the first place, which leads me to believe he may go before No. 110. This pick could be too late, so if they feel like it, Arizona may nab him at No. 103 and leave the quarterback position for right here.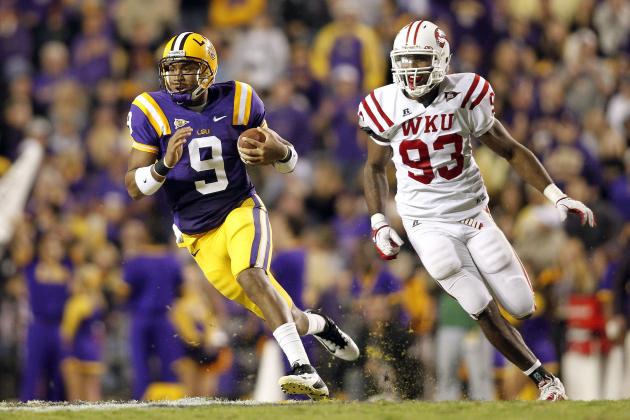 Crystal LoGiudice-USA TODAY Sports

Previous Pick: Knile Davis, RB, Arkansas
With Knile Davis going at the bottom of Round 3 over backs like Franklin, Joseph Randle, Andre Ellington and Stepfan Taylor, this pick had to change.
But there are also many pass-rushers—healthy ones at that—still available to start Day 3, so there may be a run on both backs and edge-rushers.
Quanterus Smith's knee is not healthy, and with so many healthy defensive ends and outside linebackers dropping to the final day of the draft, he may wind up falling further than I anticipated.
He has the talent to go before this, but coming from a small school and not being fully healthy, the fifth round seems like a likely destination spot.
As previously stated, Smith has the ability to develop into a productive pass-rusher. He has everything NFL teams look for in a dominant rusher, but without being healthy, he will need time.
USA TODAY Sports

Previous Pick: John Boyett, S, Oregon
Oregon Safety John Boyett is still on the board, but with the news shortly after his being picked by Arizona that Tyrann Mathieu would play free safety as a rookie, Boyett's services are not needed.
Arians has said he wants a "4.2 guy" at receiver, referring to the player's 40-time. While Ryan Swope is not quite that, he did show a 4.34 at the combine. He is a prototypical slot receiver who possesses good hands and above-average route-running skills.
He was productive in Texas A&M's offense, despite it changing seemingly from year-to-year. Swope caught passes from Ryan Tannehill in 2010 and 2011, then had to adjust to the style of Heisman-winning freshman quarterback Johnny Manziel his senior year.
He averaged 78 receptions for 982 yards and nearly eight touchdowns per season over the final three years of his college career. That is solid production over an extended period, so he's not just a one-hit wonder.
Arizona's receiving corps is good, but adding Swope puts it over the top—of opposing defenses, that is.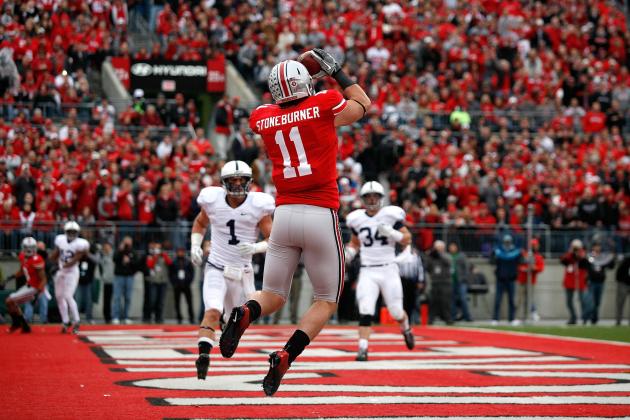 Kirk Irwin/Getty Images

This is the only pick to remain the same all three days for me. He is an unknown commodity coming into the draft, as he was not used often in Ohio State's offense.
He caught only 53 passes in his career for 714 yards and 13 touchdowns.
Thirteen scores on 53 receptions (34.5 percent touchdown rate) is the definition of production when it counts. He is good in the red zone, because he can line up in the slot like a receiver would.
Stoneburner's size makes him a mismatch against cornerbacks, and his athleticism means he can burn linebackers covering him. Putting a safety on him on a short field is to the defense's disadvantage, as it leaves another receiver with a one-on-one opportunity.
That's a win-win situation for the offense nearly every time, especially if that offense also has Larry Fitzgerald and Michael Floyd—two big, physical receivers.