Seattle Seahawks: Top Prospects Available Heading into Day 3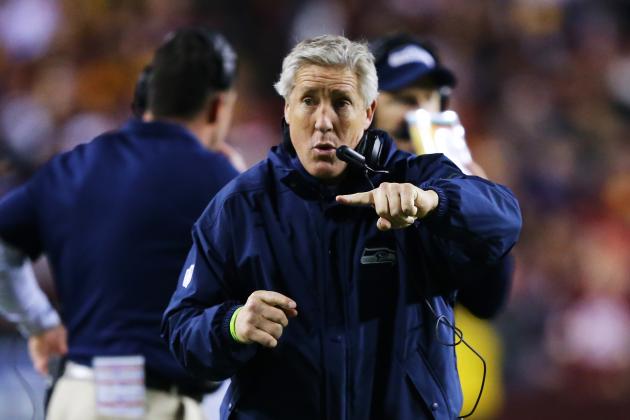 Al Bello/Getty Images

The Seattle Seahawks were a bit active on Day 2 of the NFL draft. While many fans were waiting on them to pick at No. 56 overall, general manager John Schneider had other thoughts.
He traded down a few slots and selected Christine Michael from Texas A&M in what has to be considered a surprising move with running backs Marshawn Lynch and Robert Turbin already on the roster.
Seattle did pick up two additional picks for Saturday, which will enable it to trade up and target specific players.
The selection of Jordan Hill in the third round fills a tremendous need after Alan Branch bolted for the Buffalo Bills in free agency. The Penn State product can play a multitude of positions along the defensive line but figures to be an inside presence.
With those two picks off the board, let's take a look at what Seattle might do on Day 3.
Begin Slideshow

»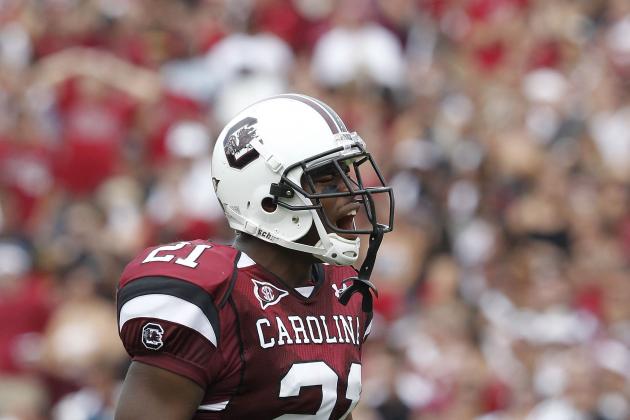 Mike Zarrilli/Getty Images

DeVonte Holloman, Linebacker, South Carolina
If I were to project trade ups in this mock draft, the pick here would be linebacker Khaseem Greene from Rutgers.
That being said, I am not in the game of doing that.
Instead, Seattle nabs the second-best cover linebacker in the draft with this selection. The talented defensive player made a transition from strong safety to outside linebacker this past season at South Carolina, which indicates he will have no issue fitting the need of an athletic replacement for LeRoy Hill.
Seattle plays a lot of sub packages with defensive backs lined up at outside linebacker; a role that will be filled to an extent by Antoine Winfield in 2013. This will enable it to bring Holloman along slowly.
He is Matt Miller's 83rd ranked player in the draft.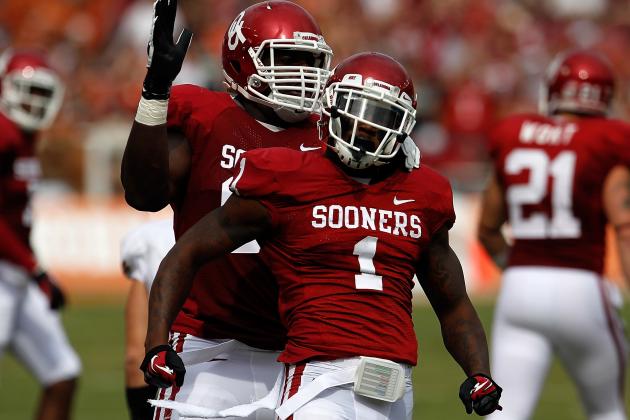 Tom Pennington/Getty Images

Tony Jefferson, Safety, Oklahoma
While the Seahawks are stacked with talent in the secondary, they don't seem to have a whole heck of a lot of depth at safety. Kam Chancellor and Earl Thomas are among the five-best players a their positions, but what happens if one goes down?
This is where having 10 picks in the final day and a loaded roster comes in handy.
Seattle can afford to take a player that doesn't project to start anytime soon because of its stellar level of talent.
Jefferson has second-round talent, but struggled with consistency this past season. He doesn't take the best angles in the world and fails to wrap up on every tackle. These two two things that can be fixed with the right coaching.
This would be a great depth pick.
Brett Davis-USA TODAY Sports

Tharold Simon, Cornerback, Louisiana State
In what has to be considered the worst possible timing for an off-field incident, Simon was arrested Thursday night in his native Louisiana on charges of "public intimidation, resisting an officer and unnecessary noise violation." (via katc.com).
On the surface, this would drop the previous Day 2 prospect completely out of the draft.
According to a report by Pro Football Talk, this incident may be much to do about nothing.
A quote from Simon's agent read, in part, as follows:
I have spent the better part of the morning investigating this matter, including getting statements from over 20 witnesses...The witnesses corroborate that Tharold did nothing wrong, certainly nothing illegal, and he acted with dignity and class throughout the entire ordeal
I have Simon as my 155th ranked prospect, which indicates about equal value where Seattle is selecting here.
The 6'2" cornerback is among the most physically imposing players at his position in the entire draft. We know exactly how much John Schneider and company value that type of size and physicality in the defensive secondary.
Jesse Johnson-USA TODAY Sports

Dion Sims, Tight End, Michigan State
I can almost guarantee you that Seattle was targeting Vance McDonald in the second round when the San Francisco 49ers jumped them to get the talented tight end. What proceeded a couple minutes later was a trade down, which handed the Seahawks two additional picks on the final day.
Sims is one of the most underrated tight end prospects in the entire draft.
Bleacher Report's Sigmund Bloom filed the following scouting report on Sims earlier this month. Bloom wrote:
Sims is a big, strong, physical tight end, who is equally adept at blocking and receiving. He runs and moves well for a player with his body type and playing style. He does not back down from physical confrontations and makes himself hard for a smaller man to bring down on their own after the catch.
If this doesn't fit what I view Seattle to be looking for in a tight end, I am not too sure what does. Sims reminds me a great deal of former 49ers tight end Delanie Walker in that he is just as good in the blocking game as he is in the passing game.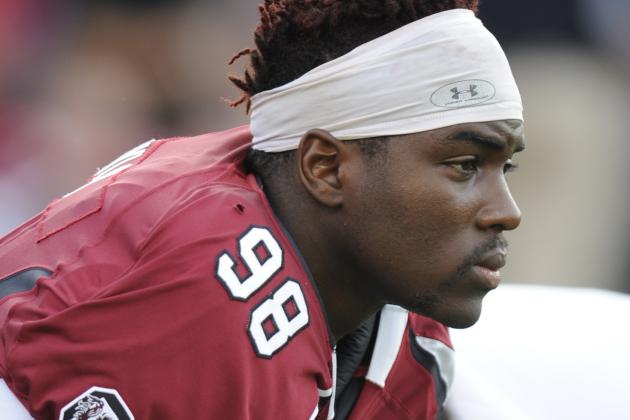 Mary Ann Chastain/Getty Images

Devin Taylor, Defensive End, South Carolina
Expect Seattle to go back to the well along the defensive line at least once more in this draft. While it did pick up a perfect fit in Jordan Hill on Friday, Taylor is a bit of a different monster.
At 6'7", Taylor can disrupt passing lanes on the outside and possesses both the size as well as the pure physicality to get into the offensive backfield. Where he might struggle with pass-rush technique, the South Carolina product makes up for it with his above-average run-stuffing ability.
This is a solid project pick for someone who possesses higher-round talent.
Matt Miller has Taylor as his 145th ranked player, which means that Seattle gets a ton of value in the sixth.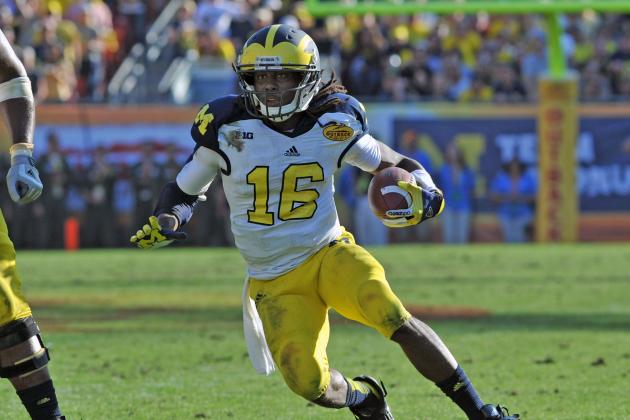 Al Messerschmidt/Getty Images

Denard Robinson, Wide Receiver, Michigan
Line Robinson up in the backfield as a running back, throw him outside or even line up him as a slot receiver. Heck, the multi-dimensional and athletic Robinson can even play tight end in a pinch.
We already know that Seattle wants to increase team speed on offense. After all, it went out there and picked up Percy Harvin in a trade before selecting Christine Michael in the second round of the draft on Friday.
Robinson adds speed and a rare athletic ability to Seattle's roster. While this is a pure projection pick, I love what I see from the former Michigan quarterback.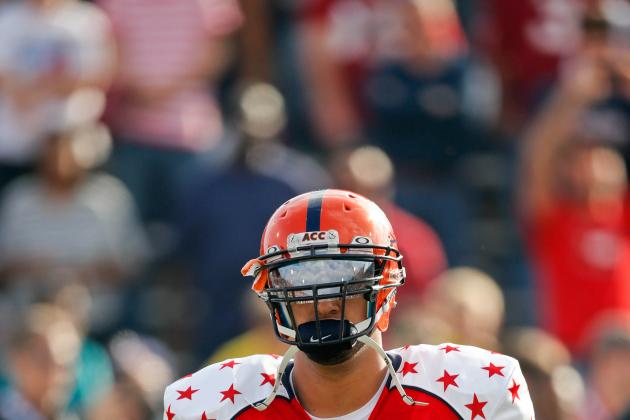 Derick E. Hingle-USA TODAY Sports

Oday Aboushi, Offensive Line, Virginia
Prior to the Senior Bowl, there were some that had a Day 2 grade on Aboushi. He struggled a great deal in postseason workouts and has issues with toughness. This seems to indicate that a move inside isn't in the cards.
This is strictly a project pick for someone limited to tackle duties. It will enable Seattle to create competition at right tackle, if not this season, moving forward.
Bleacher Report's Alex Dunlap filed the following report on the Virginia product earlier in April:
Aboushi is an intriguing prospect due to his size, generally good feet and athleticism, but he is a soft player who does not do any one thing particularly well at this point. Scouts will like the fact that he is not balky and has a decent frame to build upon as a pass-blocking NFL offensive tackle.
If you can get this type of upside in the seventh round, especially at a position of need, you jump all over it.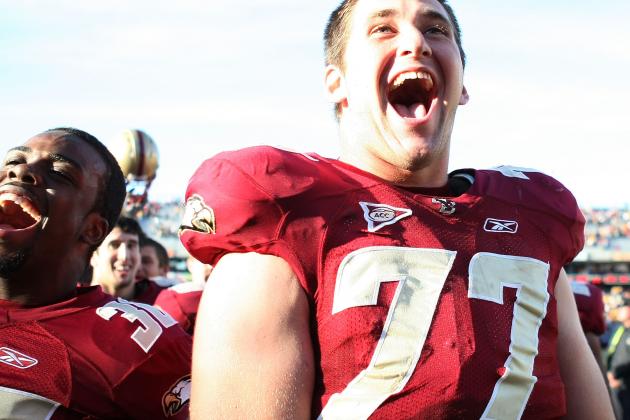 Elsa/Getty Images

Emmett Cleary, Offensive Tackle, Boston College
Some may ask why I have Seattle going with another tackle prospect? Well, the answer posed there is pretty simple. I am not.
At 6'7" and 316 pounds, Cleary projects as a decent swing lineman in the National Football League. This means that he can line up at multiple positions and be utilized as an extra blocker in short-yardage situations.
He has the build and athleticism to be a good player at the next level. It's all about getting stronger in the lower body. If that happens, Cleary could surprise.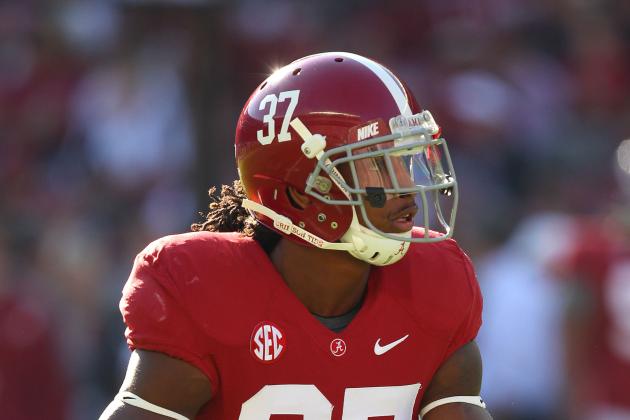 Mike Zarrilli/Getty Images

Robert Lester, Safety, Alabama
Lester doesn't translate into being a starting safety in the National Football League. Despite starting at a college powerhouse and perennial national title contender, he lacks the necessary coverage ability to be anything more than a backup.
Seattle could go in one of two directions here. It could look for a hard-hitting special teams player and add depth to the secondary. It could also bring Lester in as an outside linebacker in blitz packages.
Either way, the physical nature Seattle is attempting to build on defense comes shining through on every single piece of tape I have seen of Lester during the scouting process.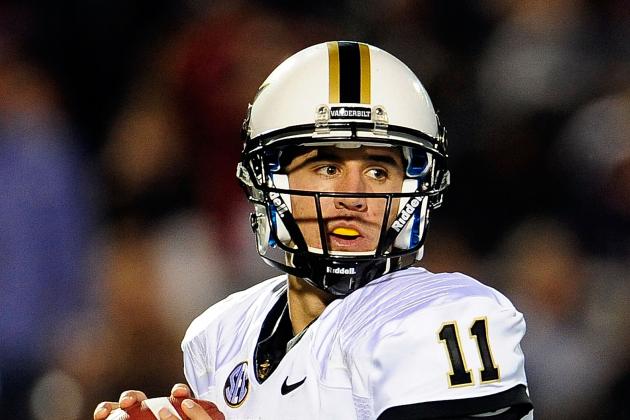 Stacy Revere/Getty Images

Jordan Rodgers, Quarterback, Vanderbilt
Why not? Seattle obviously isn't sold on Brady Quinn as its No. 2 quarterback and has an unknown commodity in Josh Portis battling for that backup job. If Portis, who brass seems to be high on, beats out Quinn, there could be room for a project third stringer.
Rodgers, the younger brother of a certain Green Bay Packers quarterback, doesn't possess the same ability as his more famous sibling, but he can morph into a decent backup.
As it is, anyone Seattle picks here will be staring the practice squad directly in the face. Contending teams don't have spots on their 53-man rosters for supplemental seventh-round picks.
Vincent Frank is an NFL featured columnist here at Bleacher Report. Vincent is the head sports editor over at eDraft, co-host of Draft Sports Radio, which airs every Monday and Wednesday from 3 to 6 p.m. ET, and a fantasy writer for Pro Football Focus.

Go ahead and give him a follow on Twitter @VincentFrankNFL.