Denver Nuggets vs. Golden State Warriors: Postgame Grades and Analysis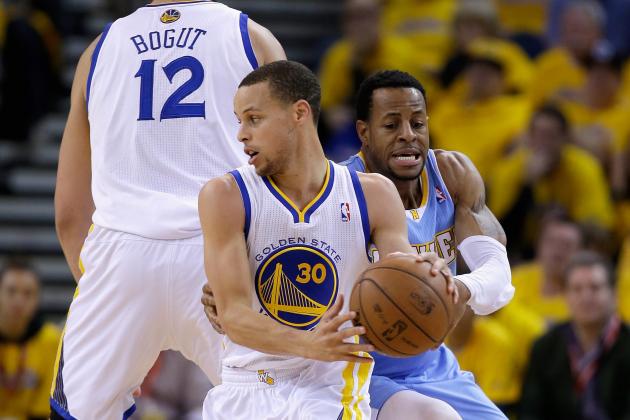 Ezra Shaw/Getty Images
The Warriors faked out the Nuggets to notch another victory.
The Golden State Warriors hosted the Denver Nuggets in Oakland on Friday night with the winner taking a coveted 2-1 lead in the series. Game 3 came down to a cardiac conclusion, but the Warriors held on for the 110-108 win.
It was a game for the point guards, as Stephen Curry led the way for Golden State with 29 points, while Ty Lawson posted a game-high 35 for third-seeded Denver.
Golden State came within a 42-footer from Andre Iguodala of fumbling away control of the series, but it caromed off the iron and the sixth-seeded Warriors seized a surprising 2-1 edge.
Golden State returned to the Oracle Arena having accomplished the unthinkable: winning a game at the Pepsi Center. The Nuggets lost there only three times during the regular season, but the Warriors shot their way to victory in Game 2.
Evening the series in Denver was even more impressive considering Golden State had just lost its double-double machine, David Lee, to a torn hip flexor in Game 1. The Warriors entered Friday with most of the momentum behind them, though, and they never stopped fighting until the final buzzer.
The Nuggets led at halftime 66-54, as they outshot the Warriors (53.3 percent to 51.3) and enjoyed a considerable turnover advantage (seven to 14).
Clearly, Mark Jackson had something powerful to say at halftime, as the Warriors blew the doors off in the third quarter, outscoring the Nuggets 33-18. Curry scored nine points in the frame and Jarret Jack had 10, combining for more than the Nuggets in the quarter by themselves.
In a tense fourth quarter, the Warriors held off the desperate Nuggets in a wild final few minutes that saw a litany of missed shots and unfortunate errors.
The Dubs now lead the series 2-1 with a chance to extend their advantage on Sunday night before the teams head back to Colorado. Now let's go inside the game and hand out grades for all the action.
Begin Slideshow

»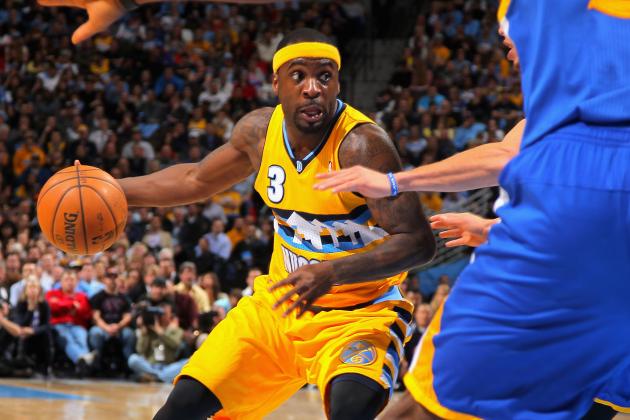 Doug Pensinger/Getty Images

Ty Lawson, Nuggets, PG: A
Lawson was electric for the Nuggets. For a player trying to prove his worth, he certainly picked the right stage on which to have one of his finest games of the year.
Lawson poured in 35 points on 11-of-22 shooting, plus 12-of-12 from the foul line. He also dished nine assists and grabbed a pair of steals.
He had a look from beyond the arc to tie it in the final minute, but he bricked it badly off the front of the rim. He then took the ball following a bone-headed turnover by the Warriors with the deficit down to just one.
Lawson drove to the baseline, but Festus Ezeli slid his feet nicely and forced a crucial turnover by the Nuggets' leading scorer. It was an ignominious end to an otherwise fine evening.
Stephen Curry, Warriors, PG: A
Curry turned in a typically excellent all-around performance, although it's surprising he took fewer than 20 shots with David Lee out and the Dubs' undersized lineup swarming the floor.
Curry had a team-high 29 points (including four triples), 11 dimes, six rebounds and two steals.
In the final 90 seconds with Golden State up by three, Curry blew a gimme layup and bricked a three-pointer on the following possession, but the Warriors still prevailed behind some surprisingly solid defense down the stretch.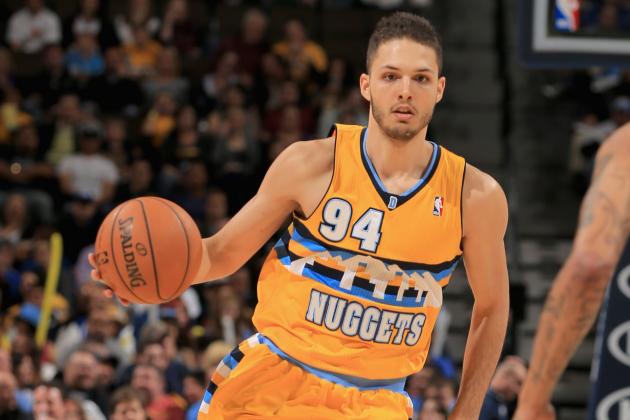 Doug Pensinger/Getty Images

Evan Fournier, Nuggets, SG: C
Fournier started but saw only 12 minutes as Corey Brewer and Andre Miller played a lot off the bench. The Frenchman made very little impact on the ballgame, scoring two points and dishing two assists.
Fournier also finished with a minus-8 rating, the second-lowest on the team. Anytime a guy has a jersey number in the 90s, it's not a good sign unless he's Dennis Rodman.
Honestly, Fournier is an utterly mediocre and unproven player, and it's hard to believe that he's starting a playoff game after seeing only four starts during the regular season.
Klay Thompson, Warriors, SG: C-
Thompson struggled mightily in Game 3, shooting just 3-of-10 from the field and 0-of-5 from downtown, finishing with six points to go with his four turnovers.
Thompson can score in bunches and he's an integral part of the Warriors' rotation, but this just wasn't his night. He's got good size for a guard at 6'7" and he can knock down the perimeter jump shot, but he doesn't possess tremendous athleticism.
Fortunately, his Golden State teammates picked him up in Game 3.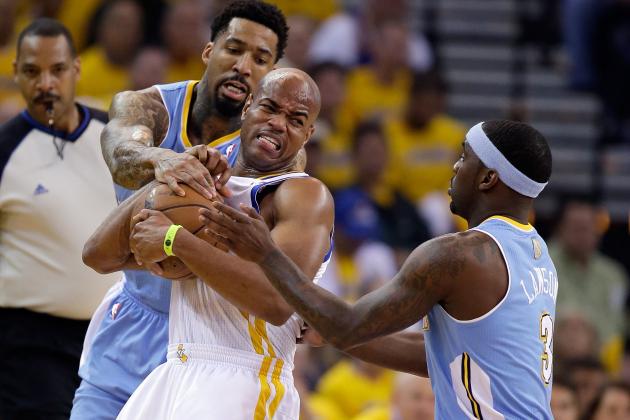 Ezra Shaw/Getty Images

Jarrett Jack, Warriors, SF: B
Jack had a great night, except for the aspects in which he had a terrible night. The Warriors' sixth man became the surprising replacement in the starting lineup for the injured David Lee, and the experiment has worked so far with two Golden State victories.
Jack scored 23 points on 10-of-14 shooting, with seven dimes, five boards, a steal and a block. Great night, right?
Well, there was also the bad for double-J. He flubbed away seven turnovers and nearly gave away the victory due to a five-second inbounds violation in the final minute with the Warriors leading by only one point. Maybe Mark Jackson should buy Jack a watch.
Andre Iguodala, Nuggets, SF: B-
Iguodala played a team-high 42 minutes on Friday night, but he struggled from the field, shooting 6-of-15 for 14 points. Iggy also added five assists, five boards and two steals.
He had a look at the game-winner, but he had to rush the shot from just past halfcourt. It came close, but the Olympian couldn't sink the shot from way, way downtown.
To give some sense of the Nuggets' erratic play and their seesaw lineup, Iguodala posted the second-best rating on the team at plus-five, one of just three Nuggets to post a positive floor rating.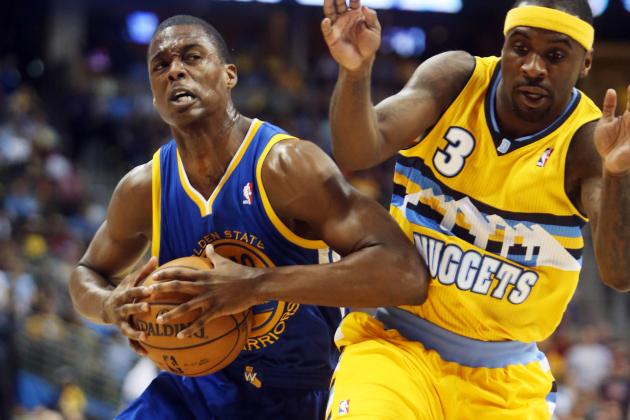 Chris Humphreys-USA TODAY Sports

Harrison Barnes, Warriors, PF: B+
The rookie out of North Carolina had a solid season for Golden State, playing 81 games and averaging 9.2 points in 25.4 minutes per game. While he's had his share of growing pains and teachable moments, it's a testament to his talent that he started a crucial playoff game.
Barnes played very well in Game 3 and was one of four Warriors to reach double digits, finishing with 19 points including 3-of-5 from beyond the arc, plus seven rebounds and a steal.
This young man figures to be an integral part of the Warriors' future plans across the Bay.
Wilson Chandler, Nuggets, PF: B
Chandler almost posted a double-double (11 points and nine rebounds) and drained a huge three-pointer in the final minute to draw the Nuggets within one point of Golden State. Chandler also pilfered a pair of steals and swatted a shot.
But he also plagued coach George Karl with some perplexing plays.
In the fourth quarter, with Denver trailing 94-88, Chandler was whistled for basket interference after he leaped for a potential tip-slam and inexplicably touched the rim while the ball was in the cylinder. That negated an easy layup in a closely contested game.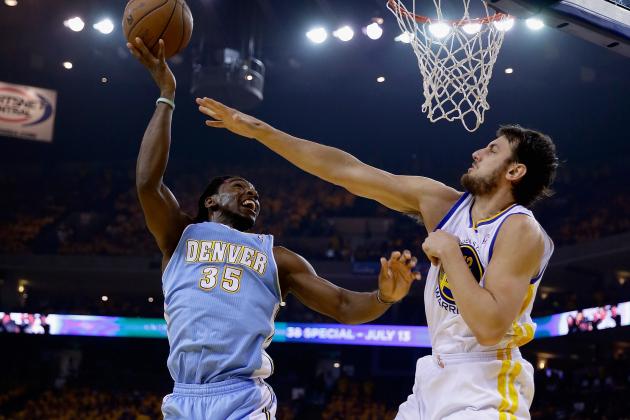 Ezra Shaw/Getty Images

Kenneth Faried, Nuggets, C: A-
With Jarrett Jack's insertion into the starting lineup, the Nuggets also chose to go small, moving Faried to center and bringing Kosta Koufos off the bench.
Faried turned in another heart-and-soul performance, with 15 points on 6-of-7 shooting to go with seven rebounds. He was also one of four Warriors with two steals.
Faried played over 30 minutes and looked agile, but he may be lacking some of his burst. The Nuggets kowtowed to Golden State's small lineup, and shifting Faried to the 5 didn't seem to solve the matchup issues with the speedy Warriors.
Andrew Bogut, Warriors, C: B+
Bogut didn't do much scoring, but at least he was efficient. He scored six points on 3-of-3 from the field, and did his job in the middle with nine rebounds (four offensive) and a blocked shot.
Despite the Nuggets depth in the frontcourt, Bogut provides the Warriors with a big size advantage in the starting lineup. He finished with a plus-five rating, the third-best on the team.
It's a wonder that George Karl didn't play more of JaVale McGee or Kosta Koufos as the undersized rotation employed by Denver got out-rebounded 42 to 34.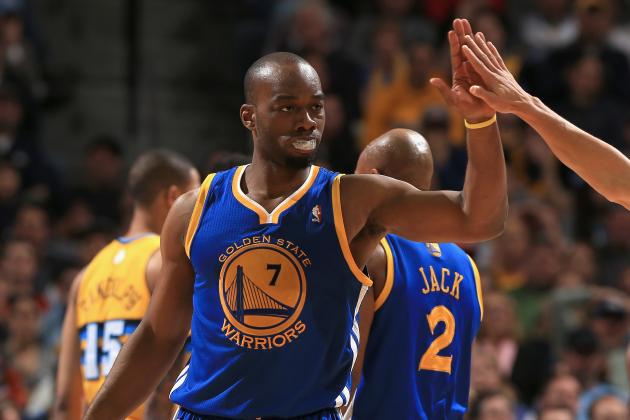 Doug Pensinger/Getty Images

Carl Landry, Warriors, PF: B
Landry provides great size off the bench for the Warriors, and he had a very nice night on Friday. Landry dropped 19 points along with five boards (four offensive), two assists and two steals.
He couldn't duplicate his stellar first-half output of 15 points, but it helped spur the Warriors' offense as they limped behind Denver in the early going.
While he did commit four turnovers, Landry played well off the bench and helped power Golden State to victory.
Andre Miller, Nuggets, PG: C-
The aging veteran was the hero of Game 1, which was frankly the best game of his life in the eyes of most Nuggets fans.
Miller evidently lost that bag of pixie dust on his way to Oakland, as he finished with seven points on 2-of-13 shooting. Though he did tally four assists, he also coughed up three turnovers.
At his age, Miller will be prone to inconsistent production. It's just too bad that this clunker came in a fiercely contested playoff game.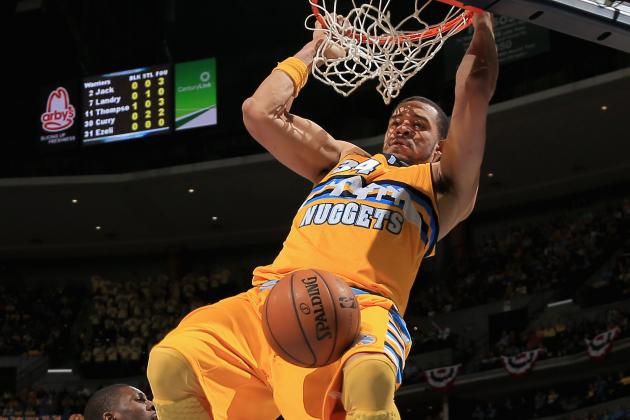 Doug Pensinger/Getty Images

Rest of Bench, Nuggets: B
Corey Brewer had a solid game with 16 points, three boards and two assists. He was limited by foul trouble, but he still provided some much-needed bench scoring.
JaVale McGee can expect another appearance on TNT's "Shaqtin' A Fool" segment for his air-balled free throw in the first quarter. He finished with four points, one rebound and zero blocks in under 14 minutes and George Karl did not turn to him when it mattered.
Kosta Koufos came off the bench as the Nuggets matched Golden State's small lineup. Kenneth Faried played in the middle, so Koufos saw only 10 minutes of court time. He didn't attempt a shot and accrued just a rebound, an assist and a steal.
Anthony Randolph didn't do much of anything except getting whistled for a moving screen.
Rest of Bench, Warriors: B-
Draymond Green saw big minutes down the stretch, which is an encouraging sign for the youngster. He finished with five points and five boards before fouling out.
Festus Ezeli scored only three points, but his defensive effort against Ty Lawson to force a turnover with Golden State leading by only one point may very well have saved the game.
Richard Jefferson also made an appearance, though he saw less than three minutes and didn't do much of anything.
The Warriors will look to take complete control of the series in Game 4 on Sunday night.