Packers 2013 Mock Draft: Predictions for Day 3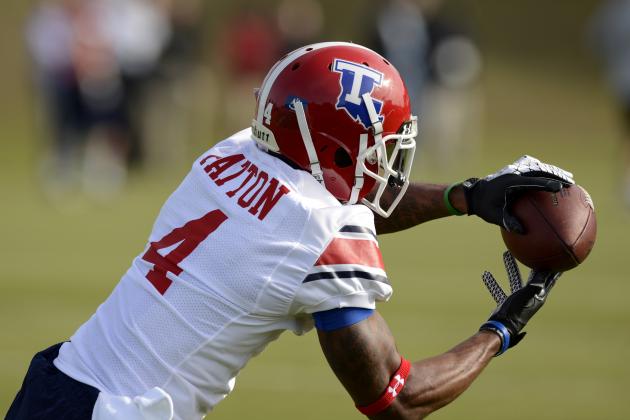 USA TODAY Sports

The Green Bay Packers have set themselves up to be the darlings of the NFL draft's third day.
General manager Ted Thompson, employing his traditional strategy of dealing down in the draft, accumulated an NFL-high 10 picks from the fourth round on. Twice he traded down with the San Francisco 49ers Friday, and then once with the Miami Dolphins before the end of the third round.
The Packers were only able to select Alabama running back Eddie Lacy on the second day, but there's now enough available draft capital for Thompson to complete what's been a terrific draft so far.
In the following slides, we'll attempt the impossible: predicting what Ted Thompson will do with 10 third-day draft picks.
Begin Slideshow

»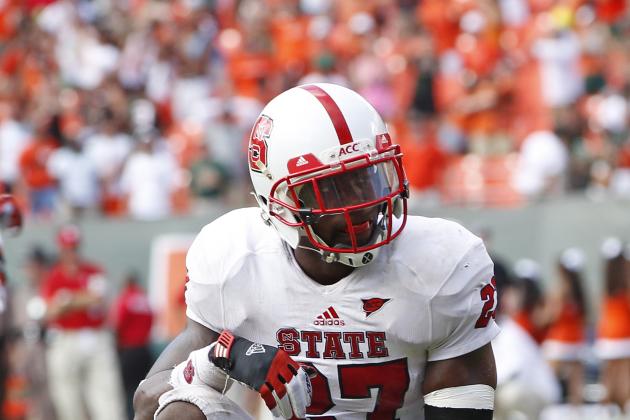 Joel Auerbach/Getty Images

No. 109: WR Quinton Patton, Louisiana Tech
Under Ted Thompson, the Packers have always reloaded the receiver position before it's become a problem area. With James Jones a free agent in 2014 and Greg Jennings now in Minnesota, there are cracks forming.
By picking Patton, a strong route-runner with dependable hands, the Packers can ensure long-term health at an important position. He's a tremendous value in the fourth round, which is befitting the theme of the Packers' draft so far.
No. 122: S Earl Wolff, North Carolina State
Wolff's collegiate tape wasn't always consistent, and he took bad angles and missed some tackles.
But at 5'11" and 209 pounds, with a 4.44 40-yard dash and 39-inch vertical leap, Wolff fits both the size and athleticism profile of a Packers safety. In fact, he's almost identical in each area to former Packers safety Nick Collins.
Also, three years of starting experience at NC State could give Wolff a real chance to contribute for Green Bay in 2013. He's not a project player.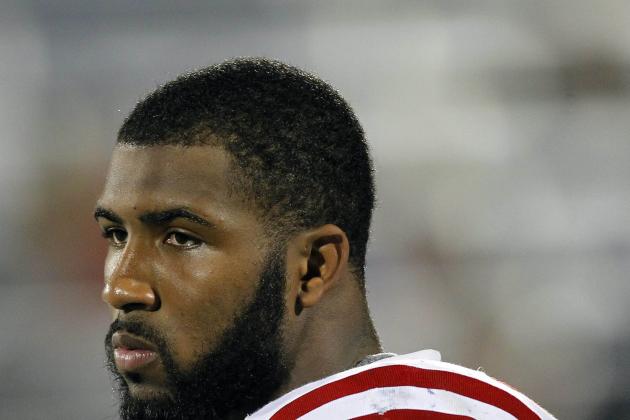 Robert Mayer-USA TODAY Sports

No. 146: OLB Quanterus Smith, Western Kentucky
All things equal, Smith is probably a second- or third-round talent. But he's coming off an ACL injury, and his stock might end up falling by one or two rounds because of it.
If that's the case Saturday, and Smith falls to the Packers in the fifth round, there's very little risk in Green Bay taking a flier on such a talented pass-rusher.
Long and explosive off the edge, Smith could learn the NFL craft behind the likes of Clay Matthews and Nick Perry while his knee returns to full strength. By the time his knee is back to 100 percent, the Packers could have a potential starting pass-rusher on their hands.
No. 159: OT Jordan Mills, Louisiana Tech
The Packers have depth at offensive tackle, with Marshall Newhouse, Bryan Bulaga, Derek Sherrod and Don Barclay all capable of starting (if healthy, in Sherrod's case). Andrew Datko is also an intriguing prospect capable of taking a step forward in 2013.
But is there enough quality at the top? The Packers shouldn't stop drafting tackles until they think so, especially with such a valuable investment recently made at the quarterback position.
Mills doesn't have experience playing left tackle, but he has great size and could bring an element of power to a position that is very finesse-oriented in Green Bay.
No. 167: FB/TE Kyle Juszczyk, Harvard
How much longer will John Kuhn continue to operate as the Packers' fullback?
His clock is certainly ticking. He'll be 31 years old this September and a free agent next spring.
Green Bay could find his eventual replacement in Juszczyk, an athletic and versatile (also played tight end, H-back, in the slot) player who could be a tough matchup in an offense like the Packers'.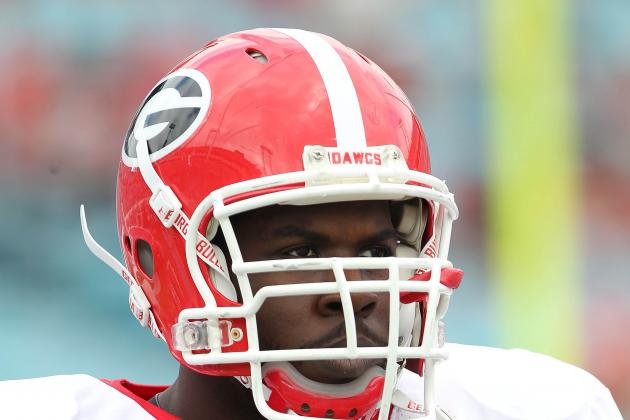 Kim Klement-USA TODAY Sports

No. 173: QB Landry Jones, Oklahoma
I'm not confident the Packers will take a quarterback in this draft, but Jones would be an interesting fit if they did.
Despite possessing an NFL-ready arm and delivery, Jones needs help with the finer areas of playing the position. He's too erratic under pressure and doesn't have a good grasp of complex defenses.
Enter Mike McCarthy and his well-respected quarterback school, and Jones could have a chance to develop into something at the next level. Remember, drafting a quarterback doesn't always have to equal any kind of on-field value. The Packers could turn Jones into a starting-quality player and then flip him for a pick down the road.
No. 193: NT Kwame Geathers, Georgia
Taking UCLA's Datone Jones in the first round solved a huge hole at 3-4 defensive end, but it didn't give the Packers any huge upgrade in size along the line.
Green Bay could solve that here with the 335-pound Geathers, a player they met with at the NFL Combine, according to the Milwaukee Journal-Sentinel.
Geathers needs good coaching at the next level, but you can't teach his size. He'd be a tempting potential replacement for Ryan Pickett.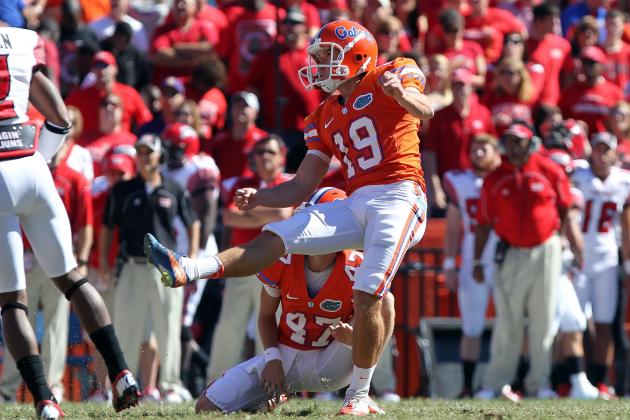 Kim Klement-USA TODAY Sports

No. 216: K Caleb Sturgis, Florida
The Packers signed kicker Giorgio Tavecchio as a street free agent to compete with incumbent Mason Crosby, so the position might be set in stone for camp. But passing on an accomplished kicker like Sturgis in the seventh round would be foolish. He could legitimately push Crosby in camp.
No. 224: TE Demetrius Harris, UW-Milwaukee
The Packers are unsettled at tight end following 2013, with Jermichael Finley a free agent unlikely to return. Green Bay doesn't have many in-house options to replace him, but getting a start on grooming Harris—a former collegiate basketball player—might be a tempting scenario for the Packers. He could probably be stashed on the practice squad in the first year.
No. 232: C Matt Stankiewitch, Penn State
The starting depth chart in 2013 is likely to have Evan Dietrich-Smith as the Packers' center, but the depth behind him is scarce. Eventually, Green Bay needs to identify a player at the position worth developing. Stankiewitch needs help in pass protection but would have time to develop.