New York Mets vs. Philadelphia Phillies: Live Scores, Analysis of NL East Battle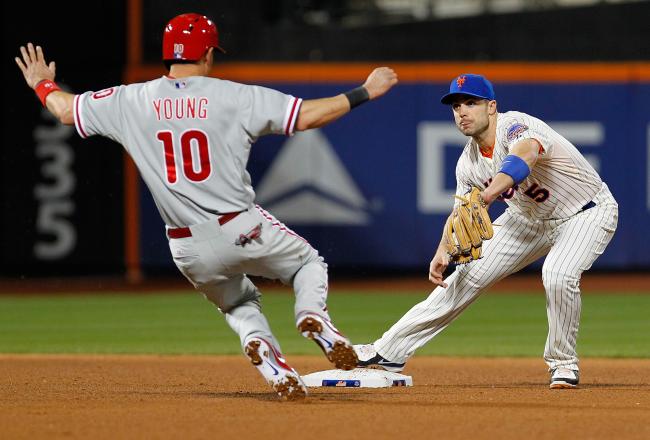 Mike Stobe/Getty Images
Final Score: Phillies 9
Mets 4
WP: Jonathan Pettibone (1-0)
LP: Shaun Marcum (0-1)
The Phillies and Mets will conclude their series tomorrow at 1:10 p.m. ET. The Phillies will be sending out Cole Hamels, who is winless this season despite pitching eight innings and giving up just two earned runs in his last start. For the Mets, Jonathon Niese will take the mound and try and help the team avoid a sweep, after leaving his last start after taking a ball off his leg in the third inning.
Jonathan Pettibone earned his first major league victory by pitching five innings, striking out four and allowing three earned runs. Pettibone also gave up seven hits, but managed to work out of a jam in the fourth inning.
Pettibone was backed by a huge burst of offense from the Phillies. After collecting his first major league hit, Pettibone scored on a ground rule double by Chase Utley. The Phillies biggest display of offense, however, came in the fifth inning, when Ryan Howard picked up an RBI before Domonic Brown and John Mayberry, Jr. hit back-to-back home runs. The Phillies scored their highest amount of runs in a game this season.
Shaun Marcum made his Mets debut and his first start of the season, and looked solid after the first inning. However, a shaky third inning, which saw him give up three earned runs on four hits, hurt his chances of lasting deep into the game and trying to earn the win. Marcum pitched four innings, allowed five hits, and had three strikeouts to two walks.
Jordany Valdespin gave the Mets the early lead with an RBI double, but the Mets were not able to answer the Phillies five run fifth inning. Ike Davis and David Wright also drove in runs, and John Buck managed a solo home run in the ninth inning.
Collin Cowgill flies out to John Mayberry, Jr. in center to end the game seal the win for Jonathan Pettibone and the Phillies.
FOX just pointed out that John Buck has a chance to have the most RBI by a catcher for the month of April since 1921.
And John Buck does it again. A deep solo home run gives Buck eight on the season, and cuts the Phillies lead to 9-4.
Jeremy Horst comes in to try and close out the game for the Phillies.
A very athletic play by Scott Rice ends the inning and sends the Mets to the bottom of the 9th for one last chance to tie the score.
Scott Rice gets Domonic Brown and John Mayberry, Jr., who both homered earlier, to ground out.
David Wright is smiling after almost falling down on his last swing. That's a good sign since it looks like he fouled the ball directly off his foot.
Chad Durbin's strikeout means that his strikeout and walk totals are now even on the season.
Michael Young's last 18 hits are singles.

— Matt Gelb (@magelb) April 27, 2013
Rice gets Ryan Howard to strike out to end the inning.
Chad Durbin is coming in next for the Phillies.
Ike Davis' glove just helped the Phillies avoid grounding into a double play.
Freddy Galvis strikes out while pinch hitting for Raul Valdes. Galvis hasn't struck out nearly as much as he did during spring training, although he has appeared in a little more than half the Phillies games so far.
Scott Rice walks Jimmy Rollins next on four pitches.
Raul Valdes strikes out Cowgill and Baxter to get the first two outs of the inning.
The Phillies have held the Mets top three hitters - Murphy, Wright and Buck - to two combined hits so far.
Laynce Nix battles to hit a single into left field, scoring Michael Young and extending the Phillies lead to 9-3.
Ruben Tejada just made an outstanding diving catch to rob Mayberry of a hit and prevent Young from scoring.
Mike Baxter drops a deep fly ball by Ryan Howard, allowing Young to move up to third base. Phillies now have runners on first and third with no outs.
Howard having some success hitting breaking balls is reason for some optimism.
Hawkins stays in for the Mets and gives up a leadoff single to Michael Young.
Michael Young snags a line drive by Jordany Valdespin to get Raul Valdes out of the inning quickly.
Jonathan Pettibone allowed three earned runs and gave up seven hits in five innings, but also had four strikeouts and is currently in line for the win. Pettibone has now turned in two solid starts for the Phillies, but has given up a high number of hits in both outings, as well.
Very quick inning for Hawkins. The Phillies bullpen now must try and hold onto this lead in order for Pettibone to earn his first career major league victory.
Raul Valdes will coming in for the Phillies in the bottom of the 6th.
Kevin Frandsen pinch hit for Pettibone and grounded out to second.
LaTroy Hawkins of the Mets has not walked a batter this year, while Collin Cowgill has also entered the game.
It looks like LaTroy Hawkins will be coming in for the Mets in the top of the 6th inning. He'll be facing either Pettibone or a pinch hitter, followed by the top of the lineup.
David Wright smokes a double down the left field line to score Tejada and make the score 8-3 Phillies.
This article is
What is the duplicate article?
Why is this article offensive?
Where is this article plagiarized from?
Why is this article poorly edited?