Jones vs. Sonnen: 5 Questions We Have About Jon Jones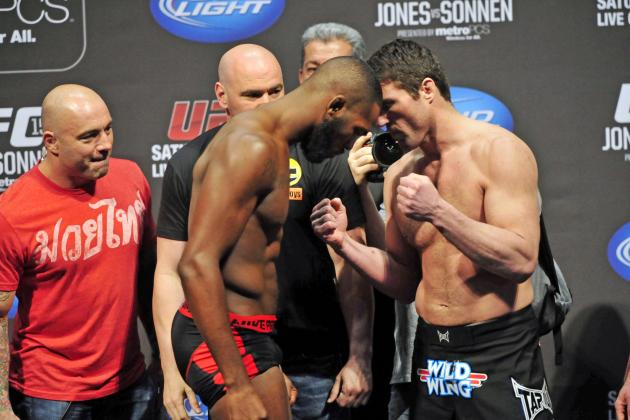 Joe Camporeale-USA TODAY Sports

The main event at UFC 159 is Jon Jones' to lose.
His challenger, Chael Sonnen, is a gritty competitor with tremendous wrestling skills. Jones can match those wrestling skills, but what he has that Sonnen doesn't is a diversified striking style.
Jones has the tools to keep the distance on Sonnen and batter him with shots from the outside. So on paper, Jones is easily considered the favorite in this bout.
That doesn't mean we don't have questions for the champion. Here are some questions we'd like to ask Jones before he heads into his championship bout against Sonnen tonight.
Begin Slideshow

»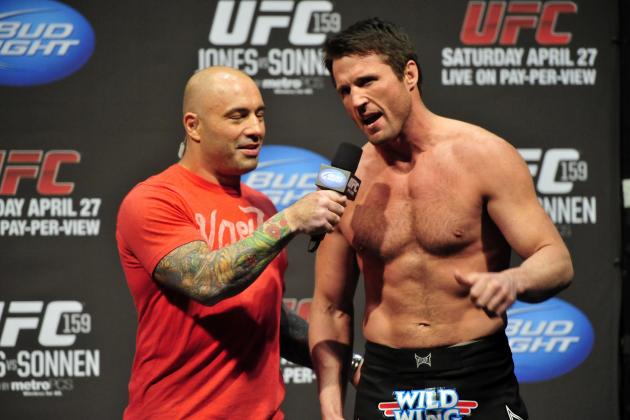 Joe Camporeale-USA TODAY Sports

Sonnen is the king of trash talk. He's a maniacal genius on the microphone, and he has an uncanny ability of getting under his opponent's skin.
He'll insult whoever and whatever to anger his opponent and hype the fight. Heading into his bout against Jones, he took a different approach. He was surprisingly complimentary toward the champion.
Jones seems unaffected by anything Sonnen has said, and in fact, it seems that both men are cordial with one another. But are they, really?
During the UFC 159 press conference, UFC president Dana White suggested that Jones wants to hurt Sonnen badly and Jones disputed it. Is Jones going to be headhunting Saturday night? Did Sonnen's reverse psychology approach toward hyping this fight actually get in Jones' head?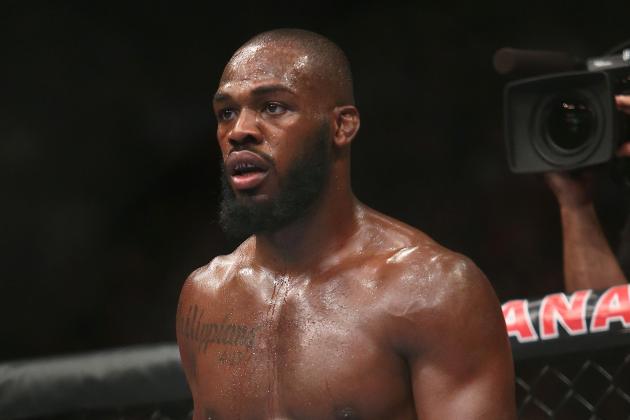 Tom Szczerbowski-USA TODAY Sports

Jones has a perfect 100 percent takedown defense heading into his bout against Sonnen.
Will Sonnen ruin Jones' perfect stat? He's certainly capable. Sonnen is arguably the best MMA wrestler in the business.
He doesn't hesitate when it comes to applying pressure and instigating the takedown. It's what's made him so successful in his career. Jones is equally as impressive, though, as he's taken down notable wrestlers such as Ryan Bader and Matt Hamill.
Failure doesn't discourage Sonnen, though, as he will continue to shoot on Jones until he brings him down to the mat. Will Jones be able to shrug off Sonnen's takedown attempts?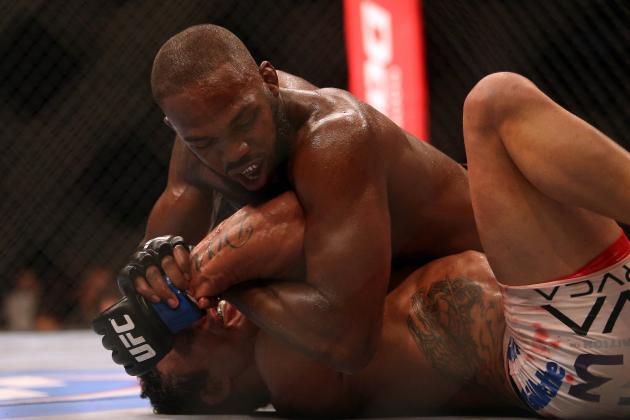 Tom Szczerbowski-USA TODAY Sports

Is submitting Sonnen the game plan?
Sonnen's track record of wilting under pressure and being submitted in high-profile fights is well-documented. So why wouldn't this be in the game plan for Jones?
Jones' assuming initial plans are to stop the takedown and force Sonnen to fight with him while he establishes distance with his jab and kicks.
But as Sonnen continues to clinch with the champion, Jones could end up on top of Sonnen. Sonnen poses very little threat off of his back and Jones may be able to finish the fight with a submission.
Tom Szczerbowski-USA TODAY Sports

Sonnen's greatest weapon in this fight is his cardio.
Jones can match Sonnen's wrestling, and he can overwhelm him with strikes and his submission game. However, he cannot match Sonnen's cardio. Few can.
A smart game plan for Sonnen would be dragging Jones into deep water and challenging his endurance. Can he match the pace?
If Sonnen makes this a dog fight for five rounds, can Jones be as dominant in the fifth as he was in the first? It's a lot different than fighting Rashad Evans for five rounds, as Sonnen will be in his face nonstop, forcing him to work the entire length of the fight.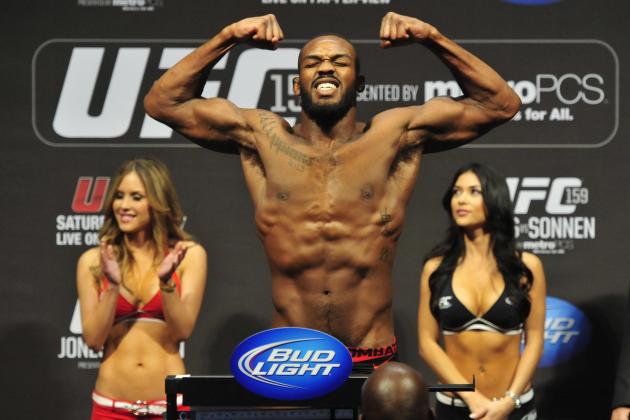 Joe Camporeale-USA TODAY Sports

Unless Sonnen gets a takedown and can withstand Jones' punishing blows for five rounds, Jones should win this fight in devastating fashion.
This leads to the question of the night—how badly will Jones punish Sonnen?
Will Jones keep the distance and slowly dissect Jones for five full rounds, or will he simply roll through the challenger with his striking and chokes from the top position?
A Jones victory seems inevitable tonight. No fighter has been able to figure out the puzzle that is Jon Jones, and judging by Sonnen's somewhat restricted toolbox heading into this bout, Sonnen likely isn't the fighter to do so.