Denver Nuggets vs. G.S. Warriors: Game 3 Live Score, Results and Game Highlights
Commentary from the Golden State Warriors 110-108 victory over the Denver Nuggets in Game 3 of the first round of the Western Conference Playoffs. The contest was held on April 27, 2013 from Oracle Arena in Oakland, CA. The Warriors now have a 2-1 edge and will host Game 4 before heading back to Denver.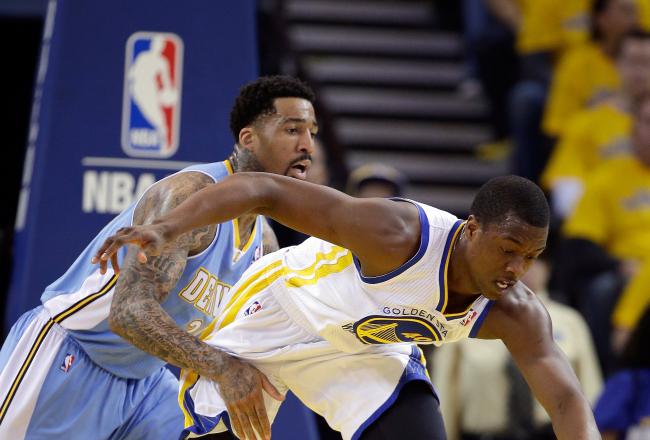 4 Keys to the Dubs' win:
1) Battle of the Backcourt: Denver has a great backcourt in Ty Lawson and Andre Iguodala, but Golden State has three very good shooting guards in Jarrett Jack, Stephen Curry and Klay Thompson. Lawson scored 35, Iguodala had 14. Lawson hit 11-of-22 from the floor and 12-of-12 from the line, while also dishing out 10 assists.
Jack, Curry and Thompson combined for 58 points, but only 6 came from Thompson. The second year guard hit just 3-of-10 from the floor.
2) Harrison Barnes: Barnes missed a key free throw down the stretch, but the rookie is now proving himself to be far more than a role player. He shot the second most attempts of all starters, and hit 7 of his 15 field goals. He also knocked 3-of-5 down from behind the arc.
Barnes had seven boards, two assists and a block as well, and the Warriors were plus-2 for his 43 minutes of play. Barnes played almost the entire game, proving he is impervious to any rookie wall.
3) Bench play: Draymond Green and Carl Landry were both very nice off the bench for GS tonight. Green had just five points and five rebounds, but his high level of activity is indicated by his fouling out in 15 minutes of play.
Green wasn't just out there hacking guys, though, Green was just being as aggressive as he could, and it did result in a nice block and a steal which ignited Warriors fast breaks late in the third quarter.
4) Good Shots: The Warriors got good looks all night, and during several stretches it seemed they found quality looks several times early in the possessions just by running little pick and rolls at the top of the key.
Though Andrew Bogut had just six points in 29 minutes, his large frame set some nice picks for Curry, Thompson and Jack to come off of and bang shots. I know that sounds like a small contribution, but it does take a big body to set a nice pick.
I guess I can't counter the statement that Aaron Gray could have done the same thing at a much cheaper pay rate tonight, but it is what it is at this point for a guy who has deteriorated a lot since leading the league in shot blocking in 2009-10.
WARRIORS 110, NUGGETS 108 - FINAL
This time the Warriors did get it in. Rookie Harrison Barnes, a 76 percent free throw shooter, stepped up for the biggest two free throws of his career.
Barnes missed the first badly off the front of the rim. The entire Oracle was on its feet as Barnes proceeded to bag the second one and put the Warriors up two. It resulted in a half court heave by Andre Iguodala and it ALMOST dropped. The Warriors escape with a big win and now lead the series 2-1.
Both teams are missing key players, in Danilo Gallinari for Denver and David Lee for Golden State.
Both teams had guys playing hurt in Kenneth Faried and Ty Lawson for Denver and Steph Curry for the Warriors.
And it was one hell of a game. Keys to it coming next.
WARRIORS 110, NUGGETS 108 — FINAL
It will be Golden State's ball with 5.3 seconds left. But the replay seemed to indicate it hit Ezeli's knee.
It just appeared Ty Lawson touched it again as he fell to the floor. It was really hard to tell what happened, but it will be Warriors ball, and they'll end up with two free throws here again. Even if they hit both, the Nuggets will have one last chance.
The kicker? The Nuggets have no timeouts.
WARRIORS 109, NUGGS 108 — 5.3 seconds, Warriors Ball
Ty Lawson got a bump from Festus Ezeli on the baseline, and he slipped and fell, as the ball went out of bounds. The officials are reviewing it to see if it hit Ezeli's knee before going out of bounds.
WARRIORS 109, NUGGETS 108 — 5.3 seconds 4th, Possession - ?
The Warriors inbounded with 9.4 seconds from the sidecourt.
They had a five second violation, I typed that sentence prematurely. The Nuggets can win the game now and they have 9.4 seconds to do it.
Did I just jinx the Warriors?
WARRIORS 109, NUGGETS 108 — 9.4 seconds 4th, Nuggets ball
The Nuggets looked for a quick shot, and Wilson Chandler banged a triple from the corner. The Nuggets still had to foul, and Jarrett Jack ended up absorbing the contact. The whistle however, was never blown and Jack called for timeout to avoid the turnover.
WARRIORS 109, NUGGETS 108 — 16 seconds 4th
The mania has come to an end: Jarrett Jack will step to the line for two free throws. Denver was forced into fouling since the shot clock had been turned off and the game down to the wire.
The 84 percent foul shooter missed the first, to a surprised Oracle crowd's "ohhh..." Jack wouldn't miss two straight though, and his second extended the lead to four points as Denver called timeout.
WARRIORS 109, NUGGETS 105 — 21 seconds 4th, Nuggets Ball, Nuggets Timeout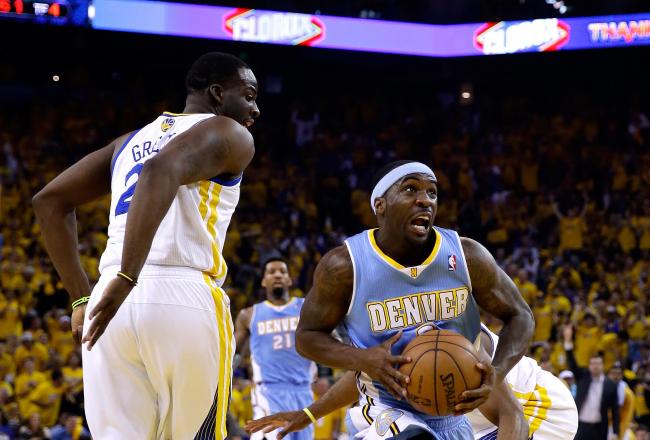 Ty Lawson hit the free throw and is 12-of-12 from the line for a playoff career high 35 points, but the Nuggets still trail by three. Jarrett Jack threw a pass to an unsuspecting Andrew Bogut when he should have taken a jumper.
The turnover is the sixth of the quarter for the Warriors.
A forced jumper from Ty Lawson was almost corralled by Kenneth Faried, but the Warriors came back and Steph Curry got to the hole and blew a layup.
Whew, that was a lot of action in a minute, and Steph Curry just threw up another shot.
This is crunch time, and there has been no effort to slow down!
WARRIORS 108, NUGGETS 105 — 21.5 seconds 4th
Ty Lawson attacked the rim and finished hard through the contact of Draymond Green. He's stepping to the line to go for his 35th point, and the Nuggets are within four.
WARRIORS 108, NUGGETS 104 —— 1:48 4th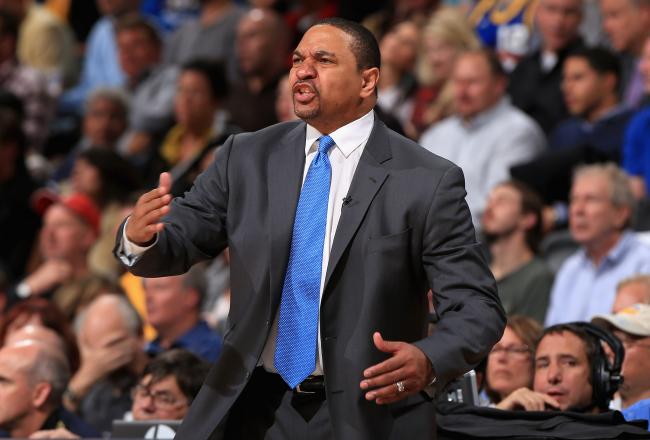 Mark Jackson said to his team in the huddle "We don't make mistakes." That's a funny thing to tell your team when they've made 21 of them which have led to 30 Denver Nuggets points. Jackson knows he needs his three guards to remain composed, which should be much easier on their home court. The fact that they can be patient offensively should only help as they push the shot clocks under 12 each possession.
WARRIORS 108, NUGGETS 102 — 1:54 4th
When I spoke to Kenneth Faried in Orlando, I first complimented him on his energy. Then, another reporter asked Faried what his biggest surprise has been. He said he was surprised at "how slow the bigs are." Faried has benefitted a lot from just being able to consistently sprint the court.
He doesn't slow down at the times of the games when others are, before those official timeouts, when the pace picks up.
The fact that the Nuggets push the pace is only the perfect fit for the Morehead State alum. Faried led the NCAA in rebounding at Morehead, and he may eventually do the same in the NBA. He had 9.8 per game this season, but he saw just 28 minutes per game.
Per-36, the story was different: Faried should have averaged over 11 rebounds per game playing starter's minutes.
The hope is that he eventually shows George Karl he is better off with a dynamic 4-man playing more minutes at the center spot as he has tonight.
Faried has 15 points and six boards, and his energy has been key, but the Warriors are in command right now.
WARRIORS 106, NUGGETS 102 —1:54 4th
Kenneth Faried is a man amongst boys. The way he runs the court and consistently gets above the square on rebounds proves his athleticism is on a very Dennis Rodman-like level. He also never gets tired. Again, that Rodman thing: he's a lot like him. You know, without all of the crazy.
Faried has 15 points and seven rebounds. He's also 6-of-7 from the floor.
WARRIORS 104, NUGGETS 100 — 3:06 4th, Timeout
The Warriors are first to 100. There's typically good stats for teams that do that, and the fact that the Warriors scored right after that must prove it, right?
WARRIORS 102, NUGGETS 98 — 3:35 4th
High scorers: DEN - Lawson, 28; GSW- Curry, 23
Turnovers: DEN- 14, GSW- 20
Rebounds: DEN-30, GSW- 39
FG PCT: DEN- 46.8%, GSW- 52.1%
Threes: DEN 6/15; GSW 8/19
WARRIORS 98, NUGGETS 96 — 4:43 4th
Draymond Green just did an up and under move at the rim that made my questioning of his athleticism look silly.
And then Ty Lawson fed the Manimal for a monster jam.
WARRIORS 96, NUGGETS 94 — 5:52 4th, Timeout
Jarrett Jack and Ty Lawson are putting on a shooting exhibition.
Jack is 9-of-13 from the floor and Lawson is 10-of-17. Steph Curry may have the sweetest J in the league, but Jack and Lawson have pretty picturesque form, as well.
WARRIORS 94, NUGGETS 88 — 9:03 4th
The Warriors brought Steph Curry in for the final possession of the quarter and isolated Jarrett Jack at the top of the key. Jack found Carl Landry for an elbow jumper which dropped in and gave the Dubs a three point lead heading into the fourth.
The Warriors were plus-15 for the quarter, and the backcourt play has still been the key. Curry has 23 and Denver's Ty Lawson has 28 (with nine coming in that third quarter).
Here comes an exciting fourth.
WARRIORS 87, NUGGETS 84 — End of 3rd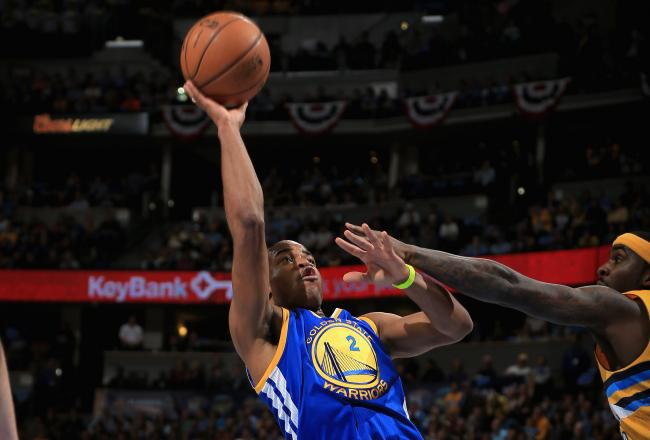 Steph Curry is resting, but Jarrett Jack is carrying the Warriors. They are getting good shots every possession, and it is making the difference. Curry and the Oracle are fired up, and the Dubs appear very legitimate, David Lee or not.
Having a guy like Jarrett Jack, who at 6'4" can nearly play three positions, is invaluable to a club.
Jack changes the game—he hits key shots, handles the ball, and keeps his composure late in games like this. And right now, he's enabling Mark Jackson to rest Steph Curry while also jutting out with a lead.
WARRIORS 85, NUGGETS 83 — 25.8 secs 3rd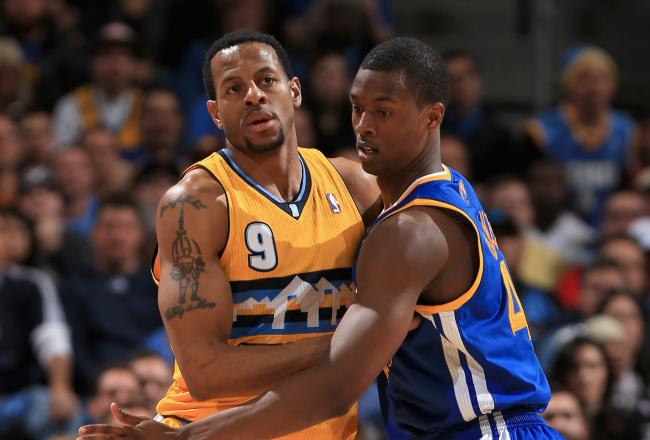 Harrison Barnes is going to be a special player. When I saw Barnes play in the ACC at UNC, it didn't seem like he was this quick, and I had imagined he would be a 4-man in the pros. Incidentally, the opposite has proven true: Barnes is lightning quick, and his speed has been a boon.
Barnes really is not bulky enough to play much at the 4-spot, but he doesn't need to be because his length and good lateral foot motion render him effective on both ends of the court.
The former Tar Heel could potentially be an All-Star in a few seasons, though the West is stacked with talent in both the backcourt and frontcourt, and the torch will be slow in passing as guys like Tim Duncan and Dirk Nowitzki (already has) relinquish their grips on the NBA.
Barnes has 14 points and three boards on the night.
NUGGETS 83, WARRIORS 79 — 2:40 3rd Timeout
There is no technical on McGee. It is just on Bogut.
And now the Warriors have taken the lead. JaVale McGee and Andrew Bogut are getting into it. Bogut got in Kenneth Faried's face earlier. This Aussie ain't takin' no ish.
A double technical is being issued.
WARRIORS 74, NUGGETS 73 — 4:44 3rd, Timeout
Corey Brewer is going to score a nice payday this summer. He has 12 off the Nuggets bench, but his biggest value comes as a defender.
The depth of the Nuggets is shown by the fact Brewer is the 8th/9th man in the rotation some nights, yet still finds a way to change games. He's very effective at playing passing lanes, and he always has been.
Though he hasn't quite lived up to his billing as a lottery pick out of Florida, Brewer should receive a mid-level exception type of contract this summer from some team. He's a good glue guy and is very adaptable.
NUGGETS 73, WARRIORS 71 — 6:11 3rd
The Warriors have gone on an 11-2 run, and a Jarrett Jack jumper extended it to 13-2, forcing a Nuggets timeout. The lead is gone, and though Ty Lawson has 26, the Dubs are showing their shooting can get them back in this, and it has. Just as I said it might at the half.
NUGGETS 73, WARRIORS 71 — 6:11 3rd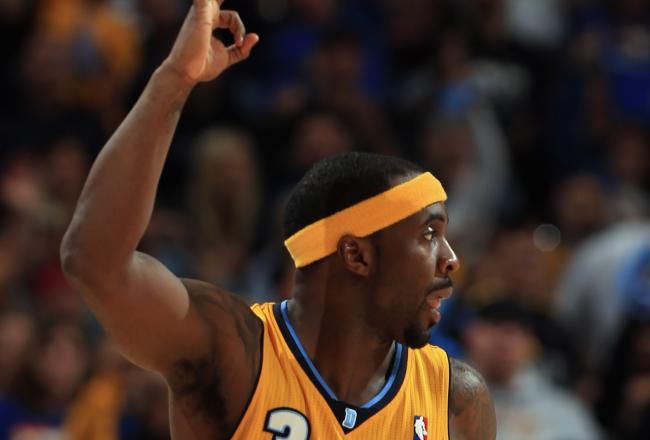 The Warriors turned it over to give the Nuggets one last possession with 13.6 seconds in the half. It was the Warriors' 14th turnover, and the Nuggets isolated Ty Lawson at the top of the key, fittingly enough. Lawson gave it up and it found Corey Brewer who missed a triple from the left wing. The Nuggs closed the half on a 13-2 run.
Lawson told ESPN at the half, "I just attacked the basket, I was getting there easy...so I just attacked the bigs." Lawson said the difference in the defense has been that the Nuggets are more "locked in."
Keeping that focus in the second half could help the Nuggets win this crucial Game 3. A 2-1 lead would swing the home court advantage back in favor of Denver, which is huge when two teams are this closely matched.
Though the Warriors find themselves down 12 at the half, in a game this high scoring and with shooters like Steph Curry and Klay Thompson (and Jarrett Jack), the Dubs could easily get back in this one. Their Curry/Thompson/Jack trio combined for 26 points, but only two came from Thompson who hit just 1-of-5 from the floor.
NUGGETS 66, WARRIORS 54 — Halftime
Not that the statement doesn't apply to most great shooters, but when Ty Lawson gets hot, there is just no stopping him; his handle is too good; he is too quick...Steph Curry has no defense for the UNC product tonight, and his 19 first half points could be part of a huge night if he comes out and helps the Nuggets blow this open after the halftime intermission.
NUGGETS 66, WARRIORS 54 — Under 1 minute 2nd
This article is
What is the duplicate article?
Why is this article offensive?
Where is this article plagiarized from?
Why is this article poorly edited?